Abstract
The recent explosion of exotic reptiles in south Florida requires effective management strategies. The objective of this study is to bring knowledge of ecological correlates and quantitative modeling methods into management by providing the foundation for a screening procedure that will identify potentially invasive species and assess adverse impacts associated with these species. We considered 17 variables and, based on model selection procedures, we identified the following significant predictors of establishment success: taxonomic order, maximum temperature match between a species' native range and Florida, animal sale price, and manageability (defined as a species' maintenance cost, aggressiveness, proneness to escape, and venomousness). Applying the models to predict establishment success of 33 reptiles that were most frequently imported through Miami and St. Petersburg ports from 2000 to 2005 and two additional reptiles of concern in Florida, we identified eight lizards and four snakes as potentially successful invaders. We further assessed adverse impacts associated with potential invaders, should they become established, by identifying species that are (1) dangerous to humans, (2) dangerous to the ecosystem (upper trophic-level predators), and (3) rapidly spreading. Controlling exotic reptiles can be expensive and labor intensive once they are established. Information on which species are potential invaders based on screening procedures and what impacts these species might cause will be a valuable contribution to the development of proactive management strategies.
Access options
Buy single article
Instant access to the full article PDF.
USD 39.95
Price excludes VAT (USA)
Tax calculation will be finalised during checkout.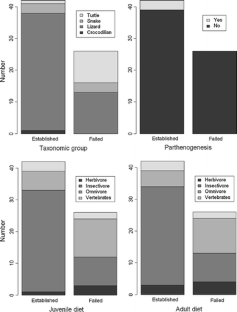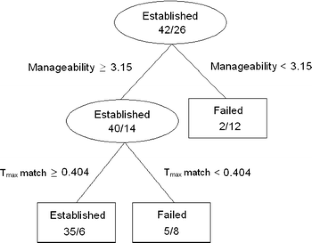 References
Arnold EN (2002) Reptiles and amphibians of Europe. Princeton University Press, Princeton

Baha El Din SBE (2006) A guide to the reptiles and amphibians of Egypt. American University in Cairo Press, Cairo

Baker HG, Stebbins GL (1965) The evolution of colonizing species. Academic Press, New York

Bomford M, Kraus F, Braysher M, Walter L, Brown L (2005) Risk assessment model for the import and keeping of exotic reptiles and amphibians. Bureau of Rural Sciences for the Department of Environment and Heritage

Bomford M, Kraus F, Barry SC, Lawrence E (2008) Predicting establishment success for alien reptiles and amphibians: a role for climate matching. Biol Invasions. doi:10.1007/s10530-008-9285-3

Bonin F, Devaux B, Dupré A (2006) Turtles of the world. John Hopkins University Press, Baltimore

Boulenger GL (1893) Catalogue of the snakes in the British museum, vol 1. Longmans & Co, London

Boulenger GL (1965) Catalogue of the lizards in the British museum, vol 1, 2. British Museum, London

Branch B (1998) Field guide to snakes and other reptiles of southern Africa. Ralph Curtis Books, Sanibel Island

Branch WR, Hacke WD (1980) A fatal attack on a young boy by an African rock python (Python sebae). J Herp 14:305–307

Butterfield BP, Meshaka WE Jr, Guyer C (1997) Nonindigenous amphibians and reptiles. In: Simberloff D, Schmitz DC, Brown TC (eds) Strangers in paradise: impact and management of non-indigenous species in Florida. Island Press, Washington, pp 123–137

Cogger HG (2000) Reptiles and amphibians of Australia. Ralph Curtis Books, Sanibel Island

Cogger HC, Zweifel RG (1998) Encyclopedia of reptiles and amphibians. Academic Press, San Diego

Conant R, Collins JT (1991) A field guide to reptiles and amphibians, eastern and central North America. Houghton Mifflin Company, Boston

Daehler CC, Denslow JS, Ansari S, Kuo H (2004) A risk-assessment system for screening out invasive pest plants from Hawaii and other Pacific Islands. Conserv Biol 18:360–368

Daniel JC (2002) The book of Indian reptiles and amphibians. Oxford University Press, New York

Davis MA (2006) Invasion biology 1958–2005: the pursuit of science and conservation. In: Cadotte MW, McMahon SM, Fukami T (eds) Conceptual ecology and invasion biology: reciprocal approaches to nature. Springer, The Netherlands

De Lisle HF (1995) The natural history of monitor lizards. Krieger Publishing Company, Malabar

Elton CS (1958) The ecology of invasions by animals and plants. Methuen, London

Ernst CH, Barbour RW (1989) Turtles of the world. Smithsonian Institution Press, Washington

Fritts TH, Leasman-Tanner D (2001) The brown tree snake on Guam: how the arrival of one invasive species damaged the ecology, commerce, electrical systems, and human health on Guam: a comprehensive information source. Available online at: http://www.fort.usgs.gov/resources/education/bts/bts_home.asp

Fritts TH, McCoid MJ (1991) Predation by the brown tree snake Boiga irregularis on poultry and other domesticated animals in Guam. Snake 23:75–80

Gilpin M (1990) Ecological prediction. Science 248:88–89

Hayes KR, Barry SC (2008) Are there any consistent predictors of invasion success? Biol Invasions 10:483–506

Henkel F, Schmidt W (2000) Amphibians and reptiles of Madagascar and the Mascarene, Seychelles, and Comoro Islands. Krieger Publishing Company, Malabar

Hoover C (1998) The U.S. role in the international live reptile trade: Amazon tree boas to Zululand dwarf chameleons. TRAFFIC North America, Washington

Huriash LJ (2008) Iguana causes power outage for 20,000 in Broward Coutny, Sun-Sentinel 8 May 2008, sun-sentinel.com/news/local/broward/sfl-0508iguana,0,5475336.story

Hutchins M (2003) Grzimek's animal life encyclopedia. Thomson, Detroit

Johnson DE (1998) Applied multivariate methods for data analysis. Duxbury Press, Pacific Grove

Kolar CS, Lodge DM (2002) Ecological predictions and risk assessment for alien fishes in North America. Science 298:1233–1236

Kraus F (2003) Invasion pathways for terrestrial vertebrates. In: Carlton J, Ruiz G, Mack R (eds) Invasive species: vectors and management strategies. Island Press, Washington, pp 68–92

Kraus F, Cravalho D (2001) The risk of Hawaii from snakes. Pac Sci 55:409–417

Lee JG (2000) A field guide to the amphibians and reptiles of the Maya world. Cornell University Press, New York

Lodge DM, Williams S, MacIsaac HG, Hayes KR, Leung B, Richard S, Mack RN, Moyle PB, Smith M, Andow DA, Carlton JT, McMichael A (2006) Biological invasions: recommendations for U.S. policy and management. Ecol Appl 16:2035–2054

Luiselli L, Angelici F, Akani G (2001) Food habits of Python sebae in suburban and natural habitats. Afr J Ecol 39:116–118

Mallow D, Ludwig D, Nilson G (2003) True vipers: natural history and toxinology of old world vipers. Krieger Publishing Company, Malabar

Mehrtens JM (1987) Living snakes of the world. Sterling Publishing, New York

Meshaka WE Jr, Butterfield NP, Hauge JB (2004) The exotic amphibians and reptiles of Florida. Krieger Publishing Company, Malabar

Pheloung P (1995) Determining the weed potential of new plant introductions to Australia. Report. Australia Weeds Committee and the Plant Industries Committee

Pheloung PC, Williams PA, Halloy SR (1999) A weed risk assessment model for use as a biosecurity tool evaluating plant introductions. J Environ Manag 57:239–251

Pope CH (1935) Natural history of central Asia. Vol 10, the reptiles of China. American Museum of Natural History, New York

Pritchard PCH, Trebbau P (1984) The turtles of Venezuela. Society for the study of amphibians and reptiles, Grand Rapids

Reed RN, Rodda GH (2009) Giant constrictors: biological and management profiles and an establishment risk assessment for nice large species of pythons, anacondas, and the boa constrictor: U.S. Geological Survey Open-File Report 2009-1202, 302 pp

Rejmanek M, Richardson DM (1996) What attributes make some plant species more invasive? Ecology 77:1655–1661

Rivas JA (1998) Predatory attack of a green anaconda (Eunectes murinus) on an adult human. Herp Nat Hist 6:157–159

Rodda GH, Jarnevich CS, Reed RN (2009) What parts of the US mainland are climatically suitable for invasive alien pythons spreading from Everglades National Park? Biol Invasions 11:241–252

Rodríguez-Schettino L (1999) The iguanid lizards of Cuba. University Press of Florida, Gainesville

Savage JM (2002) The amphibians and reptiles of Costa Rica. University of Chicago Press, Chicago

Schwartz A, Henderson RW (1991) Amphibians and reptiles of the West Indies. University of Florida Press, Gainesville

Spawls S, Howell K, Drewes R, Ashe J (2002) A field guide to the reptiles of east Africa. Academic Press, London

Stafford PJ, Meyer JR (2000) A guide to the reptiles of Belize. Natural History Museum, London

Stebbins RC (1985) A field guide to western reptiles and amphibians. Houghton Mifflin Company, Boston

Sutherst RW, Maywald GF, Kriticos D (2007) CLIMEX version 3.0 user's guide. Hearne Scientific Software Pty Ltd, Melbourne

Venables WN, Ripley BD (2002) Modern applied statistics with S, 4th edn. Springer, New York

Williamson M, Fitter A (1996) The varying success of invaders. Ecology 77:1661–1666
Acknowledgments
This study was funded by the South Florida Water Management District and the U.S. Geological Survey Priority Ecosystem Science Program. We acknowledge Kenneth Dodd, Kenneth Krysko, Kevin Enge, Mac Kobza, and Michael Cherkiss for their professional advice, Robert Reed and Gordon Rodda for insightful reviews, Amanda Rice, Hardin Waddle, Laura Brandt, Nicola Hughes, Pam Fuller, and Wellington Guzman for their assistance with data collection, and Rebecca Harvey and Jen Frost for editorial help. We also appreciate the comments provided by Editor-in-Chief Dan Simberloff and an anonymous reviewer, which helped to clarify and contextualize the manuscript. The use of trade names does not imply endorsement by the U.S. government.
About this article
Cite this article
Fujisaki, I., Hart, K.M., Mazzotti, F.J. et al. Risk assessment of potential invasiveness of exotic reptiles imported to south Florida. Biol Invasions 12, 2585–2596 (2010). https://doi.org/10.1007/s10530-009-9667-1
Received:

Accepted:

Published:

Issue Date:

DOI: https://doi.org/10.1007/s10530-009-9667-1
Keywords