Abstract
Understanding processes allowing the co-existence of ecologically similar species is important but difficult to study in community ecology. Introductions of alien species are unplanned experiments allowing investigation of co-adaptation of both native and invasive species over a short period. We analysed food niche differentiation between native European mink and alien American mink after invasion of the latter species in Belarus. European mink feed mainly on crayfish, frogs and fish whereas American mink prefer small mammals, fish and frogs. The diet of both species varied between seasons and during the period of alien mink invasion. Concurrent with the progress of American mink invasion, the European mink food niche has narrowed to feeding mainly on frogs, with the proportion of aquatic prey (fish and crayfish) in their diet drastically reduced. In contrast, the American mink food niche became wider during invasion. The breadth was stable but included a varied proportion of different prey categories: namely an increased proportion of aquatic prey and a decreased proportion of water vole and waterfowl. The increase in abundance of American mink saw a decrease in the proportion of larger prey in their diet. When American mink preyed more often on frogs, food niche overlap of both predators increased. This result suggests that arrival of an alien competitor reduced food abundance (exploitative competition) and caused a change in native mink diet.
Access options
Buy single article
Instant access to the full article PDF.
USD 39.95
Price excludes VAT (USA)
Tax calculation will be finalised during checkout.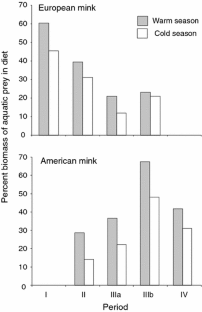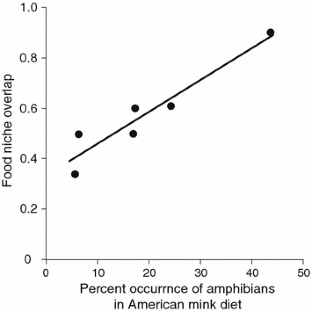 References
Andersson A (1992) Development of water bird populations in the Bullerö archipelago off Stockholm after colonization by mink. Ornis Svec 2:107–118

Bartoszewicz M, Zalewski A (2003) American mink, Mustela vison diet and predation on waterfowl in the Słońsk Reserve, western Poland. Folia Zool 52:225–238

Bonesi L, Palazon S (2007) The American mink in Europe: status, impacts, and control. Biol Conserv 134:470–483

Budnikov KN, Tretyakov FF (1952) Crayfish and their capturing. Pischepromizdat, Moskow (in Russian)

Chase JM, Leibold MA (2003) Ecological niches. University of Chicago Press, Chicago

Craik C (1997) Long-term effects of North American mink Mustela vison on seabirds in western Scotland. Bird Study 44:303–309

Danilov PI, Tumanov IL (1976) Mustelids in north-eastern USSR. Nauka, Leningrad (in Russian)

Dayan T, Simberloff D (1994) Character displacement, sexual dimorphism, and morphological variation among British and Irish mustelids. Ecology 75:1063–1073

Donadio E, Buskirk SW (2006) Diet, morphology, and interspecific killing in carnivora. Am Nat 167:524–536

Ferreras P, Macdonald DW (1999) The impact of American mink Mustela vison on water birds in the upper Thames. J Appl Ecol 36:701–708

Galkin GG (1953) Atlas of scales of freshwater fishes. Publications of the Research Institute of River and Lake Economy, 16 (in Russian)

Hardin G (1960) The competitive exclusion principles. Sciences 131:1292–1297

Hubbell SP (2001) The unified neutral theory of species abundance and diversity. Princeton University Press, Princeton

Jędrzejewska B, Jędrzejewski W (1998) Predation in vertebrate communities. The Białowieża Primeval Forest as a case study. Springer, Berlin

Kranz A, Poledník L, Gotea V (2002) Conservation of the European mink (Mustela lutreola) in the Danube Delta—background information and project plan. Scientific Annals of the Danube Delta National Institute (2000–2001), vol 8, pp 124–129

Levins R (1968) Evolution in changing environments. Princeton University Press, Princeton

Lewin R (1983) Finches show competition in ecology. Science 219:1411–1412

Macdonald D, Strachan R (1999) The mink and the Water vole. Analyses for conservation. Wildlife Conservation Research Unit and the Environment Agency, Oxford

Macdonald DW, Sidorovich VE, Anisimova EI, Sidorovich NV, Johnson PJ (2002) The impact of American mink Mustela vison and European mink M. lutreola on water voles Arvicola terrestris in Belarus. Ecography 25:295–302

Maran T, Macdonald DW, Kruuk H, Sidorovich V, Rozhnov VV (1998a) The continuing decline of the European mink Mustela lutreola: evidence for the intraguild aggression hypothesis. In: Dunstone N, Gorman M (eds) Behaviour and ecology of riparian mammals. Cambridge University Press, Cambridge, pp 297–324

Maran T, Kruuk H, Macdonald DW, Polma M (1998b) Diet of two species of mink in Estonia: displacement of Mustela lutreola by M.vison. J Zool 245:218–222

Melero Y, Palazon S, Bonesi L, Gosalbez J (2008) Feeding habits of three sympatric mammals in NE Spain: the American mink, the spotted genet, and the Eurasian otter. Acta Theriol 53:263–273

Nordström M, Högmander J, Laine J, Nummelin J, Laanetu N, Korpimäki E (2002) Variable responses of waterfowl breeding populations to long-term removal of introduced American mink. Ecography 25:385–394

Palazon S, Ruiz-Olmo J, Gosalbez J (2004) Diet of European mink (Mustela lutreola L., 1761) in Northern Spain. Mammalia 68:159–165

Pianka ER (1973) The structure of lizard communities. Annu Rev Ecol Syst 4:53–74

Pucek Z (1981) Keys to vertebrates of Poland mammals. Polish Scientific Publisher, Warsaw

Salo P, Korpimaki E, Banks PB, Nordstrom M, Dickman CR (2007) Alien predators are more dangerous than native predators to prey populations. Proc R Soc Lond B Biol Sci 274:1237–1243

Sidorovich VE (1997) Mustelids in Belarus. Evolutionary ecology, demography and interspecific relationships. Zolotoy uley, Minsk (in Russian with an extended summary in English)

Sidorovich VE (1999) How to identify mustelid tracks. Small Carniv Conserv 20:22–27

Sidorovich VE (2000) Seasonal variation in the feeding habits of riparian mustelids in river valleys of NE Belarus. Acta Theriol 45:233–242

Sidorovich VE (2001) Study on the decline in the European mink Mustela lutreola population in connection with the American mink M. vison expansion in Belarus: story of the study, review of the results and research priorities. Sauget Inf 5(25):133–154

Sidorovich VE, Macdonald DW (2001) Density dynamics and changes in habitat use by the European mink and other native mustelids in connection with the American mink expansion in Belarus. Neth J Zool 51:107–126

Sidorovich VE, Kruuk H, Macdonald D (1999) Body size, and interactions between European and American mink (Mustela lutreola and M.vison) in Eastern Europe. J Zool 248:521–527

Sidorovich VE, Macdonald DW, Kruuk H, Krasko DA (2000) Behavioural interactions between the naturalized American mink Mustela vison and the native mustelids, NE Belarus, with implications for population changes. Small Carniv Conserv 22:1–5

Sidorovich VE, Macdonald DW, Pikulik MM, Kruuk H (2001) Individual feeding specialization in the European mink, Mustela lutreola and the American mink M. vison in north-eastern Belarus. Folia Zool 50:27–42

Sidorovich V, Januta G, Polozov A, Solovej I, Griffiths J (2003) Prey supply of otters (Lutra lutra) in small rivers in north-eastern Belarus: census method used and preliminary data obtained. Lutra 46:13–26

Teerink BJ (1991) Hair of West-European mammals. Atlas and identification key. Cambridge University Press, Cambridge

Watari Y, Takatsuki S, Miyashita T (2008) Effects of exotic mongoose (Herpestes javanicus) on the native fauna of Amami-Oshima Island, southern Japan, estimated by distribution patterns along the historical gradient of mongoose invasion. Biol Invasions 10:7–17

Zalewski A (2000) Factors affecting the duration of activity by pine martens (Martes martes) in the Białowieża National Park, Poland. J Zool 251:439–447

Zalewski A, Jędrzejewski W, Jędrzejewska B (2004) Mobility and home range use by pine martens (Martes martes) in a Polish primeval forest. Ecosciences 11:113–122

Zhukov PI (1988) Handbook on freshwater fish ecology. Nauka i technika, Minsk (in Russian)
Acknowledgments
The main financial support was provided by the British Government's Darwin Initiative Foundation. In addition, the Institute of Zoology of the National Academy of Sciences of Belarus in part supported the study. Also, we are grateful to D. Krasko, G. Lauzhel and U. Trusilova helped in the field work and to G. Kerley and G. Hyward for critical comments and correcting English. The project was supported by Marie Curie European Reintegration Grant to A.Z. We thank two anonymous referees for their comments on an earlier draft.
About this article
Cite this article
Sidorovich, V.E., Polozov, A.G. & Zalewski, A. Food niche variation of European and American mink during the American mink invasion in north-eastern Belarus. Biol Invasions 12, 2207–2217 (2010). https://doi.org/10.1007/s10530-009-9631-0
Received:

Accepted:

Published:

Issue Date:

DOI: https://doi.org/10.1007/s10530-009-9631-0
Keywords