Abstract
Arbuscular mycorrhizal fungi (AMF) mediate nutrient uptake that accelerates plant growth and reproduction. Thus, AMF may promote plant invasions often observed along rivers. We assessed the importance of AMF in improving growth of the invasive species, spotted knapweed (Centaurea stoebe), during succession of riparian vegetation along a flood plain in Montana, USA. We grew spotted knapweed with and without AMF in soils collected from riparian sites ranging from 1 to 72 years old and measured the plant's growth response to AMF. We observed variability in relative effects of AMF, with greatest growth benefits in recently deposited alluvial sediments. We then separated effects of soil and inoculum source by growing spotted knapweed with soils and inocula collected from young or old sites and found that growth responses were greatest in young soils regardless of inoculum source. Our results demonstrate that AMF directly benefit growth of spotted knapweed, especially in soils that typify early successional sites on this alluvial flood plain.
Access options
Buy single article
Instant access to the full article PDF.
USD 39.95
Price excludes VAT (USA)
Tax calculation will be finalised during checkout.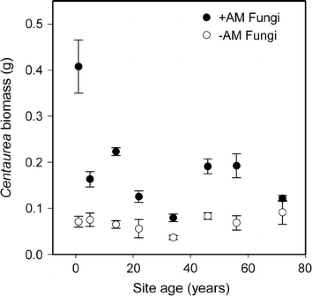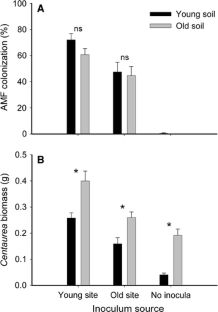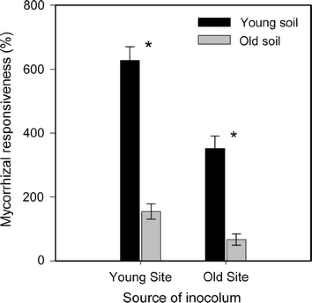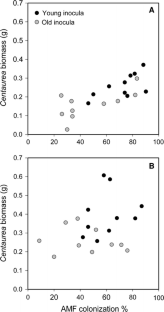 References
Beauchamp VB, Stromberg JC, Stutz JC (2005) Interactions between Tamarix ramosissima (saltcedar), Populus fremontii (cottonwood), and mycorrhizal fungi: effects on seedling growth and plant species coexistence. Plant Soil 275:221–231. doi:10.1007/s11104-005-1740-7

Beauchamp VB, Stromberg JC, Stutz JC (2006) Arbuscular mycorrhizal fungi associated with Populus–Salix stands in a semiarid riparian ecosystem. New Phytol 170:369–380. doi:10.1111/j.1469-8137.2006.01668.x

Broz AK, Manter DK, Vivanco JM (2007) Soil fungal abundance and diversity: another victim of the invasive plant Centaurea maculosa. ISME J 1:763–765. doi:10.1038/ismej.2007.81

Callaway RM, Mahall BE, Wicks C, Pankey J, Zabinski C (2003) Soil fungi and the effects of an invasive forb on grasses: neighbor identity matters. Ecology 84:129–135. doi:10.1890/0012-9658(2003)084[0129:SFATEO]2.0.CO;2

Callaway RM, Thelen GC, Barth S, Ramsey PW, Gannon JE (2004a) Soil fungi alter interactions between the invader Centaurea maculosa and North American natives. Ecology 85:1062–1071. doi:10.1890/02-0775

Callaway RM, Thelen GC, Rodriguez A, Holben WE (2004b) Soil biota and exotic plant invasion. Nature 427:731–733. doi:10.1038/nature02322

Carey EV, Marler MJ, Callaway RM (2004) Mycorrhizae transfer carbon from a native grass to an invasive weed: evidence from stable isotopes and physiology. Plant Ecol 172:133–141. doi:10.1023/B:VEGE.0000026031.14086.f1

Harner MJ, Stanford JA (2003) Differences in cottonwood growth between a losing and a gaining reach of an alluvial floodplain. Ecology 84:1453–1458. doi:10.1890/0012-9658(2003)084[1453:DICGBA]2.0.CO;2

Harner MJ, Ramsey PW, Rillig MC (2004) Protein accumulation and distribution in floodplain soils and river foam. Ecol Lett 7:829–836. doi:10.1111/j.1461-0248.2004.00638.x

Harner MJ, Piotrowski JS, Lekberg Y, Stanford JA, Rillig MC (2009) Heterogeneity of mycorrhizal inoculum potential in flood-deposited sediments. Aquat Sci. doi:10.1007/s00027-009-9198-y

Helm DJ, Allen EB, Trappe JB (1996) Mycorrhizal chronosequence near Exit Glacier, Alaska. Can J Bot 74:1496–1506. doi:10.1139/b96-180

Hood WG, Naiman RJ (2000) Vulnerability of riparian zones to invasion by exotic vascular plants. Plant Ecol 148:105–114. doi:10.1023/A:1009800327334

Jacobson KM (2004) The effects of flooding regimes on mycorrhizal associations of Populus fremontii in dryland riparian forests. In: Cripps CL (ed) Fungi in forest ecosystems: diversity, systematics, and ecology. New York Botanical Garden, New York, pp 275–280

Janos DP (2007) Plant responsiveness to mycorrhizas differs from dependence upon mycorrhizas. Mycorrhiza 17:75–91. doi:10.1007/s00572-006-0094-1

Jansson R, Laudon H, Johansson E, Augspurger C (2007) The importance of groundwater discharge for plant species number in riparian zones. Ecology 88:131–139. doi:10.1890/0012-9658(2007)88[131:TIOGDF]2.0.CO;2

Klironomos JN (2003) Variation in plant response to native and exotic arbuscular mycorrhizal fungi. Ecology 84:2292–2301. doi:10.1890/02-0413

Koide RT, Li M (1989) Appropriate controls for vesicular arbuscular mycorrhiza research. New Phytol 111:35–44. doi:10.1111/j.1469-8137.1989.tb04215.x

Kuo S (1996) Phosphorus. In: Sparks DL (ed) Methods of soil analysis: Part 3: chemical methods. SSSA Book Series 5. Soil Science Society of America, Madison, Wisconsin, pp 890–893

Latterell JJ, Bechtold JS, O'Keefe TC, Van Pelt R, Naiman RJ (2006) Dynamic patch mosaics and channel movement in an unconfined river valley of the Olympic Mountains. Freshw Biol 51:523–544. doi:10.1111/j.1365-2427.2006.01513.x

LeJeune KD, Seastedt TR (2001) Centaurea species: the forb that won the West. Conserv Biol 15:1568–1574. doi:10.1046/j.1523-1739.2001.00242.x

Marler MJ, Zabinski CA, Callaway RM (1999) Mycorrhizae indirectly enhance competitive effects of an invasive forb on a native bunchgrass. Ecology 80:1180–1186

McGonigle TP, Miller MH, Evans DG, Fairchild GL, Swan JA (1990) A new method which gives an objective measure of colonization of roots by vesicular arbuscular mycorrhizal fungi. New Phytol 115:495–501. doi:10.1111/j.1469-8137.1990.tb00476.x

Mouw JEB, Alaback PB (2003) Putting floodplain hyperdiversity in a regional context: an assessment of terrestrial-floodplain connectivity in a montane environment. J Biogeogr 30:87–103. doi:10.1046/j.1365-2699.2003.00775.x

Mouw JEB, Stanford JA, Alaback PB (2009) Influences of flooding and hyporheic exchange on floodplain plant richness and productivity. River Res Appl. doi:10.1002/rra.1196

Mulvaney RS (1996) Nitrogen—inorganic forms. In: Sparks DL (ed) Methods of soil analysis: Part 3: chemical methods. SSSA Book Series 5. Soil Science Society of America, Madison, Wisconsin, pp 1123–1184

Mummey DL, Rillig MC (2006) The invasive plant species Centaurea maculosa alters arbuscular mycorrhizal fungal communities in the field. Plant Soil 288:81–90. doi:10.1007/s11104-006-9091-6

Mummey DL, Rillig MC, Holben WE (2005) Neighboring plant influences on arbuscular mycorrhizal fungal community composition as assessed by T-RFLP analysis. Plant Soil 271:83–90. doi:10.1007/s11104-004-2066-6

Naiman RJ, Décamps H (1997) The ecology of interfaces: riparian zones. Annu Rev Ecol Syst 28:621–658. doi:10.1146/annurev.ecolsys.28.1.621

Nilsson C, Svedmark M (2002) Basic principles and ecological consequences of changing water regimes: riparian plant communities. Environ Manag 30:468–480. doi:10.1007/s00267-002-2735-2

Ochsmann J (2001) On the taxonomy of spotted knapweed (Centaurea stoebe L.). In: Smith L (ed) Proceedings of the first international knapweed symposium of the twenty-first century, March 15–16, 2001, Coeur d'Alene, Idaho. US Department of Agriculture, Agricultural Research Service, Albany, pp 33–41

Piotrowski JS, Lekberg Y, Harner MJ, Ramsey PW, Rillig MC (2008a) Dynamics of mycorrhizae during development of riparian forests along an unregulated river. Ecography 31:245–253. doi:10.1111/j.0906-7590.2008.5262.x

Piotrowski JS, Morford SL, Rillig MC (2008b) Inhibition of colonization by a native arbuscular mycorrhizal fungal community via Populus trichocarpa litter, litter extract, and soluble phenolic compounds. Soil Biol Biochem 40:709–717. doi:10.1016/j.soilbio.2007.10.005

Planty-Tabacchi AM, Tabacchi E, Naiman RJ, Deferrari C, Décamps H (1996) Invasibility of species rich communities in riparian zones. Conserv Biol 10:598–607. doi:10.1046/j.1523-1739.1996.10020598.x

Pollock MM, Naiman RJ, Hanley TA (1998) Plant species richness in riparian wetlands—a test of biodiversity theory. Ecology 79:94–105. doi:10.1890/0012-9658(1998)079[0094:PSRIRW]2.0.CO;2

Poole GC, Stanford JA, Frissell CA, Running SW (2002) Three-dimensional mapping of geomorphic controls on floodplain hydrology and connectivity from aerial photos. Geomorphology 48:329–347. doi:10.1016/S0169-555X(02)00078-8

Richardson DM, Holmes PM, Esler KJ, Galatowitsch SM, Stromberg JC, Kirkman SP, Pyšek P, Hobbs RJ (2007) Riparian vegetation: degradation, alien plant invasions, and restoration prospects. Divers Distrib 13:126–139. doi:10.1111/j.1472-4642.2007.00337.x

Rillig MC (2004) Arbuscular mycorrhizae and terrestrial ecosystem processes. Ecol Lett 7:740–754. doi:10.1111/j.1461-0248.2004.00620.x

Smith SE, Read DJ (2008) Mycorrhizal symbiosis, 3rd edn. Academic Press, San Diego

Stanford JA, Lorang MS, Hauer FR (2005) The shifting habitat mosaic of river ecosystems. Verh Int Ver Limnol 29:123–136

Stohlgren TJ, Bull KA, Otsuki Y, Villa CA, Lee M (1998) Riparian zones as havens for exotic plant species in the central grasslands. Plant Ecol 138:113–125. doi:10.1023/A:1009764909413

Tabacchi E, Correll DL, Hauer FR, Pinay G, PlantyTabacchi AM, Wissmar RC (1998) Development, maintenance and role of riparian vegetation in the river landscape. Freshw Biol 40:497–516. doi:10.1046/j.1365-2427.1998.00381.x

Tickner DP, Angold PG, Gurnell AM, Mountford JO (2001) Riparian plant invasions: hydrogeomorphological control and ecological impacts. Prog Phys Geogr 25:22–52. doi:10.1177/030913330102500102

Van Cleve K, Dyrness CT, Marion GM, Erickson R (1993) Control of soil development on the Tanana River floodplain, interior Alaska. Can J Res 23:941–955. doi:10.1139/x93-122

Whited DC, Lorang MS, Harner MJ, Hauer FR, Kimball JS, Stanford JA (2007) Climate, hydrologic disturbance, and succession: drivers of floodplain pattern. Ecology 88:940–953. doi:10.1890/05-1149

Wolfe BE, Klironomos JN (2005) Breaking new ground: soil communities and exotic plant invasion. Bioscience 55:477–487. doi:10.1641/0006-3568(2005)055[0477:BNGSCA]2.0.CO;2

Zabinski CA, Quinn L, Callaway RM (2002) Phosphorus uptake, not carbon transfer, explains arbuscular mycorrhizal enhancement of Centaurea maculosa in the presence of native grassland species. Funct Ecol 16:758–765. doi:10.1046/j.1365-2435.2002.00676.x
Acknowledgements
We thank Jake Corwin, Daniel Warnock, Jeff Piotrowski, Dan Bowling, Tyler Huggins, and Sonia Purin for assistance in the field and laboratory, and Keith Geluso and several anonymous reviewers for comments on earlier versions of the manuscript. We thank colleagues at the Flathead Lake Biological Station, as well as the John Dalimata Family, for support of research at Nyack Flood Plain. The study was funded by the U.S. National Science Foundation (DEB 0613943) and supported by the Alexander von Humboldt Foundation.
About this article
Cite this article
Harner, M.J., Mummey, D.L., Stanford, J.A. et al. Arbuscular mycorrhizal fungi enhance spotted knapweed growth across a riparian chronosequence. Biol Invasions 12, 1481–1490 (2010). https://doi.org/10.1007/s10530-009-9559-4
Received:

Accepted:

Published:

Issue Date:

DOI: https://doi.org/10.1007/s10530-009-9559-4
Keywords
Arbuscular mycorrhizal fungi

Centaurea

Floodplain

Mycorrhizal responsiveness

Riparian

Spotted knapweed