Abstract
Thaumastocoris peregrinus is a recently introduced invertebrate pest of non-native Eucalyptus plantations in the Southern Hemisphere. It was first reported from South Africa in 2003 and in Argentina in 2005. Since then, populations have grown explosively and it has attained an almost ubiquitous distribution over several regions in South Africa on 26 Eucalyptus species. Here we address three key questions regarding this invasion, namely whether only one species has been introduced, whether there were single or multiple introductions into South Africa and South America and what the source of the introduction might have been. To answer these questions, bar-coding using mitochondrial DNA (COI) sequence diversity was used to characterise the populations of this insect from Australia, Argentina, Brazil, South Africa and Uruguay. Analyses revealed three cryptic species in Australia, of which only T. peregrinus is represented in South Africa and South America. Thaumastocoris peregrinus populations contained eight haplotypes, with a pairwise nucleotide distance of 0.2–0.9% from seventeen locations in Australia. Three of these haplotypes are shared with populations in South America and South Africa, but the latter regions do not share haplotypes. These data, together with the current distribution of the haplotypes and the known direction of original spread in these regions, suggest that at least three distinct introductions of the insect occurred in South Africa and South America before 2005. The two most common haplotypes in Sydney, one of which was also found in Brisbane, are shared with the non-native regions. Sydney populations of T. peregrinus, which have regularly reached outbreak levels in recent years, might thus have served as source of these three distinct introductions into other regions of the Southern Hemisphere.
This is a preview of subscription content, log in to check access.
Access options
Buy single article
Instant access to the full article PDF.
US$ 39.95
Price includes VAT for USA
Subscribe to journal
Immediate online access to all issues from 2019. Subscription will auto renew annually.
US$ 99
This is the net price. Taxes to be calculated in checkout.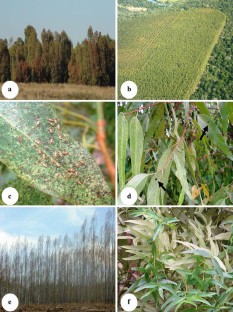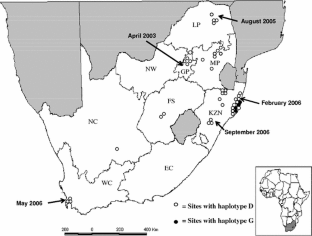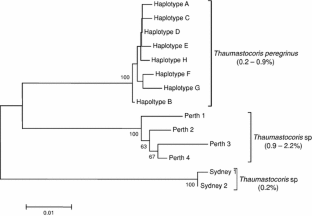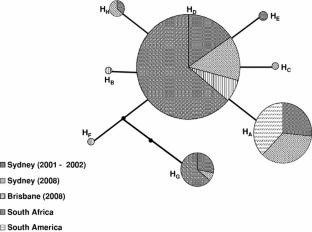 References
Bickford D, Lohman DJ, Sodhi NS, Ng PKL, Meier R, Winker K, Ingram KK, Das I (2007) Cryptic species as a window on diversity and conservation. Trends Ecol Evol 22:148–155

Brockerhoff EG, Liebhold AM, Jactel H (2006) The ecology of forest insect invasions and advances in their management. Can J For Res 36:263–268

Brooker MIH (2000) A new classification of the genus Eucalyptus L'Hér. (Myrtaceae). Aust Syst Bot 13:79–148

Brown JK (2004) Tracing the origin of cryptic insect pests and vectors, and their natural enemies. In: Ehler LE, Sforza R, Mateille T (eds) Genetics, evolution and biological control. CABI Publishing, Wallingford, pp 113–135

Carpintero DL, Dellapé PM (2006) A new species of Thaumastocoris Kirkaldy from Argentina (Heteroptera: Thaumastocoridae: Thaumastocorinae). Zootaxa 1228:61–68

Cassis G, Schuh RT, Brailovsky H (1999) A review of Onymocoris (Heteroptera: Thaumastocoridae), with a new species, and notes on hosts and distributions of other thaumastocorid species. Acta Societatis Zoologicae Bohemicae 63:19–36

Clement M, Posada D, Crandall KA (2000) TCS: a computer program to estimate gene genealogies. Mol Ecol 9:1657–1660

Drake CJ, Slater JA (1957) The phylogeny and systematics of the family Thaumastocoridae (Hemiptera: Heteroptera). Ann Entomol Soc Am 50:353–370

Ficetola GF, Bonin A, Miaud C (2008) Population genetics reveals origin and number of founders in a biological invasion. Mol Ecol 17:773–782

Forestry South Africa (2006) Abstract of South African Forestry facts for the year 2004/2005. Forestry South Africa, Johannesburg, p 7

Hebert PDN, Cywinska A, Ball SL, de Waard JR (2003a) Biological identifications through DNA barcodes. Proc R Soc Lond B 270:313–321

Hebert PDN, Ratnasingham S, de Waard JR (2003b) Barcoding animal life: cytochrome c oxidase subunit 1 divergences among closely related species. Proc R Soc Lond B Biol Sci 270:S96–S99

Hebert PDN, Penton EH, Burns JM, Janzens DH, Hallwachs W (2004) Ten species in one: DNA barcoding reveals cryptic species in the neotropical skipper butterfly Astraptes fulgerator. Proc Natl Acad Sci USA 101:14812–14817

Heiss E, Popov YA (2002) Reconsideration of the systematic position of Thaicorinae with notes on fossil and extant Thaumastocoridae (Hemiptera: Heteroptera). Polskie Pismo Entomologiczne 71:247–259

Hill L (1988) The identity and biology of Baclozygum Depressum Bergroth (Hemiptera: Thaumastocoridae). J Aust Entomol Soc 27:37–42

Jacobs DH, Neser S (2005) Thaumastocoris australicus Kirkaldy (Heteroptera: Thaumastocoridae): a new insect arrival in South Africa, damaging to Eucalyptus trees. S Afr J Sci 101:233–236

Kirkaldy GW (1908) Memoir on a few heteropterous Hemiptera from Eastern Australia. Proc Linn Soc NSW 32:768–788

Kumar R (1964) Anatomy and relationships of Thaumastocoridae (Hemiptera: Cimicoidea). J Entomol Soc QLD 3:48–51

Liebhold AM, Tobin PC (2008) Population ecology of insect invasions and their management. Annu Rev Entomol 53:387–408

Lockwood JL, Hoopes MF, Marchetti MP (2007) Invasion ecology. Blackwell Publishing, Malden, p 299

Noack AE (2002) Thaumastocoridae—an investigation. Retrieved from http://pandora.nla.gov.au/pan/32881/20030204/www.thaumastocoridae.org/index.html on 10 January 2009

Noack AE, Coviella CE (2006) Thaumastocoris australicus Kirkaldy (Hemiptera: Thaumastocoridae): first record of this invasive pest of Eucalyptus in the Americas. Gen Appl Entomol 35:13–15

Pasek JE (1988) Influence of wind and windbreaks on local dispersal of insects. Agric Ecosyst Environ 22:539–554

Puillandre N, Dupas S, Dangles O, Zeddam JL, Capdevielle-Dulac C, Barbin K, Torres-Leguizamon M, Silvain JF (2008) Genetic bottleneck in invasive species: the potato tuber moth adds to the list. Biol Invasions 10:319–333

Roderick GK (1996) Geographic structure of insect populations: gene flow, phylogeography, and their uses. Annu Rev Entomol 41:325–352

Rozas J, Sánchez-Delbarrio JC, Messeguer X, Rozas R (2003) DnaSP, DNA polymorphism analyses by the coalescent and other methods. Bioinformatics 19:2496–2497

Rozen S, Skaletsky HJ (1998) Primer3. Retrieved from http://www-genome.wi.mit.edu/genome_software/other/primer3.html. On 13 September 2006

Sakai AK, Allendorf FW, Holt JS, Lodge DM, Molofsky J, With KA, Baughman S, Cabin RJ, Cohen JE, Ellstrand NC, McCauley DE, O'Neil P, Parker IM, Thompson JN, Weller SG (2001) The population biology of invasive species. Annu Rev Ecol Syst 32:305–332

Simon C, Frati F, Beckenbach A, Crespi B, Liu H, Flook P (1994) Evolution, weighting, and phylogenetic utility of mitochondrial gene sequences and a compilation of conserved polymerase chain reaction primers. Ann Entomol Soc Am 87:651–701

Slater JA (1973) A contribution to the biology and taxonomy of Australian Thaumastocoridae with the description of a new species (Hemiptera: Heteroptera). J Aust Entomol Soc 12:151–156

Smith RM, Baker RHA, Malumphy CP, Hockland S, Hammon RP, Ostojá-Starzewski JC, Collins DW (2007) Recent non-native invertebrate plant pest establishments in Great Britain: origins, pathways, and trends. Agric For Entomol 9:307–326

Tamura K, Dudley J, Nei M, Kumar S (2007) MEGA 4: molecular evolutionary genetic analysis (MEGA) software version 4.0. Mol Biol Evol 24:1596–1599

Turnbull JW (1999) Eucalypt plantations. New Forest 17:37–52

Wingfield MJ, Slippers B, Roux J, Wingfield BD (2001) Worldwide movement of exotic forest fungi, especially in the tropics and the Southern Hemisphere. Bioscience 51:134–140

Wingfield MJ, Slippers B, Hurley BP, Coutinho TA, Wingfield BD, Roux J (2008) Eucalypt pests and diseases: growing threats to plantation productivity. South For 70:139–144
Acknowledgments
Members of the Tree Protection Co-operative Programme (TPCP), the Department of Trade and Industry THRIP programme and the National Research Foundation (NRF) are thanked for financial support. We also thank Dr. Jose Garcia who made it possible for us to collect specimens in Uruguay. Prof. Jolanda Roux and Mr. Brett Hurley kindly provided photographs used in Fig. 2e, f, respectively. An anonymous reviewer and the editor are thanked for their comments, which greatly improved the quality of the manuscript.
About this article
Cite this article
Nadel, R.L., Slippers, B., Scholes, M.C. et al. DNA bar-coding reveals source and patterns of Thaumastocoris peregrinus invasions in South Africa and South America. Biol Invasions 12, 1067–1077 (2010). https://doi.org/10.1007/s10530-009-9524-2
Received:

Accepted:

Published:

Issue Date:
Keywords
COI diversity

Eucalyptus plantation forestry

Invasive insect pest

Thaumastocoridae

Hemiptera