Abstract
Paleoenvironmental and archaeological investigations from the 'Ewa Plain of O'ahu provide insight into the problem of understanding lowland native forest loss in Hawai'i. Data from pollen analysis of a pond core record, avian paleontology, and archeology, document a precipitous decline of the native forest starting before Polynesian settlement on the 'Ewa Plain but after Polynesian colonization of O'ahu. It is hypothesized that rats, introduced by Polynesian colonizers, increased exponentially in the absence of significant predators or competitors, feeding on a largely endemic vegetation that had evolved in the absence of mammalian predators. Rats radiated ahead of human colonizers on O'ahu, eating their way through the vegetation, perhaps before the colonizers had encountered much of the pristine lowland forest into which the rats had radiated. This hypothesis is supported by several observations, including the almost complete absence of extinct or extirpated avian faunal remains in archaeological deposits, the present distribution of endemic vegetation in Hawai'i, rat ecology, population biology, and other evidence.
We're sorry, something doesn't seem to be working properly.
Please try refreshing the page. If that doesn't work, please contact support so we can address the problem.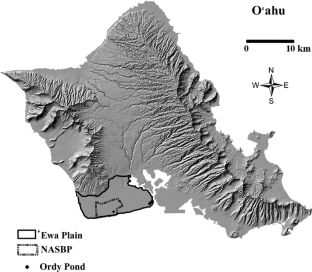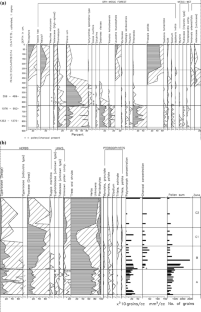 References
Athens JS (1997) Hawaiian native lowland vegetation in prehistory. In: Kirch PV, Hunt TL (eds) Historical ecology in the Pacific islands: prehistoric environmental and landscape change. Yale University Press, New Haven, pp 248–270

Athens JS, Ward JV (1993) Environmental change and prehistoric polynesian settlement in Hawai'i. Asian Perspect 32(2):205–223

Athens JS, Ward JV (2000) Paleoenvironmental Study of Fishponds at Fort Shafter, O'ahu, Hawai'i. In: Tomonari-Tuggle MJ, Hamilton S and Slocumb K, Appendix F: Fort Shafter: Cultural Resource Investigations at Hawai'i's First U.S. Military Post. Report prepared for the U.S. Army Corps of Engineers, Pacific Ocean Division, Fort Shafter, Hawai'i. International Archaeological Research Institute Inc., Honolulu, pp F1–F58

Athens JS, Ward JV, Wickler S (1992) Late Holocene lowland vegetation, O'ahu, Hawai'i. N Z J Archaeol 14:9–34

Athens JS, Ward JV and Blinn D (1995) Paleoenvironmental investigations at 'Uko'a Pond, Kawailoa Ahupua'a, O'ahu, Hawai'i. Report prepared for Engineers Surveyors Hawaii, Inc. Honolulu. International Archaeological Research Institute Inc., Honolulu

Athens JS, Ward JV, Tuggle HD, Welch DJ (1999) Environment, vegetation change, and early human settlement on the 'Ewa Plain: a cultural resource inventory of Naval Air Station, Barbers Point, O'ahu, Hawai'i; part III: paleoenvironmental investigations. Report prepared for Belt Collins Hawaii, Honolulu, under contract to the Department of the Navy, Commander, Pacific Division, Pearl Harbor. International Archaeological Research Institute Inc., Honolulu

Athens JS, Tuggle HD, Ward JV, Welch DJ (2002) Avifaunal extinctions, vegetation change, and Polynesian impacts in prehistoric Hawai'i. Archaeol Ocean 37:57–78

Barrau J (1961) Subsistence agriculture in Polynesia and Micronesia. Bernice P. Bishop Museum Bulletin 223, Honolulu

Boserup E (1965) The conditions of agricultural growth: the economics of agrarian change under population pressure. Aldine Publishing Co., Chicago

Burney DA, Kikuchi WKP (2006) A millennium of human activity at Makauwahi Cave, Maha'ulepu, Kaua'i. Human Ecol 34(2):219–247

Burney DA, James HF, Burney LP, Olson SL, Kikuchi W, Wagner WL, Burney M, McCloskey D, Kikuchi D, Grady FV, Gage R, Nishek R (2001) Fossil evidence for a diverse biota from Kaua'i and its transformation since human arrival. Ecol Monogr 71(4):615–641

Byrne R, Horn SP (1989) Prehistoric agriculture and forest clearance in the Sierra de los Tuxtlas, Vereacruz, Mexico. Palynology 13:181–193

Clark JS (1988) Stratigraphic charcoal analysis on petrographic thin sections: application to fire history in northwestern Minnesota. Quatern Res 30:81–91

Cuddihy LW, Stone CP (1990) Alteration of native Hawaiian vegetation: effects of humans, their activities and introductions. University of Hawai'i Press, Honolulu

Fairbanks RG (1989) A 17,000 year glacio-eustatic sea level record: influence of glacial melting rates on the Younger Dryas event and deep-ocean circulation. Nature 342:637–642

Fletcher CHIII, Jones AT (1996) Sea-level high stand recorded in Holocene shoreline deposits on Oahu, Hawaii. J Sed Res 66(3):632–641

Grossman EE, Fletcher CHIII (1998) Sea level higher than present 3500 years ago on the northern main Hawaiian Islands. Geology 26(4):363–366

Honolulu Advertiser (2008) News reports on rat eradication on Mokapu Island, Hawai'i. Jan. 2, Mar. 7, and May 14

James HF (1995) Prehistoric extinctions and ecological changes on oceanic islands. Ecol Stud 115:87–102

James HF, Burney DA (1997) The diet and ecology of Hawai'i's extinct flightless waterfowl: evidence from coprolites. Biol J Linn Soc 62:279–297

James HF, Olson SL (1991) Descriptions of thirty-two new species of birds from the Hawaiian Islands: part II passeriformes. Ornithol Monogr 46:1–88

James HF, Stafford TW, Steadman DW, Olson SL, Martin PS, Jull AJT, McCoy PC (1987) Radiocarbon dates on bones of extinct birds from Hawai'i. Proc Natl Acad Sci 84:2350–2354

Kirch PV (1982a) The impact of the prehistoric Polynesians on the Hawaiian ecosystem. Pac Sci 36(1):1–14

Kirch PV (1982b) Transported landscapes. Nat Hist 91(12):32–35

Kirch PV, Kahn JG (2007) Advances in Polynesian prehistory: a review and assessment of the past decade (1993–2004). J Archaeol Res 15:191–238

Kirch PV, McCoy MD (2007) Reconfiguring the Hawaiian cultural sequence: results of re-dating the Halawa Dune site (MO-A1–3), Moloka'i Island. J Polyn Soc 116(4):385–406

Kramer RJ (1971) Hawaiian Land Mammals. Charles E Tuttle Co., Tokyo

Loope LL, Mueller-Dombois D (1989) Characteristics of invaded islands, with special reference to Hawaii. In: Drake JA, DiCastri F, Groves RH, Kruger FMJ, Rejmanek M, Williamson M (eds) Biological invasions: a global perspective. Wiley, Chichester, pp 257–280

Lorence DH, Wood KR (1994) Kanaloa, a new genus of Fabaceae (Mimosoideae) from Hawaii. Novon 4(2):137–145

Morrison KD (1994) Monitoring regional fire history through size-specific analysis of microscopic charcoal: the last 600 years in South India. J Archaeol Sci 21:675–685

Mosby JM, Wodzicki K, Thompson HR (1973) Food of the kimoa (Rattus exulans) in the Tokelau Islands and Other Habitats of the Pacific. N Z J Sci 16:799–810

Nagata KM (1985) Early plant introductions in Hawai'i. Hawaii J Hist 19:35–61

Norman FI (1970) Food preferences of an insular population of Rattus rattus. J Zool 162:493–503

Norman FI (1975) The Murine Rodents Rattus rattus, exulans, and norvegicus as avian predators. Atoll Res Bull 182:1–13

Olson SL, James HF (1982) Prodromus of the fossil avifauna of the Hawaiian Islands. Smithsonian contributions to zoology no. 365. Smithsonian Institution Press, Washington

Olson SL, James HF (1984) The role of Polynesians in the extinction of the avifauna of the Hawaiian Islands. In: Martin PS, Klein RG (eds) Quaternary extinctions: a prehistoric revolution. The University of Arizona Press, Tucson, pp 768–780

Olson SL, James HF (1991) Descriptions of thirty-two new species of birds from the Hawaiian Islands: part I non-passeriformes. Ornithol Monogr 45:1–88

Patterson WA, Edwards JJ, Maguire DJ (1987) Microscopic charcoal as a fossil indicator of fire. Quat Sci Rev 6:3–23

Piperno DR (1990) Aboriginal agriculture and land usage in the Amazon basin, Ecuador. J Archaeol Sci 17:665–677

Rauzon MJ (2001) Isles of refuge: wildlife and history of the Northwestern Hawaiian Islands. University of Hawai'i Press, Honolulu

Smith DG, Shiinoki EK, VanderWerf EA (2006) Recovery of native species following rat eradication on Mokoli'i Island, O'ahu, Hawai'i. Pac Sci 60(2):299–303

Spriggs M, Anderson A (1993) Late colonization of East Polynesia. Antiquity 67:200–217

Stafford TW Jr, Hare PE, Currie L, Jull AJT, Donahue DJ (1991) Accelerator radiocarbon dating at the molecular level. J Archaeol Sci 18:35–72

Steadman DW (1995) Prehistoric extinctions of Pacific island birds: biodiversity meets zooarchaeology. Science 267:1123–1130

Strecker RL and Jackson WB (1962) Habitats and habits. In: Storer TI (ed), Pacific island rat ecology. Bishop Museum Bulletin 225, Honolulu pp 64–73

Temme M (1979) Polynesian rat (Rattus exulans) in the Northern Marshall Islands. Ph.D. dissertation. Bowling Green State University, Bowling Green

TenBruggencate J (1997) Team nurses last of dying species. Aug. 16, The Honolulu Advertiser

Tomich Q (1986) Mammals in Hawai'i. A synopsis and notational bibliography, vol 57. Bishop Museum Special Publication, Honolulu

Towns DR, Atkinson IAE, Daugherty CH (2006) Have the harmful effects of introduced rats on islands been exaggerated? Biol Invasions 8:863–891

Tuggle HD (1997) The 'Ewa Plain. Hawaii Archaeol 6:8–36

Tuggle HD, Spriggs M (2001) The age of the Bellows dune site O18, O'ahu, Hawai'i, and the antiquity of Hawaiian colonization. Asian Perspect 39(1–2):165–188

Tuggle HD and Tomonari-Tuggle MJ (1997a) Synthesis of Cultural Resource Studies of the 'Ewa Plain. Report prepared for Department of the Navy, Pacific Division, Naval Facilities Engineering Command, Pearl Harbor, Hawai'i, under contract with Belt Collins Hawaii, Honolulu. International Archaeological Research Institute Inc., Honolulu

Uchikawa J (2006) Utility of leaf wax normal alkanes for lacustrine sediment chronology and for reconstruction of Holocene paleovegetative changes in Hawai'i: an application of robust molecular Δ14C and δ13C techniques. M.S. Thesis in Oceanography. University of Hawaii, Honolulu

Wirtz WO (1972) Population ecology of the Polynesian rat, Rattus exulans, Kure Atoll, Hawai'i. Pac Sci 26:433–461

Wodzicki K (1978/1979) Relationships between rats and man in the central Pacific. Ethnomedicine V:433–446

Yen DE (1973) The origins of oceanic agriculture. Archaeol Phys Anthropol in Ocean 8(1):68–85

Ziegler AC (2002) Hawaiian natural history, ecology, and evolution. University of Hawai'i Press, Honolulu
Acknowledgments
Financial support for these investigations came from the Department of the Navy, Pacific Division, Naval Facilities Engineering Command, Pacific, through planning and environmental compliance contracts with Belt Collins Hawaii (BCH). International Archaeological Research Institute, Inc., served as the BCH subconsultant for archaeological investigations at NASBP. The author is extremely grateful for the support of these institutions and their staffs, and also the very substantive collaboration he enjoyed with his colleagues and their contributions to the results presented herein: H. David Tuggle, Jerome V. Ward, and David J. Welch. The author also thanks the many other people who worked on this project in what was a truly interdisciplinary effort. Finally, he wishes to thank Terry Hunt and Don Drake for their interest in this work and giving him an opportunity to present it at the conference they organized, Rats, Humans and Their Impact on Islands, held at the University of Hawai'i, Honolulu, March 27–31, 2007.
About this article
Cite this article
Athens, J.S. Rattus exulans and the catastrophic disappearance of Hawai'i's native lowland forest. Biol Invasions 11, 1489 (2009). https://doi.org/10.1007/s10530-008-9402-3
Received:

Revised:

Accepted:

Published:
Keywords
Prehistoric rats

Hawai'i

Paleoenvironment

Endemic vegetation

Forest loss

Avian extinctions