Abstract
Few comprehensive works have investigated non-indigenous snails and slugs as a group. We compiled a database of non-indigenous gastropods in Israel to explore how they arrived and spread, characteristics of their introduction, and their biological traits. Fifty-two species of introduced gastropods are known from Israel (of which nine species subsequently went extinct): 19 species of freshwater snails and 33 species of terrestrial gastropods. The majority of these species are found only in human-dominated habitats. Most of those found in natural habitats are aquatic species. Most snails are introduced unintentionally from various parts of the Holoarctic region, reaching Israel as stowaways with horticultural imports and the aquarium trade, but some are brought intentionally to be used as pets or for food. Because the study of this group in Israel is very limited, information regarding their distribution in the country and their effects on other species is incomplete. Though only nine species of non-indigenous snails have been found to date in natural habitats, some of these are very abundant. More information and research is required to enable effective management schemes.
Access options
Buy single article
Instant access to the full article PDF.
USD 39.95
Price excludes VAT (USA)
Tax calculation will be finalised during checkout.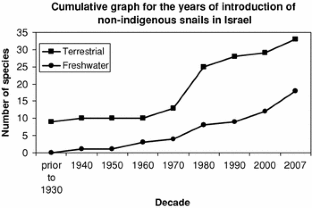 References
Appleton CC (2003) Alien and invasive fresh water Gastropoda in South Africa. Afr J Aquat Sci 28:69–81

Bar-Ze'ev UJ, Mienis HK (2002) The pilgrim snails of Terra Sancta. Holy Land spring 2002:11–12

Ben-Ami F (2006) First report of the invasive freshwater snail Tarebia granifera (Lamarck, 1816) (Gastropoda: Thiaridae) from Israel. Nautilus 120:156–161

Bohn T, Sandlund OT, Amundsen PA, Primicerio R (2004) Rapidly changing life history during invasion. Oikos 106:138–150. doi:10.1111/j.0030-1299.2004.13022.x

Byers JE (2000) Competition between two estuarine snails: implications for invasions of exotic species. Ecology 81:1225–1239

Coote T, Loeve E (2003) From 61 species to five: endemic tree snails of the society islands fall prey to an ill-judged biological control programme. Oryx 37:91–96. doi:10.1017/S0030605303000176

Cowie RH (1998) Patterns of introduction of non-indigenous non-marine snails and slugs in the Hawaiian Islands. Biodivers Conserv 7:349–368. doi:10.1023/A:1008881712635

Cowie RH, Robinson DG (2003) Pathways of introduction of nonindigenous land and freshwater snails and slugs. In: Ruiz GM, Carlton JT (eds) Invasive species: vectors and management strategies. Island Press, Washington, DC, pp 93–122

Duncan RP, Blackburn TM, Sol D (2003) The ecology of bird introductions. Annu Rev Ecol Evol Syst 34:71–98. doi:10.1146/annurev.ecolsys.34.011802.132353

Fishelson L (1983) Plants and animals of the land of Israel—life in water. Ministry of Defense, Tel-Aviv (in Hebrew)

Garcia-Ramos G, Rodriguez D (2002) Evolutionary speed of species invasions. Evol Int J Org Evol 56:661–668

Gerlach J (2001) Predator, prey and pathogen interactions in introduced snail populations. Anim Conserv 4:203–209. doi:10.1017/S136794300100124X

Hadfield MG, Miller SE, Carwile AH (1993) The decimation of endemic Hawaiian tree snails by alien predators. Am Zool 33:610–622

Hall RO Jr, Tank JL, Dybdahl MF (2003) Exotic snail dominate nitrogen and carbon cycling in a highly productive stream. Front Ecol Environ 1:407–411. doi:10.1890/1540-9295(2003)001[0407:ESDNAC]2.0.CO;2

Halwart M (1994) The golden apple snail Pomacea canaliculata in Asian rice farming systems: present impact and future threat. Int J Pest Manag 40:199–206

Heller J (1993) Land snails of the land of Israel. Natural history and a field guide. Ministry of Defence, Israel (in Hebrew)

Jaffe S (1988) Climate of Israel. In: Yom-Tov Y, Tchernov E (eds) The zoogeography of Israel the distribution and abundance at a zoogeographical crossroad. Dr. W. Junk Publishers, Dordrecht, pp 79–94

Kinzie RA (1992) Predation by the introduced carnivorous snail Euglandina rosea (Ferussac) on endemic aquatic lymnaeid snails in Hawaii. Biol Conserv 60:149–155. doi:10.1016/0006-3207(92)91248-Q

Lavergne S, Molofsky J (2007) Increased genetic variation and evolutionary potential drive the success of an invasive grass. Proc Natl Acad Sci USA 104:3883–3888. doi:10.1073/pnas.0607324104

Lowe S, Browne M, Boudjelas S, De Poorter M (2000) A selection from the Global Invasive Species Database. 100 of the World's Worst Invasive Alien Species. Published by The Invasive Species Specialist Group (ISSG), a specialist group of the Species Survival Commission (SSC) of the World Conservation Union (IUCN), 12 pp. First published as special lift-out in Aliens 12, December 2000. Updated and reprinted version: November 2004

Mienis HK (1973) Eobania vermiculata (Muller) in Israel (Gastropoda, Helicidae). Argamon Isr J Malacol 4:9–10

Mienis HK (2003) A new colony of Rumina saharica discovered in Israel. Tentacle 11:11–12

Mienis HK (2004) List of freshwater molluscs known to have been introduced in Israel. Tentacle 12:16–18

Mienis HK, Ortal R (1994) The names of fresh-water and terrestrial mollusks in Israel (with indication of endangered species). The Nature Reserve Authority, Jerusalem (in Hebrew)

Moran S (2004) The prevention of snail introductions. Yevul See 7:36 (in Hebrew)

Morgan JAT, Dejong RJ, Snyder SD, Mkoji GM, Loker ES (2001) Schistosoma mansoni and Biomphalaria: past history and future trends. Parasitology 123(Supp):S211–S228. doi:10.1017/S0031182001007703

Naylor R (1996) Invasions in agriculture: assessing the cost of the golden apple snail in Asia. Ambio 25(7):443–448

Robinson DG (1999) Alien invasions: the effects of the global economy on nonmarine gastropod introductions into the United States. Malacologia 41:413–438

Roll U, Dayan T, Simberloff D (2007a) Non-indigenous insect species in Israel and adjacent areas. Biol Invasions 9:629–643. doi:10.1007/s10530-006-9064-y

Roll U, Dayan T, Simberloff D, Goren M (2007b) Characteristics of the introduced fish fauna in Israel. Biol Invasions 9:813–824

Roll U, Dayan T, Simberloff D (2008) Non-indigenous terrestrial vertebrates in Israel and adjacent areas. Biol Invasions 10:659–972. doi:10.1007/s10530-007-9160-7

Roman J (2006) Diluting the founder effect: cryptic invasions expand a marine invader's range. Proc R Soc Lond B Biol Sci 273:2453–2459. doi:10.1098/rspb.2006.3597

Saltonstall K (2002) Cryptic invasion by a non-native genotype of the common reed, Phragmites australis, into North America. Proc Natl Acad Sci USA 99:2445–2449. doi:10.1073/pnas.032477999

Smith BJ (1989) Traveling snails. J Med Appl Malacol 1:195–204

Tchernov E (1971) Freshwater molluscs of Sinai-Peninsula. Isr J Zool 20:209–221

Teo SS (2003) Damage potential of the golden apple snail Pomacea canaliculata (Lamarck) in irrigated rice and its control by cultural approaches. Int J Pest Manag 49:49–55. doi:10.1080/713867835

Vagvolgyi J (1975) Body size, aerial dispersal, and origin of pacific land snail fauna. Syst Zool 24:465–488. doi:10.2307/2412906
Acknowledgments
We thank M. Algouati and Sh. Moran for valuable data and the internal university fund (Tel-Aviv University) for supporting this research.
Appendix 1
Appendix 1
Interceptions by inspectors of the Plant Protection and Inspection Service of the Ministry of Agriculture of land and freshwater gastropods for which no specimens have been found so far in Israel
Taxon

Family

Terrestrial/freshwater

Origin

Year

Remarks

Filopaludina martensi martensi (von Frauenfeld, 1865)

Viviparidae

Freshwater

Thailand

2005/2006

For food

Filopaludina martensi cambodjensis (Mabille & Le Mesle, 1869)

Viviparidae

Freshwater

Thailand

2006

For food

Pila ampullacea (Linnaeus, 1758)

Ampullariidae

Freshwater

Thailand

2006/2007

For food

Digoniostoma truncata (Eydoux & Souleyet, 1852)

Bithyniidae

Freshwater

Singapore/Hong Kong

Pre-1979

On aquarium plants

Ameriana carinata (H. Adams, 1861)

Planorbidae

Freshwater

Singapore/Hong Kong

Pre-1979

On aquarium plants

Gyraulus convexiusculus (Hutton, 1842)

Planorbidae

Freshwater

Singapore/Hong Kong

Pre-1979

On aquarium plants

Planorbarius corneus (Linnaeus, 1758)

Planorbidae

Freshwater

Germany

2002

On waterlilies

Planorbis planorbis planorbis (Linnaeus, 1758)

Planorbidae

Freshwater

Germany

2002

On waterlilies

Succinea putris (Linnaeus, 1758)

Succineidae

Terrestrial

Germany

2002

On waterlilies

Succinea striata (Krauss, 1848)

Succineidae

Terrestrial

South Africa

2001

Among grapes

Gittenbergia sororcula (Benoit, 1859)

Valloniidae

Terrestrial

"Netherlands" (France)

2002

On Sempervivum

Achatina achatina (Linnaeus, 1758)

Achatinidae

Terrestrial

Ghana

Nigeria

"Netherlands" (Togo)

2001

2002

2007

As "pets"

As "pets"

On Codiaeum (Croton) cuttings

Discus rotundatus (Müller, 1774)

Discidae

Terrestrial

Netherlands

2002

On Orchid

Oxychilus draparnaudi (Beck, 1837)

Oxychilidae

Terrestrial

Belgium

1986

In potplants

Limax maximus Linnaeus, 1758

Limacidae

Terrestrial

Netherlands

2007

In Bromeliacea

Arion species

Arionidae

Terrestrial

Netherlands

2001

On Sedum (specimen rotten)

Arianta arbustorum (Linnaeus, 1758)

Helicidae

Terrestrial

Estonia

2007

In peat

Cernuella cisalpina (Rossmaessler, 1837)

Hygromiidae

Terrestrial

"Cyprus"

2000

Among tomatoes

Cernuella neglecta (Draparnaud, 1805)

Hygromiidae

Terrestrial

Spain

1987

In peat

Monacha parumcincta (Menke, 1828)

Hygromiidae

Terrestrial

"Cyprus"

2000

Among tomatoes
About this article
Cite this article
Roll, U., Dayan, T., Simberloff, D. et al. Non-indigenous land and freshwater gastropods in Israel. Biol Invasions 11, 1963–1972 (2009). https://doi.org/10.1007/s10530-008-9373-4
Received:

Accepted:

Published:

Issue Date:

DOI: https://doi.org/10.1007/s10530-008-9373-4
Keywords
Biogeographic origin

Gastropods

Impact

Israel

Slugs

Snails