Abstract
The occurrence of an occasional pest of mouldy stored product residues, the blind flightless beetle Aglenus brunneus Gyll., in samples from the medieval farm at Reykholt in Iceland, along with several other strongly synanthropic beetles, is considered in relation to its fossil record. The species is dependent on man for its dispersal and survival and it probably had its primary habitat in the warm, decaying litter of the undisturbed forest floor in Europe. Now virtually cosmopolitan, it had been introduced to a remote site in the eastern desert of Egypt by the Roman period and was widespread in medieval northern Europe. The processes by which such an apparently stenotopic species could have invaded are discussed in relation to other evidence for anthropochorous dispersal.
Access options
Buy single article
Instant access to the full article PDF.
US$ 39.95
Tax calculation will be finalised during checkout.
Subscribe to journal
Immediate online access to all issues from 2019. Subscription will auto renew annually.
US$ 79
Tax calculation will be finalised during checkout.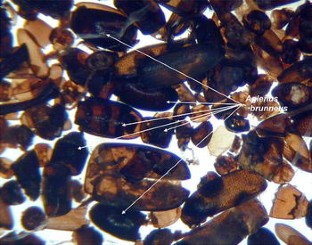 References
Amorosi T, Buckland PC, Edwards KJ, Mainland I, McGovern TH, Sadler JP et al (1998) They did not live by grass alone: the politics and palaeoecology of fodder on the North Atlantic islands. Environ Archaeol 1:41–54

Buckland PC (1976) The environmental evidence from the Church Street Roman sewer system. Archaeology of York Fascicule 12/1. Council for British Archaeology & York Archaeological Trust, London

Buckland PC (1981) The early dispersal of insect pests of stored products as indicated by archaeological records. J Stored Prod Res 17:1–12. doi:10.1016/0022-474X(81)90025-4

Buckland PC (1988) North Atlantic faunal connections—introduction or endemics? Entomol Scand 32:7–29

Buckland PC (1991) Granaries, stores and insects. The archaeology of insect synanthropy. In: Fournier D, Sigaut F (eds) La preparation alimentaire des cereales. PACT, Rixenart, Belgium, pp 69–81

Buckland PI, Buckland PC (2006) Bugs Coleopteran ecology package (Versions: BugsCEP v7.63; Bugsdata v7.11; BugsMCR v2.02; BugStats v1.22) [Downloaded 5.10.08] www.bugscep.com

Buckland PC, Sadler J (1990) Ballast and building stone: a discussion. In: Parsons D (ed) Stone quarrying and building in England AD 43–1525. Philimore, Chichester, UK, pp 114–125

Buckland PC, Greig JRA, Kenward HK (1974) York: an early medieval site. Antiquity 48:25–33

Buckland PC, Dugmore A, Sadler JP (1991) Faunal change or taphonomic problem? A comparison of modern and fossil insect faunas from south-east Iceland. In: Maizels JK, Caseldine C (eds) Environmental change in Iceland past and present. Kluwer, Dordrecht, pp 127–146

Buckland PC, Sadler JP, Sveinbjarnardóttir G (1992) Palaeoecological investigations at Reykholt, western Iceland. In: Morris C, Rackham J (eds) Norse and later settlement and subsistence in the North Atlantic. Department of Archaeology, University of Glasgow, pp 149–168

Conn DB, DeMoss GL (1984) Distribution of four troglophilic beetles in a Myotis sodalis (Chiroptera) hibernaculum. Coleopt Bull 38:251–255

Coope GR, Osborne PJ (1968) Report on the coleopterous fauna of the Roman well at Barnsley Park, Gloucestershire. Trans Bristol Glos Archaeol Soc 86:84–87

Dajoz R (1977) Coléoptères. Colydiidae et Anommatidae Paléarctiques. Faune de l'Europe et du Bassin Méditerranêen 8. Masson, Paris

Enckell PH, Bengtson S-A, Wiman B (1987) Serf and waif colonization: distribution and dispersal of invertebrate species in Faroe Island settlement areas. J Biogeogr 14:89–104. doi:10.2307/2844789

Fogliazza DD, Pagani M (1993) Insect pests in stored foodstuffs in Italy. Part 1: Coleoptera. Tecnica Molitoria 44:937–951

Girling MA (1979) Fossil insects from the Sweet Track. Somerset Levels Pap 5:84–93

Girling MA (1984) Investigations of a second insect assemblage from the Sweet Track. Somerset Levels Pap 10:79–91

Greig J (1994) Pollen analysis of latrine fills from archaeological sites in Britain: results and future potential. In: Davis OK (ed) Aspects of archaeological palynology: methodology and applications. American Association of Stratigraphic Palynologist's Foundation, Dallas, pp 101–114

Griffin K, Okland RH, Jones AKG, Kenward HK, Lie RW, Schia E (1988) Animal bones, moss, plant, insect and parasite remains. In: Schia E (ed) De arkeologiske utgravninger i Gamlebyen, Oslo 5. Alveheim & Eide, Ovre Ervik, pp 115–140

Hill DS (1994) Agricultural Entomology. Timber Press, Oregon

Hinton HE (1945) A monograph of the beetles associated with stored products I. British Museum of Natural History, London

Horion A (1960) Faunistik der Mitteleuropäischen Käfer 7. Clavicornia, Sphaeritidae—Phalacridae. Uberlingen-Bodensee

Hunter FA, Tulloch JBM, Lambourne MG (1973) Insects and mites of maltings in the East Midlands of England. J Stored Prod Res 9:119–141. doi:10.1016/0022-474X(73)90019-2

Kenward HK (1975) The biological and archaeological implications of the beetle Aglenus brunneus (Gyllenhal) in ancient faunas. J Archaeol Sci 2:63–69. doi:10.1016/0305-4403(75)90046-1

Kenward HK (1976) Further archaeological records of Aglenus brunneus (Gyll.) in Britain and Ireland, including confirmation of its presence in the Roman period. J Archaeol Sci 3:275–277. doi:10.1016/0305-4403(76)90062-5

Kenward HK, Allison E (1994) A preliminary view of the insect assemblages from the early Christian rath site at Deer Park Farms, Northern Ireland. In: Rackham, J (ed) Environment and economy in Anglo-Saxon England. Council for British Archaeology Research Report, pp 89-107

Koch K (1989) Ökologie 2. Die Käfer Mitteleuropas. Goecke & Evers, Krefeld

Larsson SJ, Gígja G (1959) Coleoptera. Zoology of Iceland 43a. Munksgaard, Copenhagen

Lemdahl G, Aronsson M, Hedenäs L (1995) Insekter från ett medeltida handelfartyg. Entomol Tidskr 116:169–174

Lindroth CH (1957) The faunal connections between Europe and North America. Wiley, New York

Lindroth CH, Andersson H, Bodvarsson H, Richter SH (1973) Surtsey, Iceland. The Development of a New Fauna, 1963–1970. Terrestrial Invertebrates. Entomologica Scandinavia: Suppl. 5

Lucas FW (ed) (1898) The annals of the voyages of the brothers Nicolo and Antonio Zeno in the North Atlantic about the end of the fourteenth century, and the claim founded thereon to a Venetian discovery of America: a criticism and an indictment. H. Stevens, son & Stiles, London

O'Brien C, Selby K, Ruiz Z, Brown A, Dinnin M, Caseldine C et al (2005) A sediment-based multi-proxy palaeoecological approach to the environmental archaeology of lake dwellings (crannogs), central Ireland. Holocene 15:707–719. doi:10.1191/0959683605hl845rp

Ólafsson E (1991) Íslenskt skordýratal. Fjölrit Náttúrufræðistofnunar 17

Ólafsson E, Richter SH (1985) Húsamaurinn Hypoponera punctatissima. Natturufraedingurinn 55:139–146

Pals JP, Hakbijl T (1992) Weed and insect infestation of a grain cargo in a ship at the Roman fort of Laurium in Woerden (Province of Zuid-Holland). Rev Palaeobot Palynol 73:287–300. doi:10.1016/0034-6667(92)90064-N

Panagiotakopulu E (2001) New records for ancient pests: archaeoentomology in Egypt. J Archaeol Sci 28:1235–1246. doi:10.1006/jasc.2001.0697

Panagiotakopulu E, van der Veen M (1997) Synanthropic insect faunas from Mons Claudianus, a Roman quarry site in the Eastern Desert, Egypt. Quat Proc 5:199–206

Perry DW, Buckland PC, Snaesdóttir M (1985) The application of numerical techniques to insect assemblages from the site of Stóraborg, Iceland. J Archaeol Sci 12:335–345. doi:10.1016/0305-4403(85)90062-7

de Peyerimhoff P (1945) Les Genres de Coleoptérès importès ou acclimatés dans la fauna euro-mediterraéenne. Revenue Française d'Entomologie 12:5–11

Rule M, Monaghan J (1993) A Gallo-Roman trading vessel from Guernsey. The excavation and recovery of a third century shipwreck. Guernsey Museum Monograph

Sadler J (1991) Beetles, boats and biogeography. Insect invaders of the North Atlantic. Acta Archaeol 61:166–198

Sveinbjarnardóttir G (2004) Interdisciplinary research at Reykholt in Borgarfjörður. In: Guðmundsson G (ed) Current issues in Nordic archaeology. Society of Icelandic Archaeologists, Reykjavík, pp 93–97

Sveinbjarnardóttir G (2005) The use of geothermal resources at Reykholt in Borgarfjörður in the medieval period. Ann Societatis Sci Faeroensis Suppl 44:208–216

Sveinbjarnardóttir G (2006) Reykholt: a centre of power: the archaeological evidence. In: Mundal E (ed) Reykholt som makt- og lærdomssenter i den islandske og nordiske kontekst. Snorrastofa, Menningar- og miðaldasetur, Reykholt, Iceland, pp 25–42

Sveinbjarnardóttir G, Erlendsson E, Vickers K, McGovern TH, Milek KB, Edwards KJ et al (2007) The palaeoecology of a high status Icelandic farm. Environ Archaeol 12:187–206. doi:10.1179/174963107x226453

Tozer EN (1973) On the British species of Lathridius Herbst (Col., Lathridiidae). Entomologist's Mon Mag 108:193–199

Valamoti SM, Buckland PC (1995) An early find of Oryzaephilus surinamensis from final Neolithic Mandalo, Macedonia, Greece. J Stored Prod Res 31:307–309. doi:10.1016/0022-474X(95)00042-6

Woodroffe GE (1967) Phoretic behaviour of adult Aglenus brunneus (Gyllenhal) (Col., Colydiidae). Entomologist's Mon Mag 103:44

Zutter C (2000) Wood and plant-use in 17th–19th century Iceland: archaeobotanical analysis of Reykholt, Western Iceland. Environ Archaeol 5:73–82
Acknowledgements
The archaeological features beneath the modern graveyard was noted during the digging of graves by Séra Geir Waage, the priest at Reykholt, and sampling was carried out by EP, whilst working with GS. This research has been made possible by a major research award from the Leverhulme Trust to whom primary acknowledgment is made.
About this article
Cite this article
Buckland, P.C., Panagiotakopulu, E. & Sveinbjarnardóttir, G. A failed invader in the North Atlantic, the case of Aglenus brunneus Gyll. (Col., Colydiidae), a blind flightless beetle from Iceland. Biol Invasions 11, 1239–1245 (2009). https://doi.org/10.1007/s10530-008-9339-6
Received:

Accepted:

Published:

Issue Date:
Keywords
Coleoptera

Colydiidae

Iceland

Biogeography

Dispersal