Abstract
We found all developmental stages of the midge Telmatogeton japonicus (Chironomidae) on offshore windmills near the major Swedish seaport Kalmar in the southern Baltic Sea. This might be the first record of an insect species really inhabiting the offshore areas of the Baltic Sea. A thorough analysis of previous findings of the species, its history in Europe and its ecology indicates that T. japonicus quite likely is an alien species in Europe introduced from the Pacific Ocean. Shipping is probably the vector, as all records in the Baltic Sea and several from the Eastern Atlantic Sea are near major seaports. Our analysis further suggests that T. japonicus might be both advantageous and disadvantageous to native species in the Baltic Sea. T. japonicus should be kept under observation within monitoring programmes as it might expand its distribution as a result of the construction of new windmills in the Baltic Sea and elsewhere in European marine and brackish water habitats.
Access options
Buy single article
Instant access to the full article PDF.
US$ 39.95
Tax calculation will be finalised during checkout.
Subscribe to journal
Immediate online access to all issues from 2019. Subscription will auto renew annually.
US$ 79
Tax calculation will be finalised during checkout.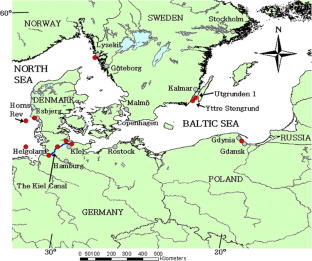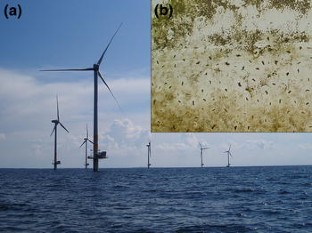 References
Adams A (1983) Cryptobiosis in Chironomidae (Diptera). Antenna 8:58–61

Baldursson S, Ingadottir A (2006) Nomination of Surtsey for the UNESCO World Heritage list. Icelandic Inst Nat Hist, 120 pp

Barnes RSK (1989) What, if anything, is a brackish-water fauna? Trans R Soc Edinb Earth Sci 80:235–240

Boudewijn TJ, Meijer AJM (2007) De kolonisatie door flora en fauna van betonblokken op het zuidelijk havenhoofd te IJmuiden. Bureau Waadenburg, Culemborg, bv. NOTA WSA 07.06, 76 pp

Bretschko G (1982) Pontomyia Edwards (Diptera: Chironomidae), a member of the coral reef community at Carrie Bow Cay, Belize. Smithson Contrib Mar Sci 12:381–385

Bugledich E-M, Cranston PS, Martin J (2007) Australian fauna directory, Chironomidae. Australian Government, Department of Environmental Water Research http://www.environment.gov.au/biodiversity/abrs/online-resources/fauna. Cited 11 Dec 2007

Buxton PA (1926) The colonization of the sea by insects: with an account of habitats of Pontomyia, the only known submarine insect. Proc Zool Soc Lond 51:807–814

Colbo MH (1996) Chironomidae from marine coastal environments near St. John's, Newfoundland, Canada. Hydrobiologia 318:117–122. doi:10.1007/BF00014137

Cranston PS (1989) The adult males of Telmatogetoninae (Diptera: Chironomidae) of the Holarctic region. Keys and diagnoses. In: Wiederholm T (ed) Chironomidae of the Holarctic region. Entomol Scand Suppl, vol 34, pp 17–21

De Jong H, Saether OA, Spies M (2007) Fauna Europaea, Chironomidae (Diptera). Fauna Europaea Ver 1.3. http://www.faunaeur.org. Cited 11 Dec 2007

Dong Energy, Vattenfall, The Danish Energy Authority, The Danish Forest and Nature Agency (2006) Danish offshore wind-key environmental issues. Danish Energy Authorities, ISBN 87-7844-625-2

Elsam Engineering A/S (2005) Elsam offshore wind turbines-Horns Rev. Annual status report for the environmental monitoring programme 1 January 2004 to 31 December 2004. Elsam Eng 222465:1–96

Englund RA (2001) Long-term aquatic insect monitoring. Hawaii Biol Surv 2001–2010:1–12

Hashimoto H (1973) Marine chironomids from Australia, with description of a new species of the genus Clunio (Diptera: Chironomidae). Bull Facul Educ Shizuoka Univ Nat Sci Ser 24:1–17

Hill M, Baker R, Broad G, Chandler PJ, Copp GH, Ellis J, Jones D, Hoyland C, Laing I, Longshaw M, Moore N, Parrott D, Pearman D, Preston C, Smith RM, Waters R (2005) Audit of non-native species in England. English Nat Res Rep 662:1–82

ICES (International Council for the Exploration of the Sea) (2005) Report of the working group on introductions and transfers of marine organisms. ICES CM 2005/ACME:05, pp 1–173

IEA (International Energy Agency) (2006) Wind energy annual report 2006, ISBN 0-9786383-1-x, Paris, 272 pp

Informationscentralerna för Bottniska viken, Egentliga Östersjön och Västerhavet (2007) Alien species in Swedish seas. http://www.frammandearter.se/. Cited 10 Dec 2007

Kerckhof F, Haelters J, Gollasch S (2007) Alien species in the marine and brackish water ecosystems: the situation in Belgian waters. Aquat Invas 2:243–257

Kirk-Spriggs AH, Ismay JW, Ackland M, Rohácêk J, Mathis WN, Foster GA, Pape T, Cranston PS, Meier R (2001) Inter-tidal Diptera of southwestern Africa (Chironomidae, Canacidae, Chloropidae, Milichiidae, Tethinidae, Ephydridae, Sphaeroceridae, Coelopidae, Sarcophagidae and Anthomyiidae). Cimbebasia 17:85–135

Kronberg I (1986) Riesenchromosomen und Artareal einer baltischen Telmatogeton-Art (Diptera: Chironomidae: Telmatogetoninae). Zeitschr Zool Syst Evolutionsforsch 24:190–197

Kronberg I (1988) Structure and adaptation of the fauna in the black zone (littoral fringe) along rocky shores in northern Europe. Mar Ecol Prog Ser 49:95–106

Leonhard SB, Pedersen J (2006) Benthic communities at Horns Rev before, during and after construction of Horns Rev offshore wind farm. Final report, Annual report 2005. Vattenfall Denmark/Sweden, 134 pp

Murray DA (1999) Two marine coastal-dwelling Chironomidae (Diptera) new to the fauna of Iceland: Telmatogeton japonicus Tokunaga (Telmatogetoninae) and Clunio marinus Haliday (Orthocladiinae). Bull Irish Biogeogr Soc 23:89–91

Murray DA (2000) First record of Telmatogeton japonicus Tokunaga (Dipt, Chironomidae) from British Isles and additional records of halobiont Chironomidae from Ireland. Entomol Mon Mag 136:157–159

Neumann D (1976) Adaptations of chironomids to intertidal environments. Ann Rev Entomol 21:387–414

Nobanis (2007) North European and Baltic Network on invasive alien species. Nordic Council of Ministers. http://www.nobanis.org/Search.asp. Cited 10 Dec 2007

Paasivirta L (2000) Chironomidae (Diptera) of the northern Baltic Sea. In: Hoffrichter O (ed) Late 20th century research on Chironomidae: an anthology from the 13th international symposium on Chironomidae. Achen, Germany, pp 589–598

Remane A, Schlieper C (1971) Biology of brackish water. Die Binnengewässer 25:1–372

Remmert H (1963) Telmatogeton remanei n.sp. eine neue marine Chironomide aus der Kieler Förde. Zool Anz 171:165–178

Robles C (1984) Coincidence of agonistic larval behaviour, uniform dispersion and unusual pupal morphology in a genus of marine midges (Diptera: Chironomidae). J Nat Hist 18:897–904

Schnell O, Aagaard K (1996) Chironomidae. In: Aagaard K, Dolmen D (eds) Limnofauna Norvegicae. Katalog over norsk ferskvannfauna. Tapir Forlag, Trondheim, Norway

SMHI (Swedish Meteorological and Hydrological Institute) (2007) Weather data. SMHIs database SHARK (Svenskt HavsARKiv) Data produced by the SMHI within the Swedish Marine Monitoring program and Kalmar County Administrative Board

Smith DG (2001) Pennak's freshwater invertebrates of the United States, 4th edn. Wiley, New York, 638 pp

Solarz W (2007) Alien species in Poland. Inst Nat Conserv Polish Acad Sci, Krakow: 1–6 http://gbif.iop.krakow.pl/ias/list.asp. Cited 11 Dec 2007

South Carolina Department of Natural Resources (2005) South Carolina comprehensive wildlife conservation strategy 2005–2010. Appendix 1: Priority conservation species of S Carolina. http://wildlifeactionplans.org/pdfs/action_plans/sc_action_plan.pdf. Cited 11 Dec 2007

Spies M, Saether OA (2004) Notes and recommendations on taxonomy and nomenclature of Chironomidae (Diptera). Zootaxa 752:1–90

Sunose T, Fujisawa T (1982) Ecological studies of the intertidal chironomid Telmatogeton japonicus Tokunaga in Hokkaido. Res Popul Ecol 24:70–84

Szadziewski R (1977) Telmatogeton gedanensis sp.n. (Clunioninae, Chironomidae, Diptera), new marine chironomid from the Polish Baltic Coast. Polskie Pismo Entomol 47:175–184

Szadziewski R (1978) Telmatogeton remanei Remmert (Chironomidae, Diptera) w Polsce. Polskie Pismo Entomol 48:421–422

Thienemann A (1954) Chironomus. Leben, Verbreitung und wirtschaftliche Bedeutung der Chironomiden. Binnengewässer 20:1–834

Tokunaga M (1935) Chironomidae from Japan IV On the early stages of a marine midge Telmatogeton japonicus Tokunaga. Philippine J Sci 57:491–511

Ward JV (1992) Aquatic insect ecology. 1. Biology and habitat. Wiley, New York, 456 pp

Wirth WW (1949) A revision of the clunionine midges with description of a new genus and four new species. Univ Calif Publ Entomol 8:151–182
Acknowledgements
The authors would like to thank Anders Olsson from Vattenfall in Bergkvara for assistance during the gathering of larvae and flying adults of the midge in difficult weather conditions. We also like to thank Peter Sigray at Stockholm University for appreciated advice.
About this article
Cite this article
Brodin, Y., Andersson, M.H. The marine splash midge Telmatogon japonicus (Diptera; Chironomidae)—extreme and alien?. Biol Invasions 11, 1311 (2009). https://doi.org/10.1007/s10530-008-9338-7
Received:

Accepted:

Published:
Keywords
Baltic Sea

Invasive species

Marine insect

Offshore windmills

Telmatogeton japonicus