Abstract
In 2007 an unusual crayfish found in food markets in the capital of Madagascar was preliminarily identified as Procambarus 'Marmorkrebs': a new world taxa and the only decapod known to reproduce by parthenogenesis. We present information on the identity, distribution and ecology of this recent invader and attempt to evaluate the threat it poses to Madagascar's biodiversity and to livelihoods. The species appears to be currently limited to the area close to Antananarivo, but is being sold alive on major transport routes. We present molecular evidence of its taxonomic relationships and confirm that the Procambarus present in Madagascar is indeed the parthenogenic taxa. We investigate its reproductive ecology and find Procambarus 'Marmorkrebs' to have an extremely high fecundity; more than six times that of the native crayfish Astacoides. The limited evidence we have suggests that this species poses a serious threat to freshwater biodiversity and that it is likely to damage human livelihoods (through its impact on fishing and possibly rice agriculture). More research is urgently needed but in the meantime action is needed to reduce the rate of spread before it is too late.
This is a preview of subscription content,
to check access.
Access this article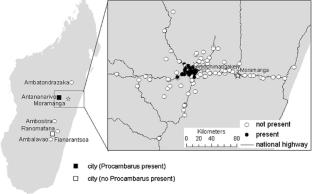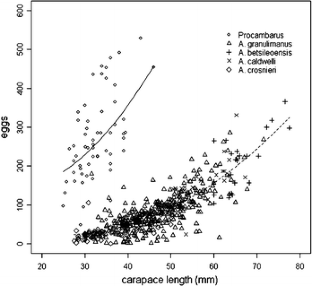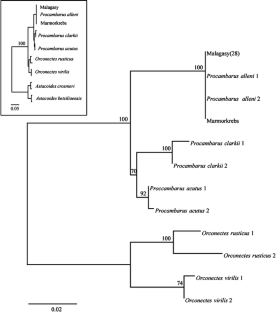 References
Anastacio PM, Nielsen SN, Marques JC, Jorgensen SE (1995) Integrated production of crayfish and rice—a management model. Ecol Eng 4:199–210. doi:10.1016/0925-8574(94)00059-E

Anastacio PM, Parente VS, Correia AM (2005) Crayfish effects on seeds and seedlings: identification and quantification of damage. Freshw Biol 50:697–704. doi:10.1111/j.1365-2427.2005.01343.x

Benstead JP, De Rham PH, Gattolliat JL, Gibon FM, Loiselle PV, Sartori M et al (2003) Conserving Madagascar's freshwater biodiversity. Bioscience 53:1101–1111. doi:10.1641/0006-3568(2003)053[1101:CMFB]2.0.CO;2

Burnham K, Anderson D (1998) Model selection and inference: a practical information theoretical approach. Springer-Verlag, New York

Caley P, Lonsdale WM, Pheloung PC (2006) Quantifying uncertainty in predictions of invasiveness. Biol Invasions 8:277–286. doi:10.1007/s10530-004-6703-z

Crandall KA, Fitzpatrick JF (1996) Crayfish molecular systematics: using a combination of procedures to estimate phylogeny. Syst Biol 45:1–26. doi:10.2307/2413509

Cruz MJ, Rebelo R (2007) Colonization of freshwater habitats by an introduced crayfish, Procambarus clarkii, in Southwest Iberian Peninsula. Hydrobiologia 575:191–201. doi:10.1007/s10750-006-0376-9

Dostie B, Haggblade S, Randriamamonjy J (2002) Seasonal poverty in Madagascar: magnitude and solutions. Food Policy 27:493–518. doi:10.1016/S0306-9192(02)00063-5

Genovesi P (2005) Eradications of invasive alien species in Europe: a review. Biol Invasions 7:127–133. doi:10.1007/s10530-004-9642-9

Gherardi F (2006) Crayfish invading Europe: the case study of Procambarus clarkii. Mar Freshw Behav Physiol 39:175–191. doi:10.1080/10236240600869702

Gherardi F, Acquistapace P (2007) Invasive crayfish in Europe: the impact of Procambarus clarkii on the littoral community of a Mediterranean lake. Freshw Biol 52:1249–1259. doi:10.1111/j.1365-2427.2007.01760.x

Goodman SM, Benstead JP (2003) The natural history of Madagascar. The University of Chicago Press, Chicago, USA

Gurevitch J, Padilla DK (2004) Are invasive species a major cause of extinctions? Trends Ecol Evol 19:470–474. doi:10.1016/j.tree.2004.07.005

Hein CL, Vander Zanden MJ, Magnuson JJ (2007) Intensive trapping and increased fish predation cause massive population decline of an invasive crayfish. Freshw Biol 52:1134–1146. doi:10.1111/j.1365-2427.2007.01741.x

Huner JV (2002) Crayfish of commercial importance: Procambarus. In: Holdich DM (ed) Biology of freshwater Crayfish. Blackwell Science, Oxford, UK, pp 541–584

Jones JPG, Andriahajaina FB, Hockley NJ, Crandall KA, Ravoahangimalala OR (2007) The ecology and conservation status of Madagascar's endemic freshwater crayfish (Parastacidae; Astacoides). Freshw Biol 52:1820–1833. doi:10.1111/j.1365-2427.2007.01766.x

Katoh K, Misawa K, Kuma K, Miyata T (2002) MAFFT: a novel method for rapid multiple sequence alignment based on fast Fourier transform. Nucleic Acids Res 30:3059–3066. doi:10.1093/nar/gkf436

Kolar CS, Lodge DM (2002) Ecological predictions and risk assessment for alien fishes in North America. Science 298:1233–1236. doi:10.1126/science.1075753

Leung B, Lodge DM, Finnoff D, Shogren JF, Lewis MA, Lamberti G (2002) An ounce of prevention or a pound of cure: bioeconomic risk analysis of invasive species. Proc R Soc Lond B Biol Sci 269:2407–2413. doi:10.1098/rspb.2002.2179

Lodge DM, Kershner MW, Aloi JE, Covich AP (1994) Effects of an omnivorous crayfish (Orconectes rusticus) on a freshwater littoral food-web. Ecology 75:1265–1281. doi:10.2307/1937452

Mack RN (1996) Predicting the identity and fate of plant invaders: emergent and emerging approaches. Biol Conserv 78:107–121. doi:10.1016/0006-3207(96)00021-3

Mack RN, Simberloff D, Lonsdale WM, Evans H, Clout M, Bazzaz FA (2000) Biotic invasions: causes, epidemiology, global consequences, and control. Ecol Appl 10:689–710. doi:10.1890/1051-0761(2000)010[0689:BICEGC]2.0.CO;2

Manchester SJ, Bullock JM (2000) The impacts of non-native species on UK biodiversity and the effectiveness of control. J Appl Ecol 37:845–864. doi:10.1046/j.1365-2664.2000.00538.x

McCarthy JM, Hein CL, Olden JD, Vander Zanden MJ (2006) Coupling long-term studies with meta-analysis to investigate impacts of non-native crayfish on zoobenthic communities. Freshw Biol 51:224–235. doi:10.1111/j.1365-2427.2005.01485.x

Oidtmann B, Geiger S, Steinbauer P, Culas A, Hoffmann RW (2006) Detection of Aphanomyces astaci in North American crayfish by polymerase chain reaction. Dis Aquat Organ 72:53–64. doi:10.3354/dao072053

Pimentel D, Zuniga R, Morrison D (2005) Update on the environmental and economic costs associated with alien-invasive species in the United States. Ecol Econ 52:273–288. doi:10.1016/j.ecolecon.2004.07.013

Posada D, Crandall KA (1998) MODELTEST: testing the model of DNA substitution. Bioinformatics 14:817–818. doi:10.1093/bioinformatics/14.9.817

R Core Development Team (2007) R: A language and environment for statistical computing. R Foundation for Statistical Computing, Vienna, Austria. http://www.R-project.org

Rejmanek M (1996) A theory of seed plant invasiveness: the first sketch. Biol Conserv 78:171–181. doi:10.1016/0006-3207(96)00026-2

Rodriguez CF, Becares E, Fernandez-Alaez M, Fernandez-Alaez C (2005) Loss of diversity and degradation of wetlands as a result of introducing exotic crayfish. Biol Invasions 7:75–85. doi:10.1007/s10530-004-9636-7

Rosenthal SK, Stevens SS, Lodge DM (2006) Whole-lake effects of invasive crayfish (Orconectes spp.) and the potential for restoration. Can J Fish Aquat Sci 63:1276–1285. doi:10.1139/F06-037

Rosenzweig ML (2001) The four questions: what does the introduction of exotic species do to diversity? Evol Ecol Res 3:361–367

Scholtz G, Braband A, Tolley L, Reimann A, Mittmann B, Lukhaup C et al (2003) Ecology—parthenogenesis in an outsider crayfish. Nature 421:806–806. doi:10.1038/421806a

Sparks JS, Stiassny MLJ (2003) Introduction to the freshwater fishes. In: Goodman SM, Benstead JP (eds) The natural history of Madagascar. The University of Chicago, Chicago, USA, pp 849–864

Stebbing PD, Watson GJ, Bentley MG, Fraser D, Jennings R, Rushton SP et al (2003) Reducing the threat: the potential use of pheromones to control invasive signal crayfish. Bull Fr Peche Piscicult 370–371:219–224. doi:10.1051/kmae:2003017

Zwickl DJ (2006) Genetic algorithm approaches for the phylogenetic analysis of large biological sequence datasets under the maximum likelihood criterion. Ph.D. dissertation, The University of Texas at Austin
Acknowledgements
Thanks to K. Crandall, R. Jenkins, Aidan Keane, A. Ratsimbazafy, students in the Department of Animal Biology, University of Antananarivo, The Leverhulm Trust and Conservation International Madagascar.
About this article
Cite this article
Jones, J.P.G., Rasamy, J.R., Harvey, A. et al. The perfect invader: a parthenogenic crayfish poses a new threat to Madagascar's freshwater biodiversity. Biol Invasions 11, 1475–1482 (2009). https://doi.org/10.1007/s10530-008-9334-y
Received:

Accepted:

Published:

Issue Date:

DOI: https://doi.org/10.1007/s10530-008-9334-y
Keywords