Abstract
Dominant tree species influence community and ecosystem components through the quantity and quality of their litter. Effects of litter may be modified by activity of ecosystem engineers such as earthworms. We examined the interacting effects of forest litter type and earthworm presence on invasibility of plants into forest floor environments using a greenhouse mesocosm experiment. We crossed five litter treatments mimicking historic and predicted changes in dominant tree composition with a treatment of either the absence or presence of nonnative earthworms. We measured mass loss of each litter type and growth of a model nonnative plant species (Festuca arundinacea, fescue) sown into each mesocosm. Mass loss was greater for litter of tree species characterized by lower C:N ratios. Earthworms enhanced litter mass loss, but only for species with lower C:N, leading to a significant litter × earthworm interaction. Fescue biomass was significantly greater in treatments with litter of low C:N and greater mass loss, suggesting that rapid decomposition of forest litter may be more favorable to understory plant invasions. Earthworms were expected to enhance invasion by increasing mass loss and removing the physical barrier of litter. However, earthworms typically reduced invasion success but not under invasive tree litter where the presence of earthworms facilitated invasion success compared to other litter treatments where earthworms were present. We conclude that past and predicted future shifts in dominant tree species may influence forest understory invasibility. The presence of nonnative earthworms may either suppress of facilitate invasibility depending on the species of dominant overstory tree species and the litter layers they produce.
This is a preview of subscription content, log in to check access.
Access options
Buy single article
Instant unlimited access to the full article PDF.
US$ 39.95
Price includes VAT for USA
Subscribe to journal
Immediate online access to all issues from 2019. Subscription will auto renew annually.
US$ 99
This is the net price. Taxes to be calculated in checkout.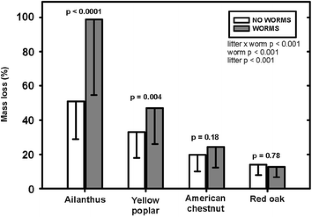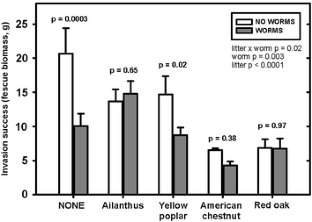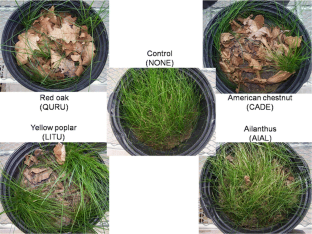 References
Abrams MD, Orwig DA, Dockry MJ (1997) Dendroecology and successional status of two contrasting old-growth oak forests in the Blue Ridge Mountains, USA. Can J For Res 27:994–1002. doi:10.1139/cjfr-27-7-994

Beatty SW (2003) Habitat heterogeneity and maintenance of species in understory communities. In: Gilliam FS, Roberts MR (eds) The herbaceous layer in forests of Eastern North America. Oxford University Press, New York, pp 177–197

Bohlen PJ, Groffman PM, Fahey TJ, Fisk MC, Suárez E, Pelletier DM et al (2004) Ecosystem consequences of exotic earthworm invasion of north temperate forests. Ecosystems (N Y, Print) 7:1–12. doi:10.1007/s10021-003-0126-z

Brown GC, Edwards CA, Brussard L (2004) How earthworms affect plant growth: burrowing into the mechanisms. In: Edwards CE (ed) Earthworm ecology, 2nd edn. CRC Press, Boca Raton, pp 13–49

Carmean WH, Hahn JT (1983) Site comparisons for upland oaks and yellow-poplar in the central states. J For 81:736–739

Curry JP, Schmidt O (2007) The feeding ecology of earthworms––a review. Pedobiologia (Jena) 50:463–477. doi:10.1016/j.pedobi.2006.09.001

Darwin C (1881) The formation of vegetable mould through the action of worms, with observations on their habits. John Murray, London, 326 pp

Ehrenfeld JG, Kourtev P, Huang W (2001) Changes in soil functions following invasions of exotic understory plants in deciduous forests. Ecol Appl 11:1287–1300. doi:10.1890/1051-0761(2001)011[1287:CISFFI]2.0.CO;2

Eisenhauer N, Scheu S (2008) Invasibility of experimental grassland communities: the role of earthworms, plant functional group identity and seed size. Oikos. doi:10.1111/j.0030-1299.2008.16812.x

Ellison AM, Bank MS, Clinton BD, Colburn EA, Elliot K, Ford CR et al (2005) Loss of foundation species: consequences for the structure and dynamics of forested ecosystems. Front Ecol Environ 3:479–486

Facelli JM (1994) Multiple indirect effects of plant litter affect the establishment of woody seedlings in old fields. Ecology 75:1727–1735. doi:10.2307/1939632

Facelli JM, Pickett STA (1991) Plant litter: its dynamics and effects on plant community structure. Bot Rev 57:1–32. doi:10.1007/BF02858763

Frelich LE, Hale CM, Scheu S, Holdsworth AR, Heneghan L, Bohlen PJ et al (2006) Earthworm invasion into previously earthworm-free temperate and boreal forests. Biol Invasions 8:1235–1245. doi:10.1007/s10530-006-9019-3

Gilliam FS, Roberts MR (2003) Interactions between the herbaceous layer and overstory canopy of eastern forests: a mechanism for linkage. In: Gilliam FS, Roberts MR (eds) The herbaceous layer in forests of Eastern North America. Oxford University Press, New York, pp 198–223

Grigal DF, Grizzard T (1975) Analysis of litterfall in a deciduous forest on Walker Branch watershed, Tennessee: data stratification by two alternative models. Am Midl Nat 94:361–369. doi:10.2307/2424432

Hale CM, Frelich LE, Reich PB (2005) Changes in hardwood forest understory plant communities in response to European earthworm invasions. Ecology 87:1637–1649. doi:10.1890/0012-9658(2006)87[1637:CIHFUP]2.0.CO;2

Hättenschwiler S, Tiunov AV, Scheu S (2005) Biodiversity and litter decomposition in terrestrial ecosystems. Annu Rev Ecol Evol Syst 36:191–218. doi:10.1146/annurev.ecolsys.36.112904.151932

Hendrix PF (2007) Biological invasions belowground: earthworms as invasive species. Springer Verlag, Amsterdam, 132 pp

Heneghan L, Steffan J, Fagen K (2007) Interactions of an introduced shrub and introduced earthworms in an Illinois urban woodland: impact on leaf litter decomposition. Pedobiologia (Jena) 50:543–551. doi:10.1016/j.pedobi.2006.10.002

Hobbie SE, Reich PB, Oleksyn J, Ogdahl M, Zytkowiak R, Hale C et al (2006) Species effects on litter chemistry and microenvironment regulate litter decomposition and forest floor dynamics in a common garden experiment with fourteen tree species. Ecology 87:2288–2297. doi:10.1890/0012-9658(2006)87[2288:TSEODA]2.0.CO;2

Johnson PS, Shifley SR, Rogers R (2002) The ecology and silviculture of oaks. CABI Publishing, Cambridge, 503 pp

Jouquet P, Dauber J, Lagerlo J, Lavelle P, Lepage M (2006) Soil invertebrates as ecosystem engineers: intended and accidental effects on soil and feedback loops. Appl Soil Ecol 32:153–164. doi:10.1016/j.apsoil.2005.07.004

Kalisz PJ, Dotson DB (1989) Land-use history and the occurrence of exotic earthworms in the mountains of eastern Kentucky, USA. Am Midl Nat 122:288–297. doi:10.2307/2425915

Kourtev P, Huang W, Ehrenfeld JG (1999) Differences in earthworm densities and nitrogen dynamics under exotic and native plant species. Biol Invasions 1:237–245. doi:10.1023/A:1010048909563

Levene H (1960) Robust tests for equality of variances. In: Oikin I, Ghurye SG, Hoeffding W, Madow WG, Mann HB (eds) Contributions to probability and statistics. Stanford University Press, Stanford, CA, pp 278–292

Loftis DL, McGee CE (1992) Oak regeneration: serious problems and practical recommendations. Symposium proceedings, Sept. 8–10, Knoxville, TN. General Technical Report SE-84

McCament CL, McCarthy BC (2005) Two-year response of American chestnut (Castanea dentata) seedlings to shelterwood harvesting and fire in a mixed-oak forest ecosystem. Can J For Res 35:740–749. doi:10.1139/x05-002

McShea WJ, William MH, Devers P, Fearer T, Koch FH, Stauffer D et al (2007) Forestry matters: decline of oaks will impact wildlife in hardwood forests. J Wildl Manage 71:1718–1728. doi:10.2193/2006-169

Milcu A, Schumacher J, Scheu S (2006) Earthworms (Lumbricus terrestris) affect plant seedling recruitment and microhabitat heterogeneity. Funct Ecol 20:261–268. doi:10.1111/j.1365-2435.2006.01098.x

Perel TS, Sokolov DF (1964) A quantitative assessment of the role of earthworms Lumbricus terrestris L. (Lumbricidae, Oligochaeta) in processing forest litter. Zool Zh 43:1618–1624

Reich PB, Frelich L (2002) Temperate deciduous forests. In: Mooney H, Canadell JG (eds) Encyclopedia of global environmental change. Wiley, Chichester, pp 565–569

Rhoades C (2007) The influence of American Chestnut (Castanea dentata) on nitrogen availability, organic matter and chemistry of silty and sandy loam soils. Pedobiologia (Jena) 50:553–562. doi:10.1016/j.pedobi.2006.10.003

Russell EWB (1987) Pre-blight distribution of Castanea dentata (Marsh.) Borkh. Bull Torrey Bot Soc 114:183–190. doi:10.2307/2996129

Satchell JE (1983) Earthworm ecology in forest soils. In: Satchell JE (ed) Earthworm ecology: from Darwin to vermiculture. Chapman and Hall, London, pp 161–170

Sayer EJ (2006) Using experimental manipulation to assess the roles of leaf litter in the functioning of forest ecosystems. Biol Rev Camb Philos Soc 81:1–31. doi:10.1017/S1464793105006846

Shapiro SS, Wilk MB (1965) An analysis of variance test for normality (complete samples). Biometrika 52:591–611

Simberloff D, Von Holle B (1999) Positive interactions of nonindigenous species: invasional meltdown? Biol Invasions 1:21–32. doi:10.1023/A:1010086329619

Wardle D (2002) Communities and ecosystems: linking the aboveground and belowground components. Princeton University Press, Princeton, 390 pp
Acknowledgements
We thank Debbie Wiley and Aaron Teets for assistance in the greenhouse and lab. Bobbie Niederlehner helped with the carbon and nitrogen analysis. Erik Nilsen provided greenhouse space and helpful comments on earlier drafts. Jessica Homyack, Aimeé Classen, and Martin Nuñez provided helpful comments during manuscript preparation. Cindy Hale, Carola Haas, Tom Fox, Nate Sanders, and Dan Simberloff provided helpful comments and ideas during project conception. The work was supported by NSF-DBI grant # 0400684, USDA-NRI grant # 2005-35101-15363 and a Virginia Tech WPI Environmental Fellowship.
About this article
Cite this article
Belote, R.T., Jones, R.H. Tree leaf litter composition and nonnative earthworms influence plant invasion in experimental forest floor mesocosms. Biol Invasions 11, 1045–1052 (2009). https://doi.org/10.1007/s10530-008-9315-1
Received:

Accepted:

Published:

Issue Date:
Keywords
Ailanthus altissima
Castanea dentata

Decomposition

Earthworms

Invasional meltdown

Leaf litter

Lumbricus terrestris

Plant invasions