Abstract
Plant-centric sampling provides a novel approach to quantifying the potential impact of invasive species on native plant species. The aim of this study was to determine the level of exposure of individuals and populations of Panax quinquefolius to invasive plant species using this approach in thirty natural ginseng populations. A high level of invasion was found with 63–70% of ginseng populations containing at least one invasive species. Approximately one-third of all individuals were found in close proximity to invasive plants. The most prevalent invasive species were Rosa multiflora and Berberis thunbergii. The exposure to invasives of plants in different size classes varied among populations. Invasive species presence increased with greater ginseng population sizes and presence of harvest. The abundance of invasives plants within forest interiors near this valuable medicinal herb suggests that the economic and ecological costs of competitive interactions with native species could be high.
Access options
Buy single article
Instant access to the full article PDF.
US$ 39.95
Tax calculation will be finalised during checkout.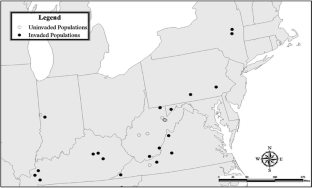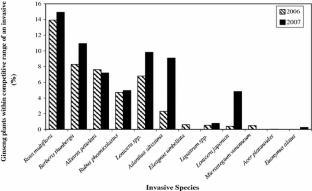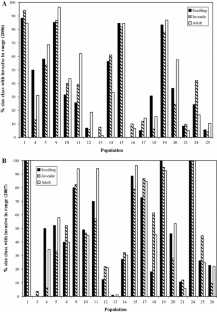 References
Anderson RC, Fralish JS, Armstrong JE (1993) The ecology and biology of Panax quinquefolium L. (Araliaceae) in Illinois. Am Midl Nat 129:357–372. doi:10.2307/2426517

Antonovics J, Primack RB (1982) Experimental ecological genetics in Plantago. VI. The demography of seedling transplants of P. lanceolata. J Ecol 70:55–75. doi:10.2307/2259864

Bailey B (1999) Social and economic impacts of wild harvested products. Ph.D. Dissertation,West Virginia University, Morgantown, WV

Bais HP, Vepachedu R, Gilroy S, Callaway RM, Vivanco JM (2003) Allelopathy and exotic plant invasion: from molecules and genes to species interactions. Science 301(5):1377–1380. doi:10.1126/science.1083245

Brothers TS, Spingam A (1992) Forest fragmentation and alien plant invasion of central Indiana old-growth forests. Conserv Biol 6(1):91–100. doi:10.1046/j.1523-1739.1992.610091.x

Callaway RM, Aschehoug ET (2000) Invasive plants versus their new and old neighbors: a mechanism for exotic invasion. Science 290:521–523. doi:10.1126/science.290.5491.521

Callaway RM, Ridenour WM (2004) Novel weapons: invasive success and the evolution of increased competitive ability. Front Ecol 2(8):436–443

Charron D, Gagnon D (1991) The demography of northern populations of Panax quinquefolium (American ginseng). J Ecol 79(2):431–445. doi:10.2307/2260724

Cruse-Sanders JM, Hamrick JL (2004) Spatial and genetic structure within populations of wild American ginseng (Panax quinquefolius L. Araliaceae). J Hered 95(4):309–321. doi:10.1093/jhered/esh046

De Feo V, De Martino L, Quaranta E, Pizza C (2003) Isolation of phytotoxic compounds from tree-of-heaven (Ailanthus altissima Swingle). J Agric Food Chem 51(5):1177–1180. doi:10.1021/jf020686+

Dorning M, Cipollini D (2005) Leaf and root extracts of the invasive shrub, Lonicera maackii, inhibit seed germination of three herbs with no autotoxic effects. Plant Ecol 184(2):287–296. doi:10.1007/s11258-005-9073-4

Drummond BA (2005) The selection of native and invasive plants by frugivorous birds in Maine. Northeast Nat 12(1):33–44. doi:10.1656/1092-6194(2005)012[0033:TSONAI]2.0.CO;2

Dyess JG, Causey MK, Striblin HL, Lockaby BG (1994) Effects of fertilization on production and quality of Japanese honeysuckle. Southern J Appl Forestry 18:68–71

Ehrenfeld JG (1997) Invasion of deciduous forest preserves in the New York metropolitan region by Japanese barberry (Berberis thunbergii DC). J Torrey Bot Soc 124(2):210–215. doi:10.2307/2996586

Ehrenfeld JG, Scott NS (2001) Invasive species and the soil: effects on organisms and ecosystem processes. Ecol Appl 11(5):1259–1260. doi:10.1890/1051-0761(2001)011[1259:ISATSE]2.0.CO;2

Handley CO (1945) Japanese honeysuckle in wildlife. J Wildl Manage 9:261–264. doi:10.2307/3796367

Hardt RA (1986) Japanese honeysuckle: from "one of the best" to ruthless pest. Arnoldia 25(3):27–34

Heisey RM (1990) Allelopathic and herbicidal effects of extracts from Tree of Heaven (Ailanthus altissima). Am J Bot 77(5):662–670. doi:10.2307/2444812

Heisey RM (1996) Identification of an allelopathic compound from Ailanthus altissima (Simaroubaceae) and characterization of its herbicidal activity. Am J Bot 83(2):192–200. doi:10.2307/2445938

Hobbs RJ, Huenneke LF (1992) Disturbance, diversity, and invasion: implications for conservation. Conserv Biol 6(3):324–337. doi:10.1046/j.1523-1739.1992.06030324.x

Jordan NR, Larson DL, Huerd SC (2007) Soil modification by invasive plants: effects on native and invasive species of mixed-grass prairies. Biol Invasions 10(2):177–190

Knapp LB, Canham CD (2000) Invasion of an old-growth forest in New York by Ailanthus altissima: sapling growth and recruitment in canopy gaps. J Torrey Bot Soc 127:307–315. doi:10.2307/3088649

Kolar CS, Lodge DM (2001) Progress in invasion biology: predicting invaders. Trends Ecol Evol 16(4):199–204. doi:10.1016/S0169-5347(01)02101-2

Kourtev PS, Ehrenfeld JG, Haggblom M (2002) Exotic plant species alter the microbial community structure and function in the soil. Ecology 83(11):3152–3166

Kourtev PS, Ehrenfeld JG, Haggblom M (2003) Experimental analysis of the effect of exotic and native plant species on the structure and function of soil microbial communities. Soil Biol Biochem 35:895–905. doi:10.1016/S0038-0717(03)00120-2

Landenberger RE, Kota NL, McGraw JB (2007) Seed dispersal of the non-native invasive tree Ailanthus altissima into contrasting environments. Plant Ecol 192(1):55–70. doi:10.1007/s11258-006-9226-0

Lundgren MR, Small CJ, Dreyer GD (2004) Influence of land use and site characteristics on invasive plant abundance in the Quinebaug highlands of southern New England. Northeast Nat 11(3):313–332. doi:10.1656/1092-6194(2004)011[0313:IOLUAS]2.0.CO;2

Marvier M, Karieva P, Neubert MG (2004) Habitat destruction, fragmentation, and disturbance promote invasion by habitat generalists in a multispecies metapopulation. Risk Anal 24(4):869–878. doi:10.1111/j.0272-4332.2004.00485.x

McCarthy B (1997) Response of a forest understory community to experimental removal of an invasive nonindigenous plant (Alliaria petiolata, Brassicaceae). In: Luken JO, Thieret JW (eds) Assessment and management of plant invasions. Springer-Verlag, New York, pp 117–130

McGraw JB, Furedi MA (2005) Deer browsing and population viability of a forest understory plant. Science 307:920–922. doi:10.1126/science.1107036

McGraw JB, Sers SM, Van der Voort ME (2003) Distribution and abundance of Hydrastis canadensis L. (Ranunculaceae) and Panax quinquefolius L. (Araliaceae) in the central Appalachian region. J Torrey Bot Soc 130(2):62–69. doi:10.2307/3557530

McIntyre S, Lavorel S, Tremont RM (1995) Plant life-history attributes: their relationship to disturbance response in herbaceous vegetation. J Ecol 83(1):31–44. doi:10.2307/2261148

Meekins JF, McCarthy BC (2001) Effect of environmental variation on the invasive success of a nonindigenous forest herb. Ecol Appl 11(5):1336–1348. doi:10.1890/1051-0761(2001)011[1336:EOEVOT]2.0.CO;2

Mitchell CG, Power AG (2003) Release of invasive plants from fungal and viral pathogens. Nature 421:625–627. doi:10.1038/nature01317

Mooney EH, McGraw JB (2007) Alteration of selection regime resulting from harvest of American ginseng, Panax quinquefolius. Conserv Genet 8:57–67. doi:10.1007/s10592-006-9148-3

Myers JA, Vellend M, Gardescu S, Marks PL (2004) Seed dispersal by white-tailed deer: implications for long-distance dispersal, invasion, and migration of plants in eastern North America. Oecologia 139(1):1432–1939

Myster RW, Pickett STA (1992) Dynamics of associations between plants in ten old fields during 31 years of succession. J Ecol 80:291–302. doi:10.2307/2261012

Nagel JM, Griffin KL (2004) Can gas-exchange characteristics help explain the invasive success of Lythrum salicaria?. Biol Invasions 6:101–111. doi:10.1023/B:BINV.0000010125.93370.32

Nuzzo V (1999) Invasion pattern of the herb garlic mustard (Alliaria petiolata) in high quality forests. Biol Invasions 1:169–179. doi:10.1023/A:1010009514048

Oswalt CM, Oswalt SN (2007) Winter litter disturbance facilitates the spread of the nonnative invasive grass Microstegium vimineum (Trin.) A. Camus. For Ecol Manage 249(3):199–203

Pimentel D, Zuniga R, Morrison D (2005) Update on the environmental and economic costs associated with alien-invasive species in the United States. Ecol Econ 52:273–288. doi:10.1016/j.ecolecon.2004.07.013

Prati D, Bossdorf O (2004) Allelopathic inhibition of germination by Alliaria petiolata (Brassicaceae). Am J Bot 91(2):285–288. doi:10.3732/ajb.91.2.285

Robbins CS (2000) Comparative analysis of management regimes and medicinal plant trade monitoring mechanisms for American ginseng and goldenseal. Conserv Biol 14:1422–1434. doi:10.1046/j.1523-1739.2000.99100.x

Roberts KJ, Anderson RC (2001) Effect of garlic mustard [Alliaria petiolata] (Beib. Cavara & Grande)] extracts on plants and arbuscular mycorrhizal (AM) fungi. Am Midl Nat 146:146–152. doi:10.1674/0003-0031(2001)146[0146:EOGMAP]2.0.CO;2

Rose SL, Perry DA, Pilz D, Schoeneberger MM (1983) Allelopathic effects of litter on the growth and colonization of mycorrhizal fungi. J Chem Ecol 9(8):1153–1162. doi:10.1007/BF00982218

Seo H, Anderson RC (1990) Effect of soil microbial and mycorrhizal associations on the productivity and photosynthetic rates of Panax quinquefolium L. Myco Soc Am Newsl 41:4

Shahi DP (2007) Effects of density on reproduction and demographic structures of American ginseng (Panax quinquefolius) populations in Ohio. PhD dissertation. Bowling Green State University; Bowling Green, OH

Smith SE, Read DJ (1997) Mycorrhizal symbiosis. Academic Press, San Diego

Steavenson HA (1946) Multiflora rose for farm hedges. J Wildl Manage 10(3):227–234. doi:10.2307/3795837

Stinson KA, Campbell SA, Powell JR, Wolfe BE, Callaway RM, Thelen GC, Hallett SG, Prati D, Klironomos JN (2006) Invasive plant suppresses the growth of native tree seedlings by disrupting belowground mutualisms. PLoS Biol 4(5):0727–0731

Stolgren TJ, Schell LD, Heuvel BV (1999) How grazing and soil quality affect native and exotic plant diversity in rocky mountain grasslands. Ecol Appl 9:45–64. doi:10.1890/1051-0761(1999)009[0045:HGASQA]2.0.CO;2

Thomson D (2005) Measuring the effects of invasive species on the demography of a rare endemic plant. Biol Invasions 7:615–624. doi:10.1007/s10530-004-5853-3

United States Department of Agriculture, Natural Resources Conservation Service (2007) The PLANTS Database (http://plants.usda.gov, 11 December 2007). National Plant Data Center, Baton Rouge, LA 70874-4490 USA

United States Fish and Wildlife Service (2005) Convention permit applications for wild American ginseng harvested in 2005. Washington, DC, USA

Van der Voort ME, McGraw JB (2006) Effects of harvester behavior on populations growth rate affects sustainability of ginseng trade. Biol Conserv 130:505–516. doi:10.1016/j.biocon.2006.01.010

Vellend M (2002) A pest and an invader: white-tailed deer (Odocoileus virginianus Zimm.) as a seed dispersal agent for honeysuckle shrubs (Lonicera L.). Nat Areas J 22(3):230–234

Vitousek PM, Walker LR, Whiteaker LD, Mueller-Dombois D, Watson PA (1987) Biological invasion by Myrica faya alters ecosystem development in Hawaii. Science 238(4828):802–804. doi:10.1126/science.238.4828.802

Weber JS, Gibson KD (2007) Exotic plant species in old-growth forest in Indiana. Weed Sci 55:299–304. doi:10.1614/WS-06-164.1

Wilcove DS, Rothstein D, Dubow J, Philips A, Losos E (1998) Quantifying threats to imperiled species in the United States. Bioscience 48(8):607–615. doi:10.2307/1313420

Wolfe LM (2002) Why alien invaders succeed: support for the escape-from-enemy hypothesis. Am Nat 160(6):705–711. doi:10.1086/343872

Wolfe BE, Klironomos JN (2005) Breaking new ground: soil communities and exotic plant invasion. Bioscience 55(6):477–488. doi:10.1641/0006-3568(2005)055[0477:BNGSCA]2.0.CO;2
Acknowledgements
Funding for this project was provided by NSF grant DEB-0613611 to J. B. McGraw. We also would like to thank numerous people who contributed to this project, especially landowners, and those assisting with annual censuses - Emily Mooney, Alyssa Hanna, Sara Souther, Adam Martin, Allison Kenyon, Anne Lubbers, Mark Guido, David Kazyak and Clare Maloy.
About this article
Cite this article
Wixted, K., McGraw, J.B. A Panax-centric view of invasive species. Biol Invasions 11, 883–893 (2009). https://doi.org/10.1007/s10530-008-9301-7
Received:

Accepted:

Published:

Issue Date:
Keywords
Invasive species

Panax quinquefolius

American ginseng