Abstract
573 alien marine metazoan species have been recorded in the Mediterranean Sea. The present checklist is the first to present the species' native range, presumed mode of introduction, spatial extent, and the date of the first record in each country. The majority of aliens are thermophilic species originating from the Indo-Pacific or Indian Oceans, which have entered the Mediterranean through the Suez Canal. However, the means of introduction differ greatly among the phyla, and the basins of the Mediterranean. The temporal records of the alien species reflect political crises, economic development and scientific interest in studying the phenomenon—in the past two decades on average about 10 alien species new to the Mediterranean are recorded annually. Many have established durable populations and extended their range: 125 alien species have been recorded from four or more countries. The possible impacts of regulatory instruments and environmental management options are examined.
Access options
Buy single article
Instant access to the full article PDF.
US$ 39.95
Tax calculation will be finalised during checkout.
Subscribe to journal
Immediate online access to all issues from 2019. Subscription will auto renew annually.
US$ 79
Tax calculation will be finalised during checkout.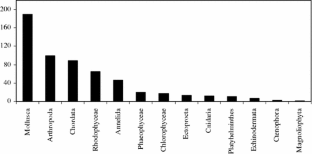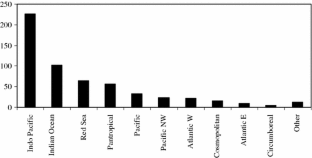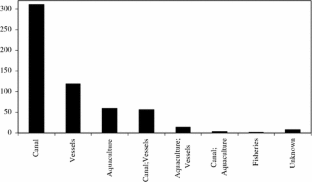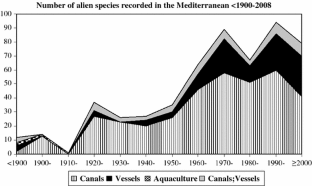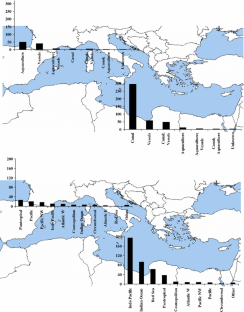 References
Andreakis N, Procaccini G, Kooistra WHCF (2004) Aspargopsis taxiformis and Aspargopsis armata (Bonnemaisoniales, Rhodophyta): genetic and morphological definition of Mediterranean populations. Eur J Phycol 39:273–283

Andreakis N, Procaccini G, Maggs C, Kooistra WHCF (2007) Phylogeography of the invasive seaweed Aspargopsis (Bonnemaisoniales, Rhodophyta) reveals cryptic distribution. Mol Ecol 16(11):2285–2299

Azzurro E, Golani D, Bucciarelli G (2006) Genetics of the early stages of invasion of the Lessepsian rabbitfish Siganus luridus. J Exp Mar Biol Ecol 333(2):190–201

Balss H (1936) Decapoda. The fishery grounds near Alexandria. VII. Not Mem Fish Res Direct Egypt 15:1–67

Bellet D (1899) La culture des huitres perlieres en Italie. La Nature, Masson, Paris 27(1355):375

Ben-Tuvia A (1953a) Mediterranean fishes of Israel. Bull Sea Fish Res Stan, Haifa 8:1–40

Ben-Tuvia A (1953b) New Erythrean fishes from the Mediterranean coast of Israel. Nature 172:464–465

Boxshall G (2001) Copepoda (excl. Harpacticoida). In: Costello MJ et al (eds) European register of marine species: a check-list of the marine species in Europe and a bibliography of guides to their identification. Collection Patrimoines Naturels, vol 50, pp 252–268

Boudouresque CF, Briand F, Nolan C (1994) Introduced Species in European Coastal Waters, Ecosystems Research Reports No. 8, European Commission, Luxembourg

Boudouresque CF, Verlaque M (2002) Biological pollution in the Mediterranean Sea: invasive versus introduced macrophytes. Mar Poll Bull 44(1):32–38

Bucciarelli G, Golani D, Bernardi G (2002) Genetic cryptic species as biological invaders: the case of a Lessepsian fish migrant, the hardyhead silverside Atherinomorus lacunosus. J Exp Mar Biol Ecol 273(2):143–149

Carlton JT (1996) Marine bioinvasions: the alteration of marine ecosystems by non-indigenous species. Oceanography 9:36–43

Carmin J (1946) Mollusca of Palestinian shores, first report. Bull Ind Biol Lab (Kefar-Malal) 4(38–39):1–9

Carus JV (1889–1893) Prodromus Faunae mediterraneae sive descriptio animalium maris Mediterranei incolarum, 2: Brachiostomata. Mollusca. Tunicata. Vertebrata. E. Schweitzerbart, Stuyygart [pp. 1–272 issued 1889]

Clark AM, Rowe FEW (1971) Monograph of shallow-water Indo-west Pacific echinoderms. Trustees of the British Museum (Natural History), London, p 238

Coates P (2007) Strangers on the land -American perceptions of immigrant and invasive species. University of California Press, p 266

Cormaci M, Furnari G, Giaccone G, Serio D (2004) Alien macrophytes in the Mediterranean Sea: A review. Rec Res Dev Env Biol 1(1):2004

Dobler JP (2002) Analysis of shipping patterns in the Mediterranean and Black seas. In: CIESM Alien marine organism introduced by ships in the Mediterranean and Black seas. CIESM Workshop Monographs, Monaco, 20:19–28

Dulčić J, Jardas I, Pallaoro A, Lipej L (2004) On the validity of the record of silver pomfret Pampus argenteus (Stromateidae) from the Adriatic Sea. Cybium 28(1):69–71

EPA – United States Environmental Protection Agency (2001) http://www.epa.gov/gmpo/nonindig.html

Fischer P (1865) Note sur les faunes conchyliologiques des deux rivages de l'isthme de Suez. J Conchyliol 13:241–248

Fischer P (1870) Sur la faune conchyliologique marine des baies de Suez et de l'Akabah. J Conchyliol 18:161–179

Fischer P (1871) Sur la faune conchyliologiquede marine de la baie de Suez. J Conchyliol 19:209–226

Floc'h JY, Pajot R, Wallentinus I (1991) The Japanese brown alga Undaria pinnatifida on the coast of France and its possible establishment in European waters. J Cons Int Explor Mer 47:379–390

Fox HM (1924) The migration of a Red Sea crab through the Suez Canal. Nature (London) 113:714–715

Fritsch C (1895) Ueber die Auffindung einer marinen Hydrocharidee im Mittelmeer. Verh zool-bot Ges Wien 45:104–106

Galil BS (2006) Shipwrecked: shipping impacts on the biota of the Mediterranean Sea. In: Davenport JL, Davenport J (Eds) The ecology of transportation: managing mobility for the environment. Environmental pollution, vol 10. Springer, pp 39–69

Galil BS (2007a) Loss or gain? Invasive aliens and biodiversity in the Mediterranean Sea. Mar Poll Bull 55:314–322

Galil BS (2007b) Seeing red—marine alien species along the Mediterranean coast of Israel. Aquat invasions 2(4):281–312

Galil BS (in press) Alien species in the Mediterranean Sea––which, when, where, why? Hydrobiologia

Galil BS, Lewinsohn Ch (1981) Macrobenthic communities of the Eastern Mediterranean continental shelf. PSZNI Mar Ecol 2:343–352

Gardiner JS (1924) The biology of the Suez Canal. Nature 114:520–521

Giangrande A, Montanaro P, Castelli A (1999) On some Amphicorina (Polychaeta, Sabellidae) species from the Mediterranean coast, with the description of A. grahamensis. Ital J Zool 66:195–203

Golani D, Ritte U (1999) Genetic relationship in goatfishes (Mullidae: Perciformes) of the Red Sea and the Mediterranean, with remarks on Suez Canal migrants. Sci Mar 63(2):129–135

Gollasch S (2006) Overview on introduced aquatic species in European navigational and adjacent waters. Helgoland Mar Res 60:84–89

Gollasch S, Galil BS, Cohen AN (2006) Bridging divides—maritime canals as invasion corridors. Monographiae biologicae 83. Springer-Verlag, Dordrecht, The. Netherlands, p 315

Gottlieb E (1953) Decapod in the collection of the Sea Fisheries Research Station, Caesarea, Israel. Bull Res Counc Isr 2:440–441

Gottlieb E (1960) Benthonic Amphipoda of the Mediterranean coast of Israel. I. Notes on the geographical distribution. Bull Res Counc Isr 9B(2–3):157–166

Grizel H, Héral M (1991) Introduction into France of the Japanese oyster (Crassostrea gigas). J Cons Int Explor Mer 47:399–403

Gruet Y, Héral M, Robert JM (1976) Premières observations sur l'introduction de la faune associée au naissain d'huîtres japonaises Crassostrea gigas (Thunberg), importé sue la côte atlantique française. Cah Biol Mar 17:173–184

Gruvel A (1928) Répartition geographique de quelques crustacés comestibles sur les côtes d'Egypte et de Syrie. C R Soc Biogéogr 5(39):45–46

Gruvel A (1929) De l'influence du percement du canal de Suez sur la faune marine des côtes de Syrie. C R Acad Sci Colon Paris 188:1697–1699

Gruvel A (1930a) Les richesses marines et fluviales de la Syrie. Exploitation actuelle-Avenir. Rev Sci Paris 68:33–41

Gruvel A (1930b) Sur les principales zones chalutables de la Méditerranée orientale. Carte de pêche du Golfe d'Alexandrette. C R Acad Sci Paris 190:477–479

Gruvel A (1931) Partie générale et économique. In: Gruvel A (ed) Les États de Syrie. Richesses marines et fluviales. Exploitation actuelle – Avenir, vol 3. Bibl Faune des Colon Franç, Paris, pp 72–134

Gruvel A (1936) Contribution à l'étude de la bionomie générale et de l'exploitation de la faune du Canal de Suez. Mém Inst d'Égypte 29:1–229

Gruvel A, Moazzo G (1931) Contribution à la faune malacologique marine des côtes libano-syriennes In: Les Etats de Syrie; Richesses marines et fluviatiles. Exploitation actuelle et avenir. Bibl Faune des Colon Franç Paris, 3:437–453

Haas G (1937) Mollusca marina. In: Bodenheimer FS (ed) Prodromus faunae Palestinae, Essai sur les Eléménts zoogéographiques et historiques du sud-ouest du sous-règne Paléarctique. Mém Inst d'Égypte 33:275–280

Haas G (1948) Sue l'immigration de mollusques indo-pacifiques dans les eaux cotières de la Palestine. J Conchyliol 88:141–144

Haas G (1951) On the Clausiliidae of Palestine. Fieldiana 31:479–502

Haas G, Steinitz H (1947) Erythrean fishes on the Mediterranean coast of Palestine. Nature 160:28

Hassan M, Bonhomme F (2005) No reduction in neutral variability of mitochondrial and nuclear genes for a Lessepsian migrant, Upeneus moluccensis. J Fish Biol 66(3):865–870

Hassan M, Harmelin-Vivien M, Bonhomme F (2003) Lessepsian invasion without bottleneck: Example of two rabbitfish species (Siganus rivulatus and Siganus luridus). J Exp Mar Biol Ecol 291(2):219–232

Hewitt C, Minchin D, Olenin S, Gollasch S (2006) Canals, invasion corridors and Introductions. In: Gollasch S, Galil BS, Cohen AN (eds) Bridging divides: maritime canals as invasion corridors. Kluwer, pp 301–306

Holthuis LB, Gottlieb E (1958) An annotated list of the decapod Crustacea of the Mediterranean coast of Israel, with an appendix listing the Decapoda of the Eastern Mediterranean. Bull Res Counc Isr Zool 7B(1–2):1–126

ICES – International Council for the Exploration of the Sea (2005) Code of practice on the introductions and transfers of marine organisms. 30 pp www.ices.dk/reports

IUCN – The World Conservation Union (2002) Policy Recommendations Papers for Sixth meeting of the Conference of the Parties to the Convention on Biological Diversity (COP6). The Hague, Netherlands, 7–19 April 2002 http://www.iucn.org/themes/pbia/wl/docs/biodiversity/cop6/invasives.doc

Jousson O, Pawlowski J, Zaninetti L, Meinesz A, Boudouresque CF (1998) Molecular evidence for the aquarium origin of the green alga Caulerpa taxifolia introduced to the Mediterranean Sea. Mar Ecol Prog Ser 172:275–280

Karako S, Achituv Y, Perl-Treves R, Katcoff D (2002) Asterina burtoni (Asteroidea; Echinodermata) in the Mediterranean and the Red Sea: Does asexual reproduction facilitate colonization? Mar Ecol Prog Ser 234:139–145

Keller C (1883) Die Fauna im Suez-Kanal und die Diffusion der Mediterranean und Erythräischen Tierwelt. Neue Denkschr allg Schweiz Ges ges naturw ser. 3, 28:1–39

Lewinsohn C, Holthuis LB (1964) New records of Decapod Crustacea from the Mediterranean coast of Israel and the Eastern Mediterranean. Zool Meded, Leiden 40(8):45–63

Liebman E (1934) Contributions to the knowledge of Palestine Sea Fishes. Rapp P-V Réun Comm Int Explor Sci mer Méditerr 8:317–327

Meinesz A, Simberloff D, Quammen D (2002) Killer Algae. University of Chicago Press, p 360

Meusnier I, Valero M, Olsen JL, Stam WT (2004) Analysis of rDNA ITS1 indels in Caulerpa taxifolia (Chlorophyta) supports a derived, incipient species status for the invasive strain. Euro J Phycol 39:83–92

Mineur F, Johnson MP, Maggs CA, Stegenga H (2007) Hull fouling on commercial ships as a vector of macroalgal introduction. Mar Biol 151(4):1299–1307

Monod T (1930) Über einige indo-pazifische Decapoden der Meeresfauna Syriens. Zool Anz, Leipzig 92(5/6):135–141

Monod T (1931) Crustacés de Syrie. In: Gruvel A, Les États de Syrie. Richesses marines et fluviales. Exploitation actuelle – Avenir, vol 3. Bibl Faune des Colon Franç, Paris, pp 397–435

Monod T (1932) Crustacés exotiques en Méditerranée. Rev Ecol Terre Vie 2:65–73

Monterosato di TA (1878) Enumerazione e sinonima delle conchiglie mediterranee. G sci nat econ Palermo 13:61–115

Monterosato di TA (1899) Coquilles marines de Chypre. J Conchyliol 1(4):392–401

Mu FH, Huys R (2002) New species of Stenhelia (Copepoda, Harpacticoida, Diosaccidae) from the Bohai Sea (China) with notes on subgeneric division and phylogenetic relationships. Cah Biol Mar 43(2):179–206

Mu FH, Huys R (2004) Canuellidae (Copepoda, Harpacticoida) from the Bohai Sea, China. J Nat Hist 38(1):1–36

Occhipinti-Ambrogi A, Savini D (2003) Biological invasions as a component of global change in stressed marine ecosystems. Mar Poll Bull 46:542–551

Occhipinti-Ambrogi A, Galil BS (2004) A uniform terminology on bioinvasions: a chimera or an operative tool? Mar Poll Bull 49:688–694

Oliverio M, Taviani M (2003) The Eastern Mediterranean Sea: tropical invasions and niche opportunities in a "Godot Basin". Biogeographia 24:313–327

Oren OH, Steinitz H (1959) Regional bibliography of the Mediterranean coast of Israel and the adjacent Levant countries. Bull Sea Fish Res Stn, Haifa 22:1–32

Orsi Relini L, Palandri G, Garibaldi F (1995) First record of Beryx splendens (Osteichthyes, Berycidae) in the Mediterranean. Cybium 19(3):317–319

Ozcan T, Galil BS, Bakir K, Katagan T (2006) The first record of the banana prawn Fenneropenaeus merguiensis (De Man, 1888) (Crustacea: Decapoda: Penaeidae) from the Mediterranean Sea. Aquat invasions 1(4):286–288

Pallary P (1912a) Catalogue des mollusques du littoral méditerranéen de l'Egypte. Mém Inst d'Egypte 7:69–207

Pallary P (1912b) Liste des mollusques marins des côtes de la Syrie. Feuille jeun Nat Paris 42(504):171–174

Pallary P (1938) Les mollusques marins de la Syrie. J Conchyliol 82(36):5–57

Pérès JM (1958) Ascidies recoltées sur les côtes Méditerranéennes d'Israel. Bull Res Counc Isr 7B(3–4):143–150

Por FD (1978) Lessepsian Migration – the influx of Red Sea Biota into the Mediterranean by way of the Suez Canal. Ecological Studies, vol 23. Springer-Verlag, Berlin-Heidelberg-New York

Ragonese S, Giusto G (1999) Range extension for Trachyscorpia cristulata echinata (Pisces: Scorpaenidae) in the Western Mediterranean Sea. Bull Mar Sci 64(2):329–334

Reinbold T (1898) Meeresalgen von der Insel Rhodos. Hedwigia 37:87–90

Ribera Siguan M (2002) Review of non native marine plants in the Mediterranean Sea. In: Leppakoski E et al (ed) Invasive aquatic species in Europe. Distribution, impacts and management. Kluwer Academic Publishers, Dordrecht, pp 291–310

Ribera MA, Boudouresque CF (1995) Introduced marine plants with special reference to macroalgae: mechanisms and impacts. Prog Phycol Res 11:187–268

Silvera A (1975) Bonaparte and Talleyrand, The origin of the French Expedition to Egypt in 1798. Am J Arab Stud 3:1–13

Slobodkin IB (2001) The good, the bad and the reified. Evol Ecol Res 3:1–13

Streftaris N, Zenetos A, Papathanassiou E (2005) Globalisation in marine ecosystems: the story of non-indigenous marine species across European seas. Oceanogr Mar Biol Annu Rev 43:419–453

Steinitz H (1970) A critical List of Immigrants via the Suez Canal. Biota of the Red Sea and Eastern Mediterranean, pp 64–75. [mimeo.]

Steinitz W (1919) Memorial on the founding of a sea-station on the coast of Palestine for zoological investigations. Manuscript. 16 pp

Steinitz W (1927) Beiträge zur Kenntnis der Küstenfauna Palästinas. I. Pubbli Stn Zool Napoli 8(3–4):331–353

Steinitz W (1929) Die Wanderung indopazifischer Arten ins Mittelmeer seit Begin der Quartäperiode. Int Revue ges Hydrobiol Hydrogra 22:1–90

Steinitz W (1936) Die Herkunft der Fauna in den Küstengewässern Palästinas. Soc Nat Sci Tel Aviv

Steuer A (1939) Mollusca. in The fishery grounds near Alexandria, 19. Fouad I Inst Hydrobio fish not mem (Cairo) 33:1–152

Tebble N (1959) On a collection of Polychaetes from the Mediterranean coast of Israel. Bull Res Counc Isr 8B(1):9–30

Terranova MS, Lo Brutto S, Arculeo M, Mitton JB (2006) Population structure of Brachidontes pharaonis (P. Fischer, 1870) (Bivalvia, Mytilidae) in the Mediterranean Sea, and evolution of a novel mtDNA polymorphism. Mar Biol 150:89–101

Tortonese E (1973) Facts and perspectives related to the spreading of Red Sea organisms into the eastern Mediterranean. Annali Mus Civ Storia Nat Genova 79:322–329

Tsoi KH, Chan TY, Chu KH (2007) Population structure of the kuruma shrimp Penaeus japonicus species complex in western Pacific. Mar Biol 150(6):1345–1364

Unal E, Frost BW, Armbrust V, Kideys AE (2006) Phylogeography of Calanus helgolandicus and the Black Sea copepod Calanus euxinus with notes on Pseudocalanus elongatus (Copepoda, Calanoida). Deep Sea Res II 53(17–19):1961–1975

Vaillant L (1865) Recherches sur la faune malacologique de la baie de Suez. J Conchyliol 13:97–127

Verlaque M (1994) Inventaire des plantes introduites en Méditerranée: origine et repercussions sur l'environnement et les activités humaines. Oceanol Acta 17(1):1–23

Verlaque M (1996) L'étang de Thau (France), un site majeur d'introduction d'espéces en Méditerranée––relations avec l'ostréiculture. In: Ribera A, Ballesteros E, Boudouresque CF, Gomez A, Gravez V (eds) Second international workshop on Caulerpa taxifolia. Publicacions Universitat Barcelona, pp 423–430

Verlaque M (2001) Checklist of the macroalgae of Thau lagoon (Hérault, France), a hot spot of marine species introduction in Europe. Oceanol Acta 24(1):29–49

Verlaque M (2005) Algal introductions to European shores. WP4.2 Propagule pressure: shellfish industry. Final report, 5th PCRD European Program, p 134

Verlaque M, Durand C, Huisman JM, Boudouresque CF, Le Parco Y (2003) On the identity and origin of the Mediterranean invasive Caulerpla racemosa (Caulerpales, Chlorophyta). Euro J Phycol 38:325–339

Verlaque M, Afonso-Carrillo J, Candelaria Gil-Rodríguez M, Durand C, Boudouresque CF, Le Parco Y (2004) Blitzkrieg in a marine invasion: Caulerpla racemosa var. cylindracea (Bryopsidales, Chlorophyta) reaches the Canary Islands. Biol Invasions 6:269–281

Walter TC (1998) A redescription of Pseudodiaptomus salinus (Giesbrecht, 1896) and a new species from the Arabian Sea (Copepoda, Calanoida, Pseudodiaptomidae). J Mar Syst 15(1–4):451–456

Wehe T, Fiege D (2002) Annotated checklist of the polychaete species of the seas surrounding the Arabian Peninsula: Red Sea, Gulf of Aden, Arabian Sea, Gulf of Oman, Arabian Gulf, vol. 19. Fauna of Arabia, Karger Libri, Basel, pp 7–238

Zenetos A, Çinar, ME, Pancuci – Papadopoulou MA, Harmelin JG, Furnari G, Andaloro F, Belou N, Streftaris N, Zibrowius H (2006) [2005]*. Annotated list of marine alien species in the Mediterranean with records of the worst invasive species. Mediterr Mar Sci 6:63–118 [*though the work is dated 2005, it was published in October 2006]

Zibrowius H (1992) Ongoing modifications of the Mediterranean marine fauna and flora by the establishment of exotic species. Mesogée 51:83–107
Acknowledgements
I am grateful to my colleagues, C. Bogi, M. Çinar, J. Corbera, R. Huys, H. Mienis, F. Mineur, A. Occhipinti-Ambrogi, P. Schembri, M. Verlaque and B. Yokes, for generously sharing with me information on alien species. L. Shoval, provided much needed help with the database. Special thanks to the librarians of the American Museum of Natural History, New York, and Israel Oceanographic & Limnological Research, Haifa. T. Schuh, AMNH, hosted me with the greatest kindness. This review was supported by the European Commission's 6th Framework Programme DAISIE (contract SSPI-CT-2003-511202).
Electronic supplementary material
Below is the link to the electronic supplementary material.
About this article
Cite this article
Galil, B.S. Taking stock: inventory of alien species in the Mediterranean sea. Biol Invasions 11, 359–372 (2009). https://doi.org/10.1007/s10530-008-9253-y
Received:

Accepted:

Published:

Issue Date:
Keywords
Alien species

Mediterranean Sea

Inventory

Trends

Global warming

Management