Abstract
Approximately 1,000 volunteers assessed the presence of invasive (Carcinus maenas and Hemigrapsus sanguineus) and native crabs within the intertidal zone of seven coastal states of the US, from New Jersey to Maine. Identification of crab species and determination of the gender of the observed crabs was documented at all 52 sites across a 725-km coastal transect. Using quantitative measures of accuracy of data collected by citizen scientists, a significant predictor of a volunteer's ability was determined and eligibility criteria were set. Students in grade three and seven had the ability to differentiate between species of crabs with over 80% and 95% accuracy, respectively. Determination of gender of the crabs was more challenging and accuracy exceeded 80% for seventh grade students, while 95% accuracy was found for students with at least 2 years of university education. We used the data collected by citizen scientists to create a large-scale standardized database of the distribution and abundance of the native and invasive crabs. Hemigrapsus sanguineus dominated the rocky intertidal zone from Sandy Hook, New Jersey to Boston Harbor, Massachusetts while C. maenas dominated the northern extent of the sampled coastline. A citizen scientist of this monitoring network detected a range expansion of H. sanguineus. We identified obstacles to creating a national monitoring network and proposed recommendations that addressed these issues.
Access options
Buy single article
Instant access to the full article PDF.
USD 39.95
Price excludes VAT (USA)
Tax calculation will be finalised during checkout.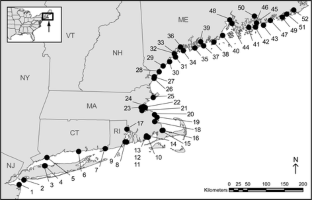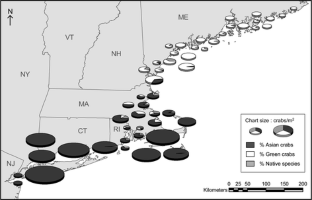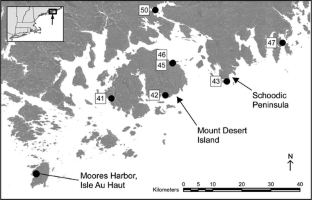 References
Bax N, Carlton JT, Mathews-Amos A, Haedrich RL, Howarth FG, Purcell JE, Rieser A, Gray A (2001) The control of biological invasions in the world's oceans. Conserv Biol 15:1234–1246

Bonney R (1991) Amateurs welcome. Living Bird 10:36–37

Bonney R, Dhondt AA (1997) FeederWatch: An example of a student-scientist partnership. In: Cohen KC (ed) Internet links for science education: student-scientist partnerships. Plenum Press, New York, 31–53

Boudreau S, Yan N (2004) Auditing the accuracy of a volunteer-based surveillance program for an aquatic invader Bythotrephes. Environ Monit Assess 91:17–26

Bray GS, Schramm HL (2001) Evaluation of a statewide volunteer angler diary program for use as a fishery assessment tool. N Am J Fish Manag 21:606–615

Breton G, Faasse M, Noël P, Vincent T (2002) A new alien crab in Europe: Hemigrapsus sanguineus (Decapoda: Brachyura: Grapsidae). J Crustacean Biol 22:184–189

Byers JE, Pringle J (2006) Going against the flow: retention, range limits and invasions in advective environments. Mar Ecol Prog Ser 313:27–41

Carlton JT (1979) History, biogeography, and ecology of the introduced marine and estuarine invertebrates of the Pacific coast of North America. Dissertation, Department of Biology, University of California, Davis, 904 pp

Carlton JT (1999) The scale and ecological consequences of biological invasions in the world's oceans. In: Sandlund OT, Schei PJ, Viken A (eds) Invasive species and biodiversity management. Kluwer Academic Publishers, Dordrecht, pp 195–212

Carlton JT, Cohen AN (2003) Episodic global dispersal in shallow water marine organisms: the case history of the European shore crabs Carcinus maenas and C. aestuarii. J Biogeogr 30:1809–1820

Citizen Science Initiative: Marine Invasive Species Monitoring Organization (CSI: MISMO). Retrieved from http://www.InvasiveTracers.com on 7 Feb 2007

Cohen AN, Carlton JT, Fountain MC (1995) Introduction, dispersal and potential impacts of the green crab Carcinus maenas in San Francisco Bay, California. Mar Biol 122:225–238

Crawford HM, Jensen DA, Peichel B, Charlebois PM, Doll BA, Kay SH, Ramey VA, O'Leary MB (2001) Sea grant and invasive aquatic plants: a national outreach initiative. J Aquat Plant Manage 39:8–11

Crothers JH (1967) The biology of the shore crab, Carcinus maenas (L.). I. The background-anatomy, growth and life history. Field Stud 2:407–434

Crothers JH (1968) The biology of the shore crab, Carcinus maenas (L.). II. The life of the adult crab. Field Stud 2:579–614

Darwall WRT, Dulvy NK (1996) An evaluation of the suitability of non-specialist volunteer researchers for coral reef fish surveys. Mafia Island, Tanzania—a case study. Biol Conserv 78:223–231

Depledge MH (1984) Cardiac activity in the intertidal crab Hemigrapsus sanguineus (de Haan). Asian Mar Biol 1:115–123

Elton CS (1958) The ecology of invasions by animals and plants. Methuen, London. 181 pp

Fofonoff PW, Ruiz GM, Steves B, Hines AH and Carlton JT (2003) National Exotic Marine and Estuarine Species Information System. Retrieved from http://invasions.si.edu/nemesis/ on 29 March 2006

Fore LS, Paulsen K, O'Laughlin K (2001) Assessing the performance of volunteers in monitoring streams. Freshwater Biol 46:109

Geller JB, Walton ED, Grosholz ED, Ruiz GM (1997) Cryptic invasions of the crab Carcinus detected by molecular phylogeography. Mol Ecol 6:901–906

Global Invasive Species Database (GISD). Retrieved from http://www.issg.org/database on 7 Feb 2007

Greenwood JJD (1994) Trust the wildlife volunteers. Nature 368:490

Greenwood JJD (2003) The monitoring of British breeding birds: a success story for conservation science? Sci Total Environ 310:221–230

Hidalgo FJ, Barón PJ, Orensanz JM (2005) A prediction come true: the green crab invades the Patagonian coast. Biol Inv 7:547–552

Ledesma ME, O'Connor NJ (2001) Habitat and diet of the non-native crab Hemigrapsus sanguineus in Southeastern New England. Northeastern Natur 8:63–78

Leung B, Finnoff D, Shogren JF, Lodge DM (2005) Managing invasive species: rules of thumb for rapid assessment. Ecol Econ 55:24–36

Lodge DM, Williams S, MacIsaac HJ, Hayes KR, Leung B, Reichard S, Mack RN, Moyle PB, Smith M, Andow DA, Carlton JT, McMichael A (2006) Biological invasions: recommendations for U.S. policy and management. Ecol Appl 16:2035

Lohrer AM (2001) The invasion by Hemigrapsus sanguineus in eastern North America: a review. Aquatic Invaders: The Digest of the National Aquatic Nuisance Species Clearinghouse 12:1–11

Lohrer AM, Whitlatch RB, Wada K, Fukui Y (2000) Home and away: comparisons of resource utilization by a marine species in native and invaded habitats. Biol Inv 2:41–57

Lohrer AM, Whitlatch RB (2002) Interactions among aliens: apparent replacement of one exotic species by another. Ecology 83:719–732

Marine Invader Tracking Information System (MITIS). Retrieved from http://chartis.mit.edu/mitis/ on 7 Feb 2007

Manly BFJ (1997) Randomization, Bootstrap and Monte Carlo methods in biology, Second edition. Chapman and Hall, New York

McDermott JJ (1998) The western Pacific brachyuran Hemigrapsus sanguineus (Grapsidae) in its new habitat along the Atlantic coast of the United States: reproduction. J Crustacean Biol 18:308–316

Myers JH, Simberloff D, Kuris AM, Carey JR (2000) Eradication revisited: dealing with exotic species. Trends Ecol Evol 15:316–320

National Audubon Society: The Christmas Bird Count historical results. Retrieved from http://www.audubon.org/bird/cbc on 17 March 2006

National Institute of Invasive Species Science database (NIISS). Retrieved from http://www.niiss.org on 7 Feb 2007

Nonindigenous Species Database (NISbase). Retrieved from http://www.nisbase.org/ on 7 Feb 2007

Ohrel JR, Ronald L and Register KM (2000) Volunteer estuary monitoring: a methods manual, Second Edition pp. 2–8, Center for Marine Conservation, EPA

Osborn DA, Pearse JS, Roe CA (2005) Monitoring rocky intertidal shorelines: a role for the public in resource management. In: Magoon OT, Converse H, Baird B, Jines B, Miller-Henson M (eds) California and the World Ocean '02, conf. proc. American Society of Civil Engineers, Reston, VA, pp 624–636

Pearse JS, Osborn DA and Roe CA (2003) Assessing sanctuary shorelines: a role for volunteers, particularly high school students, in resource management. California Sea Grant College Program. Research Completion Reports

Ricciardi A, Mack RN, Steiner WM, Simberloff D (2000) Toward a global information system for invasive species. BioScience 50:239–244

Ropes JW (1968) The feeding habits of the green crab, Carcinus maenas (L.). Fish Bull 67:183–203

Ruiz GM, Hines AH, Carlton JT, Grosholz ED (1997) Global invasions of marine and estuarine habitats by non-indigenous species: mechanisms, extent, and consequences. Integ Comp Biol 37:621–632

Schubart CD (2003) The East Asian shore crab Hemigrapsus sanguineus (Brachyura: Varunidae) in the Mediterranean Sea: an independent human-mediated introduction. Sci Mar 67:195–200

Takahashi K, Miyamoto T, Mizutori Y, Ito M (1985) Ecological studies on rocky shore crabs in Oshoro Bay. Sci Rep Hokkaido Fish Exp Stn 27:71–89

US Congress Office of Technology Assessment (1993) Harmful non-indigenous species in the United States. OTA-F-565, U.S. Government Printing Office, Washington, D.C. pp. 391

United States Geological Survey Nonindigenous Aquatic Species information resource (USGS NAS). Retrieved from http://nas.er.usgs.gov/ on 7 Feb 2007

Williams AB, McDermott JJ (1990) An eastern United States record for the western Indo-Pacific crab, Hemigrapsus sanguineus (Crustacea: Decapoda: Grapsidae). Proc Biol Soc Washington 103:108–110
Acknowledgements
This research was funded by NOAA's National Sea Grant Aquatic Invasive Species Research and Outreach Program (NA05OAR4171088). We also want to thank Acadia Institute of Oceanography, J. Ainsworth, Bowdoin College, Cornell Cooperative Extension Program of Suffolk County, R. Crossman, Darling Marine Center, M. Delaney, E. Ely, J. Farrell, K. Fellner, R. Foreman, E. Gertzen, Island Alliance, Z. Itzkowitz, S. Myers, National Park Service, New England Aquarium, J. Pederson, M. Raczko, A. Rogers, H. Spence, Capt. D. Weinstein, and especially all the volunteers.
About this article
Cite this article
Delaney, D.G., Sperling, C.D., Adams, C.S. et al. Marine invasive species: validation of citizen science and implications for national monitoring networks. Biol Invasions 10, 117–128 (2008). https://doi.org/10.1007/s10530-007-9114-0
Received:

Accepted:

Published:

Issue Date:

DOI: https://doi.org/10.1007/s10530-007-9114-0
Keywords
Carcinus maenas

Citizen science

Community-based monitoring

Hemigrapsus sanguineus

Marine invasive species

Quality assurance

Validation