Abstract
Invasive plants that fix nitrogen can alter nutrient availability and thereby community dynamics and successional trajectories of native communities they colonize. Morella cerifera (Myricaceae) is a symbiotic nitrogen fixer originally from the southeastern U.S. that is colonizing native-dominated vegetation on a young lava flow near Hilo, Island of Hawai'i, where it increases total and biologically available soil nitrogen and increases foliar nitrogen concentrations in associated individuals of the native tree Metrosideros polymorpha. This invasion has the potential to alter the few remaining native-dominated lowland forest ecosystems in windward Hawai'i.
Access options
Buy single article
Instant access to the full article PDF.
US$ 39.95
Tax calculation will be finalised during checkout.
Subscribe to journal
Immediate online access to all issues from 2019. Subscription will auto renew annually.
US$ 79
Tax calculation will be finalised during checkout.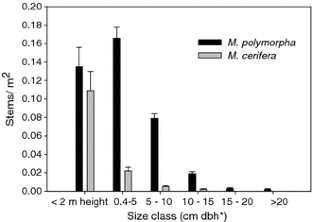 Abbreviations
dbh:

diameter at breast height

HCl:

Hydrochloric acid

KCl:

Potassium chloride

N:

Nitrogen
References
Adler PB, D'Antonio CM, Tunison JT (1998) Understory succession following a dieback of Myrica faya in Hawai'i Volcanoes National Park. Pacific Science 52(1):69–78

Aplet GH (1990) Alteration of earthworm community biomass by the alien Myrica faya in Hawai'i. Oecologia 92:414–416

Aplet GH, Loh RL, Tunison JT, Vitousek PM (1998) Experimental restoration of a closed Faya tree stand. Technical Report 121, Cooperative National Park Resources Study Unit, University of Hawai'i

Brooks ML (2003) Effects of increased soil nitrogen on the dominance of alien annual plants in the Mojave Desert. J Appl Ecol 40(2):344–353

Burleigh SH, Dawson JO (1994) Occurrence of Myrica-nodulating Frankia in Hawaiian volcanic soils. Plant and Soil 164(2):283–289

D'Antonio CM, Vitousek PM (1992) Biological invasions by exotic grasses, the grass/fire cycle, and global change. Ann Rev Ecol Systemat 23:63–87

Dirr MA (1998) Manual of Woody Landscape Plants: Their identification, ornamental characteristics, culture, propagation and uses. Stipes Publishing L.L.C., Champaign, Illinois

Dirr MA (2002) Dirr's trees and shrubs for warm climates: An illustrated encyclopedia. Timber Press, Portland, Oregon

Duever MJ, Riopelle LA (1983) Successional sequences and rates on tree islands in the Okefenokee Swamp. Amer Midland Natur 110(1):186–193

Egerton-Warburton LM, Allen EB (2000) Shifts in arbuscular mycorrhizal communities along an anthropogenic nitrogen deposition gradient. Ecol Appl 10(2):484–496

Gerrish G, Mueller-Dombois D (1999) Measuring stem growth rates for determining age and cohort analysis of a tropical evergreen tree. Pacific Science 53(4):418–429

Giambelluca TW, Nullet MA, and Schroeder TA (1986) Rainfall Atlas of Hawai'i. State of Hawai'i Department of Land and Natural Resources Report R76, Honolulu, Hawai'i

Haddad NM, Haarstad J, Tilman D (2000) The effects of long-term nitrogen loading on grassland insect communities. Oecologia 124(1):73–84

Hughes RF, Denslow JS (2005) Invasion by a N-2-fixing tree alters function and structure in wet lowland forests of Hawaii. Ecol Appl 15(5):1615–1628

Juvik SP, Juvik JO, Paradise TR (eds) (1998) Atlas of Hawai'i (Third Edition). University of Hawai'i Press, Honolulu, Hawai'i

Levey DJ, Bolker BM, Tewksbury JJ, Sargent S, Haddad NM (2005) Effects of landscape corridors on seed dispersal by birds. Science 309:146–148

Levine JM, Vila M, D'Antonio CM, Dukes JS, Grigulis K, and Lavorel S (2003) Mechanisms underlying the impacts of exotic plant invasions. Proceedings of the Royal Society Biological Sciences Series B 270(1517):775–781

Maron JL, Connors PG (1996) A native nitrogen-fixing shrub facilitates weed invasion. Oecologia 105(3):302–312

Matson PA (1990) Plant-soil interaction in primary succession at Hawai'i Volcanos National Park. Oecologia 85(2):241–246

McClanahan TR, Wolfe RW (1993) Accelerating forest succession in a fragmented landscape: The role of birds and perches. Conserv Biol 7(2):279–288

Meidell JS, Oppenheimer HL, Bartlett RT (1997) New plant records from Pu'u Kukui Watershed and adjacent areas, Maui. Bishop Mus. Occas. Pap. 49(2):17–19

Mueller-Dombois D, Fosberg FR (1998) Vegetation of the tropical Pacific islands. Springer-Verlag, New York, New York

Musil CF (1993) Effect of invasive Australian acacias on the regeneration, growth and nutrient chemistry of south African lowland fynbos. J Appl Ecol 30(2):361–372

Perrings C, Dalmazzone S, Williamson M (2005) The economics of biological invasions. In: Mooney HA, Mack RN, McNeely JA, Neville LE, Schei PJ, Waage JK (eds.) Invasive alien species: A new synthesis. Scope series, vol. 63. Island Press, Washington, D.C., U.S.A., pp 16–35

Skolmen RG (1960) Plantings on the Forest Reserves of Hawai'i: 1910–1960. Institute of Pacific Islands Forestry, Pacific Southwest Forest and Range Experiment Station, United States Forest Service, Honolulu, Hawai'i

Stock WD, Wienand KT, Baker AC (1995) Impacts of invading N-2-fixing Acacia species on patterns of nutrient cycling in two Cape ecosystems: evidence from soil incubation studies and 15N natural abundance values. Oecologia 101(3):375–382

Vitousek PM, D'Antonio CM, Loope LL, Rejmanek M, Westbrooks R (1997) Introduced species: a significant component of human-caused global change. New Zealand J Ecol 21:1–16

Vitousek PM, Walker LR (1989) Biological invasion by Myrica Faya in Hawai'i: plant demography, nitrogen fixation, ecosystem effects. Ecol Monographs 59(3):247–266

Vitousek PM, Walker LR, Whiteaker LD, Mueller-Dombois D, Matson PA (1987) Biological invasion by Myrica Faya alters ecosystem development in Hawaii. Science 238(4828):802–804

Wagner WL, Herbst DR, Sohmer SH (1999) The manual of the flowering plants of Hawai'i (revised edition). University of Hawai'i Press, Honolulu, Hawai'i

Walker LR, Vitousek PM (1991) An invader alters germination and growth of a native dominant tree in Hawai'i. Ecology 72(4):1449–1455

Wijnholds AE, Young DR (2000) Interdependence of Myrica cerifera seedlings and the nodule forming actinomycete, Frankia, in a coastal environment. J Coast Res 16(1):139–144

Young DR, Shao G, Porter JH (1995) Spatial and temporal growth dynamics of barrier island shrub thickets. Amer J Bot 82(5):638–645
Acknowledgments
We thank J. Benner, H. Farrington, and R. Ostertag for field assistance and advice in study design, K. Amatangelo and D. Turner for laboratory assistance, and K. Amatangelo and R. Ostertag for helpful discussion. This research was supported by grants from the Andrew Mellon Foundation and the National Science Foundation (DEB 0108492) to Stanford University.
About this article
Cite this article
Kurten, E., Snyder, C., Iwata, T. et al. Morella cerifera invasion and nitrogen cycling on a lowland Hawaiian lava flow. Biol Invasions 10, 19–24 (2008). https://doi.org/10.1007/s10530-007-9101-5
Received:

Accepted:

Published:

Issue Date:
Keywords
Hawai'i

invasive species

Morella
Metrosideros polymorpha
Myrica

Nitrogen cycling

Succession

Tropical forest