Abstract
Fishes have been introduced worldwide with deleterious effects on various native ecosystems. To gain insight into this phenomenon in Israel, we studied the introduced ichthyofauna. There are 27 species of introduced fishes in the freshwater habitats of Israel, a large number for a nation this size. Ten of these species reproduce in the wild. Most of these fishes were introduced for aquaculture; some are constantly restocked. The proportion of restocked versus established species in Israel is high compared to other regions. New fish introductions continue in recent decades, unlike the global trend. In Israel these species are found in the Jordan Basin, Lake Kinneret (Sea of Galilee), and the coastal plain rivers. A few species are widespread, and most are found in Lake Kinneret. Harmful effects of introduced fishes have been suspected and in several cases demonstrated. We encourage further caution when new introductions are contemplated; in some regions eradication should be attempted.
Access options
Buy single article
Instant access to the full article PDF.
US$ 39.95
Tax calculation will be finalised during checkout.
Subscribe to journal
Immediate online access to all issues from 2019. Subscription will auto renew annually.
US$ 79
Tax calculation will be finalised during checkout.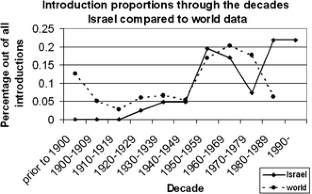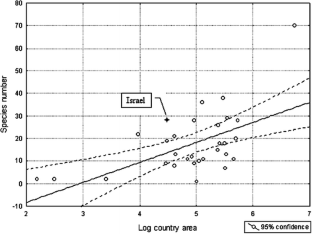 References
Adams MJ, Pearl CA, Bury RB (2003) Indirect facilitation of an anuran invasion by non-native fishes. Ecol Lett 6:343–351

Arthington AH (1991) Ecological and genetic impacts of introduced and translocated fresh-water fishes in Australia. Can J Fish Aquat Sci 48:33–43

Beisner BE, Ives AR, Carpenter SR (2003) The Effects of an exotic fish invasion on the prey communities of two lakes. J Anim Ecol 72:331–342

Ben-Tuvia A (1981) Man-induced changes in the fresh-water fish fauna of Israel. Fish Manage 12:139–148

Clavero M, Blanco-Garrido F, Prenda J (2004) Fish fauna in Iberian Mediterranean river basins: biodiversity, introduced species and damming impacts. Aquat Conserv 14:575–585

Crivelli AJ (1995) Are fish introductions a threat to endemic fresh-water fishes in the Northern Mediterranean region. Biol Conserv 72:311–319

Davidoff EB, Chervinski J (1984) Comments on fish introduction into Lake Kinneret. Fish Manage 15:27–28

Debrot AO (2003) A Review of the freshwater fishes of Curacao, with comments on those of Aruba and Bonaire. Caribbean J Sci 39:100–108

Fishelson L (1983) Plants and animals of the land of Israel—Life in Water. Ministry of Defence, Tel-Aviv, In Hebrew

Froese RPD (2006) FishBase. http://www.fishbase.org.. Cited 01 May 2006

Golani D, Mires D (2000) Introduction of fishes to the freshwater system of Israel. Israel J Aquacult 52:47–60

Goldschmidt T (1996) Darwin's dreampond, drama in Lake Victoria. Massachusetts Institute of Technology Press, Cambridge, Massachusetts

Gophen M (1979) Extinction of Daphnia lumholtzi(Sars) in Lake Kinneret (Israel). Aquaculture 16:67–71

Gophen M (2000) Lake Kinneret (Israel) Ecosystem: long-term instability or resiliency? Water Air Soil Poll 123:323–335

Gophen M, Vinyard GG, Drenner RW (1983) Fish introductions into Lake Kinneret—call for concern. Fish Manage 14:43–45

Goren M (2002) Fishes. In: Dolev A, Perevolotsky A (eds) Endangered species in Israel, red list of threatened animals—vertebrates. Nature and parks Authority and The Society for the Protection of Nature in Israel, Jerusalem, pp 39–52, In Hebrew

Goren M, Galil B (2005) A review of changes in the fish assemblages of levantine inland and marine ecosystems following the introduction of non-native fishes. J Ichtyol 21:364–370

Goren M, Ortal R (1999) Biogeography, Diversity and Conservation of the Inland Water Fish Communities in Israel. Biol Conserv 89:1–9

Hambright KD, Parparov A, Berman T (2000) Indices of water quality for sustainable management and conservation of an arid region lake, Lake Kinneret (Sea of Galilee), Israel. Aquat Conserv 10:393–406

Holčik J (1991) Fish introductions in Europe with particular reference to its central and eastern part. Can J Fish Aquat Sci 48:13–23

Irz P, Argillier C, Oberdorff T (2004) Native and introduced fish species richness in French Lakes: local and regional influences. Global Ecol Biogeogr 13:335–344

Jaffe S (1988) Climate of Israel. In: Yom-Tov Y, Tchernov E (eds) The zoogeography of Israel the distribution and abundance at a zoogeographical crossroad. Dr. W. Junk Publishers, Dordrecht, The Netherlands, pp 79–94

Josefsson M, Andersson B (2001) The environmental consequences of alien species in the Swedish Lakes Malaren, Hjalmaren, Vanern and Vattern. Ambio 30:514–521

Kats LB, Ferrer RP (2003) Alien predators and amphibian declines: review of two decades of science and the transition to conservation. Divers Distrib 9:99–110

Kolar CS, Lodge DM (2002) Ecological predictions and risk assessment for alien fishes in North America. Science 298:1233–1236

Marchetti MP, Moyle PB, Levine R (2004) Alien fishes in California watersheds: characteristics of successful and failed invaders. Ecol Appl 14:587–596

Mills MD, Rader RB, Belk MC (2004) Complex interactions between native and invasive fish: the simultaneous effects of multiple negative interactions. Oecologia 141:713–721

Moyle PB, Light T (1996) Biological invasions of fresh water: empirical rules and assembly theory. Biol Conserv 78:149–161

Rhymer JM, Simberloff D (1996) Extinction by hybridization and introgression. Annu Rev Ecol Syst 27:83–109

Roll U, Dayan T, Simberloff D (2004) Attributes of bird invasions in Israel. Israel J Zool 50:117

Roll U, Dayan T, Simberloff D (2007) Non-indigenous insect species in Israel and adjacent areas. Biol Invasions DOI 10.1007/s10530-006-9064-y

Rosecchi E, Thomas F, Crivelli AJ (2001) Can life-history traits predict the fate of introduced species? a case study on two cyprinid fish in Southern France. Freshwater Biol 46:845–853

Simon KS, Townsend CR (2003) Impacts of freshwater invaders at different levels of ecological organisation, with emphasis on salmonids and ecosystem consequences. Freshwater Biol 48:982–994

Snovsky Z, Galil B (1990) The Occurrence of the American blue-crab, Callinectes sapidus Rathbun, in the Sea of Galilee. Israel J Aquacult 42:62–63

Vila-Gispert A, Alcaraz C, Garcia-Berthou E (2005) Life-history traits of invasive fish in small Mediterranean streams. Biol Invasions 7:107–116

Vredenburg VT (2004) Reversing introduced species effects: experimental removal of introduced fish leads to rapid recovery of a declining frog. P Natl Acad Sci USA 101:7646–7650

Welcomme RL (1988) International introductions of inland aquatic species. FAO, UN, Rome

Yom-Tov Y, Mendelssohn H (1988) Changes in the distribution and abundance of vertebrates in Israel during the 20th century. In: Yom-Tov Y, Tchernov E (eds) The zoogeography of Israel the distribution and abundance at a zoogeographical crossroad. Dr. W. Junk Publishers, Dordrecht,The Netherlands, pp 515–547
Acknowledgments
We thank the internal university fund (Tel-Aviv University) for supporting this research.
About this article
Cite this article
Roll, U., Dayan, T., Simberloff, D. et al. Characteristics of the introduced fish fauna of Israel. Biol Invasions 9, 813–824 (2007). https://doi.org/10.1007/s10530-006-9083-8
Received:

Accepted:

Published:

Issue Date:
Keywords
Alien species

Aquaculture

Biogeographic origin

Fish

Impact

Israel

Restocking