Abstract
Populations of the introduced Heracleum mantegazzianum consist of dense central stands, which gradually give way to open stands towards the margins. To analyse whether open stands are due to unsuitable conditions or represent the invading front for further spread, we studied life-cycle, population dynamics, stand structure and soil conditions of open and dense stands over two transition periods. Populations decreased during the first interval but increased after the extremely dry and warm summer of 2003 during the second interval. Open stands had shorter generation times, lower height, smaller proportions of small individuals and were less in equilibrium with the environment than dense stands. In open stands, growth to higher stages was most important, while in dense stands delayed development (self-loops) had a strong effect on population growth; stasis and fecundity contributed most to the difference in λ between stand types. By petiole extension H. mantegazzianum may raise its leaves just above the resident vegetation. Therefore, younger stages develop faster in open stands, whereas strong competition by conspecific adults leads to longer generation times and a higher proportion of small individuals in dense stands. Disturbance due to extreme climatic conditions in summer 2003 equalised population dynamics of both stand types. Life-cycle variation between stand types makes it difficult to infer simple management rules. However, our data suggest that small and/or open stands of H. mantegazzianum may eventually serve as initials for further spread after land-use changes, whereas dense stands are stable and may represent sources of propagules.
Access options
Buy single article
Instant access to the full article PDF.
USD 39.95
Price excludes VAT (USA)
Tax calculation will be finalised during checkout.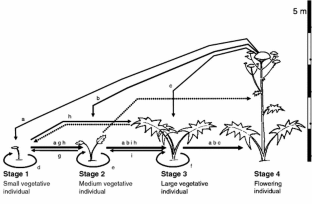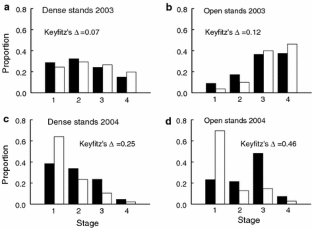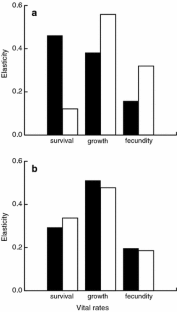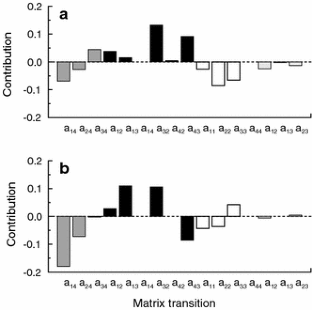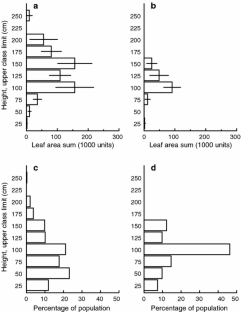 References
Biermann R, Daniëls FJA (1997) Changes in a lichen-rich dry sand grassland vegetation with special reference to lichen synusiae and Campylopus introflexus. Phytocoenologia 27:257–273

Caffrey JM (1999) Phenology and long-term control of Heracleum mantegazzianum. Hydrobiologia 415:223–228

Caswell H (1996) Analysis of life table response experiments II. Alternative parameterizations for size- and stage-structured models. Ecol Model 88:73–82

Caswell H (2001) Matrix population models. Construction, analysis, and interpretation. Sinauer, Sunderland

Ciais P, Reichstein M, Viovy N, Granier A, Ogée J, Allard V, Aubinet M, Buchmann N, Bernshofer C, Carrara A, Chevallier F, De Noblet N, Friend AD, Friedlingstein P, Grünwald T, Heinesch B, Keronen P, Knohl A, Krinner G, Loustau D, Manca G, Matteucci G, Miglietta F, Ourcival JM, Papale D, Pilegaard K, Rambal S, Seufert G, Soussana JF, Sanz MJ, Schulze ED, Vesala T, Valentini R (2005) Europe-wide reduction in primary productivity caused by the heat and drought in 2003. Nature 437:529–533

Crawley MJ (1986) The population biology of invaders. Philos Trans R Soc B 314:711–731

Davis MA (2003) Biotic globalization: does competition from introduced species threaten biodiversity? BioScience 53:481–489

Davis MA, Thompson K (2000) Eight ways to be a colonizer; two ways to be an invader: a proposed nomenclature scheme for invasion ecology. Bull Ecol Soc Am 81:226–230

de Kroon H, Plaisir A, van Groenendael J, Caswell H (1986) Elasticity: the relative contribution of demographic parameters to population growth rate. Ecology 67:1427–1431

Dixon PM (1993) The bootstrap and the jackknife: describing the precision of ecological indices. In: Scheiner SM, Gurevitch J (eds) Design and analysis of ecological experiments. Chapman & Hall, London, pp. 290–318

Elton CS (1958) The ecology of invasions by animals and plants. Methuen, London

Gibson SW, Tiley GED, Philp B (1995) The impact of invasive weeds on riverine flora in Scotland: a preliminary report. Report to Scottish Natural Heritage, Edinburgh

Hoffmann G (1991) Die Untersuchungen von Böden—Methodenbuch 1. VDLUFA-Verlag, Darmstadt

Hood GM (2005) PopTools version 2.6.7. Available on the internet. URL http://www.cse.csiro.au/poptools

Hüls J (2005) Populationsbiologische Untersuchung von Heracleum mantegazzianum Somm. & Lev. in Subpopulationen unterschiedlicher Individuendichte. Dissertation, Giessen University

Hyatt LA, Araki S (2006) Comparative population dynamics of an invading species in its native and novel ranges. Biol Invasions 8:261–275

Keddy P (2001) Competition. Kluwer, Dortrecht

Kolbek J, Lecjaksová S, Härtel H (1994) The integration of Heracleum mantegazzianum into the vegetation—an example from central Bohemia. Biologia 49:41–51

Koop AL, Horvitz CC (2005) Projection matrix analysis of the demography of an invasive, nonnative shrub (Ardisia elliptica). Ecology 86:2661–2672

Kowarik I (2002) Biologische Invasionen in Deutschland: zur Rolle nichteinheimischer Pflanzen. Neobiota 1:5–24

Krinke L, Moravcová L, Pyšek P, Jarošík V, Pergl J, Perglová I (2005) Seed bank of an invasive alien, Heracleum mantegazzianum, and its seasonal dynamics. Seed Sci Res 15:239–248

Levine JM, D'Antonio CM (2003) Forecasting biological invasions with increasing international trade. Conserv Biol 17:322–326

McEvoy PB, Coombs EM (1999) Biological control of plant invaders: regional patterns, field experiments, and structured population models. Ecol Appl 9:387–401

Manly BFJ (1991) Randomization and Monte–Carlo methods in biology. Chapman & Hall, London

Moody ME, Mack RN (1988) Controlling the spread of plant invasions: the importance of nascent foci. J Appl Ecol 25:1009–1021

Mooney HA, Hobbs RJ (2000) Global change and invasive species: where do we go from here? In: Mooney HA, Hobbs RJ (eds) Invasive species in a changing world. Island Press, Washington, pp. 425–434

Moravcová L, Perglová I, Pyšek P, Jarošík V, Pergl J (2005) Effects of fruit position on fruit mass and seed germination in the alien species Heracleum mantegazzianum (Apiaceae) and the implications for its invasion. Acta Oecol 28:1–10

Müllerová J, Pyšek P, Jarošík V, Pergl J (2005) Aerial photographs as a tool for assessing the regional dynamics of the invasive plant species Heracleum mantegazzianum. J Appl Ecol 42:1042–1053

Nehrbass N, Winkler E, Pergl J, Perglová I, Pyšek P (2006) Empirical and virtual investigation of the population dynamics of an alien plant under the constraints of local carrying capacity: Heracleum mantegazzianum in the Czech Republic. Perspect Plant Ecol 7:253–262

Newsome AE, Noble IR (1986) Ecological and physiological characters of invading species. In: Groves RH, Burden JJ (eds) Ecology of biological invasions: an Australian perspective. Australian Academy of Sciences, Canberra, pp. 1–20

Nielsen C, Ravn HP, Nentwig W, Wade M (2005) The Giant Hogweed best practice manual. Guidelines for the management and control of an invasive weed in Europe. Forest & Landscape Denmark, Hoersholm

Noss RF (1990) Indicators for monitoring biodiversity: a hierarchical approach. Conserv Biol 4:355–364

Ochsmann J (1996) Heracleum mantegazzianum SOMMIER & LEVIER (Apiaceae) in Deutschland—Untersuchungen zur Biologie, Verbreitung, Morphologie und Taxonomie. Feddes Repertorium 107:557–595

Otte A, Franke R (1998) The ecology of the Caucasian herbaceous perennial Heracleum mantegazzianum Somm. et Lev. (Giant Hogweed) in cultural ecosystems of Central Europe. Phytocoenologia 28:205–232

Otte A, Maul P (2005) Verbreitungsschwerpunkte und strukturelle Einnischung der Stauden-Lupine (Lupinus polyphyllus Lindl.) in Bergwiesen der Rhön. Tuexenia 25:151–182

Parker IM (2000) Invasion dynamics of Cytisus scoparius: A matrix model approach. Ecol Appl 10:726–743

Pergl J, Hüls J, Perglová I, Eckstein RL, Pyšek P, Otte A (2007) Population dynamics of Heracleum mantegazzianum. In: Pyšek P, Cock MJW, Nentwig W, Ravn HP, (eds) Ecology and management of Giant Hogweed (Heracleum mantegazzianum). CABInterbational, Wallingford, UK, pp. 92–111

Pira E, Romano C, Sulotto F, Pavan I, Monaco E (1989) Heracleum mantegazzianum growth phases and furocoumarin content. Contact Dermatitis 21:300–303

Pyšek P (1991) Heracleum mantegazzianum in the Czech Republic: the dynamics of spreading from the historical perspective. Folia Geobot 26:439–454

Sakai AK, Allendorf FW, Holt JS, Lodge DM, Molofsky J, With KA, Baughman S, Cabin RJ, Cohen JE, Ellstrand NC, McCauley DE, O'Neil P, Parker IM, Thompson JN, Weller SG (2001) The population biology of invasive species. Ann Rev Ecol Syst 32:305–332

Sala OE, Chapin FS III, Armesto JJ, Berlow E, Bloomfield J, Dirzo R, Huber-Sanwald E, Huenneke LF, Jackson RB, Kinzig A, Leemans R, Lodge DM, Mooney HA, Oesterheld M, LeRoy Poff N, Sykes MT, Walker BH, Walker M, Wall DH (2000) Global biodiversity scenarios for the year 2100. Science 287:1770–1774

Schepker H, Kowarik I (2002) Bekämpfung von Neophyten in Niedersachsen: Ursachen, Umfang, Erfolg. Neobiota 1:343–354

Shea K, Kelly D (1998) Estimating biocontrol agent impact with matrix models: Carduus nutans in New Zealand. Ecol Appl 8:824–832

Stokes P (1952) A physiological study on embryo development in Heracleum sphondylium L. I. The effect of temperature on embryo development. Ann Bot 16:441–447

Sukopp H (2001) Neophyten. Bauhinia 15:19–37

Tappeiner U, Cernusca A (1996) Microclimate and fluxes of water vapour, sensible heat and carbon dioxide in structurally differing subalpine plant communities in the Central Caucasus. Plant Cell Environ 19:403–417

Taylor BW, Irwin RE (2004) Linking economic activities to the distribution of exotic plants. Proc Natl Acad Sci USA 101:17725–17730

Thiele J, Otte A (2006) Analysis of habitats and communities invaded by Heracleum mantegazzianum Somm. et Lev. (Giant Hogweed) in Germany. Phytocoenologia 36:281–320

Tiley GED, Dodd FS, Wade PM (1996) Heracleum mantegazzianum Sommier & Levier. J Ecol 84:297–319

van Groenendael J, de Kroon H, Kalisz S, Tuljapurkar S (1994) Loop analysis: evaluating life history pathways in population projection matrices. Ecology 75:2410–2415

Walker NF, Hulme PE, Hoelzel AR (2003) Population genetics of an invasive species, Heracleum mantegazzianum: implications for the role of life history, demographics and independent introductions. Mol Ecol 12:1747–1756

Wardle GM (1998) A graph theory approach to demographic loop analysis. Ecology 79:2539–2549

Williamson M (1999) Invasions. Ecography 22:5–12

Williamson M, Fitter A (1996) The varying success of invaders. Ecology 77:1661–1666

Zar JH (1999) Biostatistical analysis. Prentice Hall, New Jersey
Acknowledgements
We are much indebted to Josef Scholz-vom Hofe for help in the field and the laboratory, to Jan Thiele for insightful comments and Ralph Allen for correcting our English. This study was funded within the 5th EU framework programme 'Energy, Environment and Sustainable Development—Assessing and Conserving Biodiversity' (project no. EVK2-CT-2001-00128). All help is gratefully acknowledged.
About this article
Cite this article
Hüls, J., Otte, A. & Eckstein, R.L. Population life-cycle and stand structure in dense and open stands of the introduced tall herb Heracleum mantegazzianum . Biol Invasions 9, 799–811 (2007). https://doi.org/10.1007/s10530-006-9082-9
Received:

Accepted:

Published:

Issue Date:

DOI: https://doi.org/10.1007/s10530-006-9082-9
Keywords
Apiaceae

Elasticity

Intraspecific competition

Life table response experiment (LTRE)

Loop analysis

Management

Matrix models

Vital rates