Abstract
Non-indigenous species cause great damage worldwide. Non-indigenous insects are known as harmful in many regions, but few comprehensive works have investigated non-indigenous insects as a group. We compiled a comprehensive database of established non-indigenous (ENI) insects in Israel and adjacent regions to investigate how they arrived, their biological characteristics, and the attributes of areas they invade. Of 218 species of ENI insects in this region, 124 are widespread. Most species came as stowaways, but 38 were brought intentionally for biological control. Most ENI insects in this region are in the Coleoptera, Diptera, Hymenoptera, Lepidoptera, and Homoptera. Species from various orders differ in their tendency to be localized or widespread, and in biogeographic origins. The distribution of species among orders differs between native and ENI insects. The Coastal Plain houses the most ENI insect species and the Negev and Judean deserts the fewest. Most ENI insects spread from the Coastal Plain to other regions. Absence of roads, settlements and presence of nature reserves are negatively correlated with occurrence of ENI species. Seventy-nine species are categorized as pests that damage produce, merchandise, forestry, etc. Despite a general dearth of knowledge on impacts of ENI insects on natural systems, 42 species are known to feed on native plants, some of conservation concern. Biological control agents are usually more limited in their distribution than other ENI insects. Further research, legislation, and enforcement are required to minimize effects of these species on agriculture and natural habitats.
Access options
Buy single article
Instant access to the full article PDF.
US$ 39.95
Tax calculation will be finalised during checkout.
Subscribe to journal
Immediate online access to all issues from 2019. Subscription will auto renew annually.
US$ 79
Tax calculation will be finalised during checkout.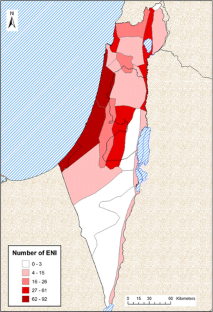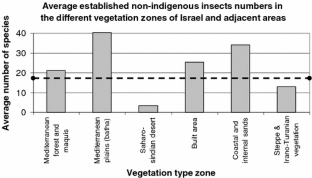 References
Ateyyat MA (2002) Parasitoid Complex of Citrus Leafminer, Phyllocnistis citrellaon Lemon in the Central Jordan Valley. Biocontrol 47:33–43

Ausher R (1997) Implementation of integrated pest management in Israel. Phytoparasitica 25:119–141

Bytinski-Salz H (1966) An annotated list of insects and mites introduced into Israel. Isr J Entomol 1:15–48

Case TJ (1996) Global patterns in the establishment and distribution of exotic birds. Biol Conserv 78:69–96

Crooks J, Soulé ME (1996) Lag times in population explosions of invasive species: causes and implications. In: Sandlund OT, Schei PJ, Viken A (eds) Proceedings, Norway/UN Conference on Alien Species. Directorate for Nature Management and Norwegian Institute for Nature Research, Trondheim Norway, pp. 39–46

Duncan RP, Blackburn TM, Sol D (2003) The ecology of bird introductions. Annu Rev Ecol Evol Syst 34:71–98

Elton CS (1958) The ecology of invasions by animals and plants. Methuen, London

Fishelson L (1985) Fauna Palaestina: Insecta III. Orthoptera: Acridoidea. The Israel Academy of Sciences and Humanities, Jerusalem

Fragman O, Plitmann U, Heller D, Shmida A (1999) Checklist and ecological data-base of the flora of Israel and its surroundings. Hebrew University of Jerusalem, Jerusalem

Frank JH, McCoy ED (1990) Endemics and epidemics of shibboleths and other things causing chaos. Flo Entomol 73:1–9

Freidberg A. (1997). The Entemofauna of Israel—Species Numbers, Research & Conservation. Ecol Environ 4:141–147. In Hebrew

Holway DA, Lach L, Suarez AV, Tsutsui ND, Case TJ (2002) The causes and consequences of ant invasions. Annu Rev Ecol Syst 33:181–233

Kim KC (1991). North American non-indigenous arthropod data base. United States Department of Agriculture—Animal and Plant Health Inspection Service, Retrieved from http://www.exoticforestpests.org/rppc on 1 October 2005

Kimberling DN (2004) Lessons from history: predicting successes and risks of intentional introductions for arthropod control. Biol Invasions 6:301–318

Kiritani K (1988) Exotic insects in Japan. Entomol Sci 1: 291–298

Kugler J (1988) The zoogeography of social insects of Israel and Sinai. In: Yom-Tov Y, Tchernov E (eds) The zoogeography of Israel, the distribution and abundance at a zoogeographical crossroad. Dr. W. Junk Publishers, Dordrecht Netherlands, pp 251–274

Kugler J (1989) Plants and Animals of the land of Israel—Insects. Ministry of Defense, Tel-Aviv. In Hebrew

Lodge DM (1993) Species invasions and deletions: community effects and responses to climate and habitat change. In: Kareiva PM, Kingsolver JG, Huey RB (eds) Biotic interactions and global change. Sinauer Associates Inc, Sunderland Massachusetts, pp 367–387

Lonsdale WM (1999) Global patterns of plant invasions and the concept of invasibility. Ecology 80:1522–1536

Mack RN, Simberloff D, Lonsdale WM, Evans H, Clout M, Bazzaz FA (2000) Biotic invasions: causes, epidemiology, global consequences, and control. Ecol Appl 10:689–710

Martinez M, Malausa JC (1999) Quelques introductions accidentelles d'insectes ravageurs en France (Periode 1950–1999): liste chronologique. ANPP 5 eme Conference Internationale sur les Ravageurs en Agriculture. Montpellier 7–9 Decembre 1999, pp 141–147

Mooney HA, Hobbs RJ (2000) Invasive species in a changing world. Island Press, Washington DC

New TR (1994) Exotic insects in Australia. Gleneagles, Adelaide

Pelizzari G, Dalla Monta L (1997) 1945–1995: Fifty years of incidental insect pest introduction to Italy. Acta Phytopathol Entomol Hung 32:171–183

Perez Moreno I (1999) Plagas intoducidas en Espana peninsular en la segunda mitad del siglo XX. Aracnet, Boletin Electronico de Entomologia numero 4, julio de 1999, pp 1–14. Retrieved from http://www.entomologia.rediris.es/aracnet/num4/entomap/ on 18 May 2006

Pimentel D, Zuniga R, Morrison D (2005) Update on the environmental and economic costs associated with alien-invasive species in the United States. Ecol Econ 52:273–288

Prinzing A, Durka W, Klotz S, Brandl R (2002) Which species become aliens? Evol Ecol Res 4:385–405

Reitz SR, Trumble JT (2002) Competitive displacement among insects and arachnids. Annu Rev Entomol 47:435–465

Sailer RI (1978) Our immigrant insect fauna. Bull Entomol Soc Am 24:3–11

Sailer RI (1983) History of insect introductions. In: Graham C, Wilson C (eds) Exotic pest plants and North American agriculture. Academic Press, New York, pp 15–38

Sapir Y, Shmida A, Fragman O (2003) Constructing red numbers for setting conservation priorities of endangered plant species: Israeli flora as a test case. J Nat Conserv 11:91–107

Sapir Y, Shmida A, Fragman O (2004) ROTEM, Israel plant information center. Retrieved from http://www.rotem.huji.ac.il/red_number.htm on 21 April 2004

Simberloff D (1986) Introduced insects: a biogeographic and systematic perspective. In: Mooney HA, Drake JA (eds) Ecology of biological invasions of North America and Hawaii. Springer-Verlag, New York, pp 3–26

Simberloff D (1989) Which insect introductions succeed and which fail? In: Drake JA (ed) Biological invasions: a global perspective. John Wiley & Sons Ltd, pp 61–75

Simberloff D (1991) Keystone species and community effects of biological introductions. In: Ginzburg LR (ed) Assessing ecological risks of biotechnology. Butterworth-Hienemann, Boston, pp 1–19

Simberloff D (2003) Introduced insects. In: Resh VH, Cardé R (eds) Encyclopedia of insects. Academic Press, New York, pp 597–602

Smith RM, Baker RHA, Malumphy CP, Hockland S, Hammon RP, Ostoja-Starzewski JC, Collins DW (2005) Non-native invertebrate plant pests established in Great Britain: an assessment of patterns and trends. BCPC Symposium Proceedings 81:119–124

Sol D, Timmermans S, Lefebvre L (2002) Behavioural flexibility and invasion success in birds. Anim Behav 63:495–502

Van Lenteren JC, Woets J, Grijpma P, Ulenberg SA, Minkenberg OPJM (1987) Invasions of pest and beneficial insects in the Netherlands. Proc Koninklijke Nederlands Academie Wetenschappen Ser C 90:51–58

Vazquez DP, Simberloff D (2001) Taxonomic selectivity in surviving Introduced insects in the United States. In: Lockwood JL, McKinney ML (eds) Biotic homogenization. Kluwer Academic/Plenum Publishers, New York, pp 103–124

Waisel Y, Alon A (1978) The wild trees of Israel. Yad Hachamisha, Kefar Chabad, Israel Hebrew

Wallace AR (1876) The geographical distribution of animals, with a study of the relation of living and extinct faunas as elucidating the past changes of the earth's surface. Macmillan and Co., London

Williams DF (1994) Exotic ants. Biology, impact, and control of introduced species. Westview, Boulder CO

Wilson EO (1992) The diversity of life. W.W. Norton, New York

Yom-Tov Y (1988) The zoogeography of the birds and mammals of Israel. In: Yom-Tov Y, Tchernov E (eds) The zoogeography of Israel, the distribution and abundance at a zoogeographical crossroad. Dr. W. Junk Publishers, Dordrecht Netherlands, pp 389–409

Zohary M (1982) Plants of the Bible: a complete handbook to all the plants with 200 full-color plates taken in the natural habitat. Cambridge University Press, Cambridge
Acknowledgments
We thank Dany Simon, Amnon Freidberg, Vladimir Chikatunov, Yariv Malihi, Leonid Friedman, Quabir Argaman, Mirit Hamburger, Zvi Klein, Wolf Kuslitzky and Manes Wysoki for help in obtaining the data for this research, Erez Ungar for statistical advice, Noam Levin for help with the GIS analysis, and Nathan Sanders for discussion of the manuscript. Mark Willamson and three anonymous reviewers provided insightful comments on previous versions of this manuscript. We thank the internal university fund (Tel-Aviv University) for supporting this research.
About this article
Cite this article
Roll, U., Dayan, T. & Simberloff, D. Non-indigenous insect species in Israel and adjacent areas. Biol Invasions 9, 629–643 (2007). https://doi.org/10.1007/s10530-006-9064-y
Received:

Accepted:

Published:

Issue Date:
Keywords
Biogeographic origin

Biological control

Impact

Insects

Israel