Abstract
Objectives
To investigate the impact of secreted factors of rat bone marrow mesenchymal stem cells (MSCs) on the proliferation and migration of tenocytes and provide evidence for the development of MSC-based therapeutic methods of tendon injury.
Results
Rat bone marrow mesenchymal stem cell-derived conditioned medium (MSC-CM) promoted the proliferation of tenocytes within 24 h and decreased the percentage of tenocytes in G1 phase. MSC-CM activated the extracellular signal-regulated kinase1/2 (ERK1/2) signal molecules, while the ERK1/2 inhibitor PD98059 abrogated the MSC-CM-induced proliferation of tenocytes, decreased the fraction of tenocytes in the G1 phase and elevated p-ERK1/2 expression. Furthermore, MSC-CM promoted the migration of tenocytes within 6 h, enhanced the formation of filamentous actin (F-actin) and increased the cellular and nuclear stiffness of tenocytes.
Conclusions
MSC-CM promotes tenocyte proliferation by changing cell cycle distribution via the ERK1/2 signaling pathway. MSC-CM-induced tenocyte migration was accompanied by cytoskeletal polymerization and increases in cellular and nuclear stiffness.
Access options
Buy single article
Instant access to the full article PDF.
US$ 39.95
Tax calculation will be finalised during checkout.
Subscribe to journal
Immediate online access to all issues from 2019. Subscription will auto renew annually.
US$ 119
Tax calculation will be finalised during checkout.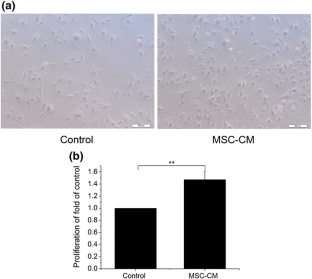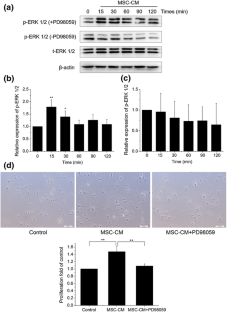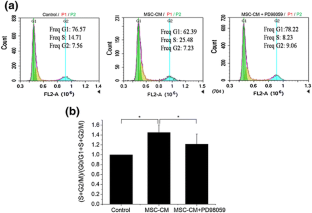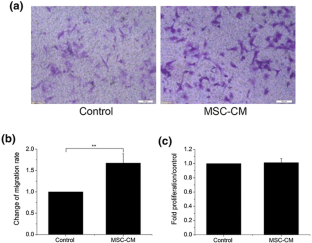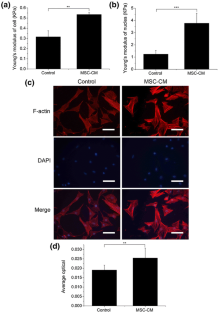 References
Chang CH, Tsai WC, Lin MS, Hsu YH, Pang JH (2011) The promoting effect of pentadecapeptide BPC 157 on tendon healing involves tendon outgrowth, cell survival, and cell migration. J Appl Physiol 110:774–780

Chaturvedi LS, Marsh HM, Basson MD (2007) Src and focal adhesion kinase mediate mechanical strain-induced proliferation and ERK1/2 phosphorylation in human H441 pulmonary epithelial cells. Am J Physiol Cell Physiol 292:C1701–C1713

Denais C, Lammerding J (2014) Nuclear mechanics in cancer. Adv Exp Med Biol 773:435–470

Gerlitz G, Bustin M (2011) The role of chromatin structure in cell migration. Trends Cell Biol 21:6–11

Hofer HR, Tuan RS (2016) Secreted trophic factors of mesenchymal stem cells support neurovascular and musculoskeletal therapies. Stem Cell Res Ther 7:131

Hung SC, Pochampally RR, Chen SC, Hsu SC, Prockop DJ (2007) Angiogenic effects of human multipotent stromal cell conditioned medium activate the PI3 K-Akt pathway in hypoxic endothelial cells to inhibit apoptosis, increase survival, and stimulate angiogenesis. Stem Cell 25:2363–2370

Katagiri W, Kawai T, Osugi M, Sugimura-Wakayama Y, Sakaguchi K, Kojima T, Kobayashi T (2017) Angiogenesis in newly regenerated bone by secretomes of human mesenchymal stem cells. Maxillofac Plast Reconstr Surg 39:8

Keshet Y, Seger R (2010) The MAP kinase signaling cascades: a system of hundreds of components regulates a diverse array of physiological functions. Methods Mol Biol 661:3–38

Kinnaird T, Stabile E, Burnett MS, Shou M, Lee CW, Barr S, Fuchs S, Epstein SE (2004) Local delivery of marrow-derived stromal cells augments collateral perfusion through paracrine mechanisms. Circulation 109:1543–1549

Li Z, Shen XT, Liang C, Yuan ZQ, Chen SY, Zheng X, Tang MK, Lee KK, Cai DQ (2011) Bone morphogenetic protein 2 improves patellar tendon healing by promoting migration and proliferation of tenocytes. Chin Sci Bull 56:1361–1369

Li M, Luan F, Zhao Y, Hao H, Liu J, Dong L, Fu X, Han W (2015) Mesenchymal stem cell-conditioned medium accelerates wound healing with fewer scars. Int Wound J 14:64–73

Nakahara M, Okumura N, Kay EP, Hagiya M, Imagawa K, Hosoda Y, Kinoshita S, Koizumi N (2013) Corneal endothelial expansion promoted by human bone marrow mesenchymal stem cell-derived conditioned medium. PLoS ONE 8:e69009

Ogata K, Katagiri W, Osugi M, Kawai T, Sugimura Y, Hibi H, Nakamura S, Ueda M (2015) Evaluation of the therapeutic effects of conditioned media from mesenchymal stem cells in a rat bisphosphonate-related osteonecrosis of the jaw-like model. Bone 74:95–105

Ryan JA, Eisner EA, DuRaine G, You Z, Reddi AH (2009) Mechanical compression of articular cartilage induces chondrocyte proliferation and inhibits proteoglycan synthesis by activation of the ERK pathway: implications for tissue engineering and regenerative medicine. J Tissue Eng Regen Med 3:107–116

Sakaguchi K, Katagiri W, Osugi M, Kawai T, Sugimura-Wakayama Y, Hibi H (2017) Periodontal tissue regeneration using the cytokine cocktail mimicking secretomes in the conditioned media from human mesenchymal stem cells. Biochem Biophys Res Commun 484:100–106

Stricker J, Falzone T, Gardel ML (2010) Mechanics of the F-actin cytoskeleton. J Biomech 43:9–14

Sun J, Zhou H, Deng Y, Zhang Y, Gu P, Ge S, Fan X (2012) Conditioned medium from bone marrow mesenchymal stem cells transiently retards osteoblast differentiation by downregulating runx2. Cells Tissues Organs 196:510–522

Thomopoulos S, Parks WC, Rifkin DB, Derwin KA (2015) Mechanisms of tendon injury and repair. J Orthop Res 33:832–839

Voleti PB, Buckley MR, Soslowsky LJ (2012) Tendon healing: repair and regeneration. Annu Rev Biomed Eng 14:47–71

Wang N, Tolić-Nørrelykke IM, Chen J, Mijailovich SM, Butler JP, Fredberg JJ, Stamenović D (2002) Cell prestress. I. Stiffness and prestress are closely associated in adherent contractile cells. Am J Physiol Cell Physiol 282:C606–C616

Webb DJ, Parsons JT, Horwitz AF (2002) Adhesion assembly, disassembly and turnover in migrating cells—over and over and over again. Nat Cell Biol 4:E97–E100

Wu J, Wu K, Lin F, Luo Q, Yang L, Shi Y, Song G, Sung KL (2013) Mechano-growth factor induces migration of rat mesenchymal stem cells by altering its mechanical properties and activating ERK pathway. Biochem Biophys Res Commun 441:202–207

Zhang J, Liu C, Hou R (2014) Knockdown of HMGB1 improves apoptosis and suppresses proliferation and invasion of glioma cells. Chin J Cancer Res 26:658–668

Zhao J, Hu L, Liu J, Gong N, Chen L (2013) The effects of cytokines in adipose stem cell-conditioned medium on the migration and proliferation of skin fibroblasts in vitro. Biomed Res Int 2013:578479
Acknowledgements
This work was financially supported through grants from the Natural National Science Foundation of China (31700810, 11772073, 11272365 and 11532004), the exchange program of the National Natural Science Foundation of China and the Japan Society for the Promotion of Science (11511140092), the Chongqing Research Program of Basic Research and Frontier Technology (cstc2016jcyjA0222), and the Fundamental Research Funds for the Central Universities (106112017CDJXY230005).
About this article
Cite this article
Chen, Q., Liang, Q., Zhuang, W. et al. Tenocyte proliferation and migration promoted by rat bone marrow mesenchymal stem cell-derived conditioned medium. Biotechnol Lett 40, 215–224 (2018). https://doi.org/10.1007/s10529-017-2446-7
Received:

Accepted:

Published:

Issue Date:
Keywords
Cytoskeleton

Migration

Mesenchymal stem cells

Proliferation

Stiffness

Tenocytes