Abstract
Objectives
To investigate gene expression profiles of the thermotolerant yeast Saccharomyces cerevisiae strain KKU-VN8, a potential high-ethanol producer, in response to various stresses during high-temperature ethanol fermentation using sweet sorghum juice (SSJ) under optimal conditions.
Results
The maximal ethanol concentration obtained by S. cerevisiae KKU-VN8 using SSJ at 40 °C was 66.6 g/l, with a productivity of 1.39 g/l/h and a theoretical ethanol yield of 81%. Quantitative RT-PCR assays were performed to investigate the gene expression profiles of S. cerevisiae KKU-VN8. Differential expression of genes encoding heat-shock proteins (HSP82, HSP104, SSA4), genes involved in trehalose metabolism (TPS1, TPS2, NTH1) and genes involved the glycolytic pathway (ADH1, ADH2, CDC19) at various time points during fermentation was observed. The expression levels of HSP82, HSP104, SSA4, ADH1 and CDC19 were significantly higher than those of the controls (10.2-, 4-, 8-, 8.9- and 5.9-fold higher, respectively). In contrast, the expression levels of TPS1, TPS2, NTH1 and ADH2 were approx. 2-fold less than those of the controls.
Conclusions
The highly expressed genes encoding heat-shock proteins, HSP82 and SSA4, potentially play an important role in helping S. cerevisiae KKU-VN8 cope with various stresses that occur during high-temperature fermentation, leading to higher ethanol production efficiency.
Access options
Buy single article
Instant access to the full article PDF.
USD 39.95
Price excludes VAT (USA)
Tax calculation will be finalised during checkout.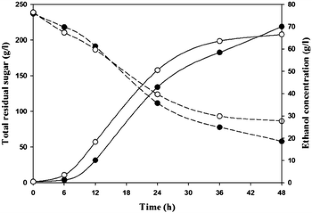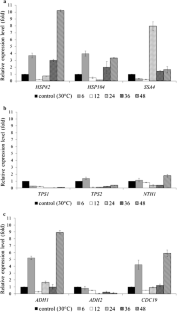 References
Auesukaree C, Koedrith P, Saenpayavai P, Asvarak T, Benjaphokee S, Sugiyama M, Kaneko Y, Harashima S, Boonchird C (2012) Characterization and gene expression profiles of thermotolerant Saccharomyces cerevisiae isolates from Thai fruits. J Biosci Bioeng 114:144–149

Charoensopharat K, Thanonkeo P, Thanonkeo S, Yamada M (2015) Ethanol production from Jerusalem artichoke tubers at high temperature by newly isolated thermotolerant inulin-utilizing yeast Kluyveromyces marxianus using consolidated bioprocessing. Antonie Van Leeuwenhoek 108:173–190

Hauf J, Zimmermann FK, Müller S (2000) Simultaneous genomic overexpression of seven glycolytic enzymes in the yeast Saccharomyces cerevisiae. Enz Microb Technol 26:688–698

Hirasawa T, Yoshikawa K, Nakakura Y, Nagahisa K, Furusawa C, Katakura Y, Shimizu H, Shioya S (2007) Identification of target genes conferring ethanol stress tolerance to Saccharomyces cerevisiae based on DNA microarray data analysis. J Biotechnol 131:34–44

Hohmann S, Mager WH (2003) Yeast stress responses. Springer Science & Business Media, Berlin

Hou J, Jiao C, Peng B, Shen Y, Bao X (2016) Mutation of a regulator Ask10p improves xylose isomerase activity through up-regulation of molecular chaperones in Saccharomyces cerevisiae. Metab Eng 38:241–250

Kim IS, Kim YS, Kim H, Jin I, Yoon HS (2013) Saccharomyces cerevisiae KNU5377 stress response during high-temperature ethanol fermentation. Mol Cells 35:210–218

Kitichantaropas Y, Boonchird C, Sugiyama M, Kaneko Y, Harashima S, Auesukaree C (2016) Cellular mechanisms contributing to multiple stress tolerance in Saccharomyces cerevisiae strains with potential use in high-temperature ethanol fermentation. AMB Express 6:107

Limtong S, Sringiew C, Yongmanitchai W (2007) Production of fuel ethanol at high temperature from sugar cane juice by a newly isolated Kluyveromyces marxianus. Bioresour Technol 98:3367–3374

Mahmud SA, Hirasawa T, Shimizu H (2010) Differential importance of trehalose accumulation in Saccharomyces cerevisiae in response to various environmental stresses. J Biosci Bioeng 109:262–266

Nuanpeng S, Thanonkeo S, Yamada M, Thanonkeo P (2016) Ethanol production from sweet sorghum juice at high temperatures using a newly isolated thermotolerant yeast Saccharomyces cerevisiae DBKKU Y-53. Energies 9:253

Ogawa Y, Nitta A, Uchiyama H, Imamura T, Shimoi H, Ito K (2000) Tolerance mechanism of the ethanol-tolerant mutant of sake yeast. J Biosci Bioeng 90:313–320

Patrascu E, Rapeanu G, Hopulele T (2009) Current approaches to efficient biotechnological production of ethanol. Innov Rom Food Biotechnol 4:1–11

Techaparin A, Thanonkeo P, Klanrit P (2017) High-temperature ethanol production using thermotolerant yeast newly isolated from Greater Mekong Subregion. Braz J Microbiol 48:461–475

Xu X, Song H, Zhou Z, Shi N, Ying Q, Wang H (2010) Functional characterization of AtHsp90.3 in Saccharomyces cerevisiae and Arabidopsis thaliana under heat stress. Biotechnol Lett 32:979–987
Acknowledgements
This research was financially supported by the National Research University Project of Thailand through the Biofuel Research Cluster of Khon Kaen University, Thailand (NRU 543042 and NRU-KKU-Ph.D 54310) and the Energy Conservation Fund of Energy Policy and Planning office (EPPO), Ministry of Energy, Thailand. We are grateful to the Fermentation Research Center for Value Added Agricultural Products (FerVAAP), the Department of Biotechnology, Faculty of Technology, Khon Kaen University and Molecular biology research laboratory, Faculty of Dentistry, Khon Kaen University for supporting the equipment and facilities used in this research.
Supporting information
Supplementary Table 1—Gene-specific primers.
Electronic supplementary material
Below is the link to the electronic supplementary material.
About this article
Cite this article
Techaparin, A., Thanonkeo, P. & Klanrit, P. Gene expression profiles of the thermotolerant yeast Saccharomyces cerevisiae strain KKU-VN8 during high-temperature ethanol fermentation using sweet sorghum juice. Biotechnol Lett 39, 1521–1527 (2017). https://doi.org/10.1007/s10529-017-2398-y
Received:

Accepted:

Published:

Issue Date:

DOI: https://doi.org/10.1007/s10529-017-2398-y
Keywords
Gene expression

Glycolytic pathway

Heat-shock proteins

Saccharomyces cerevisiae

Sweet sorghum juice

Trehalose metabolism