Abstract
Objective
To investigate the role of human umbilical cord mesenchymal stem cells (hucMSCs) in the treatment of dextran sulfate sodium (DSS)-induced inflammatory bowel disease (IBD).
Results
ICG-hucMSCs homed to colon tissues of IBD mice 12 h after injection. The injection of hucMSCs significantly relieved the IBD symptoms and inflammatory cell infiltration. The expression of IL-10 gene increased while those of 15-LOX-1, TNF-α, IL-6, IL-1β, and IP-10 genes decreased in colon tissues and spleens of hucMSCs-treated mice. The activation of STAT3 was inhibited in colon tissues and spleens of IBD mice that were treated with hucMSCs. In addition, the percentage of macrophages decreased in colon tissues and spleens of hucMSCs-treated IBD mice. Moreover, we provided evidence that in vitro co-culture with hucMSCs inhibited the expression of 15-LOX-1, IL-6 and p-STAT3 in mouse enterocoelia macrophages.
Conclusions
HucMSCs alleviate DSS-induced IBD through the modulation of 15-LOX-1 in macrophages.
Access options
Buy single article
Instant access to the full article PDF.
US$ 39.95
Tax calculation will be finalised during checkout.
Subscribe to journal
Immediate online access to all issues from 2019. Subscription will auto renew annually.
US$ 119
Tax calculation will be finalised during checkout.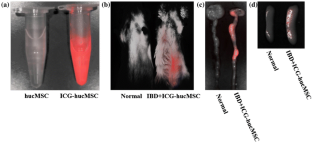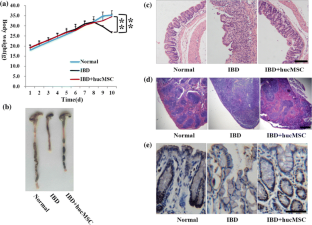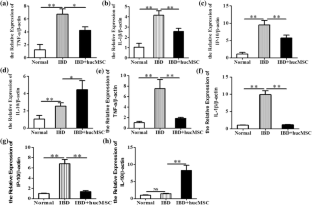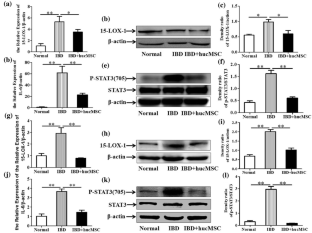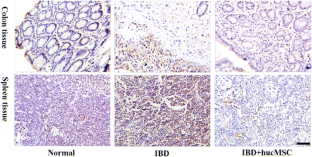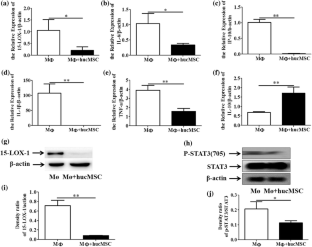 References
Andrews C, McLean MH, Durum SK (2016) Interleukin-27 as a novel therapy for inflammatory bowel disease: a critical review of the literature. Inflamm Bowel Dis 22:2255–2264

Axelrad JE, Lichtiger S, Yajnik V (2016) Inflammatory bowel disease and cancer: the role of inflammation, immunosuppression, and cancer treatment. World J Gastroenterol 22:4794–4801

Bieback K, Netsch P (2016) Isolation, culture, and characterization of human umbilical cord blood-derived mesenchymal stromal cells. Method Mol Biol 1416:245–258

Chang YT (1964) Long-term cultivation of mouse peritoneal macrophages. J Nat Cancer Inst 32:19–30

Deans RJ, Moseley AB (2000) Mesenchymal stem cells: biology and potential clinical uses. Exp Hematol 28:875–884

Devito A (2015) Alpha chemokines in Crohn's disease. Clin Ter 166:e114–e117

Doe WF, Dorsman B (1982) Chronic inflammatory bowel disease–increased plasminogen activator secretion by mononuclear phagocytes. Clin Exp Immunol 48:256–260

Fu J, Zhang H, Zhuang Y, Liu H, Shi Q, Li D, Ju X (2014) The role of N-acetyltransferase 8 in mesenchymal stem cell-based therapy for liver ischemia/reperfusion injury in rats. PLoS ONE 9:e103355

Genua M, Ingangi V, Fonteyne P, Piontini A, Yousif AM, Merlino F, Grieco P, Malesci A, Carriero MV, Danese S (2016) Treatment with a urokinase receptor-derived cyclized peptide improves experimental colitis by preventing monocyte recruitment and macrophage polarization. Inflamm Bowel Dis 22:2390–2401

He H, Zhao ZH, Han FS, Liu XH, Wang R, Zeng YJ (2016) Overexpression of protein kinase C ɛ improves retention and survival of transplanted mesenchymal stem cells in rat acute myocardial infarction. Cell Death Dis 7:e2056

Imaeda H, Takahashi K, Fujimoto T, Kasumi E, Ban H, Bamba S, Sonoda H, Shimizu T, Fujiyama Y, Andoh A (2013) Epithelial expression of interleukin-37b in inflammatory bowel disease. Clin Exp Immunol 172:410–416

Kim KW, Moon SJ, Park MJ, Kim BM, Kim EK, Lee SH, Lee EJ, Chung BH, Yang CW, Cho ML (2015) Optimization of adipose tissue-derived mesenchymal stem cells by rapamycin in a murine model of acute graft-versus-host disease. Stem Cell Res Ther 6:202

Krampera M, Cosmi L, Angeli R, Pasini A, Liotta F, Andreini A, Santarlasci V, Mazzinghi B, Pizzolo G, Vinante F, Romagnani P, Maggi E, Romagnani S, Annunziato F (2006) Role for interferon-gamma in the immunomodulatory activity of human bone marrow mesenchymal stem cells. Stem Cells 24:386–398

Li X, Hu YD, Chen Y, Zhou HL, Zhang FL, Guo DX, Zhao QN (2015) Mechanisms of improvement of left ventricular function by intracoronary human umbilical cord-derived mesenchymal stem cell infusion in very old patients with coronary chronic total occlusion. Curr Pharm Des 21:3844–3850

Liu M, Guo S, Hibbert JM, Jain V, Singh N, Wilson NO, Stiles JK (2011) CXCL10/IP-10 in infectious diseases pathogenesis and potential therapeutic implications. Cytokin Growth Factor Rev 22:121–130

Mabalirajan U, Rehman R, Ahmad T, Kumar S, Leishangthem GD, Singh S, Dinda AK, Biswal S, Agrawal A, Ghosh B (2013) 12/15-lipoxygenase expressed in non-epithelial cells causes airway epithelial injury in asthma. Sci Rep 3:1540

Mao F, Xu WR, Qian H, Zhu W, Yan YM, Shao QX, Xu HX (2010) Immunosuppressive effects of mesenchymal stem cells in collagen-induced mouse arthritis. Inflamm Res 59:219–225

Mao F, Wang M, Wang J, Xu WR (2015a) The role of 15-LOX-1 in colitis and colitis-associated colorectal cancer. Inflamm Res 64:661–669

Mao F, Xu M, Zuo X, Yu J, Xu W, Moussalli MJ, Elias E, Li HS, Watowich SS, Shureiqi I (2015b) 15-Lipoxygenase-1 suppression of colitis-associated colon cancer through inhibition of the IL-6/STAT3 signaling pathway. FASEB J 29:2359–2370

Meisel R, Zibert A, Laryea M, Göbel U, Däubener W, Dilloo D (2004) Human bone marrow stromal cells inhibit allogeneic T-cell responses by indoleamine 2,3-dioxygenase-mediated tryptophan degradation. Blood 103:4619–4621

Okamoto R, Watanabe M (2016) Investigating cell therapy for inflammatory bowel disease. Expert Opin Biol Ther 16:1015–1023

Owczarek D, Rodacki T, Domagała-Rodacka R, Cibor D, Mach T (2016) Diet and nutritional factors in inflammatory bowel diseases. World J Gastroenterol 22:895–905

Pan H, Zhang G, Zhang L, Wang W, Shang J, Wang X, Zhao Q, Li J (2016) MD-1 deficiency attenuates dextran sodium sulfate (DSS)-induced colitis through modulating the function of colonic lamina propria dendritic cells. Mol Immunol 75:1–10

Peng X, Xu H, Zhou Y, Wang B, Yan Y, Zhang X, Wang M, Gao S, Zhu W, Xu W, Qian H (2013) Human umbilical cord mesenchymal stem cells attenuate cisplatin-induced acute and chronic renal injury. Exp Biol Med 238:960–970 (Maywood)

Pérez-Merino EM, Usón-Casaús JM, Zaragoza-Bayle C, Duque-Carrasco J, Mariñas-Pardo L, Hermida-Prieto M, Barrera-Chacón R, Gualtieri M (2015) Safety and efficacy of allogeneic adipose tissue-derived mesenchymal stem cells for treatment of dogs with inflammatory bowel disease: clinical and laboratory outcomes. Vet J 206:385–390

Pittenger MF, Mackay AM, Beck SC, Jaiswal RK, Douglas R, Mosca JD, Moorman MA, Simonetti DW, Craig S, Marshak DR (1999) Multi-lineage potential of adult human mesenchymal stem cells. Science 284:143–147

Polchert D, Sobinsky J, Douglas G, Kidd M, Moadsiri A, Reina E, Genrich K, Mehrotra S, Setty S, Smith B, Bartholomew A (2008) INF-c activation of mesenchymal stem cells for treatment and prevention of graft versus host disease. Eur J Immunol 38:1745–1755

Qian H, Yang H, Xu W, Yan Y, Chen Q, Zhu W, Cao H, Yin Q, Zhou H, Mao F, Chen Y (2008) Bone marrow mesenchymal stem cells ameliorate rat acute renal failure by differentiation into renal tubular epithelial-like cells. Int J Mol Med 22:325–332

Qiao C, Xu W, Zhu W, Hu J, Qian H, Yin Q, Jiang R, Yan Y, Mao F, Yang H, Wang X, Chen Y (2008) Humanmesenchymal stem cells isolated from the umbilical cord. Cell Biol Int 32:8–15

Shureiqi I, Wu Y, Chen D, Yang XL, Guan B, Morris JS, Yang P, Newman RA, Broaddus R, Hamilton SR, Lynch P, Levin B, Fischer SM, Lippman SM (2005) The critical role of 15-lipoxygenase-1 in colorectal epithelial cell terminal differentiation and tumorigenesis. Cancer Res 65:11486–11492

Stavely R, Robinson AM, Miller S, Boyd R, Sakkal S, Nurgali K (2015) Human adult stem cells derived from adipose tissue and bone marrow attenuate enteric neuropathy in the guinea-pig model of acute colitis. Stem Cell Res Ther 6:244

Uranga JA, López-Miranda V, Lombó F, Abalo R (2016) Food, nutrients and nutraceuticals affecting the course of inflammatory bowel disease. Pharmacol Rep 68:816–826

Zheng S, Yang J, Yang J, Tang Y, Shao Q, Guo L, Liu Q (2015) Transplantation of umbilical cord mesenchymal stem cells via different routes in rats with acute liver failure. Int J Clin Exp Pathol 8:15854–15862
Acknowledgments
This study was funded by the National Natural Science Foundation of China (Grant No. 81670502, 81672416, 81272481), Jiangsu Key Research and Development Project (Grant No. BE2016717), Jiangsu Province for Outstanding Sci-tech Innovation Team in Colleges and Universities (SJK2013-10), the China postdoctoral science foundation (Grant No. 2015M571705), the Natural Science Foundation of Jiangsu Province for high schools (Grant No. 10KJB310002), Jiangsu Province's scientific and technological Supporting Program (Grant No. BE2010703), the Scientific Research Foundation of Jiangsu University (Grant No. 10JDG094, FCJJ2015023), the opening project of the Key Laboratory of Embryo Molecular Biology, Ministry of Health of China, and Shanghai Key Laboratory of Embryo and Reproduction Engineering (Grant No. KF201601), and a Project Funded by the Priority Academic Program Development of Jiangsu Higher Education Institutions.
Supporting information
Supplementary Table 1—Primer sequences for qRT-PCR.
Ethics declarations
Conflict of interest
The authors declare that they have no conflict of interest.
Electronic supplementary material
Below is the link to the electronic supplementary material.
About this article
Cite this article
Mao, F., Wu, Y., Tang, X. et al. Human umbilical cord mesenchymal stem cells alleviate inflammatory bowel disease through the regulation of 15-LOX-1 in macrophages. Biotechnol Lett 39, 929–938 (2017). https://doi.org/10.1007/s10529-017-2315-4
Received:

Accepted:

Published:

Issue Date:
Keywords
hucMSCs

Inflammatory bowel disease

Macrophages

Mesenchymal stem cells 15-LOX-1