Abstract
Objectives
To establish an efficient expression system for a fusion protein of glutathione S-transferase and cecropin B (GST-CB) and to clarify the antibacterial mechanism of CB.
Results
The optimal incubation time and methanol concentration for induced expression of CB were 36 h and 1 % w/v, respectively. The yield of GST-CB was 2.2 g/l. The minimum inhibitory concentrations of GST-CB towards Staphylococcus aureus subsp. saprophyticus (ATCC 15305) and Escherichia coli strain CFT073 were 250 and 125 μg/ml, respectively. Notably, mutations of proline 24 (P24) in CB produced a polypeptide without antimicrobial activity.
Conclusion
The fusion protein GST-CB, which has a broad spectrum antimicrobial activity, can be abundantly expressed in Pichia pastoris GS115, and P24 may be an important amino acid for the antimicrobial activity of GST-CB.
Access options
Buy single article
Instant access to the full article PDF.
USD 39.95
Price excludes VAT (USA)
Tax calculation will be finalised during checkout.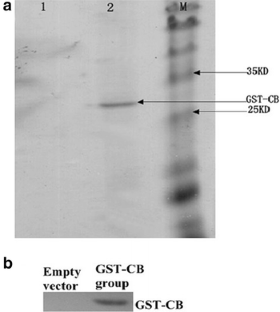 References
Baron M, Reynes JP, Stassi D, Tiraby G (1992) A selectable bifunctional β-galactosidase: phleomycin-resistance fusion protein as a potential marker for eukaryotic cells. Gene 114:239–243

Bechinger B (1997) Structure and functions of channel-forming peptides: magainins, cecropins, melittin and alamethicin. J Membr Biol 156:197–211

Birame BM, Wang JG, Yu FX, Wang S, Yuan DL, Sun JZ, Li ZL, Yi B, Liu WQ (2012) Co-expression of apoptin (VP3) and antibacterial peptide cecropin B mutant (ABPS1) genes induce higher rate of apoptosis in HepG2 and A375 cell lines. Afr J Biotechnol 11:10981–10988

Boman HG (2003) Antibacterial peptides: basic facts and emerging concepts. J Intern Med 254:197–215

Bulet P, Stőcklin R (2005) Insect antimicrobial peptides: structures, properties and gene regulation. Protein Pept Lett 12:3–11

Chen HM, Chan SC, Lee JC, Chang CC, Murugan M, Jack RW (2003a) Transmission electron microscopic observations of membrane effects of antibiotic cecropin B on Escherichia coli. Microsc Res Tech 62:423–430

Chen HM, Leung KW, Thakur NN, Tan A, Jack RW (2003b) Distinguishing between different pathways of bilayer disruption by the related antimicrobial peptides cecropin B, B1 and B3. Eur J Biochem 270:911–920

Ellis SB, Brust PF, Koutz PJ, Waters AF, Harpold MM, Gingeras TR (1985) Isolation of alcohol oxidase and two other methanol regulatable genes from the yeast, Pichia pastoris. Mol Cell Biol 5:1111–1121

Ghiselli R, Giacometti A, Cirioni O, Mocchegiani F, Orlando F, D'Amato G, Sisti V, Scalise G, Saba V (2004) Cecropin B enhances betalactams activities in experimental rat models of Gram-negative septic shock. Ann Surq 239:251–256

Hu H, Wang C, Guo X, Li W, Wang Y, He Q (2013) Broad activity against porcine bacterial pathogens displayed by two insect antimicrobial peptides moricin and cecropin B. Mol Cells 35:106–114

Imamura M, Nakahara Y, Kanda T, Tamura T, Taniai K (2006) A transgenic silkworm expressing the immune-inducible cecropin B-GFP reporter gene. Insect Biochem Mol Biol 36:429–434

Jan PS, Huang HY, Chen HM (2010) Expression of a synthesized gene encoding cationic peptide cecropin B in transgenic tomato plants protects against bacterial diseases. Appl Environ Microbiol 76:769–775

Laszlo otvos JR (2000) Antibacterial peptides isolated from insects. J. Pept Sci 6:497–511

Lu XM, Jin XB, Zhu JY, Mei HF, Ma Y, Chu FJ, Wang Y, Li XB (2010) Expression of the antimicrobial peptide cecropin fused with human lysozyme in Escherichia coli. Appl Microbiol Biotechnol 87:2169–2176

Luo CC, Yin DY, Gao XJ, Li QZ, Zhang L (2013) Goat mammary gland expression of cecropin b to inhibit bacterial pathogens causing mastitis. Anim Biotechnol 24:66–78

Ponnuvel KM, Subhasri N, Sirigineedi S, Murthy GN, Vijayaprakash NB (2010) Molecular evolution of the cecropin multigene family in silkworm Bombyx mori. Bioinformation 5:97–103

Qu Z, Steiner H, Engstrőm A, Bennich H, Boman HG (1982) Insect immunity: isolation and structure of cecropins B and D from Pupae of the Chinese Oak Silk Moth, Antheraea pernyi. Eur J Biochem 127:219–224

Sallum UW, Chen TT (2008) Inducible resistance of fish bacterial pathogens to the antimicrobial peptide cecropin B. Antimicrob Agents Chemother 52:3006–3012

Sharma A, Sharma R, Imamura M, Yamakawa M, Machii H (2000) Transgenic expression of cecropin B, an antibacterial peptide from Bombyx mori, confers enhanced resistance to bacterial leaf blight in rice. FEBS Lett 484:7–11

Wang X, Zhu M, Yang G, Su C, Zhang A, Cao R, Chen P (2011) Expression of cecropin B in Pichia pastoris and its bioactivity in vitro. Exp Ther Med 2:655–660

Wu JM, Jan PS, Yu HC, Haung HY, Fang HJ, Chang YI, Cheng JW, Chen HM (2009) Structure and function of a custom anticancer peptide, CB1a. Peptides 30:839–848

Yu F, Wang J, Zhang P, Hong Y, Liu W (2010) Fusion expression of cecropin B-like antibacterial peptide in Escherichia coli and preparation of its antiserum. Biotechnol Lett 32:669–673
Acknowledgments
This work was supported by Innovation Team Project of the Ministry of Education of China (IRT0959-208).
About this article
Cite this article
Yu, W., Gao, X.J., Liu, Y. et al. Fusion expression of cecropin B-like antibacterial peptide in Pichia GS115 and its antibacterial mechanism. Biotechnol Lett 38, 305–312 (2016). https://doi.org/10.1007/s10529-015-1978-y
Received:

Accepted:

Published:

Issue Date:

DOI: https://doi.org/10.1007/s10529-015-1978-y
Keywords