Abstract
Objectives
Omega-3 polyunsaturated fatty acids (n-3 PUFAs) are beneficial to human health. However, the n-3 PUFAs contents of the livestock meat that we consume daily are relatively low. Utilization of transgenic technology to increase n-3 PUFAs contents in livestock may solve this problem.
Results
The omega-3 fatty acid desaturase (FAD3), encoded by fat1 gene derived from Caenorhabditis elegans (C. elegans), converts omega-6 polyunsaturated fatty acids (n-6 PUFAs) to n-3 PUFAs. In the study, a plasmid containing the codon-optimized C. elegans fat1 gene (mfat1) was constructed and used to produce transgenic beef cattle by somatic cell nuclear transfer. Fourteen transgenic calves were obtained, and the ratio of n-6 to n-3 PUFAs in the transgenic calves decreased from 5.33: 1 to 0.95: 1 compared with negative controls.
Conclusions
Our results demonstrated that the codon-optimized C. elegans mfat1 gene can be functionally expressed in the beef cattle and converts n-6 PUFAs to n-3 PUFAs.
This is a preview of subscription content,
to check access.
Access this article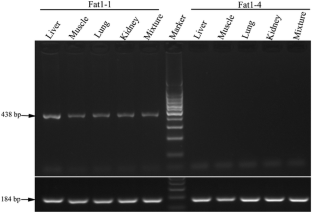 References
Brisville AC, Fecteau G, Boysen S, Desrochers A, Dorval P, Buczinski S, Lefebvre R, Helie P, Blondin P, Smith LC (2013) Neonatal morbidity and mortality of 31 calves derived from somatic cloning. J Vet Intern Med 27:1218–1227

Calder PC (2014) Very long chain omega-3 (n-3) fatty acids and human health. Eur J Lipid Sci Tech 116:1280–1300

Kang JX, Wang JD (2005) A simplified method for analysis of polyunsaturated fatty acids. BMC Biochem 6:1–4

Kang YK, Koo DB, Park JS, Choi YH, Chung AS, Lee KK, Han YM (2001) Aberrant methylation of donor genome in cloned bovine embryos. Nat Genet 28:173–177

Lai LX, Kang JX, Li RF, Wang JD, Witt WT, Yong HY, Hao YH, Wax DM, Murphy CN, Rieke A, Samuel M, Linville ML, Korte SW, Evans RW, Starzl TE, Prather RS, Dai YF (2006) Generation of cloned transgenic pigs rich in omega-3 fatty acids. Nat Biotechnol 24:435–436

Lorente-Cebrian S, Costa A, Navas-Carretero S, Zabala M, Martinez JA, Moreno-Aliaga MJ (2013) Role of omega-3 fatty acids in obesity, metabolic syndrome, and cardiovascular diseases: a review of the evidence. J Physiol Biochem 69:633–651

Oura T, Kajiwara S (2004) Saccharomyces kluyveri fad3 encodes an omega 3 fatty acid desaturase. Microbiol Sgm 150:1983–1990

Pan D, Zhang L, Zhou Y, et al. (2010) Efficient production of omega-3 fatty acid desaturase (sFat-1)-transgenic pigs by somatic cell nuclear transfer. Sci China Life Sci 53:517–523

Saeki K, Matsumoto K, Kinoshita M, Suzuki I, Tasaka Y, Kano K, Taguchi Y, Mikami K, Hirabayashi M, Kashiwazaki N, Hosoi Y, Murata N, Iritani A (2004) Functional expression of a delta 12 fatty acid desaturase gene from spinach in transgenic pigs. Proc Natl Acad Sci USA 101:6361–6366

Simopoulos AP (2000) Human requirement for n-3 polyunsaturated fatty acids. Poultry Sci 79:961–970

Simopoulos AP (2011) Importance of the omega-6/omega-3 balance in health and disease: evolutionary aspects of diet. World Rev Nutr Diet 102:10–21

Watanabe S (2013) Effect of calf death loss on cloned cattle herd derived from somatic cell nuclear transfer: clones with congenital defects would be removed by the death loss. Anim Sci J 84:631–638

Wood JD, Enser M, Fisher AV, Nute GR, Sheard PR, Richardson RI, Hughes SI, Whittington FM (2008) Fat deposition, fatty acid composition and meat quality: a review. Meat Sci 78:343–358

Wu X, Ouyang H, Duan B, Pang D, Zhang L, Yuan T, Xue L, Ni D, Cheng L, Dong S, Wei Z, Li L, Yu M, Sun Q, Chen D, Lai L, Dai Y, Li G (2012) Production of cloned transgenic cow expressing omega-3 fatty acids. Transgenic Res 21:537–543

Yu M, Gao Q, Wang Y, Zhang W, Li L, Wang Y, Dai Y (2013) Unbalanced omega-6/omega-3 ratio in red meat products in china. J Biomed Res 27:366–371

Zhang P, Liu P, Dou H, Chen L, Chen L, Lin L, Tan P, Vajta G, Gao J, Du Y, Ma RZ (2013) Handmade cloned transgenic sheep rich in omega-3 fatty acids. PLoS ONE 8:e559412

Zhou Y, Lin Y, Wu X, Feng C, Long C, Xiong F, Wang N, Pan D, Chen H (2014) The high-level accumulation of n-3 polyunsaturated fatty acids in transgenic pigs harboring the n-3 fatty acid desaturase gene from caenorhabditis briggsae. Transgenic Res 23:89–97
Acknowledgments
This work was supported by the GMO New Varieties Major Project (2013ZX08007-002, 2014ZX08007-002), the National Natural Science Foundation (31301937) and the Chinese National High-Tech Research and Development Program (2013AA102505).
Supporting information
Supplementary Table 1—Codon optimization of fat1 gene.
Electronic supplementary material
Below is the link to the electronic supplementary material.
About this article
Cite this article
Cheng, G., Fu, C., Wang, H. et al. Production of transgenic beef cattle rich in n-3 PUFAs by somatic cell nuclear transfer. Biotechnol Lett 37, 1565–1571 (2015). https://doi.org/10.1007/s10529-015-1827-z
Received:

Accepted:

Published:

Issue Date:

DOI: https://doi.org/10.1007/s10529-015-1827-z
Keywords