Abstract
Among polymeric polycations, chitosan has emerged as a powerful carrier for gene delivery. Only a few studies have focused on the stability of the chitosan/DNA complex under storage, although this is imperative for nanomedicinal applications. Here, we synthesized polyelectrolyte complexes at a charge ratio of 10 using 50 kDa chitosan and plasmid (p)DNA that encodes a GFP reporter. These preparations were stable up to 3 months at 4 °C and showed reproducible transfection efficiencies in vitro in HEK293 cells. In addition, we developed a methodology that increases the in vitro transfection efficiency of chitosan/pDNA complexes by 150 % with respect to standard procedures. Notably, intracellular pDNA release and transfected cells peaked 5 days following transection of mitotically active cells. These new developments in formulation technology enhance the potential for polymeric nanoparticle-mediated gene therapy.
Access options
Buy single article
Instant access to the full article PDF.
USD 39.95
Price includes VAT (USA)
Tax calculation will be finalised during checkout.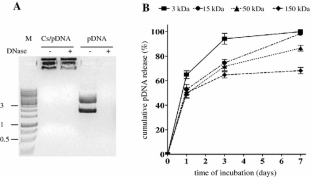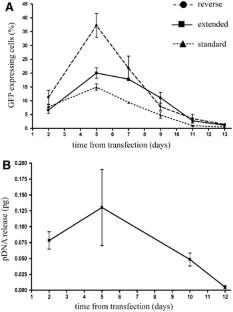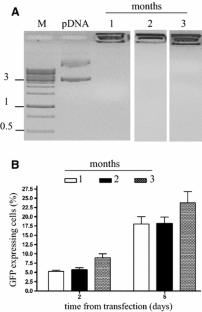 References
Amaduzzi F, Bomboi F, Bonincontro A et al (2014) Chitosan–DNA complexes: charge inversion and DNA condensation. Colloid Surf B 114:1–10

Bordi F, Chronopoulou L, Palocci C et al (2014) Chitosan–DNA complexes: effect of molecular parameters on the efficiency of delivery. Colloid Surf A 460:184–190

Buschmann MD, Merzouki A, Lavertu M et al (2013) Chitosans for delivery of nucleic acids. Adv Drug Deliv Rev 65:1234–1270

Conese M, Ascenzioni F, Boyd AC et al (2011) Gene and cell therapy for cystic fibrosis: from bench to bedside. J Cyst Fibros 10(Suppl 2):S114–S128

Grant EH, Sheppard RJ, South GP (1978) Dielectric behavior of biological molecules in solution. Clarendon Press, Oxford

Hacker DL, Kiseljak D, Rajendra Y et al (2013) Polyethyleneimine-based transient gene expression processes for suspension-adapted HEK-293E and CHO-DG44 cells. Protein Expr Purif 92:67–76

Hong K, Zheng W, Baker A et al (1997) Stabilization of cationic liposome-plasmid DNA complexes by polyamines and poly(ethylene glycol)-phospholipid conjugates for efficient in vivo gene delivery. FEBS Lett 400:233–237

Lee YS, Kim SW (2014) Bioreducible polymers for therapeutic gene delivery. J Control Release 28:424–439

Lu H, Dai Y, Lv L et al (2014) Chitosan-graft-polyethylenimine/DNA nanoparticles as novel non-viral gene delivery vectors targeting osteoarthritis. Plos One 9:e84703

Masotti A, Bordi F, Ortaggi G et al (2008) A novel method to obtain chitosan/DNA nanospheres and a study of their release properties. Nanotechnology 19:055302

Mohammadi Z, Dorkoosh FA, Hosseinkhani S et al (2012) Stability studies of chitosan-DNA-FAP-B nanoparticles for gene delivery to lung epithelial cells. Acta Pharm 62:83–92

Muthu MS, Feng S-S (2009) Pharmaceutical stability aspects of nanomedicines. Nanomedicine UK 4:857–860

Nimesh S, Thibault MM, Lavertu M et al (2010) Enhanced gene delivery mediated by low molecular weight chitosan/DNA complexes: effect of pH and serum. Mol Biotechnol 46:182–196

Svec D, Andersson D, Pekny M et al (2013) Direct cell lysis for single-cell gene expression profiling. Front Oncol 3:274

Thibault M, Nimesh S, Lavertu M et al (2010) Intracellular trafficking and decondensation kinetics of chitosan–pDNA polyplexes. Mol Ther 18:1787–1795
Acknowledgements
Istituto Pasteur Fondazione Cenci Bolognetti is acknowledged for financial support to FA and a Fellowship to EGD. LC, CP, SS and FB acknowledge financial support from Istituto Italiano di Tecnologia (IIT) Center of Life NanoScience-Sapienza. Conceived and designed the experiments: FA, CP, FB. Performed the experiments: NC, LC, BP, AM, SS. Analyzed the data: NC, LC, SS, EGD, FA, CP, FB. Wrote the paper: FA, CP.
Additional information
Noemi Cifani, Laura Chronopoulou, and Barbara Pompili have contributed equally to the study.
About this article
Cite this article
Cifani, N., Chronopoulou, L., Pompili, B. et al. Improved stability and efficacy of chitosan/pDNA complexes for gene delivery. Biotechnol Lett 37, 557–565 (2015). https://doi.org/10.1007/s10529-014-1727-7
Received:

Accepted:

Published:

Issue Date:
Keywords
Chitosan

Chitosan/pDNA nanocomplexes

DNA transfection

Gene delivery

HEK293 cells

Transfection efficiency

Therapeutic genes