Abstract
Rhodotorula glutinis CCT 2182, Rhodosporidium toruloides CCT 0783, Rhodotorula minuta CCT 1751 and Lipomyces starkeyi DSM 70296 were evaluated for the conversion of sugars from Brazilian molasses into single-cell oil (SCO) feedstock for biodiesel. Pulsed fed-batch fermentations were performed in 1.65 l working volume bioreactors. The maximum specific growth rate (µmax), lipid productivity (Pr) and cellular lipid content were, respectively, 0.23 h−1, 0.41 g l−1 h−1, and 41 % for Rsp. toruloides; 0.20 h−1, 0.27 g l−1 h−1, and 36 % for Rta. glutinis; 0.115 h−1, 0.135 g l−1 h−1, and 27 % for Rta. minuta; and 0.11 h−1, 0.13 g l−1 h−1, and 32 % for L. starkeyi. Based on their microbial lipid productivity, content, and profile, Rsp. toruloides and Rta. glutinis are promising candidates for biodiesel production from Brazilian molasses. All the oils from the yeasts were similar to the composition of plant oils (rapeseed and soybean) and could be used as raw material for biofuels, as well as in food and nutraceutical products.
Access options
Buy single article
Instant access to the full article PDF.
US$ 39.95
Tax calculation will be finalised during checkout.
Subscribe to journal
Immediate online access to all issues from 2019. Subscription will auto renew annually.
US$ 119
Tax calculation will be finalised during checkout.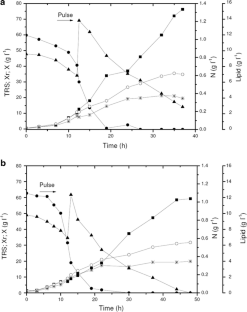 References
Almazan O, Klibansky M, Otero MA (1981) Microbial fat synthesis by Rhodorula Glutiinis from blackstrap molasses in continuous culture. Biotechnol Lett 3:663–666

Anschau A, Xavier MCA, Hernalsteens S, Franco TT (2014) Effect of feeding strategies on lipid production by Lipomyces starkey. Biores Technol 157:214–222

Bligh EG, Dyer WJ (1959) A rapid method of total lipid extraction and purification. Can J Biochem Physiol 37:911–917

Chatzifragkou A, Fakas S, Galiotou-Panayotou M, Komaitis M, Aggelis G, Papanikolaou S (2010) Commercial sugars as substrates for lipid accumulation in Cunninghamella echinulata and Mortierella isabellina fungi. Eur J Lipid Sci Technol 112:1048–1057

Cuellar MC, Heijnen JJ, Wielen LAMVD (2013) Large-scale production of diesel-like biofuels – process design as an inherent part of microorganism development. Biotechnol J 8:682–689

Doran PM (1995) Bioprocess Engineering Principles. In: Fluid Flow and Mixing. Academic Press, pp 129-163

Fales FW (1971) Evaluation of a spectrophotometric method for determination of total fecal lipid. Clin Chem 17:1103–1108

Granger LM, Perlot P, Goma G, Pareilleux A (1992) Kinetics of growth and fatty acid production of Rhodotorula glutinis. Appl Biochem Biotechnol 37:13–17

Haas MJ, McAloon AJ, Yee WC, Foglia TA (2006) A process model to estimate biodiesel production costs. Biores Technol 97:667–678

Hassan M, Blanc PJ, Granger LM, Pareilleux A, Goma G (1993) Lipid production by an unsaturated fatty acid auxotroph of the oleaginous yeast Apiotrichum Curvatum grown in single stage continuous culture. Appl Microbiol Biotechnol 40:483–488

Hugot M (1969) Manual da engenharia açucareira. Cozimento. Mestre Jou Publ Ltd, São Paulo, pp 667–752

Jacob Z, Krishnamurthy MN (1990) Studies on physicochemical characteristics and fatty acid composition of lipid produced by a strain of Rhodotorulla gracillis CFR-1. J Am Oil Chem Soc 67:642–645

Johnson VW, Singh M, Saini VS, Adhikari DK, Sista V, Yadav NK (1995) Utilization of molasses for the production of fat by an oleaginous yeast, Rhodotorula glutinis IIP-30. J Ind Microbiol 14:1–4

Koutinas AA, Chatzifragkou A, Kopsahelis N, Papanikolaou S, Kookos IK (2014) Design and techno-economic evaluation of microbial oil production as a renewable resource for biodiesel and oleochemical production. Fuel 116:566–577

Lewis T, Nichols PD, McMeekin TA (2000) Evaluation of extraction methods for recovery of fatty acids from lipid producing microheterotrophs. J Microbiol Methods 43:107–116

Li Y, Zhao Z, Bai F (2007) High density cultivation of oleaginous yeast Rhodosporidium toruloides Y4 in fed-batch culture. Enz Microb Tech 41:312–317

Lopes DC, Neto AJS, Martins PAR (2011) Economic simulation of biodiesel production: SIMB-E tool. Energy Econ 33:1138–1145

Meade GP, Chen JCP (1977) Cane Sugar Handbook. Wiley Publ Ltd, New York

Meesters P, Vanderwal H, Weusthuis R, Eggink G (1996) Cultivation of the oleaginous yeast Cryptococcus curvatus in a new reactor with improved mixing and mass transfer characteristics Surer®). Biotechnol Tech 10:277–282

Moser BR, Vaughn SF (2010) Evaluation of alkyl esters from Camelina sativa oil as biodiesel and as blend components in ultra low-sulfur diesel fuel. Biores Technol 101:646–653

Pan JG, Rhee JS (1986) Kinetic and energetic analyses of lipid accumulation in batch culture of Rhodotorula glutinis. J Ferment Technol 64:557–560

Pradella JGC (1980) Contribuição ao estudo da cinética do crescimento celular e acumulo de lipídios por Rhodotorula gracilis. PhD thesis; University of Campinas, Campinas

Pradella JGC, Ienczak JL, Delgado CR, Taciro MK (2012) Carbon source pulsed feeding to attain high yield and high produtivity in poly(3-hydroxybutyrate)(PHB) production from soybean oil using Cupriavidus necator. Biotechnol Lett 34:1003–1007

Ratledge C (2014) The role of malic enzyme as the provider of NADPH in oleaginous microorganisms: a reappraisal and unsolved problems. Biotechnol Lett 36:1557–1568

Rein P (2013) Cane Sugar Engineering. Molasses Exhaustion. Bartens Publ Ltd, Berlin, pp 455–465

Saka S, Kusdiana D (2001) Biodiesel fuel from rapeseed oil as prepared in supercritical methanol. Fuel 80:225–231

Saxena V, Sharma CD, Bhagat SD, Saini VS, Adhikari DK (1998) Lipid and fatty acid biosynthesis by Rhodotorula minuta. J Am Oil Chem Soc 75:501–505

Suresh Y, Das UN (2003) Long-chain polyunsaturated fatty acids and chemically induced diabetes mellitus: effect of ω-6 fatty acids. Nutrition 19:93–114

UNICA (2014) União da Indústria de Cana de Açúcar. Relatório final da safra 2012/2013, Região centro-sul. Acessado em 13 de maio de 2014

Vicente G, Bautista LF, Errez FJG, Rodriguez R, Martinez V, Rodriguez-Frometa RA, Ruiz-Vazquez RM, Torres-Martinez S, Garre V (2010) Direct transformation of fungal biomass from submerged cultures into biodiesel. Energy Fuels 24:3173–3178

Vyas AP, Verma JL, Subrahmanyam N (2010) A review on FAME production processes. Fuel 89:1–9

Wiebe MG, Koivuranta K, Penttila M, Ruohonen L (2012) Lipid production in batch and fed-batch cultures of Rhodosporidium toruloides from 5 and 6 carbon carbohydrates. BMC Biotechnol 12(1):26

Yamauchi H, Mori H, Kobayashi T, Shimizu S (1983) Mass production of lipids by Lipomyces starkeyi in microcomputer aided fed batch culture. J Ferment Technol 61:275–280

Ykema A, Verbree EC, Kater MM, Smit H (1988) Optimization of lipid production in the oleaginous yeast Apiotrichum curvatum in whey permeate. Appl Microbiol Biotechnol 29:211–218

Zabriskie DW, Aminger WB, Phillips DH (1980) Albano PA. Traders' guide to fermentation media formulation Memphis, Tenesse

Zhao X, Kong XL, Hua YY, Feng B, Zhao ZB (2008) Medium optimization for lipid production through co-fermentation of glucose and xylose by the oleaginous yeast Lipomyces starkeyi. Eur J Lipid Sci Technol 110:405–412

Zhao X, Hu C, Wu S, Shen H, Zhao ZK (2011) Lipid production by Rhodosporidium toruloides Y4 using different substrate feeding strategies. J Ind Microbiol Biotechnol 38:627–632

Zhu LY, Zong MH, Wu H (2008) Efficient lipid production with Trichosporon fermentans and its use for biodiesel preparation. Bioresour Technol 99:7881–7885
About this article
Cite this article
Vieira, J.P.F., Ienczak, J.L., Rossell, C.E.V. et al. Microbial lipid production: screening with yeasts grown on Brazilian molasses. Biotechnol Lett 36, 2433–2442 (2014). https://doi.org/10.1007/s10529-014-1624-0
Received:

Accepted:

Published:

Issue Date:
Keywords
Biodiesel

Brazilian molasses

Lipomyces starkeyi
Rhodosporidium toruloides
Rhodotorula glutinis
Rhodotorula minuta

Single-cell oils

Yeast oils