Abstract
Molecular pharming is a cost-effective platform for the production of recombinant proteins in plants. Although the biopharmaceutical industry still relies on a small number of standardized fermentation-based technologies for the production of recombinant proteins there is now a greater awareness of the advantages of molecular pharming particularly in niche markets. Here we discuss some of the technical, economic and regulatory barriers that constrain the clinical development and commercialization of plant-derived pharmaceutical proteins. We also discuss strategies to increase productivity and product quality/homogeneity. The advantages of whole plants should be welcomed by the industry because this will help to reduce the cost of goods and therefore expand the biopharmaceutical market into untapped sectors.
Access options
Buy single article
Instant access to the full article PDF.
USD 39.95
Price excludes VAT (USA)
Tax calculation will be finalised during checkout.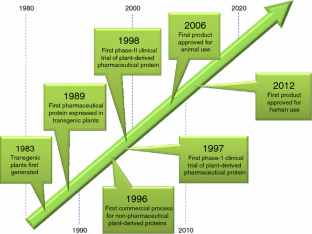 References
Allen GC, Hall GE Jr, Childs LC, Weissinger AK, Spiker S, Thompson WF (1993) Scaffold attachment regions increase reporter gene expression in stably transformed plant cells. Plant Cell 5:603–613

Allen GC, Hall G Jr, Michalowski S, Newman W, Spiker S, Weissinger AK, Thompson WF (1996) High-level transgene expression in plant cells: effects of a strong scaffold attachment region from tobacco. Plant Cell 8:899–913

Arakawa T, Yu J, Chong DK, Hough J, Engen PC, Langridge WH (1998) A plant-based cholera toxin B subunit-insulin fusion protein protects against the development of autoimmune diabetes. Nat Biotechnol 16:934–938

Aspelund MT, Glatz CE (2010) Purification of recombinant plant-made proteins from corn extracts by ultrafiltration. J Membr Sci 353:103–110

Aviezer D, Brill-Almon E, Shaaltiel Y, Hashmueli S, Bartfeld D, Mizrachi S, Liberman Y, Freeman A, Zimran A, Galun E (2009a) Novel enzyme replacement therapy for Gaucher disease: ongoing Phase III clinical trial with recombinant human glucocerebrosidase expressed in plant cells. Mol Genet Metab 96:S13–S14

Aviezer D, Brill-Almon E, Shaaltiel Y, Hashmueli S, Bartfeld D, Mizrachi S, Liberman Y, Freeman A, Zimran A, Galun E (2009b) A plant-derived recombinant human glucocerebrosidase enzyme—a preclinical and phase I investigation. PLoS ONE 4:e4792

Bardor M, Faveeuw C, Fitchette AC, Gilbert D, Galas L, Trottein F, Faye L, Lerouge P (2003) Immunoreactivity in mammals of two typical plant glyco-epitopes, core alpha (1,3)-fucose and core xylose. Glycobiology 13:427–434

Boothe J, Nykiforuk C, Shen Y, Zaplachinski S, Szarka S, Kuhlman P, Murray E, Morck D, Moloney MM (2010) Seed-based expression systems for plant molecular pharming. Plant Biotechnol J 8:588–606

Buyel JF, Fischer R (2012) Predictive models for transient protein expression in tobacco (Nicotiana tabacum L.) can optimize process time, yield, and downstream costs. Biotechnol Bioeng 109:2575–2588

Cardineau GA (2008) Vectors and cells for preparing immunoprotective compositions derived from transgenic plants. US Patent Application (Boyce Thompson Institute and Dow Agrosciences LLC)

Castilho A, Neumann L, Gattinger P, Strasser R, Vorauer-Uhl K, Sterovsky T, Altmann F, Steinkellner H (2013) Generation of biologically active multi-sialylated recombinant human EPOFc in plants. PLoS ONE 8:e54836

Claparols MI, Bassie L, Miro B, Del Duca S, Rodriguez-Montesinos J, Christou P, Serafini-Fracassini D, Capell T (2004) Transgenic rice as a vehicle for the production of the industrial enzyme transglutaminase. Transgen Res 13:195–199

Conley AJ, Joensuu JJ, Richman A, Menassa R (2011) Protein body-inducing fusions for high-level production and purification of recombinant proteins in plants. Plant Biotechnol J 9:419–433

Conrad U, Fiedler U (1998) Compartment-specific accumulation of recombinant immunoglobulins in plant cells: an essential tool for antibody production and immunomodulation of physiological functions and pathogen activity. Plant Mol Biol 38:101–109

CPMP (Committee for Proprietary Medicinal Products) (2002) Points to consider on quality aspects of medicinal products containing active substances produced by stable transgene expression in higher plants (EMEA/CPMP/BWP/764/02). EMEA, London UK

CPMP (Committee for Proprietary Medicinal Products) (2009) Guideline on the quality of biological active substances produced by stable transgene expression in higher plants (EMEA/CHMP/BWP/48316/2006). EMEA, London

Datta K, Baisakh N, Oliva N, Torrizo L, Abrigo E, Tan J, Rai M, Rehana S, Al-Babili S, Beyer P, Potrykus I, Datta SK (2003) Bioengineered 'golden' indica rice cultivars with β-carotene metabolism in the endosperm with hygromycin and mannose selection systems. Plant Biotechnol J 1:81–90

Dow AgroSciences (2006) Press release: Dow AgroSciences achieves world's first registration for plant-made vaccines (http://www.eurekalert.org/pub_releases/2006-01/i-daa013106.php. Accessed 5th December 2013)

Farre G, Twyman RM, Zhu C, Capell T, Christou P (2011) Nutritionally enhanced crops and food security: scientific achievements versus political expediency. Curr Opin Biotechnol 22:245–251

Faye L, Boulaflous A, Benchabane M, Gomord V, Michaud D (2005) Protein modifications in the plant secretory pathway: current status and practical implications in molecular pharming. Vaccine 23:1770–1778

FDA, USDA (2002) Draft guidance: drugs, biologics, and medical devices derived from bioengineered plants for use in humans and animals. FDA, Rockville

Ferrer-Miralles N, Domingo-Espín J, Corchero JL, Vázquez E, Villaverde A (2009) Microbial factories for recombinant pharmaceuticals. Microb Cell Fact 8:17

Fischer R, Emans NJ, Twyman RM, Schillberg S (2003) Molecular pharming of industrial proteins in plants. In: Fingerman M, Nagabhusmanam R (eds) Recent advances in marine biotechnology. Science Publishers Inc., Enfield NH, pp 279–313

Fischer R, Stoger E, Schillberg S, Christou P, Twyman RM (2004) Plant-based production of biophramaceuticals. Curr Opin Plant Biotechnol 7:152–158

Fischer R, Schillberg S, Hellwig S, Twyman RM, Drossard J (2012) GMP issues for recombinant plant-derived pharmaceutical proteins. Biotechnol Adv 30:434–439

Fischer R, Schillberg S, Buyel JF, Twyman RM (2013) Commercial aspects of pharmaceutical protein production in plants. Curr Pharm Des 19:5471–5477

Garcia-Casado G, Sanchez-Monge R, Chrispeels MJ, Armentia A, Salcedo G, Gomez L (1996) Role of complex asparagine-linked glycans in the allergenicity of plant glycoproteins. Glycobiology 6:471–477

Gomord V, Faye L (2004) Post-translational modification of therapeutic proteins in plants. Curr Opin Biotechnol 7:171–181

Gomord V, Chamberlain P, Jefferis R, Faye L (2005) Biopharmaceutical production in plants: problems, solutions and opportunities. Trends Biotechnol 23:559–565

Gomord V, Fitchette AC, Menu-Bouaouiche L, Saint-Jore-Dupas C, Plasson C, Michaud D, Faye L (2010) Plant-specific glycosylation patterns in the context of therapeutic protein production. Plant Biotechnol J 8:564–587

Halweg C, Thompson WF, Spiker S (2005) The rb7 matrix attachment region increases the likelihood and magnitude of transgene expression in tobacco cells: a flow cytometric study. Plant Cell 17:418–429

Heinrichs A (2010) Small RNAs: Dispensable dicer. Nat Rev Mol Cell Biol 10:461

Hiatt AH, Caffertey R, Bowdish K (1989) Production of antibodies in transgenic plants. Nature 342:76–78

Hofbauer A, Stoger E (2013) Subcellular accumulation and modification of pharmaceutical proteins in different plant tissues. Curr Pharm Des 19:5495–5502

Hollak CE, vom Dahl S, Aerts JM, Belmatoug N, Bembi B, Cohen Y, Collin-Histed T, Deegan P, van Dussen L, Giraldo P, Mengel E, Michelakakis H, Manuel J, Hrebicek M, Parini R, Reinke J, di Rocco M, Pocovi M, Sa Miranda MC, Tylki-Szymanska A, Zimran A, Cox TM (2010) Force majeure: therapeutic measures in response to restricted supply of imiglucerase (Cerezyme) for patients with Gaucher disease. Blood Cells Mol Dis 44:41–47

Hood EE (2002) From green plants to industrial enzymes. Enzyme Microbial Technol 30:279–283

Hood EE, Witcher DR, Maddock S, Meyer T, Baszczynski C, Bailey M, Flynn P, Register J, Marshall L, Bond D, Kulisek E, Kusnadi A, Evangelista R, Nikolov Z, Wooge C, Mehigh RJ, Hernan R, Kappel WK, Ritland D, Li CP, Howard JA (1997) Commercial production of avidin from transgenic maize: characterization of transformant, production, processing, extraction and purification. Mol Breed 3:291–306

Jurgens G (2004) Membrane trafficking in plants. Annu Rev Cell Dev Biol 20:481–504

Kawaguchi R, Bailey-Serres J (2002) Regulation of translational initiation in plants. Curr Opin Plant Biol 5:460–465

Kim CS, Woo YM, Clore AM, Burnett RJ, Carneiro NP, Larkins BA (2002) Zein protein interactions, rather than the asymmetric distribution of zein mRNAs on endoplasmic reticulum membranes, influence protein body formation in maize endosperm. Plant Cell 14:655–672

Knäblein J (2005) Plant-based expression of biopharmaceuticals. In: Meyers RA (ed) Encyclopedia of molecular cell biology and molecular medicine, 2nd edn. Wiley & Sons, NY, pp 385–410

Ko K, Tekoah Y, Rudd PM, Harvey DJ, Dwek RA, Spitsin S, Hanlon CA, Rupprecht C, Dietzschold B, Golovkin M, Koprowski H (2003) Function and glycosylation of plant-derived antiviral monoclonal antibody. Proc Natl Acad Sci USA 100:8013–8018

Kohli A, Twyman RM, Abranches R, Wegel E, Stoger E, Christou P (2003) Transgene integration, organization and interaction in plants. Plant Mol Biol 52:247–258

Kohli A, González-Melendi P, Abranches R, Capell T, Stoger E, Christou P (2006) The quest to understand the basis and mechanisms that control expression of introduced transgenes in crop plants. Plant Signal Behav 1:185–195

Kunka K, Nabil A, Kostadin G, Atanas A (2005) Molecular pharming in plants: an approach of agricultural biotechnology. J Cell Mol Biol 4:77–86

Lico C, Twyman RM, Pezzotti M, Avesani L (2012) The use of plants for the production of therapeutic human peptides. Plant Cell Rep 31:439–451

Lu J, Sivamani E, Azhakanandam K, Samadder P, Li X, Qu R (2008) Gene expression enhancement mediated by the 5′ UTR intron of the rice rubi3 gene varied remarkably among tissues in transgenic rice plants. Mol Genet Genomics 279:563–572

Ma JKC, Lehner T, Stabila P, Fux CI, Hiatt A (1994) Assembly of monoclonal antibodies with IgG1 and IgA heavy-chain domains in transgenic tobacco plants. Eur J Immunol 24:131–138

Ma JKC, Drake PMW, Christou P (2003) The production of recombinant pharmaceutical proteins in plants. Nat Rev Genet 4:794–805

Maqbool SB, Christou P (1999) Multiple traits of agronomic importance in transgenic indica rice plants: analysis of transgene integration patterns, expression levels and stability. Mol Breed 5:471–480

Maqbool SB, Riazuddin S, Nguyen TL, Gatehouse AMR, Gatehouse JA, Christou P (2001) Expression of multiple insecticidal genes confers broad resistance against a range of different rice pests. Mol Breed 7:85–93

Masip G, Sabalza M, Pérez-Massot E, Banakar R, Cebrian D, Twyman RM, Capell T, Albajes R, Christou P (2013) Paradoxical EU agricultural policies on genetically engineered crops. Trends Plant Sci 18:312–324

Mitsuhara I, Ugaki M, Hirochika H, Ohshima M, Murakami T, Gotoh Y, Katayose Y, Nakamura S, Honkura R, Nishimiya S, Ueno K, Mochizuki A, Tanimoto H, Tsugawa H, Otsuki Y, Ohashi Y (1996) Efficient promoter cassettes for enhanced expression of foreign genes in dicotyledonous and monocotyledonous plants. Plant Cell Physiol 37:49–59

Morrow T (2012) Gaucher's disease treatment option rides on carrot cells' biologic power. Managed Care 21:45–46

Naqvi S, Zhu C, Farre G, Ramessar K, Bassie L, Breitenbach J, Perez Conesa D, Ros G, Sandmann G, Capell T, Christou P (2009) Transgenic multivitamin corn through biofortification of endosperm with three vitamins representing three distinct metabolic pathways. Proc Natl Acad Sci USA 106:7762–7767

Naqvi S, Farré G, Sanhauja G, Capell T, Zhu C, Christou P (2010) When more is better: multigene engineering in plants. Trend Plant Sci 15:48–56

Nicholson L, Gonzalez-Melendi P, Van Dolleweerd C, Tuck H, Ma JKC, Fischer R, Christou P, Stoger E (2005) A recombinant multimeric immunoglobulin expressed in rice shows assembly-dependent subcellular localization in endosperm cells. Plant Biotechnol J 3:115–127

Nykiforuk CL, Shen Y, Murray EW, Boothe JG, Busseuil D, Rhéaume E, Tardif JC, Reid A, Moloney MM (2011) Expression and recovery of biologically active recombinant apolipoprotein AI (Milano) from transgenic safflower (Carthamus tinctorius) seeds. Plant Biotechnol J 9:250–263

O'Keefe BR, Vojdani F, Buffa V, Shattock RJ, Montefiori DC, Bakke J, Mirsalis J, D'Andrea A, Hume SD, Bratcher B, Saucedo CJ, McMahon JB, Pogue GP, Palmer KE (2009) Scaleable manufacture of HIV-1 entry inhibitor griffithsin and validation of its safety and efficacy as a topical microbicide component. Proc Natl Acad Sci USA 106:6099–6104

Parra G, Bradnam K, Rose AB, Korf I (2011) Comparative and functional analysis of intron-mediated enhancement signals reveals conserved features among plants. Nucleic Acids Res 39:5328–5333

Paul M, Ma JKC (2011) Plant-made pharmaceuticals: leading products and production platforms. Biotechnol Appl Biochem 58:58–67

Paul MJ, Teh AYH, Twyman RM, Ma JKC (2013) Target product selection—where can molecular pharming make the difference? Curr Pharm Des 19:5478–5485

Peremarti A, Twyman RM, Gómez-Galera S, Naqvi S, Farré G, Sabalza M, Miralpeix B, Dashevskaya S, Yuan D, Ramessar K, Christou P, Zhu C, Bassie L, Capell T (2010) Promoter diversity in multigene transformation. Plant Mol Biol 73:363–378

Peters J, Stoger E (2011) Transgenic crops for the production of recombinant vaccines and anti-microbial antibodies. Human Vaccines 7:367–374

Ramessar K, Capell T, Christou P (2008a) Molecular pharming in cereal crops. Phytochem Rev 7:579–592

Ramessar K, Capell T, Twyman RM, Quemada H, Christou P (2008b) Trace and traceability—a call for regulatory harmony. Nat Biotechnol 26(9):975–978

Ramessar K, Rademacher T, Sack M, Stadlmann J, Platis D, Stiegler G, Labrou N, Altmann F, Ma JKC, Stoger E, Capell T, Christou P (2008c) Cost-effective production of a vaginal protein microbicide to prevent HIV transmission. Proc Natl Acad Sci USA 105:3727–3732

Ramessar K, Capell T, Twyman RM, Christou P (2010) Going to ridiculous lengths: european coexistence regulations for GM crops. Nat Biotechnol 28:133–136

Sabalza M, Miralpeix B, Twyman RM, Capell T, Christou P (2011) EU legitimizes GM crop exclusion zones. Nat Biotechnol 29:315–317

Sabalza M, Madeira L, Van Dolleweerd C, Ma JKC, Capell T, Christou P (2012) Functional characterization of the recombinant HIV-neutralizing monoclonal antibody 2F5 produced in maize seeds. Plant Mol Biol 80:477–488

Sabalza M, Vamvaka E, Christou P, Capell T (2013) Seeds as a production system for molecular pharming applications: status and prospects. Curr Pharm Des 19:5543–5552

Schillberg S, Zimmermann S, Voss A, Fischer R (1999) Apoplastic and cytosolic expression of full-size antibodies and antibody fragments in Nicotiana tabacum. Transgen Res 8:255–263

Schillberg S, Zimmermann S, Findlay K, Fischer R (2000) Plasma membrane display of antiviral single chain Fv fragments confers resistance to tobacco mosaic virus. Mol Breed 6:317–326

Schillberg S, Raven N, Fischer R, Twyman RM, Schiermeyer A (2013) Molecular farming of pharmaceutical proteins using plant suspension cell and tissue cultures. Curr Pharm Des 19:5531–5542

Sexton A, Harman S, Shattock RJ, Ma JKC (2009) Design, expression, and characterization of a multivalent, combination HIV microbicide. FASEB J 23:3590–3600

Shaaltiel Y, Bartfeld D, Hashmueli S, Baum G, Brill-Almon E, Galili G, Dym O, Boldin-Adamsky SA, Silman I, Sussman JL, Futerman AH, Aviezer D (2007) Production of glucocerebrosidase with terminal mannose glycans for enzyme replacement therapy of Gaucher's disease using a plant cell system. Plant Biotechnol J 5:579–590

Sharma AK, Sharma MK (2009) Plants as bioreactors: recent developments and emerging opportunities. Biotechnol Adv 27:811–832

Sharma MK, Singh NK, Jani D, Sisodia R, Thungapathra M, Gautam JK, Meena LS, Singh Y, Ghosh A, Tyagi AK, Sharma AK (2008) Expression of toxin coregulated pilus subunit A (TCPA) of Vibrio cholerae and its immunogenic epitopes fused to choleratoxin B subunit in transgenic tomato (Solanum lycopersicum). Plant Cell Rep 27:307–318

Shattock RJ, Moore JP (2003) Inhibiting sexual transmission of HIV-1 infection. Nat Rev Microbiol 1:25–34

Spök A, Twyman RM, Fischer R, Ma JK, Sparrow PA (2008) Evolution of a regulatory framework for pharmaceuticals derived from genetically modified plants. Trends Biotechnol 26:506–517

Stevens LH, Stoopen GM, Elbers IJ, Molthoff JW, Bakker HA, Lommen A, Bosch D, Jordi W (2000) Effect of climate conditions and plant developmental stage on the stability of antibodies expressed in transgenic tobacco. Plant Physiol 124:173–182

Stoger E, Vaquero C, Torres E, Sack M, Nicholson L, Drossard J, Williams S, Keen D, Perrin Y, Christou P, Fischer R (2000) Cereal crops as viable production and storage systems for pharmaceutical scFv antibodies. Plant Mol Biol 42:583–590

Stoger E, Sack M, Perrin Y, Vaquero C, Torres E, Twyman RM, Christou P, Fischer R (2002a) Practical considerations for pharmaceutical antibody production in different crop systems. Mol Breed 9:149–152

Stoger E, Sack M, Fischer R, Christou P (2002b) Plantibodies: applications, advantages and bottlenecks. Curr Opin Biotechnol 13:161–166

Stoger E, Ma JKC, Fischer R, Christou P (2005) Sowing the seeds of success: pharmaceutical proteins from plants. Curr Opin Biotechnol 16:167–173

Strasser R (2013) Engineering of human-type O-glycosylation in Nicotiana benthamiana plants. Bioeng 4:191–196

Streatfield SJ (2007) Approaches to achieve high-level heterologous protein production in plants. Plant Biotechnol J 5:2–15

Topping JF, Wei W, Lindsey K (1991) Functional tagging of regulatory elements in the plant genome. Development 112:1009–1019

Tremblay R, Wang D, Jevnikar AM, Ma S (2010) Tobacco, a highly efficient green bioreactor for production of therapeutic proteins. Biotechnol Adv 28:214–221

Tu J, Zhang G, Datta K, Xu C, He Y, Zhang Q, Khush GS, Datta SK (2000) Field performance of transgenic elite commercial hybrid rice expressing Bacillus thuringiensis δ-endotoxin. Nat Biotechnol 18:1101–1104

Twyman RM, Stoger E, Schillberg S, Christou P, Fischer R (2003) Molecular pharming in plants: host systems and expresion technology. Trends Biotechnol 21:570–578

Twyman RM, Schillberg S, Fischer R (2005) Transgenic plants in the biopharmaceutical market. Exp Opin Emerg Drugs 10:185–218

Twyman RM, Schillberg S, Fischer R (2013) Optimizing the yield of recombinant pharmaceutical proteins in plants. Curr Pharm Des 19:5486–5494

Vain P, Worland B, Kohli A, Snape JW, Christou P, Allen GC, Thompson WF (1999) Matrix attachment regions increase transgene expression levels and stability in transgenic rice plants and their progeny. Plant J 18:233–242

Van Ree R, Cabanes-Macheteau M, Akkerdaas J, Milazzo JP, Loutelier-Bourhis C, Rayon C, Villalba M, Koppelman S, Aalberse R, Rodriguez R, Faye L, Lerouge P (2000) Beta (1,2)-xylose and alpha (1,3)-fucose residues have a strong contribution in IgE binding to plant glycoallergens. J Biol Chem 275:11451–11458

Vaquero C, Sack M, Schuster F, Finnern R, Drossard J, Schumann D, Reimann A, Fischer R (2002) A carcinoembryonic antigen specific diabody produced in tobacco. FASEB J 16:408–410

Vitale A, Denecke J (1999) The endoplasmic reticulum: gateway of the secretory pathway. Plant Cell 11:615–628

Wakasa Y, Takaiwa F (2013) The use of rice seeds to produce human pharmaceuticals for oral therapy. Biotechnol J 8:1133–1143

Wandelt CI, Khan MR, Craig S, Schroeder HE, Spencer D, Higgins TJ (1992) Vicilin with carboxy-terminal KDEL is retained in the endoplasmic reticulum and accumulates to high levels in the leaves of transgenic plants. Plant J 2:181–192

Wilson C, Bellen HJ, Gehring WJ (1990) Position effects on eukaryotic gene expression. Ann Rev Cell Biol 6:679–714

Yang Z, Bennett EP, Jorgensen B, Drew DP, Arigi E, Mandel U, Ulvskov P, Levery SB, Clausen H, Petersen BL (2012) Toward stable genetic engineering of human O-glycosylation in plants. Plant Physiol 160:450–463

Ye G, Tu J, Hu C, Datta K, Datta SK (2001) Transgenic IR72 with fused Bt gene cry1Ab/cry1Ac from Bacillus thuringiensis is resistant against four lepidopteran species under field conditions. Plant Biotechnol 18:125–133

Zimmermann S, Schillberg S, Liao YC, Fisher R (1998) Intracellular expression of TMV-specific single-chain Fv fragments leads to improved virus resistance in Nicotiana tabacum. Mol Breed 4:369–379
About this article
Cite this article
Sabalza, M., Christou, P. & Capell, T. Recombinant plant-derived pharmaceutical proteins: current technical and economic bottlenecks. Biotechnol Lett 36, 2367–2379 (2014). https://doi.org/10.1007/s10529-014-1621-3
Received:

Accepted:

Published:

Issue Date:

DOI: https://doi.org/10.1007/s10529-014-1621-3
Keywords
Molecular pharming

Plant-made pharmaceuticals

Plant production systems

Proteins from recombinant plants

Recombinant pharmaceutical proteins