Abstract
Glucosamine-6-phosphate (GlcN-6-P) synthase from Saccharomyces cerevisiae was expressed in Pichia pastoris SMD1168 GIVING maximum activity of 96 U ml−1 for the enzyme in the culture medium. By SDS-PAGE, the enzyme, a glycosylated protein, had an apparent molecular mass of 90 kDa. The enzyme was purified by gel exclusion chromatography to near homogeneity, with a 90 % yield and its properties were characterized. Optimal activities were at pH 5.5 and 55 °C, respectively, at which the highest specific activity was 6.8 U mg protein −1. The enzyme was stable from pH 4.5 to 5.5 and from 45 to 60 °C. The Km and Vmax of the GlcN-6-P synthase towards d-fructose 6-phosphate were 2.8 mM and 6.9 μmol min−1 mg−1, respectively.
Access options
Buy single article
Instant access to the full article PDF.
US$ 39.95
Tax calculation will be finalised during checkout.
Subscribe to journal
Immediate online access to all issues from 2019. Subscription will auto renew annually.
US$ 119
Tax calculation will be finalised during checkout.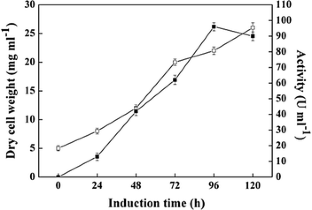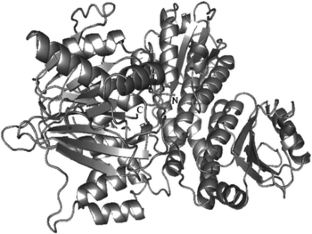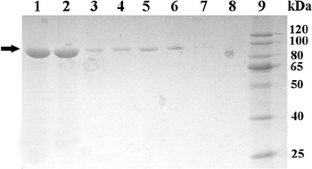 References
Badet B, Vermoote P, Haumont PY et al (1987) Glucosamine synthease from Escherichia coli: purification, properties and glutamine-utilizing site location. Biochemistry 26:1940–1948

Borowski E (2000) Novel approaches in the rational design of antifungal agents of low toxicity. Farmaco 55:206–208

Chen XZ, Xu SQ, Zhu MS et al (2010) Site-directed mutagenesis of an Aspergillus niger xylanase B and its expression, purification and enzymatic characterization in Pichia pastoris. Process Biochem 45:75–80

Czarnecka J, Kwiatkowska K, Gabriel I et al (2012) Engineering Candida albicans glucosamine-6-phosphate synthase for efficient enzyme purification. J Mol Recognit 25:564–570

Deng MD, Severson DK, Grund AD et al (2005) Metabolic engineering of Escherichia coli for industrial production of glucosamine and N-acetylglucosamine. Metab Eng 7:201–214

Durand P, Golinelli-Pimpaneau B, Mouilleron S et al (2008) Highlights of glucosamine-6 P synthase catalysis. Arch Biochem Biophys 474:302–317

Gonzalez-Ibarra J, Milewski S, Villagómez-Castro JC et al (2010) Sporothrix schenckii: purification and partial biochemical characterization of glucosamine-6-phosphate synthase, a potential antifungal target. Med Mycol 48:110–121

Hebert LF, Daniels MC, Zhou J et al (1996) Overexpression of glutamine: fructose 6-phosphate amidotransferase in transgenic mice leads to insulin resistance. J Clin Invest 98:930–936

Olchowy J, Kur K, Sachadyn P et al (2006) Construction, purification, and functional characterization of His-tagged Candida albicans glucosamine-6-phosphate synthase expressed in Escherichia coli. Protein Exp Purif 46:309–315

Rodriguez-Diaz J, Rubio-Del-Campo A, Yebra MJ (2012) Metabolic engineering of Lactobacillus casei for production of UDP-N-acetylglucosamine. Biotechnol Bioeng 109:1704–1712

Sachadyn P, Jedrzejczak R, Milewski S et al (2000) Purification to homogeneity of Candida albicans glucosamine-6-phosphate synthase overexpressed in Escherichia coli. Protein Exp Purif 19:343–349

Teplyakov A, Obmolova G, Badet B et al (2001) Channeling of ammonia in glucosamine-6-phosphate synthase. J Mol Biol 313:1093–1102

Teplyakov A, Leriche C, Obmolova G et al (2002) From Lobry de Bruyn to enzyme-catalyzed ammonia channelling: molecular studies of D-glucosamine-6P synthase. Nat Prod Rep 19:60–69
Acknowledgments
This work was financially supported by the National High-tech R&D Program of China (863 Program, No. 2012AA021504) and the Taishan Scholar Program of Shandong.
Electronic supplementary material
Below is the link to the electronic supplementary material.
About this article
Cite this article
Wang, S., Li, P., Su, J. et al. Characterization and expression of glucosamine-6-phosphate synthase from Saccharomyces cerevisiae in Pichia pastoris . Biotechnol Lett 36, 2023–2028 (2014). https://doi.org/10.1007/s10529-014-1561-y
Received:

Accepted:

Published:

Issue Date:
Keywords
Glucosamine-6-phosphate synthase

Pichia pastoris
Saccharomyces cerevisiae