Abstract
Cyanobacteria are attractive host bacteria for biofuel production because they can covert CO2 to biofuel lipids using only sunlight, water, and inorganic ions. For genetically engineering an ideal cyanobacterium, a synthetic biological approach is promising but few genetic components have been characterized in cyanobacteria. Here for controlling cyanobacterial protein expression, we constructed riboregulators, that one of the post-transcriptional regulators composed of RNAs. Riboregulators harboring a ribosome-binding site suitable for Synechocystis sp. were designed by trial and error using Escherichia coli as host bacteria. The designed riboregulators were effective in Synechocystis sp. as well as E. coli with slight interference on growth only observed in E. coli. They will therefore be useful tools for controlling target gene expression.
This is a preview of subscription content, log in to check access.
Access options
Buy single article
Instant access to the full article PDF.
US$ 39.95
Price includes VAT for USA
Subscribe to journal
Immediate online access to all issues from 2019. Subscription will auto renew annually.
US$ 199
This is the net price. Taxes to be calculated in checkout.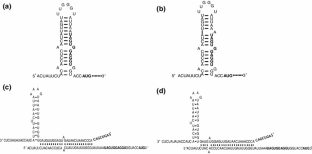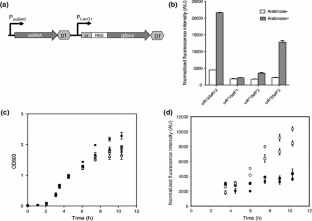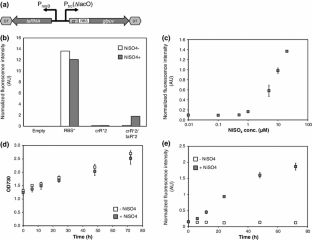 References
Atsumi S, Higashide W, Liao JC (2009) Direct photosynthetic recycling of carbon dioxide to isobutyraldehyde. Nat Biotechnol 27:1177–1180

Bagdasarian M, Lurz R, Ruckert B, Franklin FC, Bagdasarian MM, Frey J, Timmis KN (1981) Specific-purpose plasmid cloning vectors. II. Broad host range, high copy number, RSF1010-derived vectors, and a host-vector system for gene cloning in Pseudomonas. Gene 16:237–247

Callura JM, Dwyer DJ, Isaacs FJ, Cantor CR, Collins JJ (2010) Tracking, tuning, and terminating microbial physiology using synthetic riboregulators. Proc Natl Acad Sci USA 107:15898–15903

Callura JM, Cantor CR, Collins JJ (2012) Genetic switchboard for synthetic biology applications. Proc Natl Acad Sci USA 109:5850–5855

Franch T, Petersen M, Wagner EG, Jacobsen JP, Gerdes K (1999) Antisense RNA regulation in prokaryotes: rapid RNA/RNA interaction facilitated by a general U-turn loop structure. J Mol Biol 294:1115–1125

Friedland AE, Lu TK, Wang X, Shi D, Church G, Collins JJ (2009) Synthetic gene networks that count. Science 324:1199–1202

Heidorn T, Camsund D, Huang HH, Lindberg P, Oliveira P, Stensjo K, Lindblad P (2011) Synthetic biology in cyanobacteria engineering and analyzing novel functions. Methods Enzymol 497:539–579

Heidrich N, Brantl S (2003) Antisense-RNA mediated transcriptional attenuation: importance of a U-turn loop structure in the target RNA of plasmid pIP501 for efficient inhibition by the antisense RNA. J Mol Biol 333:917–929

Hjalt TA, Wagner EG (1995) Bulged-out nucleotides protect an antisense RNA from RNase III cleavage. Nucleic Acids Res 23:571–579

Huang HH, Camsund D, Lindblad P, Heidorn T (2010) Design and characterization of molecular tools for a synthetic biology approach towards developing cyanobacterial biotechnology. Nucleic Acids Res 38:2577–2593

Isaacs FJ, Dwyer DJ, Ding C, Pervouchine DD, Cantor CR, Collins JJ (2004) Engineered riboregulators enable post-transcriptional control of gene expression. Nat Biotechnol 22:841–847

Liu X, Curtiss R III (2009) Nickel-inducible lysis system in Synechocystis sp. PCC 6803. Proc Natl Acad Sci USA 106:21550–21554

Liu X, Curtiss R III (2012) Thermorecovery of cyanobacterial fatty acids at elevated temperatures. J Biotechnol 161:445–449

Lopez-Maury L, Garcia-Dominguez M, Florencio FJ, Reyes JC (2002) A two-component signal transduction system involved in nickel sensing in the cyanobacterium Synechocystis sp. PCC 6803. Mol Microbiol 43:247–256

Lutz R, Bujard H (1997) Independent and tight regulation of transcriptional units in Escherichia coli via the LacR/O, the TetR/O and AraC/I1-I2 regulatory elements. Nucleic Acids Res 25:1203–1210

Mitschke J, Georg J, Scholz I, Sharma CM, Dienst D, Bantscheff J, Voss B, Steglich C, Wilde A, Vogel J et al (2011) An experimentally anchored map of transcriptional start sites in the model cyanobacterium Synechocystis sp. PCC 6803. Proc Natl Acad Sci USA 108:2124–2129

Oliver JW, Machado IM, Yoneda H, Atsumi S (2013) Cyanobacterial conversion of carbon dioxide to 2,3-butanediol. Proc Natl Acad Sci USA 110:1249–1254

Rodrigo G, Landrain TE, Jaramillo A (2012) De novo automated design of small RNA circuits for engineering synthetic riboregulation in living cells. Proc Natl Acad Sci USA 109:15271–15276

Stanier RY, Kunisawa R, Mandel M, Cohen-Bazire G (1971) Purification and properties of unicellular blue-green algae (order Chroococcales). Bacteriol Rev 35:171–205

Ying X, Cao Y, Wu J, Liu Q, Cha L, Li W (2011) sTarPicker: a method for efficient prediction of bacterial sRNA targets based on a two-step model for hybridization. PLoS One 6:e22705

Zuker M (2003) Mfold web server for nucleic acid folding and hybridization prediction. Nucleic Acids Res 31:3406–3415
Acknowledgments
This work was supported financially by the Core Research of Evolutional Science & Technology program (CREST) from the Japan Science and Technology Agency (JST).
Additional information
Koichi Abe and Yuta Sakai.contributed equally to paper.
Electronic supplementary material
Below is the link to the electronic supplementary material.
About this article
Cite this article
Abe, K., Sakai, Y., Nakashima, S. et al. Design of riboregulators for control of cyanobacterial (Synechocystis) protein expression. Biotechnol Lett 36, 287–294 (2014). https://doi.org/10.1007/s10529-013-1352-x
Received:

Accepted:

Published:

Issue Date:
Keywords
Biofuels

Cyanobacteria

Post-transcriptional gene regulation

Riboregulator

Synechocystis

Synthetic biology