Abstract
A phyto-tunnel was developed using a drilled PVC pipe. It was planted with Portulaca grandiflora and used for the treatment of a textile effluent and a dye mixture. COD, BOD, TOC, conductivity, turbidity, total suspended solids and total dissolved solids of the textile effluent, and dye mixture were decreased by 57, 45, 43, 52, 76, 77 and 24 % within 96 h, and 49, 62, 41, 63, 58, 71 and 33 %, within 60 h, respectively, after treatment. The effluent and dye mixture were decolorized up to 87 and 90 % within 96 and 60 h, respectively. Significant induction in activities of lignin peroxidase, tyrosinase and DCIP reductase was observed in root tissues of the plants. FTIR, HPLC and HPTLC of untreated and treated samples showed the formation of new metabolites and preferential dye removal. Phytotoxicity studies revealed the non-toxic nature of the metabolites.
Access options
Buy single article
Instant access to the full article PDF.
US$ 39.95
Tax calculation will be finalised during checkout.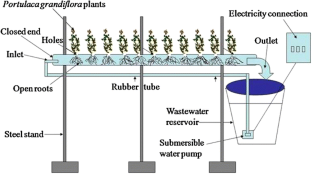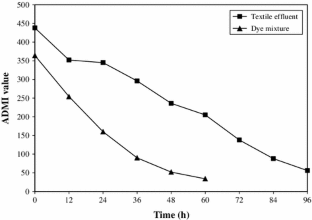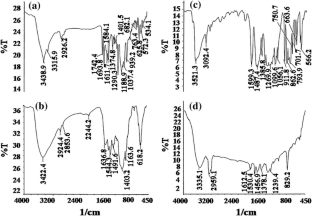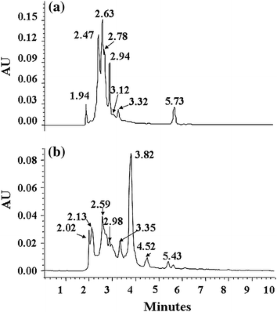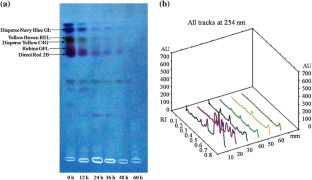 References
APHA (2008) Standard methods for the examination of water and wastewater, 20th edn. American Public Health Association APHA–AWWA–WEF, Washington

Aubert S, Schwitzguebel J (2004) Screening of plant species for the phytotreatment of wastewater containing sulfonated anthraquinones. Water Res 38:3569–3575

Bulc T, Ojstrsek A (2008) The use of constructed wetland for dye-rich textile wastewater treatment. J Hazard Mater 155:76–82

Calheiros C, Quitério P, Silva G, Crispim L, Brix H, Moura S, Castro P (2012) Use of constructed wetland systems with Arundo and Sarcocornia for polishing high salinity tannery wastewater. J Environ Manage 95:66–71

Davies L, Carias C, Novais J, Martins-Dias S (2005) Phytoremediation of textile effluents containing azo dye by using Phragmites australis in a vertical flow constructed intermittent feeding constructed wetland. Ecol Eng 25:594–605

Govindwar S, Kagalkar A (2010) Phytoremediation technologies for the removal of textile dyes: an overview and future prospectus. Nova Science Publishers Inc., New York

Ji G, Yang Y, Zhou Q, Sun T, Ni J (2004) Phytodegradation of extra heavy oil-based drill cuttings using mature reed wetland: an in situ pilot study. Environ Int 30:509–517

Kabra A, Khandare R, Kurade M, Govindwar S (2011a) Phytoremediation of a sulphonated azo dye Green HE4B by Glandularia pulchella (Sweet) Tronc. (Moss Verbena). Environ Sci Pollut Res 18:1360–1373

Kabra A, Khandare R, Waghmode T, Govindwar S (2011b) Differential fate of metabolism of a sulfonated azo dye Remazol Orange 3R by plants Aster amellus Linn., Glandularia pulchella (Sweet) Tronc. and their consortium. J Hazard Mater 190:424–431

Kabra A, Khandare R, Waghmode T, Govindwar S (2012) Phytoremediation of textile effluent and mixture of structurally different dyes by Glandularia pulchella (Sweet) Tronc. Chemosphere 87:265–272

Kabra A, Khandare R, Govindwar S (2013) Development of a bioreactor for remediation of textile effluent and dye mixture: a plant-bacterial synergistic strategy. Water Res 47:1035–1048

Khandare R, Kabra A, Kurade M, Govindwar S (2011a) Phytoremediation potential of Portulaca grandiflora Hook. (Moss-Rose) in degrading a sulfonated diazo reactive dye Navy Blue HE2R (Reactive Blue 172). Bioresour Technol 102:6774–6777

Khandare R, Kabra A, Tamboli D, Govindwar S (2011b) The role of Aster amellus Linn. in the degradation of a sulfonated azo dye Remazol Red: a phytoremediation strategy. Chemosphere 82:1147–1154

Khandare R, Rane N, Waghmode T, Govindwar S (2012) Bacterial assisted phytoremediation for enhanced degradation of highly sulfonated diazo reactive dye. Environ Sci Pollut Res 19:1709–1718

Khandare R, Kabra A, Awate A, Govindwar S (2013a) Synergistic degradation of diazo dye Direct Red 5B by Portulaca grandiflora and Pseudomonas putida. Int J Environ Sci Technol 10:1039–1050

Khandare R, Kabra A, Kadam S, Govindwar S (2013b) Treatment of dye containing wastewaters by a developed lab scale phytoreactor and enhancement of its efficacy by bacterial augmentation. Int Biodet Biodeg 78:89–97

Kivaisi A (2001) The potential for constructed wetlands for wastewater treatment and reuse in developing countries: a review. Ecol Eng 16:545–560

Mbuligwe S (2005) Comparative treatment of dye-rich wastewater in engineered wetland system (EWSs) vegetated with different plants. Water Res 39:271–280

Megharaj M, Ramakrishnan B, Venkateswarlu K, Sethunathan N, Naidu R (2011) Bioremediation approach for organic pollutants: a critical perspective. Environ Int 37:1362–1375

Nilratnisakorn S, Thiravetyan P, Nakbanpote W (2007) Synthetic reactive dye waste water treatment by narrow-leaved cattails (Typha angustifolia Linn.): effects of dye, salinity and metals. Sci Total Environ 384:67–76

Noonpui S, Thiravetyan P (2011) Treatment of reactive azo dye from textile wastewater by burhead (Echinodorus cordifolius L.) in constructed wetland: effect of molecular size. J Environ Sci Health A 46:709–714

Ong S, Uchiyamam K, Inadama D, Ishida Y, Yamagiwa K (2011) Treatment of azo dye Acid Orange 7 containing wastewater using up-flow constructed wetland with and without supplementary aeration. Bioresour Technol 101:9049–9057

Salokhe M, Govindwar S (1999) Effect of carbon source on the biotransformation enzymes in Serratia marcescens. World J Microbiol Biotechnol 15:229–232

Seawright D, Stickney R, Walker R (1998) Nutrient dynamics in integrated aquaculture-hydroponics systems. Aquaculture 160:215–237

Vrhovšek D, Kukanja V, Bulc T (1996) Constructed wetland (CW) for industrial waste water treatment. Water Res 30:2287–2292

Waghmode T, Kurade M, Khandare R, Govindwar S (2011) A sequential aerobic/microaerophilic decolorization of sulfonated mono azo dye Golden Yellow HER by microbial consortium GG-BL. Int Biodet Biodeg 65:1024–1034

Zhang X, Flurkey W (1997) Phenol oxidase in Portabella mushrooms. J Food Sci 62:97–100
About this article
Cite this article
Khandare, R.V., Watharkar, A.D., Kabra, A.N. et al. Development of a low-cost, phyto-tunnel system using Portulaca grandiflora and its application for the treatment of dye-containing wastewaters. Biotechnol Lett 36, 47–55 (2014). https://doi.org/10.1007/s10529-013-1324-1
Received:

Accepted:

Published:

Issue Date:
Keywords
Decolorization

Dyes

Phytoremediation

Phyto-tunnel

Portulaca grandiflora

Textile effluent

Toxicity