Abstract
Long-lived mRNAs stored in mature seeds can remain active for long periods even if seeds undergo severe desiccation. They are then translated at the initiation of germination. To clarify the mechanism for stabilization of long-lived mRNAs during seed desiccation, fluctuations in RNA-binding protein (RBP) profiles that occur during seed formation in rice were analyzed. Proteomic analysis revealed that glycine-rich RBP 1A (GRP1A) is a highly abundant RBP in mature rice seeds. In addition, real-time RT-PCR analysis showed that putative RBP RZ-1A (RZ-1A) is seed specific. Moreover, transcripts of these two RBPs were clearly up-regulated during desiccation in rice seeds. The features of these two RBPs resemble those of late embryogenesis abundant proteins that function as molecular chaperones in dry seeds. Therefore, GRP1A and RZ-1A may have important roles in the stability of long-lived mRNAs in rice seeds.
Access options
Buy single article
Instant access to the full article PDF.
USD 39.95
Price excludes VAT (USA)
Tax calculation will be finalised during checkout.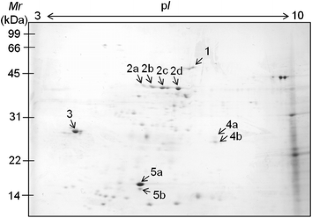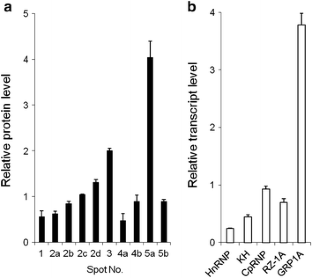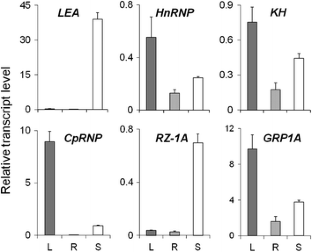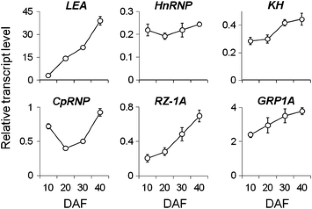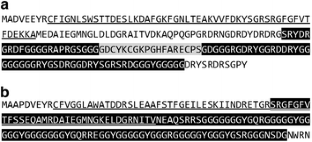 References
Crofts AJ, Crofts N, Whitelegge JP, Okita TW (2010) Isolation and identification of cytoskeleton-associated prolamine mRNA binding proteins from developing rice seeds. Planta 231:1261–1276

Fujisaki K, Ishikawa M (2008) Identification of an Arabidopsis thaliana protein that binds to tomato mosaic virus genomic RNA and inhibits its multiplication. Virology 380:402–411

Galau GA, Hughes DW, Dure L (1986) Abscisic acid induction of cloned cotton late embryogenesis-abundant (Lea) mRNAs. Plant Mol Biol 7:155–170

Goyal K, Tisi L, Basran A, Browne J, Burnell A, Zurdo J, Tunnacliffe A (2003) Transition from natively unfolded to folded state induced by desiccation in an anhydrobiotic nematode protein. J Biol Chem 278:12977–12984

Goyal K, Walton LJ, Tunnacliffe A (2005) LEA proteins prevent protein aggregation due to water stress. Biochem J 388:151–157

Haaning S, Radutoiu S, Hoffmann SV, Dittmer J, Giehm L, Otzen DE, Stougaard J (2008) An unusual intrinsically disordered protein from the model legume Lotus japonicus stabilizes proteins in vitro. J Biol Chem 283:31142–31152

Howell KA, Narsai R, Carroll A, Ivanova A, Lohse M, Usadel B, Millar AH, Whelan J (2009) Mapping metabolic and transcript temporal switches during germination in rice highlights specific transcription factors and the role of RNA instability in the germination process. Plant Physiol 149:961–980

Jensen AB, Busk PK, Figueras M, Albà MM, Peracchia G, Messeguer R, Goday A, Pagès M (1997) Drought signal transduction in plants. Plant Growth Regul 20:105–110

Kang H, Park SJ, Kwak KJ (2012) Plant RNA chaperones in stress response. Trends Plant Sci 18:100–106

Kim YO, Kang H (2006) The role of a zinc finger-containing glycine-rich RNA-binding protein during the cold adaptation process in Arabidopsis thaliana. Plant Cell Physiol 47:793–798

Kim JS, Park SJ, Kwak KJ, Kim YO, Kim JY, Song J, Jang B, Jung CH, Kang H (2007a) Cold shock domain proteins and glycine-rich RNA-binding proteins from Arabidopsis thaliana can promote the cold adaptation process in Escherichia coli. Nucleic Acids Res 35:506–516

Kim JY, Park SJ, Jang B, Jung CH, Ahn SJ, Goh CH, Cho K, Han O, Kang H (2007b) Functional characterization of a glycine-rich RNA-binding protein 2 in Arabidopsis thaliana under abiotic stress conditions. Plant J 50:439–451

Li QF, Sun SSM, Yuan DY, Yu HX, Gu MH, Liu QQ (2010) Validation of candidate reference genes for the accurate normalization of real-time quantitative RT-PCR data in rice during seed development. Plant Mol Biol Rep 28:49–57

Masaki S, Yamada T, Hirasawa T, Todaka D, Kanekatsu M (2008) Proteomic analysis of RNA-binding proteins in dry seeds of rice after fractionation by ssDNA affinity column chromatography. Biotechnol Lett 30:955–960

Morris RT, Doroshenk KA, Crofts AJ, Lewis N, Okita TW, Wyrick JJ (2011) RiceRBP: a database of experimentally identified RNA-binding proteins in Oryza sativa L. Plant Sci 180:204–211

Nakabayashi K, Okamoto M, Koshiba T, Kamiya Y, Nambara E (2005) Genome-wide profiling of stored mRNA in Arabidopsis thaliana seed germination: epigenetic and genetic regulation of transcription in seed. Plant J 41:697–709

Rajjou L, Gallardo K, Debeaujon I, Vandekerckhove J, Job C, Job D (2004) The effect of alpha-amanitin on the Arabidopsis seed proteome highlights the distinct roles of stored and neosynthesized mRNAs during germination. Plant Physiol 134:1598–1613

Sano N, Permana H, Kumada R, Shinozaki Y, Tanabata T, Yamada T, Hirasawa T, Kanekatsu M (2012) Proteomic analysis of embryonic proteins synthesized from long-lived mRNAs during germination of rice seeds. Plant Cell Physiol 53:687–698

Sano N, Masaki S, Tanabata T, Yamada T, Hirasawa T, Kanekatsu M (2013) Proteomic analysis of stress-related proteins in rice seeds during the desiccation phase of grain filling. Plant Biotechnol (in press)

Streitner C, Köster T, Simpson CG, Shaw P, Danisman S, Brown JW, Staiger D (2012) An hnRNP-like RNA-binding protein affects alternative splicing by in vivo interaction with transcripts in Arabidopsis thaliana. Nucleic Acids Res 40:11240–11255

Wang SC, Liang D, Shi SG, Ma FW, Shu HR, Wang RC (2011) Isolation and characterization of a novel drought responsive gene encoding a glycine-rich RNA-binding protein in Malus prunifolia (Willd.) Borkh. Plant Mol Biol Rep 29:125–134

Wang C, Zhang DW, Wang YC, Zheng L, Yang CP (2012) A glycine-rich RNA-binding protein can mediate physiological responses in transgenic plants under salt stress. Mol Biol Rep 39:1047–1053

Wessel D, Flügge UI (1984) A method for the quantitative recovery of protein in dilute solution in the presence of detergents and lipids. Anal Biochem 138:141–143
Acknowledgments
This work was supported by a Grant-in-Aid from the Japan Society for the Promotion of Science Fellows (No. 24.2033 to NS).
Electronic supplementary material
Below is the link to the electronic supplementary material.
About this article
Cite this article
Sano, N., Masaki, S., Tanabata, T. et al. RNA-binding proteins associated with desiccation during seed development in rice. Biotechnol Lett 35, 1945–1952 (2013). https://doi.org/10.1007/s10529-013-1283-6
Received:

Accepted:

Published:

Issue Date:

DOI: https://doi.org/10.1007/s10529-013-1283-6
Keywords
Late embryogenesis abundant protein

Long-lived mRNA

Proteome

Rice

RNA-binding protein

Seed desiccation