Abstract
Hepcidin is a peptide hormone that plays an important role in iron metabolism. We have produced a recombinant mouse hepcidin-1 by using baculovirus expression system. Its expression yield was 25 μg/ml when cell culture media were supplemented with a protease inhibitor cocktail. The recombinant mouse hepcidin-1 and synthetic human hepcidin-25 had similar effects on reducing ferroportin expression in J774A cell line and in peritoneal macrophages. However, synthetic human hepcidin-25 was more efficient than recombinant mouse hepcidin-1 in reducing iron concentration in blood circulation (p < 0.01).
This is a preview of subscription content,
to check access.
Access this article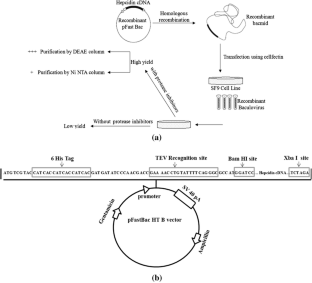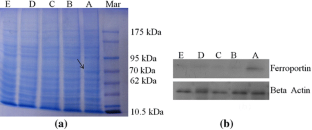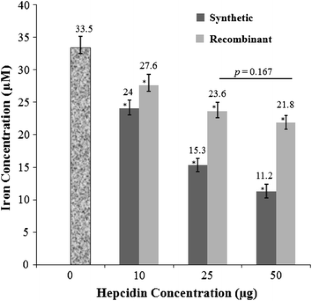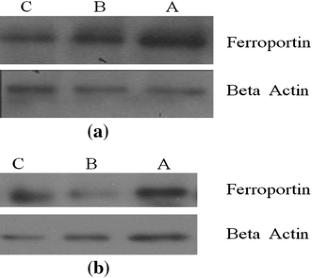 Similar content being viewed by others
References
Brittenham GM (2003) Iron chelators and iron toxicity. Alcohol 30:151–158

Cairo G, Bernuzzi F, Recalcati S (2006) A precious metal: iron, an essential nutrient for all cells. Genes Nutr 1:25–39

Gotoh T, Miyazaki Y, Kikuchi K, Bentley WE (2001) Investigation of sequential behavior of carboxyl protease and cysteine protease activities in virus-infected Sf-9 insect cell culture by inhibition assay. Appl Microbiol Biotechnol 56:742–749

Greenshields AL, Knickle LC, Syvitski R, Douglas SE (2008) Strategies for recombinant expression of small, highly disulphidebonded, cationic antimicrobial peptides. Protein Pept Lett 15:985–994

Hershko C (2007) Iron loading and its clinical implications. Am J Hematol 82:1147–1148

Hitchman RB, Possee RD, Crombie AT, Chambers A, Ho K, Siaterli E, Lissina O, Sternard H, Novy R, Loomis K, Bird LE, Owens RJ, King LA (2010) Genetic modification of a baculovirus vector for increased expression in insect cells. Cell Biol Toxicol 26:57–68

Hoffbrand A (2005) Deferiprone therapy for transfusional iron overload. Best Pract Res Clin Haematol 18:299–317

Licari P, Bailey JE (1991) Factors influencing recombinant protein yields in an insect cell-bacuiovirus expression system: multiplicity of infection and intracellular protein degradation. Biotechnol Bioeng 37:238–246

Lou DQ, Nicolas G, Lesbordes JC, Viatte L, Grimber G, Szajnert MF, Kahn A, Vaulont S (2004) Functional differences between hepcidin 1 and 2 in transgenic mice. Blood 103:2816–2821

Nemeth E, Valore EV, Territo M, Schiller G, Lichtenstein A, Ganz T (2003) Hepcidin, a putative mediator of anemia of inflammation, is a type II acute-phase protein. Blood 101:461–2463

Nguyen NB, Callaghan KD, Ghio AJ, Haile DJ, Yang F (2006) Hepcidin expression and iron transport in alveolar macrophages. Am J Physiol Lung Cell Mol Physiol 291:L417–L425

Park CH, Valore EV, Waring AJ, Ganz T (2001) Hepcidin, a urinary antimicrobial peptide synthesized in the liver. J Biol Chem 276:7806–7810

Ravasi G, Pelucchi S, Trombini P, Mariani R, Tomosugi N, Modignani GL, Pozzi M, Nemeth E, Ganz T, Hayashi H, Barisani D, Piperno A (2012) Hepcidin expression in iron overload diseases is variably modulated by circulating factors. PLoS One 7:e36425

Vyoral D, Petrak J (2005) Hepcidin: a direct link between iron metabolism and immunity. Int J Biochem Cell Biol 37:1768–1773

Yazdani Y, Sadeghi H, Alimohammadian M, Andalib A, Moazen F, Rezaei A (2011) Expression of an innate immune element (mouse hepcidin-1) in baculovirus expression system and the comparison of its function with synthetic human hepcidin-25. Iran J Pharm Res 10:559–568
Acknowledgments
This study has been funded by the Golestan University of Medical Sciences and Isfahan University of Medical Sciences.
About this article
Cite this article
Yazdani, Y., Keyhanvar, N., Kalhor, H.R. et al. Functional analyses of recombinant mouse hepcidin-1 in cell culture and animal model. Biotechnol Lett 35, 1191–1197 (2013). https://doi.org/10.1007/s10529-013-1198-2
Received:

Accepted:

Published:

Issue Date:

DOI: https://doi.org/10.1007/s10529-013-1198-2
Keywords