Abstract
Fusarium moniliforme var. subglutinans was selected from among 100 strains of fungi for producing ginsenoside F1 from ginsenoside Rg1. The enzyme responsible was purified as a single 85 kDa band with a specific activity of 136 U mg−1. It hydrolysed glucose-linked ginsenosides Rb1, Rd and Rg1 but not for other monosaccharide-linked ginsenosides, Rb2, Rc, R1, and Re. Under the optimum conditions of pH 6.0, 50°C, 30 U l−1 of enzyme, and 5 mg Rg1 ml−1, 4 mg F1 ml−1 was produced after 4 h, with a molar yield of 100% and a productivity of 1 g l−1 h−1. This represents the highest productivity and conversion yield of F1 yet reported.
Access options
Buy single article
Instant access to the full article PDF.
US$ 39.95
Tax calculation will be finalised during checkout.
Subscribe to journal
Immediate online access to all issues from 2019. Subscription will auto renew annually.
US$ 119
Tax calculation will be finalised during checkout.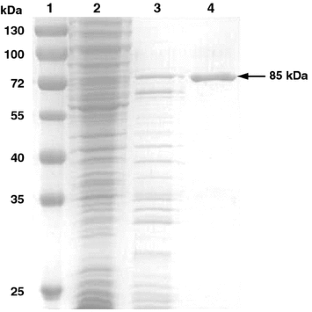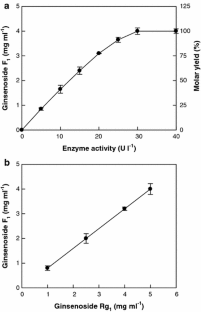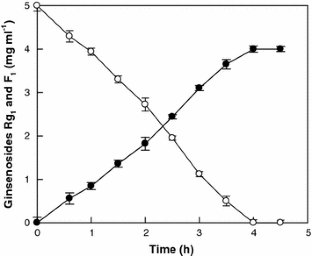 References
An DS, Cui CH, Lee HG, Wang L, Kim SC, Lee ST, Jin F, Yu H, Chin YW, Lee HK, Im WT, Kim SG (2010) Identification and characterization of a novel Terrabacter ginsenosidimutans sp. nov. beta-glucosidase that transforms ginsenoside Rb1 into the rare gypenosides XVII and LXXV. Appl Environ Microbiol 76:5827–5836

Bae EA, Choo MK, Park EK, Park SY, Shin HY, Kim DH (2002) Metabolism of ginsenoside Rc by human intestinal bacteria and its related antiallergic activity. Biol Pharm Bull 25:743–747

Bae EA, Shin JE, Kim DH (2005) Metabolism of ginsenoside Re by human intestinal microflora and its estrogenic effect. Biol Pharm Bull 28:1903–1908

Chae S, Kang KA, Chang WY, Kim MJ, Lee SJ, Lee YS, Kim HS, Kim DH, Hyun JW (2009) Effect of compound K, a metabolite of ginseng saponin, combined with gamma-ray radiation in human lung cancer cells in vitro and in vivo. J Agric Food Chem 57:5777–5782

Chen GT, Yang M, Song Y, Lu ZQ, Zhang JQ, Huang HL, Wu LJ, Guo DA (2008) Microbial transformation of ginsenoside Rb1 by Acremonium strictum. Appl Microbiol Biotechnol 77:1345–1350

Chi H, Ji GE (2005) Transformation of ginsenosides Rb1 and Re from Panax ginseng by food microorganisms. Biotechnol Lett 27:765–771

Huang C, Wang G, Li H, Xie H, Sun J, Lv H, Lv T (2006) Sensitive and selective liquid chromatography-electrospray ionisation-mass spectrometry analysis of astragaloside-IV in rat plasma. J Pharm Biomed Anal 40:788–793

Jeya M, Joo AR, Lee KM, Tiwari MK, Kim SH, Lee JK (2010) Characterization of beta-glucosidase from a strain of Penicillium purpurogenum KJS506. Appl Microbiol Biotechnol 86:1473–1484

Ko SR, Choi KJ, Suzuki K, Suzuki Y (2003) Enzymatic preparation of ginsenosides Rg2, Rh1, and F1. Chem Pharm Bull (Tokyo) 51:404–408

Lee EH, Cho SY, Kim SJ, Shin ES, Chang HK, Kim DH, Yeom MH, Woe KS, Lee J, Sim YC, Lee TR (2003) Ginsenoside F1 protects human HaCaT keratinocytes from ultraviolet-B-induced apoptosis by maintaining constant levels of Bcl-2. J Invest Dermatol 121:607–613

Park CS, Yoo MH, Noh KH, Oh DK (2010) Biotransformation of ginsenosides by hydrolyzing the sugar moieties of ginsenosides using microbial glycosidases. Appl Microbiol Biotechnol 87:9–19

Son JW, Kim HJ, Oh DK (2008) Ginsenoside Rd production from the major ginsenoside Rb1 by beta-glucosidase from Thermus caldophilus. Biotechnol Lett 30:713–716

Tawab MA, Bahr U, Karas M, Wurglics M, Schubert-Zsilavecz M (2003) Degradation of ginsenosides in humans after oral administration. Drug Metab Dispos 31:1065–1071

Yan Q, Zhou XW, Zhou W, Li XW, Feng MQ, Zhou P (2008) Purification and properties of a novel beta-glucosidase, hydrolyzing ginsenoside Rb1 to CK, from Paecilomyces bainier. J Microbiol Biotechnol 18:1081–1089

Yang S, Jiang Z, Yan Q, Zhu H (2008) Characterization of a thermostable extracellular beta-glucosidase with activities of exoglucanase and transglycosylation from Paecilomyces thermophila. J Agric Food Chem 56:602–608

Yoshikawa M, Morikawa T, Kashima Y, Ninomiya K, Matsuda H (2003) Structures of new dammarane-type triterpene saponins from the flower buds of Panax notoginseng and hepatoprotective effects of principal ginseng saponins. J Nat Prod 66:922–927

Zanoelo FF, Polizeli Mde L, Terenzi HF, Jorge JA (2004) Beta-glucosidase activity from the thermophilic fungus Scytalidium thermophilum is stimulated by glucose and xylose. FEMS Microbiol Lett 240:137–143
Acknowledgment
This work was supported by the National Research Foundation of Korea (NRF) grant (No. 2010-0019306) and by the Next-Generation BioGreen 21 Program grant, Rural Development Administration, Republic of Korea.
About this article
Cite this article
Kim, YS., Yoo, MH., Lee, GW. et al. Ginsenoside F1 production from ginsenoside Rg1 by a purified β-glucosidase from Fusarium moniliforme var. subglutinans . Biotechnol Lett 33, 2457–2461 (2011). https://doi.org/10.1007/s10529-011-0719-0
Received:

Accepted:

Published:

Issue Date:
Keywords
Ginsenoside Rg1
Ginsenoside F1
β-Glucosidase
Fusarium moniliforme var. subglutinans

Substrate specificity