Abstract
A large number of assays are available to monitor viability in mammalian cell cultures with most defining loss of viability as a loss of plasma membrane integrity, a characteristic of necrotic cell death. However, the majority of cultured cells die by apoptosis and early apoptotic cells, although non-viable, maintain an intact plasma membrane and are thus ignored. Here we measure the viability of cultures of a number of common mammalian cell lines by assays that measure membrane integrity (a measure of necrotic cell death) and assays that measure apoptotic cells, and show that discrepancies in the measurement of culture viability have a significant impact on the calculation of cell culture parameters and lead to skewed experimental data.
This is a preview of subscription content, log in to check access.
Access options
Buy single article
Instant access to the full article PDF.
US$ 39.95
Price includes VAT for USA
Subscribe to journal
Immediate online access to all issues from 2019. Subscription will auto renew annually.
US$ 199
This is the net price. Taxes to be calculated in checkout.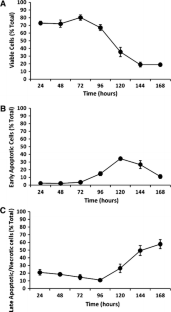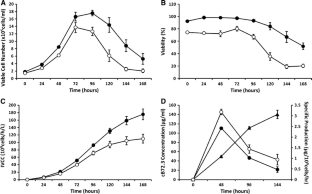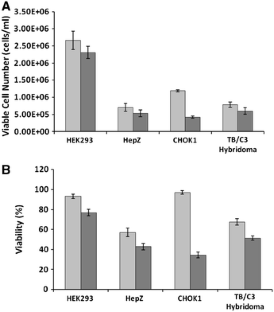 References
Goldman MH, James DC, Ison AP, Bull AT (1997) Monitoring proteolysis of recombinant human interferon-gamma during batch culture of Chinese hamster ovary cells. Cytotechnology 23:103–111

Gramer MJ, Goochee CF (1993) Glycosidase activities in Chinese-hamster ovary cell lysate and cell-culture supernatant. Biotech Prog 9:366–373

Gregory CD, Pound JD, Devitt A, Wilson-Jones M, Ray P, Murray RJ (2009) Inhibitory effects of persistent apoptotic cells on monoclonal antibody production in vitro. Simple removal of non-viable cells improves antibody productivity by hybridoma cells in culture. mAbs 1:370–376

Hansen K, Kjalke M, Rasmussen PB, Kongerslev L, Ezban M (1997) Proteolytic cleavage of recombinant two-chain factor VIII during cell culture production is mediated by protease(s) from lysed cells—the use of pulse labelling directly in production medium. Cytotechnology 24:227–234

Simpson NH, Milner AE, Al-Rubeai M (1997) Prevention of hybridoma cell death by bcl-2 during suboptimal culture conditions. Biotech Bioeng 54:1–16

Singh RP, Al-Rubeai M, Gregory CD, Emery AN (1994) Cell death in bioreactors—a role for apoptosis. Biotech Bioeng 44:720–726

Tey BT, Al Rubeai M (2004) Suppression of apoptosis in perfusion culture of myeloma NS0 cells enhances cell growth but reduces antibody productivity. Apoptosis 9:843–852

Vermes I, Haanen C, Steffensnakken H, Reutelingsperger C (1995) A novel assay for apoptosis—flow cytometric detection of phosphatidylserine expression on early apoptotic cells using fluorescein-labeled annexin-V. J Immunol Meth 184:39–51
About this article
Cite this article
Browne, S.M., Al-Rubeai, M. Defining viability in mammalian cell cultures. Biotechnol Lett 33, 1745–1749 (2011). https://doi.org/10.1007/s10529-011-0644-2
Received:

Accepted:

Published:

Issue Date:
Keywords
Apoptosis

Biopharmaceuticals

Mammalian cell culture

Necrosis

Viability