Abstract
H2 is a therapeutic antioxidant that can reduce oxidative stress. Oxidized low-density lipoprotein, which plays roles in atherosclerosis, may promote endothelial dysfunction by binding the cell-surface receptor LOX-1. LOX-1 expression can be upregulated by various stimuli, including TNF-α. Thus, we aimed to examine whether the upregulation of LOX-1 by different stimuli could be blocked by H2 in endothelial cells. H2 significantly abolished the upregulation of LOX-1 by different stimuli, including TNF-α, at the protein and mRNA levels. The TNF-α-induced upregulation of LOX-1 was also attenuated by the NF-κB inhibitor N-acetyl-l-cysteine. H2 inhibited the TNF-α-induced activation of NF-κB and the phosphorylation of IκB-α. Furthermore, H2 inhibited the expression of LOX-1 and the activation of NF-κB in apolipoprotein E knockout mice, an animal model of atherosclerosis. Thus, H2 probably inhibits cytokine-induced LOX-1 gene expression by suppressing NF-κB activation.
Access options
Buy single article
Instant access to the full article PDF.
USD 39.95
Price excludes VAT (USA)
Tax calculation will be finalised during checkout.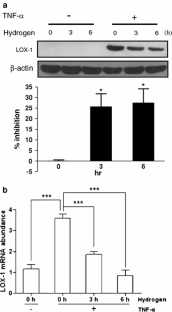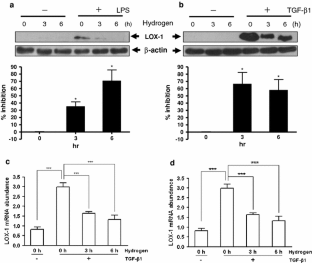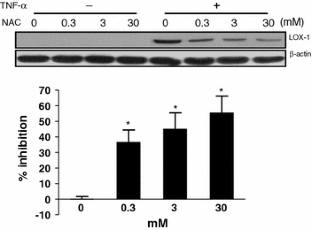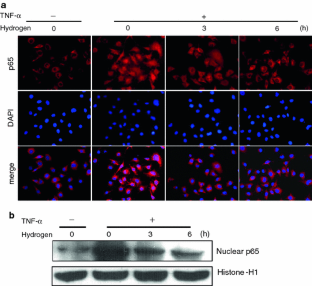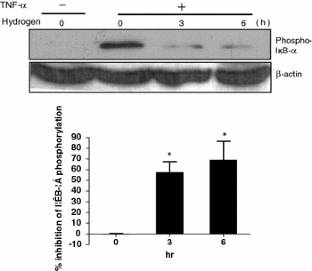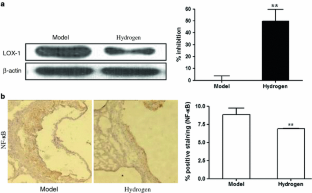 References
Cai J, Kang Z, Liu K, Liu W, Li R, Zhang JH, Luo X, Sun X (2009) Neuroprotective effects of hydrogen saline in neonatal hypoxia-ischemia rat model. Brain Res 1256:129–137

Gilmore TD (2006) Introduction to NF-kappaB: players, pathways, perspectives. Oncogene 25(51):6680–6684

Jersmann HP, Hii CS, Ferrante JV, Ferrante A (2001) Bacterial lipopolysaccharide and tumor necrosis factor alpha synergistically increase expression of human endothelial adhesion molecules through activation of NF-kappaB and p38 mitogen-activated protein kinase signaling pathways. Infect Immun 69(3):1273–1279

Kajiyama S, Hasegawa G, Asano M, Hosoda H, Fukui M, Nakamura N, Kitawaki J, Imai S, Nakano K, Ohta M, Adachi T, Obayashi H, Yoshikawa T (2008) Supplementation of hydrogen-rich water improves lipid and glucose metabolism in patients with type 2 diabetes or impaired glucose tolerance. Nutr Res 28(3):137–143

Kume N, Murase T, Moriwaki H, Aoyama T, Sawamura T, Masaki T, Kita T (1998) Inducible expression of lectin-like oxidized LDL receptor-1 in vascular endothelial cells. Circ Res 83(3):322–327

Li L, Sawamura T, Renier G (2004) Glucose enhances human macrophage LOX-1 expression: role for LOX-1 in glucose-induced macrophage foam cell formation. Circ Res 94(7):892–901

Libby P (2002) Inflammation in atherosclerosis. Nature 420(6917):868–874

Mihm S, Ennen J, Pessara U, Kurth R, Droge W (1991) Inhibition of HIV-1 replication and NF-kappa B activity by cysteine and cysteine derivatives. AIDS 5(5):497–503

Minami M, Kume N, Kataoka H, Morimoto M, Hayashida K, Sawamura T, Masaki T, Kita T (2000) Transforming growth factor-beta(1) increases the expression of lectin-like oxidized low-density lipoprotein receptor-1. Biochem Biophys Res Commun 272(2):357–361

Musa H, Meek S, Gautel M, Peddie D, Smith AJ, Peckham M (2006) Targeted homozygous deletion of M-band titin in cardiomyocytes prevents sarcomere formation. J Cell Sci 119(Pt 20):4322–4331

Nagase M, Abe J, Takahashi K, Ando J, Hirose S, Fujita T (1998) Genomic organization and regulation of expression of the lectin-like oxidized low-density lipoprotein receptor (LOX-1) gene. J Biol Chem 273(50):33702–33707

Ohsawa I, Ishikawa M, Takahashi K, Watanabe M, Nishimaki K, Yamagata K, Katsura K, Katayama Y, Asoh S, Ohta S (2007) Hydrogen acts as a therapeutic antioxidant by selectively reducing cytotoxic oxygen radicals. Nat Med 13(6):688–694

Ohsawa I, Nishimaki K, Yamagata K, Ishikawa M, Ohta S (2008) Consumption of hydrogen water prevents atherosclerosis in apolipoprotein E knockout mice. Biochem Biophys Res Commun 377(4):1195–1198

Perkins ND (2007) Integrating cell-signalling pathways with NF-kappaB and IKK function. Nat Rev Mol Cell Biol 8(1):49–62

Sawamura T, Kume N, Aoyama T, Moriwaki H, Hoshikawa H, Aiba Y, Tanaka T, Miwa S, Katsura Y, Kita T, Masaki T (1997) An endothelial receptor for oxidized low-density lipoprotein. Nature 386(6620):73–77

Shin S, Kwon J, Lee S, Kong H, Lee CK, Cho K, Ha NJ, Kim K (2010) Immunostimulatory Effects of Cordyceps militaris on macrophages through the enhanced production of cytokines via the activation of NF-kappaB. Immune Netw 10(2):55–63

Xu X, Gao X, Potter BJ, Cao JM, Zhang C (2007) Anti-LOX-1 rescues endothelial function in coronary arterioles in atherosclerotic ApoE knockout mice. Arterioscler Thromb Vasc Biol 27(4):871–877
Acknowledgments
This research was supported by the Taishan Scholars Foundation of Shandong Province and by Special Research Funding of Taishan Medical University.
About this article
Cite this article
Song, G., Tian, H., Liu, J. et al. H2 inhibits TNF-α-induced lectin-like oxidized LDL receptor-1 expression by inhibiting nuclear factor κB activation in endothelial cells. Biotechnol Lett 33, 1715–1722 (2011). https://doi.org/10.1007/s10529-011-0630-8
Received:

Accepted:

Published:

Issue Date:

DOI: https://doi.org/10.1007/s10529-011-0630-8
Keywords