Abstract
Capillary shear stress can improve osteogenic differentiation in muscle-derived precursor cells (MDPCs). This has implications for large-scale bioprocessing of cell therapies where capillary transfer is needed. The recovery, viability, and osteogenic differentiation potential of two subsets of MDPCs, early-adherent pre-plate 1 (PP1) and late-adherent PP3 populations, have been examined: PP1 MDPCs produced a greater degree of osteogenic differentiation than PP3 MDPCs, quantified by Alizarin Red S staining intensity (P < 0.05). For both cell populations, capillary flow-induced significant increases in Alizarin Red S staining (P < 0.05). However, PP1 cells were more susceptible to capillary flow-induced damage than PP3 cells and this was dependent on duration of exposure. Overall, results indicate that different cell subsets, even from within a single tissue, can respond variably to capillary shear stress, necessitating its precise monitoring and control.
Access options
Buy single article
Instant access to the full article PDF.
USD 39.95
Price includes VAT (USA)
Tax calculation will be finalised during checkout.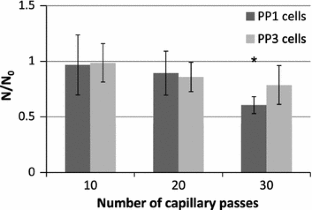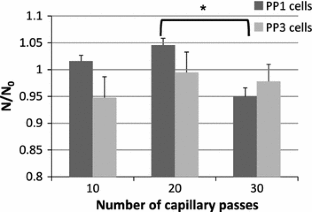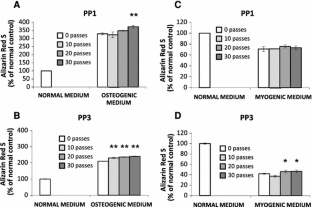 References
Bancroft GN, Sikavitsas VI, van den Dolder J, Sheffield TL, Ambrose CG, Jansen JA, Mikos AG (2002) Fluid flow increases mineralized matrix deposition in 3D perfusion culture of marrow stromal osteoblasts in a dose-dependent manner. Proc Natl Acad Sci USA 99(20):12600–12605

Born C, Zhang Z, Al-Rubeai M, Thomas CR (1992) Estimation of disruption of animal cells by laminar shear stress. Biotechnol Bioeng 40(9):1004–1010

Davies LC, Locke M, Webb RD, Roberts JT, Langley M, Thomas DW, Archer CW, Stephens P (2010) A multipotent neural crest derived progenitor cell population is resident within the oral mucosa lamina propria. Stem Cells Dev 19:819–830

Dowthwaite GP, Bishop JC, Redman SN, Khan IM, Rooney P, Evans DJ, Haughton L, Bayram Z, Boyer S, Thomson B, Wolfe MS, Archer CW (2004) The surface of articular cartilage contains a progenitor cell population. J Cell Sci 117(Pt 6):889–897

Gomes ME, Sikavitsas VI, Behravesh E, Reis RL, Mikos AG (2003) Effect of flow perfusion on the osteogenic differentiation of bone marrow stromal cells cultured on starch-based three-dimensional scaffolds. J Biomed Mater Res A 67(1):87–95

Grellier M, Bareille R, Bourget C, Amedee J (2009) Responsiveness of human bone marrow stromal cells to shear stress. J Tissue Eng Regen Med 3(4):302–309

Jones PH, Watt FM (1993) Separation of human epidermal stem cells from transit amplifying cells on the basis of differences in integrin function and expression. Cell 73(4):713–724

Knippenberg M, Helder MN, Doulabi BZ, Semeins CM, Wuisman PI, Klein-Nulend J (2005) Adipose tissue-derived mesenchymal stem cells acquire bone cell-like responsiveness to fluid shear stress on osteogenic stimulation. Tissue Eng 11(11–12):1780–1788

Kreke MR, Sharp LA, Lee YW, Goldstein AS (2008) Effect of intermittent shear stress on mechanotransductive signaling and osteoblastic differentiation of bone marrow stromal cells. Tissue Eng A 14(4):529–537

Lee JY, Qu-Petersen Z, Cao B, Kimura S, Jankowski R, Cummins J, Usas A, Gates C, Robbins P, Wernig A, Huard J (2000) Clonal isolation of muscle-derived cells capable of enhancing muscle regeneration and bone healing. J Cell Biol 150(5):1085–1100

Mulhall H, Patel M, Al-Qathani K, Mason C, Lewis MP, Wall I (2010) Effect of capillary shear stress on recovery and osteogenic differentiation of muscle-derived precursor cell populations. J Tissue Eng Regen Med (in press)

Rando TA, Blau HM (1994) Primary mouse myoblast purification, characterization, and transplantation for cell-mediated gene therapy. J Cell Biol 125(6):1275–1287

Sinanan AC, Buxton PG, Lewis MP (2006) Muscling in on stem cells. Biol Cell 98(4):203–214

Stiehler M, Bunger C, Baatrup A, Lind M, Kassem M, Mygind T (2009) Effect of dynamic 3-D culture on proliferation, distribution, and osteogenic differentiation of human mesenchymal stem cells. J Biomed Mater Res A 89(1):96–107

Veraitch FS, Scott R, Wong JW, Lye GJ, Mason C (2008) The impact of manual processing on the expansion and directed differentiation of embryonic stem cells. Biotechnol Bioeng 99(5):1216–1229

Zoro BJ, Owen S, Drake RA, Hoare M (2008) The impact of process stress on suspended anchorage-dependent mammalian cells as an indicator of likely challenges for regenerative medicines. Biotechnol Bioeng 99(2):468–474

Zoro BJ, Owen S, Drake RA, Mason C, Hoare M (2009) Regenerative medicine bioprocessing: concentration and behavior of adherent cell suspensions and pastes. Biotechnol Bioeng 103(6):1236–1247
About this article
Cite this article
Patel, M., Mulhall, H., Al-Quatani, K. et al. Muscle-derived precursor cells isolated on the basis of differential adhesion properties respond differently to capillary flow. Biotechnol Lett 33, 1481–1486 (2011). https://doi.org/10.1007/s10529-011-0570-3
Received:

Accepted:

Published:

Issue Date:
Keywords
Differential adhesion

Muscle-derived precursor cells

Osteogenic differentiation

Shear stress

Stem cells