Abstract
Cannabis sativa L. plants produce a diverse array of secondary metabolites. Cannabis cell cultures were treated with jasmonic acid (JA) and pectin as elicitors to evaluate their effect on metabolism from two cell lines using NMR spectroscopy and multivariate data analysis. According to principal component analysis (PCA) and partial least square-discriminant analysis (PLS-DA), the chloroform extract of the pectin-treated cultures were more different than control and JA-treated cultures; but in the methanol/water extract the metabolome of the JA-treated cells showed clear differences with control and pectin-treated cultures. Tyrosol, an antioxidant metabolite, was detected in cannabis cell cultures. The tyrosol content increased after eliciting with JA.
Access options
Buy single article
Instant access to the full article PDF.
USD 39.95
Price excludes VAT (USA)
Tax calculation will be finalised during checkout.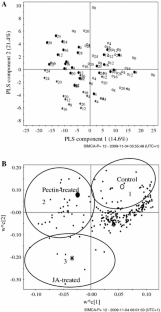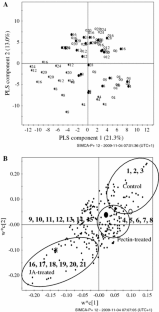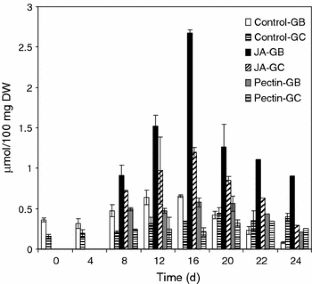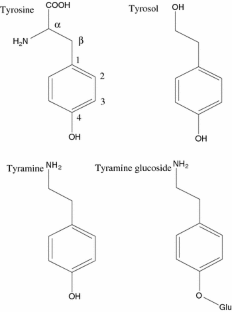 References
Aturki Z, Fanali S, D'Orazio G et al (2008) Analysis of phenolic compounds in extra virgin olive oil by using reversed-phase capillary electrochromatography. Electrophoresis 29:1643

Choi YH, Kim HK, Hazekamp A et al (2004) Metabolomic differentiation of Cannabis sativa cultivars using 1H-NMR spectroscopy and principal component analyses. J Nat Prod 67:953–957

Christophoridou S, Dais P (2009) Detection and quantification of phenolic compounds in olive oil by high resolution 1H-nuclear magnetic resonance spectroscopy. Anal Chim Acta 633:283–292

ElSohly MA, Slade D (2005) Chemical constituents of marijuana: the complex mixture of natural cannabinoids. Life Sci 78:539–548

Flores-Sanchez IJ, Verpoorte R (2008) Secondary metabolism in cannabis. Phytochem Rev 7:615–639

Flores-Sanchez IJ, Ortega-Lopez J, Montes-Horcasitas MC et al (2002) Biosynthesis of sterols and triterpenes in cell suspension cultures of Uncaria tomentosa. Plant Cell Physiol 43:1502–1509

Flores-Sanchez IJ, Peč J, Fei J et al (2009) Elicitation studies in cell suspension cultures of Cannabis sativa L. J Biotechnol 143:157–168

Gamborg OL, Miller RA, Ojima K (1968) Nutrient requirements of suspension cultures of soybean root cells. Exp Cell Res 50:151–158

Giovannini C, Straface E, Modesti D et al (1999) Tyrosol, the major olive oil biophenol, protects against oxidized-LDL-indiced injury in Caco-2 cell. J Nutr 129:1269–1277

Hagel JM, Facchini PJ (2008) Plant metabolomics: analytical platforms and integration with functional genomics. Phytochem Rev 7:479–497

Heifets BD, Castillo PE (2009) Endocannabinoid signaling and long-term synaptic plasticity. Annu Rev Physiol 71:283–306

Jahangir M, Kim HK, Choi YH et al (2008) Metabolomic response of Brassica rapa submitted to pre-harvest bacterial contamination. Food Chem 107:362–368

Li T, Zhang H (2008) Identification and comparative determination of rhodionin in traditional Tibetan medicinal plants of fourteen Rhodiola species by high-performance liquid chromatography-photodiode array detection and electrospray ionization-mass spectrometry. Chem Pharm Bull 56:807–814

Murashige T, Skoog F (1962) A revised medium for rapid growth and bioassays with tobacco cultures. Physiol Plant 15:473–497

Sanchez-Sampedro A, Kim HK, Choi YH et al (2007) Metabolomic alterations in elicitor treated Silybum marianum suspension cultures monitored by nuclear magnetic resonance spectroscopy. J Biotechnol 13:133–142

Sumarah MW, Puniani E, Blackwell BA et al (2008) Characterization of polyketide metabolites from foliar endophytes of Picea glauca. J Nat Prod 71:1393–1398

Widholm JM (1972) The use of fluorescein diacetate and phenosafranine for determining viability of cultured plant cells. Stain Technol 47:189–194

Williamson EM, Evans FJ (2000) Cannabinoids in clinical practice. Drugs 60:1303–1314
Acknowledgements
I.J. Flores Sanchez received a partial grant from Consejo Nacional de Ciencia y Tecnologia (Mexico) and J. Peč received a grant from Ministry of Education of the Czech Republic (MSM 0021620822).
Electronic supplementary material
Below is the link to the electronic supplementary material.
About this article
Cite this article
Peč, J., Flores-Sanchez, I.J., Choi, Y.H. et al. Metabolic analysis of elicited cell suspension cultures of Cannabis sativa L. by 1H-NMR spectroscopy. Biotechnol Lett 32, 935–941 (2010). https://doi.org/10.1007/s10529-010-0225-9
Received:

Accepted:

Published:

Issue Date:

DOI: https://doi.org/10.1007/s10529-010-0225-9
Keywords