Abstract
Plant growth-promoting endophytic fungi with gibberellin-producing ability were isolated from the roots of Carex kobomugi Ohwi, a common sand-dune plant, and bioassayed for plant growth-promotion. A new strain, Arthrinium phaeospermum KACC43901, promoted growth of waito-c rice and Atriplex gemelinii. Analysis of its culture filtrate showed the presence of bioactive GA1 (0.5 ng/ml), GA3 (8.8 ng/ml), GA4 (4.7 ng/ml) and GA7 (2.2 ng/ml) along with physiologically inactive GA5 (0.4 ng/ml), GA9 (0.6 ng/ml), GA12 (0.4 ng/ml), GA15 (0.4 ng/ml), GA19 (0.9 ng/ml) and GA24 (1.8 ng/ml). The fungal isolate was identified through sequence homology and phylogenetic analysis of 18S rDNA (internal transcribed region).
Access options
Buy single article
Instant access to the full article PDF.
USD 39.95
Price excludes VAT (USA)
Tax calculation will be finalised during checkout.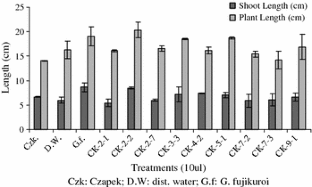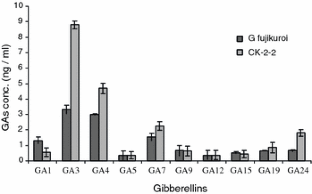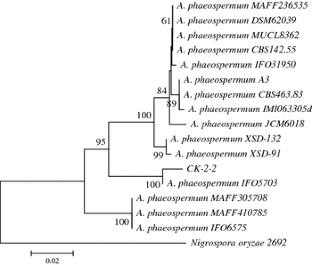 References
Addy HD, Piercey MM, Currah RS (2005) Microfungal endophytes in roots. Can J Bot 83:1–13

Agut M, Calvo MA (2004) In vitro conidial germination in Arthrinium aureum and Arthrinium phaeospermum. Mycopathol 157:363–367

Bacon CW, White JF (2000) Microbial endophytes. Marcel Dekker, New York

Choi WY, Rim SO, Lee JH et al (2005) Isolation of gibberellins producing fungi from the root of several Sesamum indicum plants. J Microbiol Biotechnol 15(1):22–28

Franck C, Lammertyn J, Nicolaï B (2005) Metabolic profiling using GC-MS to study biochemical changes during long-term storage of pears. In: Mencarelli F, Tonutti P (eds) Proceedings of 5th international postharvest symposium. Acta Hort 682:1991–1998

Gaskin P, MacMillan J (1991) GC-MS of gibberellins and related compounds. Methodology and a library of reference spectra. Cantocks Enterprises, Bristol

Girard M, Lavoie C, Theriault M (2002) The regeneration of a highly disturbed ecosystem: a mined peat land in southern Quebec. Ecosystems 5:274–288

Hasan HAH (2002) Gibberellin and auxin producing plant root fungi and their biosynthesis under salinity-calcium interaction. Rostlinná Výroba 48(3):101–106

Higgs RE, James AZ, Jeffrey DG et al (2000) Rapid method to estimate the presence of secondary metabolites in microbial extracts. Appl. Environ. Microbiol 67(1):371–376

Kawaide H (2006) Biochemical and molecular analysis of gibberellin biosynthesis in fungi. Biosci Biotechnol Biochem 70:583–590

Kim KD (2005) Invasive plants on disturbed Korean sand dunes. Estuar Coast Shelf Sci 62:353–364

Kunkel G (1984) Plants for human consumption. Koeltz Scientific Books. ISBN 3874292169

Lee IJ, Foster K, Morgan PW (1998) Photoperiod control of gibberellin levels and flowering in sorghum. Plant Physiol 116:1003–1011

MacMillan J (2002) Occurrence of gibberellins in vascular plants, fungi and bacteria. J Plant Growth Regul 20:387–442

Morakotkarn D, Kawasaki H, Seki T (2006) Molecular diversity of bamboo-associated fungi isolated from Japan. FEMS Microbiol Lett 266:10–19

Scannerini S, Fusconi A, Mucciarelli M (2001) The effect of endophytic fungi on host plant morphogenesis. In: Seckbach J (ed) Cellular origin and life in extreme habitats. Symbiosis. Kluwer Academic Publishers, Dordrecht, pp 427–447

Siegel MR, Bush LP (1997) Toxin production in grass/endophyte associations. In: Carroll GC, Tudzynski P (eds) The mycota. Springer-Verlag, Heidelberg, pp 185–207

Sugita T, Nishikawa A (2003) Fungal identification method based on DNA sequence analysis. Reassessment of the methods of the pharmaceutical society of Japan and the Japanese pharmacopoeia. J Health Sci 49(6):531–533

Tamura K, Dudley J, Nei M, Kumar S (2007) MEGA4: Molecular Evolutionary Genetics Analysis (MEGA) software version 4.0. Mol Biol Evol 24:1596–1599

Vandenkoornhuyse P, Baldauf SL, Leyval C et al (2002) Extensive fungal diversity in plant roots. Science 295:2051

Vazquez MM, Cesar S, Azcon R et al (2000) Interaction between arbuscular mycorrhizal fungi and other microbial inoculants (Azospirillum, Pseudomonas, Trichoderma) and their effects on microbial population and enzyme activities in the rhizosphere of maize plants. Appl Soil Ecol 15:261–272

Yamada A, Ogura T, Degawa Y et al (2001) Isolation of Tricholoma matsutake and T. bakamatsutake cultures from field-collected ectomycorrhizas. Mycoscience 42:43–50

Yang C, Khuri S (2003) PTC: an interactive tool for phylogenetic tree construction. In: Proceedings of IEEE Computer Society Bioinformatics Conference. Stanford University, p 476
Acknowledgment
This research is a part of 'Eco-technopia 21 project' supported by the Korea Ministry of Environment.
Electronic supplementary material
Below is the link to the electronic supplementary material.
About this article
Cite this article
Khan, S.A., Hamayun, M., Kim, Hy. et al. A new strain of Arthrinium phaeospermum isolated from Carex kobomugi Ohwi is capable of gibberellin production. Biotechnol Lett 31, 283–287 (2009). https://doi.org/10.1007/s10529-008-9862-7
Received:

Revised:

Accepted:

Published:

Issue Date:

DOI: https://doi.org/10.1007/s10529-008-9862-7
Keywords
Arthrinium phaeospermum
Carex kobomugi Ohwi

Gibberellin production

Growth-promoting fungi

Sand-dune flora