Abstract
Small interfering RNAs (siRNAs) which mediate sequence-specific gene silencing through RNA interference have been harnessed for therapeutic applications. Here, we found combinations of modest 2′-ribose siRNA modifications that permit effective gene silencing and improve siRNA stability in human serum. Introduction of as few as two different or identical 2′-ribose modifications at a specific position of either strand, which has been previously suggested to suppress unintended off-target effects, enhances the thermal and thermodynamic stability of siRNA duplexes, and does not alter the overall A-form helical geometry that is required for silencing activity. Our results provide a useful template for the design for therapeutic siRNAs.
Access options
Buy single article
Instant access to the full article PDF.
USD 39.95
Price excludes VAT (USA)
Tax calculation will be finalised during checkout.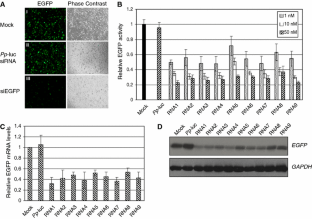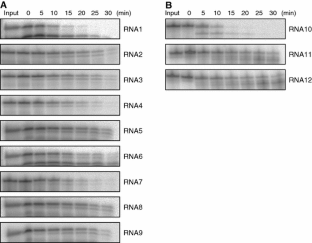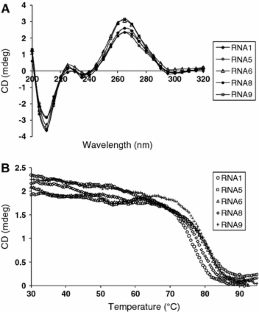 References
Breslauer KJ (1995) Extracting thermodynamic data from equilibrium melting curves for oligonucleotide order-disorder transitions. Methods Enzymol 259:221–242

Chiu YL, Rana TM (2002) RNAi in human cells: basic structural and functional features of small interfering RNA. Mol Cell 10:549–561

Chiu YL, Rana TM (2003) siRNA function in RNAi: a chemical modification analysis. RNA 9:1034–1048

De Paula D, Bentley MV, Mahato RI (2007) Hydrophobization and bioconjugation for enhanced siRNA delivery and targeting. RNA 13:431–456

Elmen J, Thonberg H, Ljungberg K, Frieden M, Westergaard M, Xu Y, Wahren B, Liang Z, Orum H, Koch T, Wahlestedt C (2005) Locked nucleic acid (LNA) mediated improvements in siRNA stability and functionality. Nucleic Acids Res 33:439–447

Haupenthal J, Baehr C, Kiermayer S, Zeuzem S, Piiper A (2006) Inhibition of RNAse A family enzymes prevents degradation and loss of silencing activity of siRNAs in serum. Biochem Pharmacol 71:702–710

Hoerter JA, Walter NG (2007) Chemical modification resolves the asymmetry of siRNA strand degradation in human blood serum. RNA 13:1887–1893

Jackson AL, Burchard J, Leake D, Reynolds A, Schelter J, Guo J, Johnson JM, Lim L, Karpilow J, Nichols K, Marshall W, Khvorova A, Linsley PS (2006) Position-specific chemical modification of siRNAs reduces "off-target" transcript silencing. RNA 12:1197–1205

Libonati M, Gotte G (2004) Oligomerization of bovine ribonuclease A: structural and functional features of its multimers. Biochem J 380:311–327

Ma JB, Ye K, Patel DJ (2004) Structural basis for overhang-specific small interfering RNA recognition by the PAZ domain. Nature 429:318–322

Ma JB, Yuan YR, Meister G, Pei Y, Tuschl T, Patel DJ (2005) Structural basis for 5′-end-specific recognition of guide RNA by the A. fulgidus Piwi protein. Nature 434:666–670

Matranga C, Tomari Y, Shin C, Bartel DP, Zamore PD (2005) Passenger-strand cleavage facilitates assembly of siRNA into Ago2-containing RNAi enzyme complexes. Cell 123:607–620

Pham JW, Pellino JL, Lee YS, Carthew RW, Sontheimer EJ (2004) A Dicer-2-dependent 80 s complex cleaves targeted mRNAs during RNAi in Drosophila. Cell 117:83–94

SantaLucia J Jr, Turner DH (1997) Measuring the thermodynamics of RNA secondary structure formation. Biopolymers 44:309–319

Turner JJ, Jones SW, Moschos SA, Lindsay MA, Gait MJ (2007) MALDI-TOF mass spectral analysis of siRNA degradation in serum confirms an RNAse A-like activity. Mol Biosyst 3:43–50
Acknowledgements
We are grateful to Prof. S. S. Park for critical reading of this manuscript. This research was supported by a grant (07132KFDA689) from the Korea Food and Drug Administration, in 2007.
Additional information
Ik Sang Cho and Jung Kim contributed equally to this work.
About this article
Cite this article
Cho, I.S., Kim, J., Lim, D.H. et al. Improved serum stability and biophysical properties of siRNAs following chemical modifications. Biotechnol Lett 30, 1901–1908 (2008). https://doi.org/10.1007/s10529-008-9776-4
Received:

Accepted:

Published:

Issue Date:

DOI: https://doi.org/10.1007/s10529-008-9776-4
Keywords
A-form helix

Melting temperature

2′-Ribose modification

RNA interference

siRNA

Stability