Abstract
In proteomic analysis, one of the major limitations is the detection of low-abundance proteins. To detect low-abundance RNA-binding proteins in mature dry seeds of rice, fractionation by single stranded DNA (ssDNA) affinity column chromatography was carried out before analysis by two-dimensional gel electrophoresis (2-DE). Proteomic analysis of the ssDNA-binding fraction revealed the existence of three types of RNA-binding proteins, including a K homology (KH) domain containing protein, a putative RNA-binding protein and a glycine-rich RNA-binding protein, in mature seeds. In addition, decreases in the putative RNA-binding protein and glycine-rich RNA-binding protein after absorbing water in seeds appear to be associated with seed germination.
Access options
Buy single article
Instant access to the full article PDF.
USD 39.95
Price excludes VAT (USA)
Tax calculation will be finalised during checkout.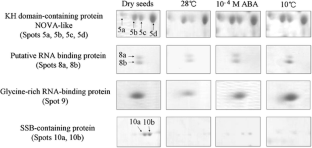 References
Adachi T, Izumi H, Yamada T, Tanaka K, Takeuchi S, Nakamura R, Matsuda T (1993) Gene structure and expression of rice seed allergenic proteins belonging to the alpha-amylase/trypsin inhibitor family. Plant Mol Biol 21:239–248

Dure L, Waters L (1965) Long-lived messenger RNA: Evidence from cotton seed germination. Science 147:410–412

Hammett JR, Katterman FR (1975) Storage and metabolism of poly(adenylic acid)-mRNA in germinating cotton seeds. Biochemistry 14:4375–4379

Ju ZY, Hettiarachchy NS, Rath N (2001) Extraction, denaturation and hydrophobic properties of rice proteins. J Food Sci 66:229–232

Kanekatsu M, Ezumi A, Nakamura T, Ohtsuki K (1995) Chloroplast ribonucleoproteins (RNPs) as phosphate acceptors for casein kinase II: Purification by ssDNA-cellulose column chromatography. Plant Cell Physiol 36:1649–1656

Kim JS, Park SJ, Kwak KJ, Kim YO, Kim JY, Song J, Jang B, Jung CH, Kang H (2007) Cold shock domain proteins and glycine-rich RNA-binding proteins from Arabidopsis thaliana can promote the cold adaptation process in Escherichia coli. Nucleic Acids Res 35:506–516

Kim YO, Kim JS, Kang H (2005) Cold-inducible zinc finger-containing glycine-rich RNA-binding protein contributes to the enhancement of freezing tolerance in Arabidopsis thaliana. Plant J 42:890–900

Komatsu S, Kojima K, Suzuki K, Ozaki K, Higo K (2004) Rice Proteome Database based on two-dimensional polyacrylamide gel electrophoresis: its status in 2003. Nucleic Acids Res 32:D388–D392

Lescuyer P, Hochstrasser DF, Sanchez JC (2004) Comprehensive proteome analysis by chromatographic protein prefractionation. Electrophoresis 25:1125–1135

Lorkovic ZJ, Barta A (2002) Genome analysis: RNA recognition motif (RRM) and K homology (KH) domain RNA-binding proteins from the flowering plant Arabidopsis thaliana. Nucleic Acids Res 30:623–635

Meyer RR, Laine PS (1990) The single-stranded DNA-binding protein of Escherichia coli. Microbiol Rev 54:342–380

Misquitta CM, Chen T, Grover AK (2006) Control of protein expression through mRNA stability in calcium signalling. Cell Calcium 40:329–346

Nakabayashi K, Okamoto M, Koshiba T, Kamiya Y, Nambara E (2005) Genome-wide profiling of stored mRNA in Arabidopsis thaliana seed germination: epigenetic and genetic regulation of transcription in seed. Plant J 41:697–709

Okuda K, Nakamura T, Sugita M, Shimizu T, Shikanai T (2006) A pentatricopeptide repeat protein is a site recognition factor in chloroplast RNA editing. J Biol Chem 281:37661–37667

Quesada V, Dean C, Simpson GG (2005) Regulated RNA processing in the control of Arabidopsis flowering. Int J Dev Biol 49:773–780

Rajjou L, Gallardo K, Debeaujon I, Vandekerckhove J, Job C, Job D (2004) The effect of alpha-amanitin on the Arabidopsis seed proteome highlights the distinct roles of stored and neosynthesized mRNAs during germination. Plant Physiol 134:1598–1613

Sela-Brown A, Silver J, Brewer G, Naveh-Many T (2000) Identification of AUF1 as a parathyroid hormone mRNA 3′-untranslated region-binding protein that determines parathyroid hormone mRNA stability. J Biol Chem 275:7424–7429

Wessel D, Flugge UI (1984) A method for the quantitative recovery of protein in dilute solution in the presence of detergents and lipids. Anal Biochem 138:141–143

Yang P, Li X, Wang X, Chen H, Chen F, Shen S (2007) Proteomic analysis of rice (Oryza sativa) seeds during germination. Proteomics 7:3358–3368

Yang YY, Yin GL, Darnell RB (1998) The neuronal RNA-binding protein Nova-2 is implicated as the autoantigen targeted in POMA patients with dementia. Proc Natl Acad Sci USA 95:13254–13259
Acknowledgments
We are grateful to Prof. H. Fugo (Tokyo Univ. Agri. Tech.), Prof. Dr. T. Iino, Assoc. Prof. H. Sawada (Nihon Univ.) and Prof. H. Hirano (Yokohama City Univ.) for their interest and support. This study was supported in part by a grant from the Ministry of Education, Culture, Sports, Science and Technology of Japan to M. K. (No. 19658002).
About this article
Cite this article
Masaki, S., Yamada, T., Hirasawa, T. et al. Proteomic analysis of RNA-binding proteins in dry seeds of rice after fractionation by ssDNA affinity column chromatography. Biotechnol Lett 30, 955–960 (2008). https://doi.org/10.1007/s10529-007-9619-8
Received:

Revised:

Accepted:

Published:

Issue Date:

DOI: https://doi.org/10.1007/s10529-007-9619-8
Keywords
KH domain

Proteome

Prefractionation

Rice seed

RNA-binding protein

RNA recognition motif