Abstract
We have developed an aptameric enzyme subunit (AES) for immunoglobulin E (IgE) sensing. AES is an artificial enzyme subunit constructed from two different aptamers and does not require any modification. Using the AES, the target molecule can be detected by measuring enzymatic activity in homogeneous solution. We connected IgE-binding aptamer and its complementary strand to split thrombin-inhibiting aptamer. The hybrid of these two oligonucleotides inhibited thrombin activity and it decreased in the presence of IgE. We were able to detect IgE by using this AES in homogeneous solution with a detection limit of 50 pmol.
This is a preview of subscription content, log in to check access.
Access options
Buy single article
Instant access to the full article PDF.
US$ 39.95
Price includes VAT for USA
Subscribe to journal
Immediate online access to all issues from 2019. Subscription will auto renew annually.
US$ 199
This is the net price. Taxes to be calculated in checkout.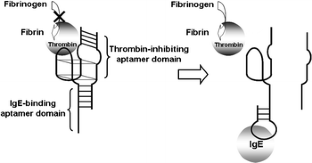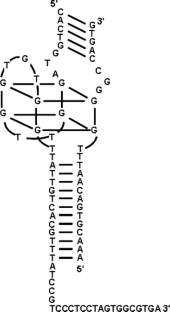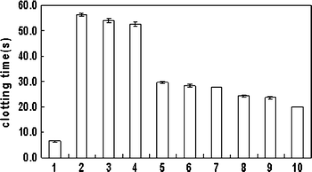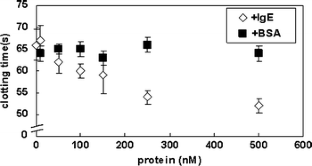 References
Ellington AD, Szostak JW (1990) In vitro selection of RNA molecules that bind specific ligands. Nature 346:818–822

Ikebukuro K, Okumura Y, Sumikura K, Karube I (2005) A novel method of screening thrombin-inhibiting DNA aptamers using an evolution-mimicking algorithm. Nucleic Acids Res 33:e108

Ikebukuro K, Yoshida W, Sode K (2007) Aptameric enzyme subunit for homogeneous DNA sensing. Biotechnol Lett (in press)

Levy M, Ellington AD (2002) ATP-dependent allosteric DNA enzymes. Chem Biol 4:417–426

Mairal T, Cengiz Özalp V, Lozano Sánchez P, Mir M, Katakis I, O'sullivan CK (2007) Aptamers: molecular tools for analytical applications. Anal Bioanal Chem doi:10.1007/s0021600713464

Nutiu R, Li Y (2005) Aptamers with fluorescence-signaling properties. Methods 37:16–25

Soukup GA, Breaker RR (1999) Engineering precision RNA molecular switches. Proc Natl Acad Sci USA 96:3584–3589

Stojanovic MN, de Prada P, Landry DW (2000) Fluorescent Sensors Based on Aptamer Self-Assembly. J Am Chem Soc 122:11547–11548

Tuerk C, Gold L (1990) Systematic evolution of ligands by exponential enrichment: RNA ligands to bacteriophage T4 DNA polymerase. Science 249:505–510

Wiegand TW, Williams PB, Dreskin SC, Jouvin MH, Kinet JP, Tasset D (1996) High-affinity oligonucleotide ligands to human IgE inhibit binding to Fc epsilon receptor I. J Immunol 157:221–230

Yoshida W, Sode K, Ikebukuro K (2006a) Aptameric enzyme subunit for biosensing based on enzymatic activity measurement. Anal Chem 78:3296–3303

Yoshida W, Sode K, Ikebukuro K (2006b) Homogeneous DNA sensing using enzyme-inhibiting DNA aptamers. Biochem Biophys Res Commun 348:245–252
Acknowledgment
This work was supported by Industrial Technology Research Grant Program in 2006 from New Energy and Industrial Technology Development Organization (NEDO) of Japan.
About this article
Cite this article
Yoshida, W., Sode, K. & Ikebukuro, K. Label-free homogeneous detection of immunoglobulin E by an aptameric enzyme subunit. Biotechnol Lett 30, 421–425 (2008). https://doi.org/10.1007/s10529-007-9575-3
Received:

Accepted:

Published:

Issue Date:
Keywords
Aptameric enzyme subunit

Enzyme-inhibiting aptamer

Protein detection

Immunoglobulin E