Abstract
Hyaluronic acid (hyaluronan, HA) is a linear polysaccharide formed from disaccharide units containing N-acetyl-d-glucosamine and glucuronic acid. It has a high molecular mass, usually in the order of millions of Daltons, and interesting viscoelastic properties influenced by its polymeric and polyelectrolyte characteristics. HA is present in almost all biological fluids and tissues. In clinical medicine, it is used as a diagnostic marker for many diseases including cancer, rheumatoid arthritis and liver pathologies, as well as for supplementation of impaired synovial fluid in arthritic patients by means of intra-articular injections. It is also used in certain ophthalmological and otological surgeries and cosmetic regeneration and reconstruction of soft tissue. Herein we present an overview of the occurrence and physiological properties of HA, as well as of the recent advances in production biotechnology and preparation of the HA-based materials for medical application.
This is a preview of subscription content,
to check access.
Access this article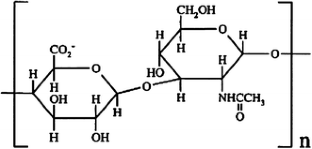 Similar content being viewed by others
References
Amarnath LP, Srinivas A, Ramamurthi A (2006) In vitro hemocompatibility testing of UV-modified hyaluronan hydrogels. Biomaterials 27:1416–1424

Balazs EA (2004) Viscoelastic properties of hyaluronan and its therapeutic use. In: Garg HG, Hales CA (eds) Chemistry and biology of hyaluronan. Elsevier, Amsterdam, p 415

Balazs EA, Denlinger JL (1989) Clinical uses of hyaluronan. Ciba Found Symp 143:265–275

Barbucci R, Lamponi S, Borzacchiello A, Ambrosio L, Fini M, Torricelli P, Giardino R (2002) Hyaluronic acid hydrogel in the treatment of osteoarthritis. Biomaterials 23:4503–4513

Butler JE, Hammond TH, Gray SD (2001) Gender-related differences of hyaluronic acid distribution in the human vocal fold. Laryngoscope 111:907–911

Camenisch TD, McDonald JA (2000) Hyaluronan: is bigger better? Am J Respir Cell Mol Biol 23:431–433

Chan RW, Gray SD, Titze IR (2001) The importance of hyaluronic acid in vocal fold biomechanics. Otolaryngol Head Neck Surg 124:607–614

Chong BF, Blank LM, McLaughlin R, Nielsen L (2005) Microbial hyaluronic acid production. Appl Microbiol Biotechnol 66:341–351

Edmonds ME, Foster AV (2006) Diabetic foot ulcers. Brit Med J 332:407–410

Esposito E, Menegatti E, Cortesi R (2005) Hyaluronan-based microspheres as tools for drug delivery: a comparative study. Int J Pharm 288:35–49

Evanko S, Wight T (2001) Intracellular hyaluronan. In: Hyaluronan: synthesis, function, catabolism. Available at http://www.glycoforum.gr.jp/science/hyaluronan/HA20/HA20E.html. Cited 30 Jul 2001

Evanich JD, Evanich CJ, Wright MB, Rydlewicz JA (2001) Efficacy of intraarticular hyaluronic acid injections in knee osteoarthritis. Clin Orthop 390:173–181

Garg HG, Hales CA (eds) (2004) Chemistry and biology of hyaluronan. Elsevier, Amsterdam

Greenberg DD, Stoker A, Kane S, Cockrell M, Cook JL (2006) Biochemical effects of two different hyaluronic acid products in a co-culture model of osteoarthritis. Osteoarthr Cartil 14:814–822

Hertegard S, Hallen L, Laurent C, Lindstrom E, Olofsson K, Testad P, Dahlqvist A (2002) Cross-linked hyaluronan used as augmentation substance for treatment of glottal insufficiency: safety aspects and vocal fold function. Laryngoscope 112:2211–2219

Juhlin L (1997) Hyaluronan in skin. J Intern Med 242:61–66

Kanchwala SK, Holloway L, Bucky LP (2005) Reliable soft tissue augmentation: a clinical comparison of injectable soft-tissue fillers for facial-volume augmentation. Ann Plast Surg 55:30–35

Kogan G, Šoltés L, Stern R, Schiller J, Mendichi R (2006) Hyaluronic acid: its function and degradation in in vivo systems. In: Atta-ur-Rahman (ed) Studies in natural products chemistry (vol 35, Bioactive natural products, Part D). Elsevier, Amsterdam (in press)

Laurent TC (1998) The chemistry, biology and medical applications of hyaluronan and its derivatives. Portland Press, London

Maltese A, Borzacchiello A, Mayol L, Bucolo C, Maugeri F, Nicolais L, Ambrosio L (2006) Novel polysaccharides-based viscoelastic formulations for ophthalmic surgery: rheological characterization. Biomaterials 27:5134–5142

Manna F, Dentini M, Desideri P, De Pitá O, Mortilla E, Maras B (1999) Comparative chemical evaluation of two commercially available derivatives of hyaluronic acid (Hylaform® from rooster combs and Restylane® from Streptococcus) used for soft tissue augmentation. J Eur Acad Dermatol Venereol 13:183–192

Mendichi R, Schieroni AG (2002) Fractionation and characterization of ultra-high molar mass hyaluronan: 2. On-line size exclusion chromatography methods. Polymer 43:6115–6121

Mendichi R, Šoltés L (2002) Hyaluronan molecular weight and polydispersity in some commercial intra-articular injectable preparations and in synovial fluid. Inflamm Res 51:115–116

Miyazaki T, Yomota C, Okada S (1998) Degradation of hyaluronic acid at the metal surface. Colloid Polym Sci 276:388–394

Moseley R, Walker M, Waddington RJ, Chen WYJ (2003) Comparison of the antioxidant properties of wound dressing materials—carboxymethylcellulose, hyaluronan benzyl ester and hyaluronan, towards polymorphonuclear leukocyte-derived reactive oxygen species. Biomaterials 24:1549–1557

Narins RS, Brandt F, Leyden J, Lorenc ZP, Rubin M, Smith S (2003) A randomized, double-blind, multicenter comparison of the efficacy and tolerability of Restylane versus Zyplast for the correction of nasolabial folds. Dermatol Surg 29:588–595

Prehm P (2000) Hyaluronan. In: Vandamme EJ, De Baets S, Steinbüchel A (eds) Biopolymers: biology, chemistry, biotechnology, applications, vol 5, Polysaccharides I. Polysaccharides from prokaryotes. Wiley-VCH, Weinheim, pp 379–404

Schiller J, Fuchs B, Arnhold J, Arnold K (2003) Contribution of reactive oxygen species to cartilage degradation in rheumatic diseases: molecular pathways, diagnosis and potential therapeutic strategies. Curr Med Chem 10:2123–2145

Shiedlin A, Bigelow R, Christopher W, Arbabi S, Yang L, Maier RV, Wainwright N, Childs A, Miller RJ (2004) Evaluation of hyaluronan from different sources: Streptococcus zooepidemicus, rooster comb, bovine vitreous, and human umbilical cord. Biomacromolecules 5:2122–2127

Shu XZ, Liu Y, Palumbo1 FS, Luo Y, Prestwich GD (2004) In situ crosslinkable hyaluronan hydrogels for tissue engineering. Biomaterials 25:1339–1348

Šoltés L, Mendichi R (2003) Molecular characterization of two host–guest associating hyaluronan derivatives. Biomed Chromatogr 17:376–384

Šoltés L, Mendichi R, Kogan G, Schiller J, Stankovská M, Arnhold J (2006) Degradative action of reactive oxygen species on hyaluronan. Biomacromolecules 7:659–668

Stern R, Asari AA, Sugahara KN (2006) Hyaluronan fragments: an information-rich system. Eur J Cell Biol 85:699–715

Tammi MI, Day AJ, Turley EA (2002) Hyaluronan and homeostasis: a balancing act. J Biol Chem 277:4581–4784

Turner NJ, Kielty CM, Walker MG, Canfield AE (2004) A novel hyaluronan-based biomaterial (Hyaff-11®) as a scaffold for endothelial cells in tissue engineered vascular grafts. Biomaterials 25:5955–5964

Vasiliu S, Popa M, Rinaudo M (2005) Polyelectrolyte capsules made of two biocompatible natural polymers. Eur Polym J 41:923–932

Ward PD, Thibeault SL, Gray SD (2002) Hyaluronic acid: its role in voice. J Voice 16:303–309

Widner B, Behr R, von Dollen S, Tang M, Heu T, Sloma A, Sternberg D, De Angelis PL, Weigel PH, Brown S (2005) Hyaluronic acid production in Bacillus subtilis. Appl Env Microbiol 71:3747–3752

Xu H, Ito T, Tawada A, Maeda H, Yamanokuchi H, Isahara K, Yoshida K, Uchiyama Y, Asari A (2002) Effect of hyaluronan oligosaccharides on the expression of heat shock protein 72. J Biol Chem 277:17308–17314

Yun YH, Goetz DJ, Yellen P, Chen W (2004) Hyaluronan microspheres for sustained gene delivery and site-specific targeting. Biomaterials 25:147–157
Acknowledgments
This work was supported by the Slovak Research and Development Agency under the contract APVV-51-033205 and Agency for Science VEGA of the Slovak Academy of Sciences and Ministry of Education of Slovak Republic, grants 1/4452/07, 2/4143/26, and 2/5002/5, and by Center of Excellence CEDEBIPO of the Slovak Academy of Sciences.
About this article
Cite this article
Kogan, G., Šoltés, L., Stern, R. et al. Hyaluronic acid: a natural biopolymer with a broad range of biomedical and industrial applications. Biotechnol Lett 29, 17–25 (2007). https://doi.org/10.1007/s10529-006-9219-z
Received:

Revised:

Accepted:

Published:

Issue Date:

DOI: https://doi.org/10.1007/s10529-006-9219-z
Keywords