Abstract
We previously identified a thrombin-inhibiting DNA aptamer that was presumed to form a G-quartet structure with a duplex. To investigate the importance of the sequences in the duplex region and to obtain aptamers with higher inhibitory activities, we randomized the sequences of the duplex region of this aptamer and carried out selection based on inhibitory activity using a genetic algorithm. This method consisted of selection via an inhibition assay, crossover, and mutation in silico. After two cycles, we obtained ligands with greater inhibitory activities than that of the original aptamer. In addition, the duplex sequences were found to contribute to the inhibitory activities of aptamers.
This is a preview of subscription content, log in to check access.
Access options
Buy single article
Instant access to the full article PDF.
US$ 39.95
Price includes VAT for USA
Subscribe to journal
Immediate online access to all issues from 2019. Subscription will auto renew annually.
US$ 199
This is the net price. Taxes to be calculated in checkout.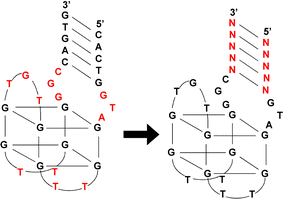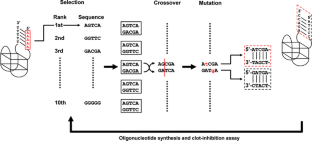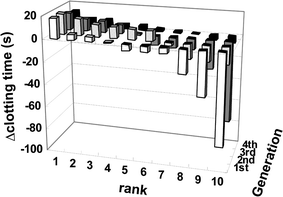 References
Bock LC, Griffin LC, Latham JA, Vermaas EH, Toole JJ (1992) Selection of single-stranded DNA molecules that bind and inhibit human thrombin. Nature 355:564–566

Ellington AD, Szostak JW (1990) In vitro selection of RNA molecules that bind specific ligands. Nature 346:818–822

Ikebukuro K, Okumura Y, Sumikura K, Karube I (2005) A novel method of screening thrombin-inhibiting DNA aptamers using an evolution-mimicking algorithm. Nucleic Acids Res 33:e108

Noma T, Ikebukuro K (2006) Aptamer selection based on inhibitory activity using an evolution-mimicking algorithm. Biochem Biophys Res Commun (in press). DOI 10.1016/j.bbrc.2006.06.083

Padmanabhan K, Padmanabhan KP, Ferrara JD, Sadler JE, Tulinsky A (1993) The structure of alpha-thrombin inhibited by a 15-mer single-stranded DNA aptamer. J Biol Chem 268:17651–17654

Ruckman J, Green LS, Beeson J, Waugh S, Gillette WL, Henninger DD, Claesson-Welsh L, Janjic N (1998) 2-Fluoropyrimidine RNA-based aptamers to the 165-amino acid form of vascular endothelial growth factor (VEGF165). Inhibition of receptor binding and VEGF-induced vascular permeability through interactions requiring the exon 7-encoded domain. J Biol Chem 273:20556–20567

Singh J, Ator MA, Jaeger EP, Allen MP, Whipple DA, Soloweij JE, Chowdhary S, Treasurywala AM (1996) Application of genetic algorithms to combinatorial synthesis: A computational approach to lead identification and lead optimization. J Am Chem Soc 118:1669–1676

Tasset DM, Kubik MF, Steiner W (1997) Oligonucleotide inhibitors of human thrombin that bind distinct epitopes. J Mol Biol 272:688–698

Tuerk C, Gold L (1990) Systematic evolution of ligands by exponential enrichment: RNA ligands to bacteriophage T4 DNA polymerase. Science 249:505–510

Weber L, Wallbaum S, Broger C, Gubernator K (1995) A genetic algorithm optimizing the biological activity of combinatorial compound libraries. Angew Chem Int Ed Engl 107:2453–2454

Yokobayashi Y, Ikebukuro K, McNiven S, Karube I (1996) Directed evolution of trypsin inhibiting peptides using a genetic algorithm. J Chem Soc Perkin Trans I 20:2435–2437

Zhang W, Loughran MG, Kanna S, Yano K, Ikebukuro K, Yokobayashi Y, Kuroda R, Karube I (2003) Exploration of structural features of monomeric helical peptides designed with a genetic algorithm. Proteins 53:193–200
Acknowledgment
This work is partly supported by the Grant-in-Aid for the 21st Century COE "Future Nano-Materials" from the Ministry of Education, Culture, Sports, Science and Technology (MEXT) of Japan.
About this article
Cite this article
Ikebukuro, K., Yoshida, W., Noma, T. et al. Analysis of the evolution of the thrombin-inhibiting DNA aptamers using a genetic algorithm. Biotechnol Lett 28, 1933–1937 (2006). https://doi.org/10.1007/s10529-006-9174-8
Received:

Accepted:

Published:

Issue Date:
Keywords
Aptamer

Genetic algorithm

G-quartet structure

Inhibitor

Systematic evolution of ligands by exponential enrichment