Abstract
A gene encoding hsc70 was cloned from the sea cucumber Apostichopus japonicus and named AjHsc70. The full-length cDNA sequence was 2,508 bp, containing a 5′-UTR of 77 bp, an ORF of 2,010 bp encoding 670 amino acids, and a 3′-UTR of 421 bp. Quantitative RT-PCR analysis revealed that AjHsc70 was expressed constitutively in all of the tested tissues with respiratory tree tissue showing the highest expression level. AjHsc70 expression was significantly induced by lipopolysaccharide, and the expression levels peaked at different sampling times in the body wall (24 h), coelomocytes (12 h), and intestine and respiratory tree tissues (6 h). After heat stress, AjHsc70 expression in intestine, coelomocytes, and body wall decreased acutely at first and then increased slightly. AjHsc70 expression patterns indicated that hsc70 plays an important role in mediating the responses of A. japonicus to bacterial challenge and heat stress.
Access options
Buy single article
Instant access to the full article PDF.
US$ 39.95
Tax calculation will be finalised during checkout.
Subscribe to journal
Immediate online access to all issues from 2019. Subscription will auto renew annually.
US$ 79
Tax calculation will be finalised during checkout.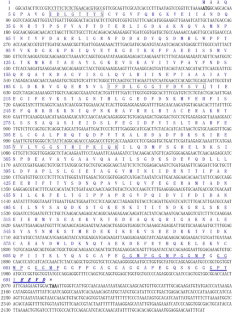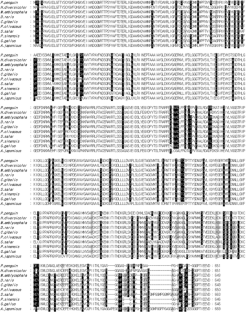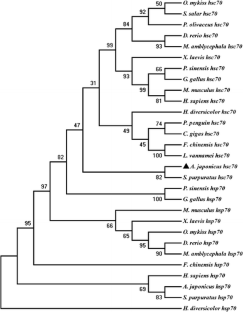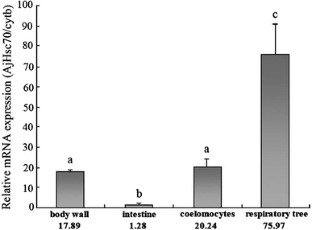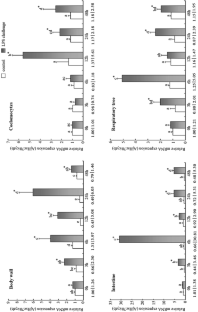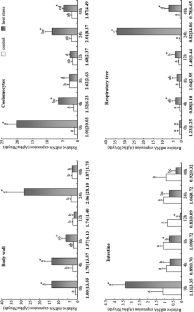 References
Ali KS, Dorgai L, Abrahám M (2003) Tissue- and stressor-specific differential expression of two hsc70 genes in carp. Biochem Biophys Res Commun 307:503–509

Antonis K, Elena D, Nikolas N (2006) Identification of several cytoplasmic hsp70 genes from the Mediterranean mussel (Mytilus galloprovincialis) and their long-term evolution in mollusca and metazoan. J Mol Evol 62:446–459

Basua N, Todgham AE, Ackerman PA, Bibeau MR (2002) Heat shock protein genes and their functional significance in fish. Gene 295:173–183

Boone AN, Vijayan MM (2002) Constitutive heat shock protein 70 (HSC70) expression in rainbow trout hepatocytes: effect of heat shock and heavy metal exposure. Comp Biochem Physiol C 132:223–233

Boutet I, Tanguy A, Rousseau S, Auffret M (2003) Molecular identification and expression of heat shock cognate 70 (hsc70) and heat shock protein 70 (hsp70) genes in the Pacific oyster Crassostrea gigas. Cell Stress Chaperones 8:76–85

Campisi J, Leem TH, Fleshner M (2003) Stress-induced extracellular Hsp72 is a functionally significant danger signal to the immune system. Cell Stress Chaperones 8:272–286

Cellura C, Toubiana M, Parrinello N, Poch P (2006) HSP70 gene expression in Mytilus galloprovincialis hemocytes is triggered by moderate heat shock and Vibrio anguillarum, but not by V. splendidus or Micrococcus lysodeikticus. Dev Comp Immunol 30:984–997

Cheng PZ, Liu X, Zhang GF, He JG (2007) Cloning and expression analysis of a HSP70 gene from pacific abalone (Haliotis discus hannai). Fish Shellfish Immunol 22:77–87

Cheng W, Hsiao IL, Hsuc CH, Chen JC (2004) Change in water temperature on the immune response of Taiwan abalone Haliotis diversicolor supertexta and its susceptibility to Vibrio parahaemolyticus. Fish Shellfish Immunol 17:235–243

Clow LA, Raftos DA, Gross PS, Smith LC (2004) The sea urchin complement homologue, SpC3, functions as an opsonin. J Exp Biol 207:2147–2155

Deane EE, Woo NYS (2005) Cloning and characterization of the hsp70 multigene family from silver sea bream: modulated gene expression between warm and cold temperature acclimation. Biochem Biophys Res Commun 330:776–783

Demand J, Lüders J, Höhfeld J (1998) The carboxy-terminal domain of Hsc70 provides binding sites for a distinct set of chaperone cofactors. Mol Cell Biol 18:2023–2028

Dong YW, Dong SL, Ji TT (2007) Stress responses to rapid temperature changes of the juvenile sea cucumber (Apostichopus japonicus Selenka). J Ocea Univ China 6:275–280

Dong YW, Ji TT, Meng XL (2010) Difference in thermotolerance between green and red color variants of the Japanese sea cucumber, Apostichopus japonicus Selenka: hsp70 and heat-hardening effect. Biol Bull 218:87–94

Dworniczak B, Mirault ME (1987) Structure and expression of a human gene coding for a 71-kDa heat shock cognate protein. Nucleic Acids Res 15:5181–5197

Franzellitti S, Fabbri E (2005) Differential HSP70 gene expression in the Mediterranean mussel exposed to various stressors. Biochem Biophys Res Commun 336:1157–1163

Hung JJ, Cheng TJ, Chang MD, Chen KD, Huang HL, Lai YK (1998) Involvement of heat shock elements and basal transcription elements in the differential induction of the 70-kDa heat shock protein and its cognate by cadmium chloride in 9L rat brain tumor cells. J Cell Biochem 71:21–35

Hunt C, Morimoto RI (1985) Conserved features of eukaryotic hsp70 genes revealed by comparison with the nucleotide sequence of human hsp70. Proc Natl Acad Sci USA 82:6455–6459

Jiao CZ, Wang ZZ, Li FH (2004) CDNA cloning, sequencing and expression analysis of heat-shock cognate protein 70 gene (HSC70) from shrimp Fenneropenaeus chinensis. Chin Sci Bull 49:2178–2186

Knowlton AA, Salfity M (1996) Nuclear localization and the heat shock proteins. J Biosci 21:123–132

Krebs RA, Feder ME (1997) Tissue special variation in HSP70 expression and thermal damage in Drosophila melanogaster larvae. J Exp Bio 200:2007–2015

Livak KJ, Schmittgen TD (2001) Analysis of relative gene expression data using real-time quantitative PCR and the 2−ΔΔC T method. Methods 25:402–408

Meng XL, Ji TT, Dong YW (2009) Thermal resistance in sea cucumbers (Apostichopus japonicus) with differing thermal history: the role of Hsp70. Aquaculture 294:314–318

Ming JH, Xie J, Xu P (2010) Molecular cloning and expression of two HSP70 genes in the Wuchang bream (Megalobrama amblycephala Yih). Fish Shellfish Immunol 28:407–418

Molina A, Biemar F, Muller F, Iyengar A, Prunet P, Maclean N, Martial JA, Muller M (2000) Cloning and expression analysis of an inducible HSP70 gene from tilapia fish. FEBS Lett 474:5–10

Morikawa A, Kato Y, Sugiyama T, Koide N, Kawai M, Fukada M, Yoshida T, Yokochi T (1998) Altered expression of constitutive type and inducible type heat shock proteins in response of d-galactosamine-sensitized mice to lipopolysaccharide as an experimental endotoxic shock model. FEMS Immunol Med Microbiol 21:37–45

Morimoto RI, Tissieres A, Georgopoulos C (1990) Stess proteins in biology and medicine. Cold Spring Harbor Laboratory Press, Cold Spring Harbor

Ohta T (1994) Further examples of evolution by gene duplication revealed through DNA sequence comparisons. Genetics 138:1331–1337

Park JH, Lee JJ, Yoon S, Lee JS, Choe SY, Choe J (2001) Genomic cloning of the Hsc71 gene in the hermaphroditic teleost Rivulus marmoratus and analysis of its expression in skeletal muscle: identification of a novel muscle-preferred regulatory element. Nucleic Acids Res 29:3041–3050

Patruno M, Thorndyke MC (2001) Growth factors, heat-shock proteins and regeneration in echinoderms. J Exp Bio 204:843–848

Ramirez-Gomez F, Ortiz-Pineda PA, Rojas-Cartagena C, Suarez-Castillo EC, Garcia-Arraras JE (2008) Immune-related genes associated with intestinal tissue in the sea cucumber Holothuria glaberrima. Immunogenetics 60:57–71

Santacruz H, Vriz S, Angelier N (1997) Molecular characterization of a heat shock cognate cDNA of zebrafish, hsc70, and developmental expression of the corresponding transcripts. Dev Genet 21:223–233

Santiago P, Roig-Lopez JL, Santiago C, Garcia-Arraras JE (2000) Serum amyloid A protein in an echinoderm: its primary structure and expression during intestinal regeneration in the sea cucumber Holothuria glaberrima. J Exp Zool 288:335–344

Santiago-Cardona PG, Berrios CA, Ramirez F, Garcia-Arraras JE (2003) Lipopolysaccharides induce intestinal serum amyloid A expression in the sea cucumber Holothuria glaberrima. Dev Comp Immunol 27:105–110

Tang T, Liu FS, Ren GD (2008) Cloning of HAP70 genes in a desert beetle Mantichorula semenowi Reitter (Coleoptera: tenebrionidae) and their expression under heat shock. Acta Entomol Sin 51:365–371

Turman MA, Kahn DA, Rosenfeld SL, Apple CA, Bates CM (1997) Characterization of human proximal tubular cells after hypoxic preconditioning: constitutive and hypoxia-induced expression of heat shock proteins HSP70 (A, B, and C), HSC70, and HSP90. Biochem Mol Med 60:49–58

Wang FY, Yang HS, Gao F (2008) Effects of acute temperature or salinity stress on the immune response in sea cucumber Apostichopus japonicus. Comp Biochem Phy 151:491–498

Wu R, Sun L, Lei M (2008) Molecular identification and expression of heat shock cognate 70 (HSC70) in the Pacific white shrimp Litopenaeus vannamei. Mol Biol 42:265–274

Wu SJ, Liu FH, Hu SM, Wang C (2001) Different combinations of the heat-shock cognate protein 70 (hsc70) C-terminal functional groups are utilized to interact with distinct tetratricopeptide repeat-containing proteins. Biochem J 359:419–426

Yamashita M, Hirayoshi K, Nagata K (2004) Characterization of multiple members of the HSP70 family in platyfish culture cells: molecular evolution of stress protein HSP70 in vertebrates. Gene 336:207–218

Yang AF, Zhou ZC, He CB, Hu JJ, Chen Z, Gao XG, Dong Y, Jiang B, Liu WD, Guan XY, Wang XY (2009) Analysis of expressed sequence tags from body wall, intestine and respiratory tree of sea cucumber (Apostichopus japonicus). Aquaculture 296:193–196

Yang AF, Zhou ZC, Dong Y, Jiang B, Wang XY, Chen Z (2010a) Stability comparison of cytb and β-actin gene expression in sea cucumber Apostichopus japonicus. J Agric Sci Technol 12:79–84

Yang AF, Zhou ZC, Dong Y, Jiang B, Wang XY, Chen Z, Guan XY (2010b) Expression of immune-related genes in embryos and larvae of sea cucumber Apostichopus japonicus. Fish Shellfish Immunol 29:839–845

Yue X, Liu BZ, Sun L, Tang BJ (2011) Cloning and characterization of a hsp70 gene from Asiatic hard clam Meretrix meretrix which is involved in the immune response against bacterial infection. Fish Shellfish Immunol 30:791–799

Zhang J, Zhang QZ, Zhang ZH (2009) HSC70 gene and its expression analysis in yellow catfish. Acta Hydrobiol Sin 33:426–434

Zhou ZC, Sun DP, Yang AF, Dong Y, Chen Z, Wang XY, Guan XY, Jiang B, Wang B (2011) Molecular characterization and expression analysis of a complement component 3 in the sea cucumber (Apostichopus japonicus). Fish Shellfish Immunol 31:540–547
Acknowledgments
This work was supported by grants from the National Nature Science Foundation of China (30972272), the State 863 High-Technology R&D Project of China (2012AA10A412), the Science and Technology Project of Liaoning Province (2011203005), and the Doctoral Startup Foundation of Liaoning Province (20111072).
About this article
Cite this article
Wang, X., Zhou, Z., Yang, A. et al. Molecular Characterization and Expression Analysis of Heat Shock Cognate 70 After Heat Stress and Lipopolysaccharide Challenge in Sea Cucumber (Apostichopus japonicus). Biochem Genet 51, 443–457 (2013). https://doi.org/10.1007/s10528-013-9576-y
Received:

Accepted:

Published:

Issue Date:
Keywords
Apostichopus japonicus

Hsc70

Molecular characterization

Expression analysis