Access options
Buy single article
Instant access to the full article PDF.
USD 39.95
Price includes VAT (USA)
Tax calculation will be finalised during checkout.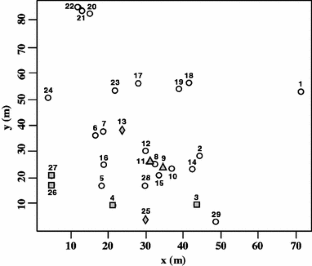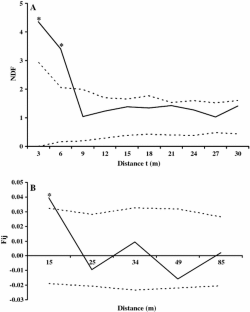 References
Aizen MA, Feinsinger P (1994) Forest fragmentation, pollination, and plant reproduction in a Chaco dry forest, Argentina. Ecology 75(2):330–351

Aldrich PR, Hamrick JL (1998) Reproductive dominance of pasture trees in a fragmented tropical forest mosaic. Science 281:103–105

Byrne M, Elliott CP, Yates C, Coates DJ (2007) Extensive pollen dispersal in a bird-pollinated shrub, Calothamnus quadrifidus, in a fragmented landscape. Mol Ecol 16:1303–1314

Condit R, Ashton PS, Baker P, Bunyavejchewin S, Gunatilleke S, Gunatilleke N, Hubbell SP, Losos E, Manokaran N, Sukumar R, Yamakura T (2000) Spatial patterns in the distribution of tropical tree species. Science 288:1414–1418

Cornuet JM, Luikart G (1996) Description and power analysis of two tests for detecting recent population bottlenecks from allele frequency data. Genetics 144:2001–2014

Ellstrand N, Elam E (1993) Population genetic consequences of small population size: implications for plant conservation. Ann Rev Ecol Syst 24:217–241

Epperson BK, Alvarez-Buylla E (1997) Spatial autocorrelation analysis of family structure in multiple life stages of Cecropia obtusifolia. Evolution 51:275–282

Fuchs EJ, Lobo JA, Quesada M (2003) Effects of forest fragmentation and flowering phenology on the reproductive success and mating patterns of the tropical dry forest tree Pachira quinata. Cons Biol 17(1):149–157

Getzin S, Wiegand T, Wiegand K, He F (2008) Heterogeneity influences spatial patterns and demographics in forest stands. J Ecol 96:807–820

Hamrick JL, Loveless MD (1989) The genetic structure of tropical tree populations: associations with reproductive biology. In: Bock JH, Linhart YB (eds) The evolutionary ecology of plants. Westview Press, Boulder, pp 129–146

Hardy OJ, Vekemans X (2002) SPAGeDi: a versatile computer program to analyse spatial genetic structure at the individual or population levels. Mol Ecol Notes 2:618–620

Heywood JS (1991) Spatial analysis of genetic variation in plant populations. Ann Rev Ecol Syst 22:335–355

Itoh A, Yamakura T, Ogino K, Lee HS, Ashton PS (1997) Spatial distribution patterns of two predominant emergent trees in a tropical rainforest in Sarawak, Malaysia. Plant Ecol 132:121–136

Itoh A, Yamakura T, Ohkubo T, Kanzaki M, Palmiotto P, Tan S, Lee HS (2003) Spatially aggregated fruiting in an emergent Bornean tree. J Trop Ecol 19:531–538

Jones FA, Chen J, Weng GJ, Hubbell SP (2005) A genetic evaluation of seed dispersal in the Neotropical tree Jacaranda copaia (Bignoniaceae). Am Nat 166:543–555

Latta RG, Linhart YB, Fleck D, Elliot M (1998) Direct and indirect estimates of seed versus pollen movement within a population of ponderosa pine. Evolution 52(1):61–67

Loiselle BA, Sork VL, Nason J, Graham C (1995) Spatial genetic structure of a tropical understory shrub, Psychotria officinalis (Rubiaceae). Am J Bot 82(11):1420–1425

Luna R, Epperson BK, Oyama K (2005) Spatial genetic structure of two sympatric neotropical palms with contrasting life histories. Heredity 95:298–305

Mantovani A, Morellato P (2000) Fenologia da floração, frutificação, mudança foliar e aspectos da biologia floral. Sellowia 49(52):23–38

Nei M (1978) Estimation of average heterozygosity and genetic distance from a small number of individuals. Genetics 87(3):583–590

Perry GLW (2004) SpPack: spatial point pattern analysis in Excel using Visual Basic for Applications (VBA). Environ Model Softw 19:559–569

Plotkin JB, Potts M, Leslie N, Manokaran N, Lafrankie J, Ashton PS (2000) Species-area curves, spatial aggregation, and habitat specialization in tropical forests. J Theor Biol 207:81–99

Quesada M, Stoner KE, Lobo JA, Herrerías-Diego Y, Palacios-Guevara C, Murguía-Rosas MA, Salazar KAO (2004) Effects of forest fragmentation on pollinator activity and consequences for plant reproductive success and mating patterns in bat pollinated bombacaceous trees. Biotropica 36:131–138

Reis MS (1996) Distribuição e dinâmica da variabilidade genética em populações naturais de palmiteiro (Euterpe edulis Martius). PhD Thesis, Universidade de São Paulo

Rousset F (2002) Inbreeding and relatedness coefficients: what do they measure? Heredity 88:371–380

Sezen UU, Chazdon RL, Holsinger KE (2005) Genetic consequences of tropical second-growth forest regeneration. Science 307:11

Stacy EA (2001) Cross-fertility in two tropical tree species: evidence of inbreeding depression within populations and genetic divergence among populations. Am J Bot 88:1041–1051

Stephenson AG, Good SV, Vogler DW (2000) Interrelationships among inbreeding depression, plasticity in the self-incompatibility system, and the breeding system of Campanula rapunculoides L. (Campanulaceae). Ann Bot 85:211–219

Vieira FA, Carvalho D (2008) Genetic structure of an insect-pollinated and bird dispersed tropical tree in vegetation fragments and corridors: implications for conservation. Biodivers Conserv 17:2305–2321

Wendel JF, Weeden NF (1989) Visualization and interpretation of plant isozymes. In: Soltis DE, Soltis PS (eds) Isozymes in plant biology. Dioscorides Press, Portland, pp 5–45

Whitmore TC (1997) Tropical forest disturbance, disappearance, and species loss. In: Laurence WL, Bierregaard RO (eds) Tropical Forest Remnants - Ecology, Management, and Conservation of Fragmented Communities. The University of Chicago Press, Chicago, pp 3–12

Yeh FC, Yang RC, Boyle TBJ, Ye ZH, Mao JX (1999) POPGENE, the user friendly shareware for population genetic analysis, version 1.31. University of Alberta and Centre for International Forestry Research
Acknowledgments
The authors acknowledge Dr. Jeffrey Joseph (RBG-Kew), for constructive comments on the manuscript, and the Brazilian agencies Coordenação de Aperfeiçoamento de Pessoal de Nível Superior (CAPES) and Conselho Nacional Pesquisa (CNPq), for providing a fellowship for F. A. Vieira and a research fellowship for Dulcinéia de Carvalho.
About this article
Cite this article
de Almeida Vieira, F., de Carvalho, D., Higuchi, P. et al. Spatial Pattern and Fine-Scale Genetic Structure Indicating Recent Colonization of the Palm Euterpe edulis in a Brazilian Atlantic Forest Fragment. Biochem Genet 48, 96–103 (2010). https://doi.org/10.1007/s10528-009-9298-3
Received:

Accepted:

Published:

Issue Date:
Keywords
Inbreeding Depression

Genetic Bottleneck

Secondary Succession

Complete Spatial Randomness

Recent Colonization