Abstract
In agricultural systems, aphids (Hemiptera: Aphididae) have been shown to exhibit differences in within plant vertical distribution in vegetation. In addition, natural enemies, such as parasitoids, may have canopy micro-climate preferences. Currently, the within plant vertical distribution of aphids is primarily documented in row crops with few studies in tree systems. Pecan orchards under commercial production range from new to old with variable tree height between these orchards. This height difference highlights the need to examine the vertical canopy distribution of pecan aphids in trees of varying height. In this study, we evaluated the vertical canopy distribution patterns of aphids, parasitized aphids (i.e., mummies), and the primary parasitoid Aphelinus perpallidus (Gahan) (Hymenoptera: Aphelinidae) in pecan trees (Fagales: Juglandaceae) within younger (~ 9 m) and older trees (~ 15 m). Pecan aphids and mummies were often more abundant in the lower canopy, especially in older trees. Conversely, parasitoid adults were observed at higher abundance in the upper canopy of younger trees in 2021 and in both the lower and upper half of older trees, but there was variability in parasitoid distributions between years. Results indicate that scouting the lower canopy for aphids may be sufficient to estimate populations. The presence of A. perpallidus in the upper canopy can be beneficial as it may allow for biological control in areas where insecticide application may fail.
Access options
Buy single article
Instant access to the full article PDF.
USD 39.95
Price excludes VAT (USA)
Tax calculation will be finalised during checkout.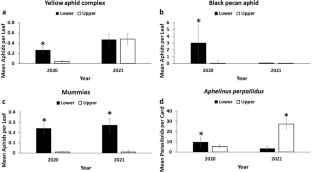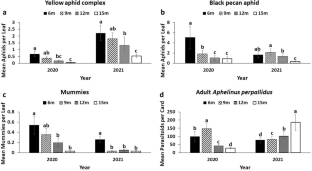 References
Basset Y, Hammond PM, Barrios H, Holloway JD, Miller SE (2003) Vertical stratification of arthropod assemblages. In: Basset Y, Novotny V, Miller SE, Kitching RL (eds) Arthropods of tropical forests, 1st edn. Cambridge University Press, Cambridge, pp 17–27

Basset Y, Corbara B, Barrios H, Cuénoud P, Leponce M, Aberlenc HP, Bail J, Bito D, Bridle JR, Castano Meneses G, Cizek L (2007) IBISCA-Panama, a large-scale study of arthropod beta-diversity and vertical stratification in a lowland rainforest: rationale, study sites and field protocols. Bull Inst Royal Sci Natl Belgique Entomol 77:39–70

Bock CH, Hotchkiss MW, Cottrell TE, Wood BW (2015) The effect of sample height on spray coverage in mature pecan trees. Plant Dis 99:916–925

Bueno R Jr, Stone J (1983) Phenology of a parasite of the blackmargined aphid in West Texas [Aphelinus perpallidus, Monellia caryella]. Southwest Entomol 8:73–79

Bueno R Jr, Stone J (1985) Aphelinus perpallidus parasitism of Monellia caryella populations in far West Texas. J Entomol Sci 20:325–330

Bueno R Jr, Stone J (1987) Reproductive response of Aphelinus perpallidus (Hymenoptera: Aphelinidae) to age of its parent and density of its host, Monellia caryella (Homoptera: Aphidae). Environ Entomol 16:877–880

Bueno R Jr, van Cleve H (1997) The effect of temperature and host density on the reproduction of Aphelinus perpallidus. Southwest Entomol 22:29–37

Chaij J, Devoto M, Oleiro M, Chaneton EJ, Mazia N (2016) Complexity of leaf miner–parasitoid food webs declines with canopy height in Patagonian beech forests. Ecol Entomol 41(5):599–610

Chamberlain AC, Lalonde R, Thistlewood HM (2020) Spatial distribution of spotted-wing drosophila (Diptera: Drosophilidae) and other insects in fruit of a sweet cherry (Rosaceae) orchard. Can Entomol 152(4):450–473

Chmel K, Kamga SM, Awa T, Ewome FL, Uceda-Gómez G, Hořák D, Mlíkovský J, Molua LL, Riegert J, Janeček Š (2021) Vertical stratification and seasonal changes of the avian community in Mount Cameroon lowland rainforest. Afr J Ecol 59:655–666

Costamagna AC, Landis DA (2011) Lack of strong refuges allows top-down control of soybean aphid by generalist natural enemies. Biol Control 57:184–192

Cottrell T (2017) Trap height affects capture of lady beetles (Coleoptera: Coccinellidae) in pecan orchards. Environ Entomol 46:343–352

Dahlsten D, Zuparko R, Hajek A, Rowney D, Dreistadt S (1999) Long-term sampling of Eucallipterus tiliae (Homoptera: Drepanosiphidae) and associated natural enemies in a Northern California site. Environ Entomol 28:845–850

Di Giovanni F, Cerretti P, Mason F, Minari E, Marini L (2015) Vertical stratification of ichneumonid wasp communities: the effects of forest structure and life-history traits. Insect Sci 22:688–699

Dixon AFG (2005) Insect herbivore-host dynamics: tree-dwelling aphids. Cambridge University Press

Edelson J, Estes P (1983) Seasonal abundance and distribution of predators and parasites associated with Monelliopsis pecanis Bissell and Monellia caryella (Fitch) (Homoptera: Aphidae). J Entomol Sci 22:336–347

Henry L, Adkins T Jr (1975) Vertical distribution of biting midges in coastal South Carolina. Ann Entomol Soc Am 68:321–324

Joseph SV, Stallings JW, Leskey TC, Krawczyk G, Polk D, Butler B, Bergh JC (2014) Spatial distribution of brown marmorated stink bug (Hemiptera: Pentatomidae) injury at harvest in mid-Atlantic apple orchards. J Econ Entomol 107(5):1839–1848

Kaneko S (2004) Within-plant vertical distributions of the scale insect Nipponaclerda biwakoensis and its five parasitoids that exhibit frequent successful multiparasitism on the common reed. Entomol Sci 7(4):331–339

Littlefair JE, Hrenchuk LE, Blanchfield PJ, Rennie MD, Cristescu ME (2021) Thermal stratification and fish thermal preference explain vertical eDNA distributions in lakes. Mol Ecol 30:3083–3096

McCaig T, Sam L, Nakamura A, Stork NE (2020) Is insect vertical distribution in rainforests better explained by distance from the canopy top or distance from the ground? Biodiver Conserv 29(3):1081–1103

McClure MS (1982) Distribution and damage of two Pineus species (Homoptera: Adelgidae) on red pine in New England. Ann Entomol Soc Am 75:150–157

Menocal O, Kendra PE, Montgomery WS, Crane JH, Carrillo D (2018) Vertical distribution and daily flight periodicity of ambrosia beetles (Coleoptera: Curculionidae) in Florida avocado orchards affected by laurel wilt. J Econ Entomol 111(3):1190–1196

Mizell RF (2007) Impact of Harmonia axyridis (Coleoptera: Coccinellidae) on native arthropod predators in pecan and crape myrtle. Fla Entomol 90:524–536

Mizell RF III, Schiffhauer DE (1990) Effects of pesticides on pecan aphid predators Chrysoperla rufilabris (Neuroptera: Chrysopidae), Hippodamia convergens, Cycloneda sanguinea (L.), Olla v-nigrum (Coleoptera: Coccinellidae), and Aphelinus perpallidus (Hymenoptera: Encyrtidae). J Econ Entomol 83:1806–1812

Paulsen C, Cottrell T, Ruberson J (2013) Distribution of the black pecan aphid, Melanocallis caryaefoliae, on the upper and lower surface of pecan foliage. Entomol Exp Appl 146:252–260

Platková H, Pyszko P, Coeur d´Acier A, Jousselin E, Drozd P (2020) Spatial distribution of aphids in the canopy of a temperate forest: where can they be found? Agric for Entomol 22:379–389

Polles S, Mullinix B (1977) Distribution of yellow pecan aphids within pecan trees. Environ Entomol 6:429–434

Procházka J, Cizek L, Schlaghamerský J (2018) Vertical stratification of scolytine beetles in temperate forests. Insect Conserv Diver 11:534–544

Rissanen AJ, Peura S, Mpamah PA, Taipale S, Tiirola M, Biasi C, Mäki A, Nykänen H (2019) Vertical stratification of bacteria and archaea in sediments of a small boreal humic lake. FEMS Microbiol Lett. 366:fnz044

Shapiro-Ilan DI, Cottrell TE, Jackson MA, Wood BW (2013) Control of key pecan insect pests using biorational pesticides. J Econ Entomol 106:257–266

Sheehan TN, Ulyshen MD, Horn S, Hoebeke ER (2019) Vertical and horizontal distribution of bark and woodboring beetles by feeding guild: is there an optimal trap location for detection? J Pest Sci 92:327–341

Šigut M, Šigutová H, Šipoš J, Pyszko P, Kotásková N, Drozd P (2018) Vertical canopy gradient shaping the stratification of leaf-chewer–parasitoid interactions in a temperate forest. Eco Evo 8:7297–7311

Slusher EK, Cottrell CT, Acebes-Doria AL, (2021) Effects of aphicides on pecan aphids and their parasitoids in pecan orchards. Insects 12(3):241

Sobek S, Tscharntke T, Scherber C, Schiele S, Steffan-Dewenter I (2009) Canopy vs. understory: does tree diversity affect bee and wasp communities and their natural enemies across forest strata? For Ecol Manag 258(5):609–615

Tedders WL (1978) Important biological and morphological characteristics of the foliar-feeding aphids of pecan. Department of Agriculture, Science and Education Administration 1978:1578–1587

Teulon DA, Penman DR (1987) Vertical stratification of sticky board catches of leafhopper adults (Hemiptera: Cicadellidae) within apple orchards. N Z Entomol 9:100–103

Wells L (2007) Pecan physiology. In: Wells L (ed) Southeastern pecan growers' handbook, 1st edn. Cooperative extension service University of Georgia College of Agricultural & Environmental Sciences, Athens, pp 1–7

Wood BW, Tedders WL, Dutcher JD (1987) Energy drain by three pecan aphid species (Homoptera: Aphididae) and their influence on in-shell pecan production. Environ Entomol 16:1045–1056
Acknowledgements
The authors would like to thank the technical assistance of Pamela Halliday (UGA-Tifton), Kate Phillips (UGA-Tifton), Pedro Toledo (UGA-Tifton), Kirsten Flinn (UGA), Merry Bacon (USDA), Rebekah Hartley (USDA), and Quentin Read (USDA). This research was funded by Southern Sustainable Agriculture Research and Education (SARE) grant GS19-197, the Georgia Pecan Commodity Commission and Hatch Funds.
Ethics declarations
Competing interests
The authors declare no conflict of interest. Mention of trade names or commercial products in this publication is solely for the purpose of providing specific information and does not imply recommendation or endorsement by the US Department of Agriculture. The US Department of Agriculture prohibits discrimination in all its programs and activities on the basis of race, color, national origin, age, disability, and where applicable, sex, marital status, familial status, parental status, religion, sexual orientation, genetic information, political beliefs, reprisal, or because all or part of an individual's income is derived from any public assistance program.
Additional information
Handling Editor: Stefano Colazza.
About this article
Cite this article
Slusher, E.K., Acebes-Doria, A.L., Cottrell, T. et al. Aphids and associated parasitoids exhibit vertical canopy distribution differences in pecans. BioControl 67, 563–570 (2022). https://doi.org/10.1007/s10526-022-10169-z
Received:

Accepted:

Published:

Issue Date:

DOI: https://doi.org/10.1007/s10526-022-10169-z
Keywords
Aphid-parasitoid interactions

Yellow pecan aphid

Blackmargined aphid

Black pecan aphid

Aphididae

Hemiptera