Abstract
The efficiency of four species of wax degrading bacteria, Serratia marcescens (Bizio) (Enterobacterales:Yersiniaceae), Pseudomonas putida (Trevisan) (Pseudomonadales: Pseudomonadaceae), Bacillus subtilis (Ehrenberg) (Bacillales:Bacillaceae) and Bacillus cereus (Frankland & Frankland) (Bacillales:Bacillaceae) for the management of a major citrus pest, the mealybug, Planococcus citri (Green) (Hemiptera:Pseudococcidae) was evaluated. The degrading ability of the bacteria, isolated from cadavers of P. citri was assessed in vitro on wax extracted from the mealybug, paraffin wax and low-density polyfilm along with lipase activity. Except B. cereus, all bacteria showed significant lethal and debilitating effects against P. citri in laboratory bioassays. Even though, we did not observe any lethal effect on 1st and 2nd instar nymphs, in the latter instars mortality rate could reach as high as 70.0% in case of S. marcescens. Adults that survived bacterial treatments had significantly reduced female longevity, fecundity and adult formation. In greenhouse trail conducted under controlled conditions, it was found that S. marcescens was the most promising bacteria in managing P. citri population after 14 days of application causing around 36.5% mortality of crawlers coupled with a significant reduction in the wax content and weight of mealybug. However, its application followed by a single spray of half a dose of chlorpyrifos at weekly intervals further enhanced the mortality rate up to 54.0%. Therefore, we conclude that sequential application of S. marcescens followed by a single spray of a half a dose of insecticide is effective for management of the P. citri.
Access options
Buy single article
Instant access to the full article PDF.
USD 39.95
Price includes VAT (USA)
Tax calculation will be finalised during checkout.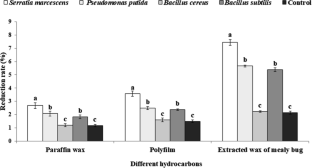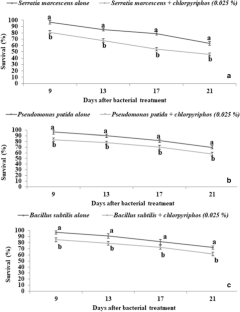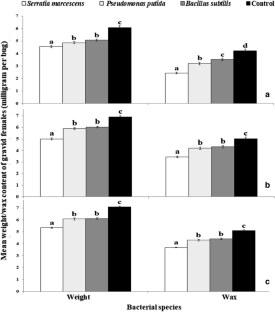 References
Abbas G, Arif MJ, Saeed S (2005) Systematic status of new species of genus Phenacoccus cockerell (Pseudococcidae), a serious pest of cotton Gossypium Hirsutum L. in Pakistan. Pak Entomol 27:83–84

Abbas G, Arif MJ, Muhammad A, Muhammad A, Shafqat S (2010) Host plants distribution and overwintering of cotton mealybug (Phenacoccus solenopsis; Hemiptera: Pseudococcidae). Int J Agric Biol 12(3):421–425

Ackonor JB (2002) Current levels of incidence of parasitism and predation in Planococcus citri Risso (Homoptera: Pseudococcidae) in Ghanaian cocoa (Theobroma cacao L.) farms. Int J Trop Insect Sci 22(2):105–112

Arunkumar N, Gulsar Banu J, Gopalakrishnan N, Prakash AH (2017) Wax degrading bacteria: scope and applications in agriculture. Int J Curr Microbiol Appl Sci 6(2):649–664

Awasthi S, Srivastava N, Singh T, Tiwary D, Mishra PK (2017) Biodegradation of thermally treated low density polyethylene by fungus Rhizopus oryzae NS 5. Biotech 7(1):73

Bennett JW, Bentley R (2000) Seeing red: the story of prodigiosin. Adv Appl Microbiol 47:1–32

Bushra S, Shad SA, Khan HAA, Muhammad A, Masood E, Afzal MBS (2014) Resistance in the mealybug Phenacoccus solenopsis Tinsley (Homoptera: Pseudococcidae) in Pakistan to selected organophosphate and pyrethroid insecticides. Crop Prot 66:29–33

Cid M, Pereira S, Segura A, Cabaleiro C (2006) Monitoring of the population of Planococcus citri Risso (Hemiptera: Pseudococcidae) in a vineyard in Ríasbaixas (Galicia). Bol Serv Plagas 32(3):339–344

Cloyd RA, Lindquist RK (2001) Tips on managing problems in interior plantscapes. O. F. A. Services Inc., Columbus

Daane KM, Almeida RP, Bell VA, Walker JT, Botton M, Fallahzadeh M, Mani M, Miano JL, Sforza R, Walton VM, Zaviezo T (2012) Biology and management of mealybugs in vineyards. In: Bostanian NJ, Vincent C, Isaacs R (eds) Arthropod management in vineyards. Springer, Dordrecht, pp 271–307

De Sousa ALV, Costa MB, Souza B, Santa-Cecília LVC, Lima RR (2018) Host preference and biology of two cryptic species, Planococcus citri (Risso) and Planococcus minor (Maskell) (Hemiptera: Pseudococcidae). Sci Agrar 19(2):71–77

Downie DA, Gullan PJ (2004) Phylogenetic analysis of mealybugs (Hemiptera: Coccoidea: Pseudococcidae) based on DNA sequences from three nuclear genes, and a review of the higher classification. Syst Entomol 29(2):238–260

Fairolniza MS, Leow TC, Mukred AD, Bakar AS, Basri M, Rahman RNZRA (2007) Production of lipase by Bacillus sp. strain L2: nutritional and physical factors. J Basic Microbiol 47:406–412

Fatima H, Khan N, Rehman AU, Hussain Z (2014) Production and partial characterization of lipase from Pseudomonas putida. J Ferment Technol 4:1000112

Franco JC, Zada A, Mendel Z (2009) Novel approaches for the management of mealybug pests. In: Ishaaya I, Horowitz A (eds) Biorational control of arthropod pests. Springer Science and Business Media, Dordrecht, pp 233–278

Gerhardt P, Murray RGE, Costilow RN, Nester EW, Wood WA, Krieg NR, Phillips GB (1981) Manual of methods for general bacteriology. American Society of Microbiology, Washington

Hall WJ (1926) The Hibiscus mealybug (Phenacoccus hirsutus, Green) in Egypt in 1925 with notes on the introduction of Cryptolaemus montrouzieri. Bulletin 70, Ministry of agriculture, Egypt.

Holt JG (1994) Bergey's manual of determinative bacteriology. Williams & Wilkins, Baltimore

Jadhav RG, Madane NP, Kathamale DK (1996) Record of soybean as a new host in India for citrus mealybug. Insect Environ 2(3):90–100

Khan AM, Ashfaq M, Kiss Z, Khan AA, Mansoor S, Falk BW (2013) Use of recombinant tobacco mosaic virus to achieve RNA interference in plants against the citrus mealybug, Planococcus citri (Hemiptera: Pseudococcidae). PLoS ONE 8(9):e73657

Kulkarni SR, Patil SK (2013) Efficacy of different biopesticides and insecticides against mealybugs on custard apple. Pest Manag Hortic Ecosyst 19(1):113–115

Laflin HM, Parrella MP (2004) Developmental biology of citrus mealybug under conditions typical of California rose production. Ann Entomol Soc Am 97(5):982–988

Lopes FSC, Oliveira JVD, Oliveira JEDM, Oliveira MDD, Souza AMD (2019) Host plants for mealybugs (Hemiptera: Pseudococcidae) in grapevine crops. Pesqui Agropecu Trop 149:e54421

Marks GS, Bogorad L (1960) Studies on the biosynthesis of prodigiosin in Serratia marcescens. PNAS 46:25–28

Meyerdirk DE, Warkentin R, Attavian B, Gersabeck E, Francis A, Adams M, Francis G (1998) Biological control of the pink hibiscus mealybug project manual. United States Department of Agriculture, Washington

Miller DR, Williams DJ (1997) A new species of mealybug in the genus Pseudococcus (Homoptera: Pseudococcidae) of quarantine importance. Proc Entomol Soc Wash 99:305–311

Nandakumar R, Babu S, Viswanathan R, Sheel J, Raguchander T, Samiyappan R (2001) A new bio-formulation containing plant growth promoting rhizobacterial mixture for the management of sheath blight and enhanced grain yield in rice. BioControl 46:493–510

Narayanan K (2004) Insect defence: its impact on microbial control of insect pests. Curr Sci 86(6):800–814

Nawani NN, Kapadnis BP (2003) Chitin degrading potential of bacteria from extreme and moderate environment. Indian J Exp Biol 41:248–254

Okoye AU, Chikere CB, Okpokwasili GC (2019) Characterization of potential paraffin wax removing bacteria for sustainable biotechnological application. In: SPE Nigeria annual international conference and exhibition. Society of petroleum engineers. https://doi.org/10.2118/198799-MS

Patil CD, Patil SV, Salunke BK, Salunkhe RB (2011) Prodigiosin produced by Serratia marcescens NMCC46 as a mosquito larvicidal agent against Aedes aegypti and Anopheles stephensi. Parasitol Res 109(4):1179–1187

Perscott MP, Harley SA (2005) Microbiology. McGraw Hill, New York

Rasheed M, Bushra S, Tariq M (2014) Use and impact of insecticides in mealybug control. J Adv Biol 1(2):1–11

Sakthipriya N, Doble M, Sangwai JS (2015) Biosurfactant from Pseudomonas species with waxes as carbon source–their production, modeling and properties. J Ind Eng Chem 31:100–111

Salunkhe RB, Patil CD, Salunke BK, Rosas-García NM, Patil SV (2013) Effect of wax degrading bacteria on life cycle of the pink hibiscus mealybug, Maconellicoccus hirsutus (Green) (Hemiptera: Pseudococcidae). BioControl 58(4):535–542

Sartiami D, Saptayanti N, Syahputra E, Mardiasih WP (2020) Mealybugs (Hemiptera: Pseudococcidae) Associated with dragon fruit in Indonesia. In: International conference and the 10th congress of the Entomological Society of Indonesia. Atlantis Press pp. 29–34.

Sikorowski P, Lawrence AM (1998) Transmission of Serratia marcescens (Enterobacteriaceae) in adult Heliothis virescens (Lepidoptera: Noctuidae) laboratory colonies. Biol Control 12(1):50–55

Sontakke PP, Chowdhury S (2015) Biological control of mealybugs on important horticultural crops at chittoor district in Andhra Pradesh. India J Entomol Res 39(4):327–331

Tanwar RK, Jeyakumar P, Monga D (2007) Mealybugs and their management. Bulletin 19, National centre for integrated pest management LBS building, Pusa campus, New Delhi, India.

Tena A, García-Bellón J, Urbaneja A (2017) Native and naturalized mealybug parasitoids fail to control the new citrus mealybug pest Delottococcus aberiae. J Pest Sci 90(2):659–667

Tielen P, Rosenau F, Wilhelm S, Jaeger KE, Flemming HC, Wingender J (2010) Extracellular enzymes affect biofilm formation of mucoid Pseudomonas aeruginosa. Microbiology 156:2239–2252

Toharisman A, Suhartono MT, Spindler-Barth M, Hwang JK, Pyun YR (2005) Purification and characterization of a thermostable chitinase from Bacillus licheniformis Mb-2. World J Microbiol Biotechnol 21(5):733–738

Xie Y, Zheng L (2002) The chemical composition of waxes secreted by a scale insect Eriopeltis festucae (Homoptera: Coccoidea). Acta Sci Nat Univ Sunyatseni 35(1):1–6

Yesuf SN (2020) Population dynamics of cotton mealybug, Phenacoccus solenopsis Tinsley (Homoptera: Pseudococcidae) and its major natural enemies in middle awash, Ethiopia. PhD dissertation, Hawassa University.
Acknowledgements
We thank Dr. Paul Rude (University of California, Berkeley, USA) and Dr. Curtis Takahashi (California Department of Food and Agriculture) for professional editing of the manuscript. Our sincere thanks are also due to Dr. Robert Zuparko (Department of Entomology, California Academy of Sciences) and Dr. Emmanuelle Jousselin (Biology Center for Population Management, France) for technical and English editing of the manuscript.
Ethics declarations
Conflict of interest
The authors declare that they have no conflict of interest.
Research involving human participants and/or animals
This article does not contain any studies with human participants or animals performed by any of the authors.
Informed consent
Informed consent was obtained from all individual participants included in the study.
Additional information
Handling Editor: Éverton Kort Kamp Fernandes
Supplementary Information
Below is the link to the electronic supplementary material.
About this article
Cite this article
Gupta, R.K., Kour, R., Gani, M. et al. Potential of wax degrading bacteria for management of the citrus mealybug, Planococcus citri. BioControl (2021). https://doi.org/10.1007/s10526-021-10120-8
Received:

Accepted:

Published:
Keywords
Planococcus citri
Serratia marcescens
Pseudomonas putida
Bacillus subtilis
Bacillus cereus

Wax degradation