Abstract
Aprostocetus fukutai (Miwa & Sonan) (Hymenoptera: Eulophidae) is the only known egg parasitoid of the citrus longhorned beetle Anoplophora chinensis Forster (Coleoptera: Cerambycidae), a high-risk invasive pest of hardwood trees. Native to East Asia, A. fukutai has been accidentally introduced in northern Italy, where it has 1–2 generations per year, overwinters as diapausing mature larvae within host eggs, and adults emerge in early summer in synchrony with the egg deposition of its host. As part of the efforts to develop a biological control program using this specialist parasitoid, this study investigated some of its key reproductive traits, including egg maturation dynamics, host egg age preference, clutch size, and lifetime fecundity under quarantine laboratory conditions. Newly emerged adult females after winter diapause had a substantial proportion (43.7%) of their lifetime complement of mature eggs and matured additional eggs rapidly, reaching a peak 4–8 days post-emergence. The parasitoid preferred to attack 1–3 day old over 4–7 or 7–10 day old host eggs. Adults of the first (overwintering) generation were more fecund than those of the second (summer) generation. Females of the first and second generations parasitized 3.6 and 2.8 hosts, produced 11.2 and 9.6 offspring per parasitized host for a total of 37.5 and 24.7 offspring with sex ratio of 85.3 and 82.8% females over their lifetime, respectively. These results provide novel information that may help improve protocols for future rearing, study, or field-release of this parasitoid against A. chinensis.
Access options
Buy single article
Instant access to the full article PDF.
USD 39.95
Price includes VAT (USA)
Tax calculation will be finalised during checkout.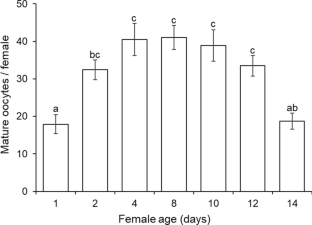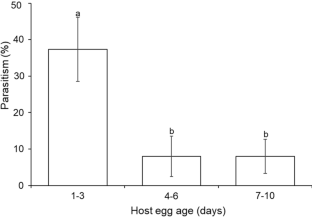 Data availability
Data will be available upon the publication of the manuscript through the Ag Data Commons (National Agricultural Library, USDA Agricultural Research Service) (to be assigned).
References
Adachi I (1988) Reproductive biology of the white-spotted longicorn beetle, Anoplophora malasiaca Thomson (Coleoptera: Cerambycidae), in citrus trees. Appl Entomol Zool 23:256–264

Aukema JE, McCullough DG, Holle BV, Liebhold AM, Britton K, Frankel SJ (2010) Historical accumulation of non-indigenous forest pests in the continental United States. BioScience 60:886–897

Barratt BIP, Moran VC, Bigler F, van Lenteren JC (2018) The status of biological control and recommendations for improving uptake for the future. BioControl 63:155–167

Brabbs T, Collins D, Hérard F, Maspero M, Eyre D (2015) Prospects for the use of biological control agents against Anoplophora in Europe. Pest Manage Sci 71:7–14

Brockerhoff EG, Liebhold AM (2017) Ecology of forest insect invasions. Biol Invasions 19:3141–3159

Charnov EL (1982) The theory of sex allocation. Princeton University Press, Princeton

Chen YM, Qu XR, Li TH, Iqbal A, Wang XG, Ren ZY, Desneux N, Zang LS (2021) Performances of six eupelmid egg parasitoids from China on Japanese giant silkworm Caligula japonica with different host age regimes. J Pest Sci 94:309–319

Colombo M, Limonta L (2001) Anoplophora malasiaca Thomson (Coleoptera: Cerambycidae: Lamiinae: Lamiini) in Europe. Bollettino Di Zoologia Agraria e Di Bachicoltura 33:65–68

Copland MJW, King PE (1971) The structure and possible function of the female reproductive system in some Eulophidae and Tetracampidae. Entomologist 104:4–28

Delvare G, Bon M-C, Hérard F, Cocquempot C, Maspero M, Colombo M (2004) Description of Aprostocetus anoplophorae n. sp. (Hymenoptera: Eulophidae), a new egg parasitoid of the invasive pest Anoplophora chinensis (Förster) (Coleoptera: Cerambycidae). Ann Soc Entomol Fr 40:227–233

Dubois T, Hajek AE, Smith S (2002) Methods for rearing the Asian longhorned beetle, Anoplophora glabripennis (Coleoptera: Cerambycidae) on artificial diet. Ann Entomol Soc Am 95:223–230

Ellers J, Sevenster JG, Driessen G (2000) Egg load evolution in parasitoids. Am Nat 156:650–665

EPPO (2021) Global database. https://gd.eppo.int/. Accessed 15 Aug 2021

Fatouros NE, Cusumano A, Bin F, Polaszek A, van Lenteren JC (2020) How to escape from insect egg parasitoids: a review of potential factors explaining parasitoid absence across the Insecta. Proc R Soc B 287:20200344

Golec JR, Aparicio E, Wang XG, Duan JJ, Fuester RW, Tatman D, Kula RR (2020) Cerambycid communities and their associated hymenopteran parasitoids from major hardwood trees in Delaware, USA: implications for biocontrol of invasive longhorned beetles. Environ Entomol 49:370–382

Gould JR, Aflague B, Murphy TC, McCartin L, Elkinton JS, Rim K, Duan JJ (2018) Collecting nontarget wood-boring insects for host-specificity testing of natural enemies of Cerambycids: a case study of Dastarcus helophoroides (Coleoptera: Bothrideridae), a parasitoid of the Asian longhorned beetle (Coleoptera: Cerambycidae). Environ Entomol 47:1440–1450

Haack RA, Hérard F, Sun J, Turgeon JJ (2010) Managing invasive populations of Asian longhorned beetle and citrus longhorned beetle: a worldwide perspective. Annu Rev Entomol 55:521–546

Hamilton WD (1967) Extraordinary sex ratios. Science 156:477–488

Hanks LM, Paine TD, Millar JG (1996) Tiny wasp helps protect eucalypts from eucalyptus longhorned borer. Calif Agr 50:14–16

Hardy ICW, Dijkstra LJ, Gillis JEM, Luft PA (1998) Patterns of sex ratio, virginity and developmental mortality in gregarious parasitoids. Biol J Lin Soc 64:239–270

He X, Huang J, Zeng G, Ye J, Gao M (2000) Bionomics of Aprostocetus fukutai Miwa et Sonan. For Pest Dis 19:11–13

Hérard F, Maspero M, Bon M-C (2017) Accidental introduction into Italy and establishment of Aprostocetus fukutai (Hymenoptera: Eulophidae) in citrus longhorned beetle infestations. In: Mason PG, Gillespie DR, Vincent C (eds) Proceedings of the 5th international symposium on biological control of arthropods. CAB International, pp15–17

Hérard F, Maspero M (2019) History of discoveries and management of the citrus longhorned beetle, Anoplophora chinensis, in Europe. J Pest Sci 92:117–130

Hoddle M, Mace K, Steggall J (2018) Proactive biological control: a cost-effective management option for invasive pests. Calif Agr 72:148–150

Jervis MA, Heimpel GE, Ferns PN, Harvey JA, Kidd NAC (2001) Life-history strategies in parasitoid wasps: a comparative analysis of 'ovigeny.' J Anim Ecol 70:442–458

Keena MA, Moore PM, Bradford G (2021) Effects of temperature on Anoplophora chinensis (Coleoptera: Cerambycidae) adult survival, reproduction, and egg hatch. Forests 12:432

Kenis M, Hurley BP, Hajek AE, Cock MJW (2017) Classical biological control of insect pests of trees: facts and figures. Biol Invasions 19:3401–3417

King BH (1987) Offspring sex ratios in parasitoid wasps. Quart Rev Biol 62:367–396

LaSalle J, Huang D-W (1994) Two new Eulophidae (Hymenoptera: Chalcidoidea) of economic importance from China. B Entomol Res 84:51–56

Li JQ, Wang SX, Yang Y, Huang DZ, Jin YJ, Bai Y (2006) The study on oviposition, host recognition and discrimination behavior of Aprostocetus fukutai (Miwa et Sonan). For Sci 32:447–452

Liebhold AM, Brockerhoff EG, Garrett LJ, Parke JL, Britton KO (2012) Live plant imports: the major pathway for forest insect and pathogen invasions of the United States. Front Ecol Environ 10:135–143

Lingafelter SW, Hoebeke ER (2002) Revision of Anoplophora (Coleoptera: Cerambycidae). The Entomological Society of Washington, Washington, DC

Messing R, Brodeur J (2018) Current challenges to the implementation of classical biological control. BioControl 63:1–9

Minkenberg OPJM, Tatar M, Rosenheim JA (1992) Egg load as a major source of variability in insect foraging and oviposition behavior. Oikos 65:134–142

Nacro S, Nénon JP (2008) Female reproductive biology of Platygaster diplosisae (Hymenoptera: Platygastridae) and Aprostocetus procerae (Hymenoptera: Eulophidae), two parasitoids associated with the African rice gall midge, Orseolia oryzivora (Diptera: Cecidomyiidae). Entomol Sci 11:231–237

O'Neill KM, Skinner SW (1990) Ovarian egg size and number in relation to female size in five species of parasitoid wasps. J Zool 220:115–122

Price PW (1973) Reproductive strategies in parasitoid wasps. Am Nat 107:684–693

Pschorn-Walcher H (1977) Biological control of forest insects. Annu Rev Entomol 22:1–22

Reed D, Luhring K, Stafford C (2007) Host defensive response against an egg parasitoid involves cellular encapsulation and melanization. Biol Control 41:214–222

Riddick EW (2006) Egg load and body size of lab-cultured Cotesia marginiventris. BioControl 51:603–610

Rim R, Golec JR, Duan JJ (2018) Host selection and potential non-target risk of Dastarcus helophoroides larval parasitoid of the Asian longhorned beetle, Anoplophora glabripennis. Biol Control 123:120–126

Strand MR, Pech LL (1995) Immunological basis for compatibility in parasitoid-host relationships. Annu Rev Entomol 40:31–56

van Driesche RG, Carruthers RI, Center T et al (2010) Classical biological control for the protection of natural ecosystems. Biol Control 54(Suppl 1):S2–S33

Vinson SB (1998) The general host selection behavior of parasitoid Hymenoptera and a comparison of initial strategies utilized by larvaphagous and oophagous species. Biol Control 11:79–96

Wang XG, Aparicio E (2020) Reproductive traits of Ontsira mellipes (Hymenoptera: Braconidae), a North American parasitoid as a novel biological control agent for exotic Anoplophora glabripennis (Coleoptera: Cerambycidae). J Econ Entomol 113:2112–2119

Wang XG, Aparicio E, Duan JJ, Gould J, Hoelmer KA (2020) Optimizing parasitoid and host densities for efficient rearing of Ontsira mellipes (Hymenoptera: Braconidae) on Asian longhorned beetle (Coleoptera: Cerambycidae). Environ Entomol 49:1041–1048

Wang XG, Kaçar G, Biondi A, Daane KM (2016) Life-history and host preference of the pupal parasitoid Trichopria drosophilae of spotted wing drosophila. BioControl 61:387–397

Wang XG, Messing RH (2003) Egg maturation in the parasitoid Fopius arisanus (Hymenoptera: Braconidae): do host-associated stimuli promote ovarian development? Ann Entomol Soc Am 96:571–578

Wang XG, Ramualde N, Aparicio E, Maspero M, Duan JJ, Smith L (2021a) Optimal conditions for diapause survival of Aprostocetus fukutai, an egg parasitoid for biological control of Anoplophora chinensis. Insects 12:535

Wang XG, Wang X, Kenis M, Cao LM, Duan JJ, Gould J, Hoelmer KM (2021b) Exploring the potential for novel association of generalist parasitoids for biological control of invasive woodboring beetles. BioControl 66:97–112

Wellings PW, Leather SR, Dixon AFG (1980) Seasonal variation in reproductive potential: A programmed feature of aphid life cycles. J Anim Ecol 49:975–985
Acknowledgements
We thank Matteo Maspero, Beniamino Cavagna, Mariangela Ciampitti and Alessandro Bianchi (Plant Health Service of Lombardy, Italy) for help and support during the field collections of the parasitoid in Lombardy, Italy, Franck Hérard (retired, EBCL, France) for valuable advices on this study. Mention of trade names or commercial products in this article is solely for the purpose of providing specific information and does not imply recommendation or endorsement by the US Department of Agriculture (USDA). USDA is an equal opportunity provider and employer.
Funding
this research was funded by USDA base fund (USDA CRIS 8010-22000-031-00D).
Ethics declarations
Conflict of interest
All authors declare that they have no conflict of interest.
Ethical approval
This article does not contain any studies with human participants performed by any of the authors; all applicable international, national, and institutional guidelines for the care and use of animals were followed.
Consent to participate
All authors consent to participate in publication of these data.
Consent for publication
All authors consent to publish this work.
Additional information
Handling Editor: Stefano Colazza.
About this article
Cite this article
Wang, X., Ramualde, N., Desurmont, G.A. et al. Reproductive traits of the egg parasitoid Aprostocetus fukutai, a promising biological control agent for invasive citrus longhorned beetle Anoplophora chinensis. BioControl (2021). https://doi.org/10.1007/s10526-021-10118-2
Received:

Accepted:

Published:
Keywords
Adventive establishment

Egg maturation dynamic

Host age preference

Invasive forest pest

Proactive biological control