Abstract
The effects of plant volatiles on parasitoids are important with regards to the tri-trophic interactions among host plants, insect herbivores, and their natural enemies. However, the effects of plant volatiles on the important parasitoid (Microplitis pallidipes Szépligeti; Hymenoptera: Braconidae) of noctuids have not been determined at the molecular, laboratory, and outdoor scales with complementary approaches. The odorant binding protein 8 of M. pallidipes (MpOBP8) with an open reading frame of 459 bp was cloned and successfully expressed in Escherichia coli (Eubacteriales: Enterobacteriaceae). The purified protein MpOBP8 had a relatively high binding capacity to the plant volatile β-ionone (Ki value was 28.86 μM) in the fluorescence competitive binding assay. Meanwhile, Y-tube olfactometer experiments indicated that β-ionone selectively attracts the parasitic wasp as the ratio of M. pallidipes selecting β-ionone vs. control was 2:1. Likewise, field screenhouse experiments verified the above results as the ratio of M. pallidipes selecting β-ionone vs. control was close to 2:1. This study suggested that β-ionone is a plant volatile that attracts the parasitoid M. pallidipes, and MpOBP8 may play a key role in the discrimination of M. pallidipes in searching for hosts via β-ionone. In general our results suggest that β-ionone has the potential to enhance the biocontrol effect of parasitoids on insect herbivores.
Access options
Buy single article
Instant access to the full article PDF.
USD 39.95
Price includes VAT (USA)
Tax calculation will be finalised during checkout.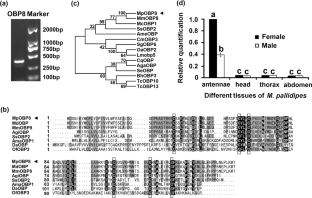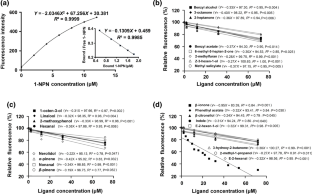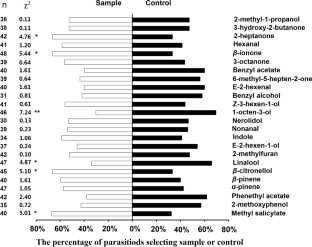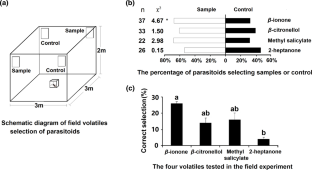 Data availability
All data that this paper relies upon is presented within this article.
References
Abbas S, Perez-Hedo M, Colazza S, Urbaneja A (2014) The predatory mirid Dicyphus maroccanus as a new potential biological control agent in tomato crops. BioControl 59:565–574

Armbruster P, White S, Dzundza J, Crawford J, Zhao XM (2009) Identification of genes encoding atypical odorant-binding proteins in Aedes albopictus (Diptera: Culicidae). J Med Entomol 46:271–280

Belz E, Kölliker M, Balmer O (2013) Olfactory attractiveness of flowering plants to the parasitoid Microplitis mediator: potential implications for biological control. BioControl 58:163–173

Beyaert I, Waschke N, Scholz A, Varama M, Reinecke A, Hilker M (2010) Relevance of resource-indicating key volatiles and habitat odour for insect orientation. Anim Behav 79:1077–1086

Cáceres LA, Lakshminarayan S, Yeung KC, Mcgarvey BD, Hannoufa A, Sumarah MW, Benitez X, Scott IM (2016) Repellent and attractive effects of α-, β-, and dihydro-β-ionone to generalist and specialist herbivores. J Chem Ecol 42:107–117

Calvello M, Brandazza A, Navarrini A, Danin FR, Turillazzi S, Felicioli A, Pelosi P (2005) Expression of odorant-binding proteins and chemosensory proteins in some Hymenoptera. Insect Biochem Molec 35:297–307

Cheng HC (2004) The influence of cooperativity on the determination of dissociation constants: examination of the Cheng-Prusoff equation, the Scatchard analysis, the Schild analysis and related power equations. Pharmacol Res 50:21–40

Cusumano A, Harvey JA, Dicke M, Poelman EH (2019) Hyperparasitoids exploit herbivore-induced plant volatiles during host location to assess host quality and non-host identity. Oecologia 189:699–709

Deem LS (2009) Behavioral responses of Diabroticite beetles to selected olfactory and visual cues (Coleoptera: Crysomelidae). PhD dissertation. University of Illinois at Urbana-Champaign, USA.

Farde L, Eriksson L, Blomquist G, Halldin C (1989) Kinetic analysis of central [11C] raclopride binding to D2-dopamine receptors studied by PET— a comparison to the equilibrium analysis. J Cerebr Blood F Met 9:696–708

Frago E, Mala M, Weldegergis BT, Yang C, Mclean A, Godfray HCJ, Gols R, Dicke M (2017) Symbionts protect aphids from parasitic wasps by attenuating herbivore-induced plant volatiles. Nat Commun 8:1860

Gruber MY, Xu N, Grenkow L, Li X, Onyilagha J, Soroka JJ, Westcott ND, Hegedus DD (2009) Responses of the crucifer flea beetle to Brassica volatiles in an olfactometer. Environ Entomol 5:1467–1479

Hodge S, Ward JL, Galster AM, Beale MH, Powell G (2011) The effects of a plant defence priming compound, β-aminobutyric acid, on multitrophic interactions with an insect herbivore and a hymenopterous parasitoid. BioControl 56:699–711

Jiang JX, Yang JH, Ji XY, Zhang H, Wan NF (2018) Experimental temperature elevation promotes the cooperative ability of two natural enemies in the control of insect herbivores. Biol Control 117:52–62

Larkin MA, Blackshields G, Brown NP, Chenna R, McGettigan PA, McWilliam H, Valentin F, Wallace IM, Wilm A, Lopez R, Thompson JD, Gibson TJ, Higgins DG (2007) ClustalW and ClustalX version 2. Bioinformatics 23:2947–2948

Li HW, Wang P, Zhang LW, Xu X, Cao ZW, Zhang L (2018) Expressions of olfactory proteins in locust olfactory organs and a palp odorant receptor involved in plant aldehydes detection. Front Physiol 9:664

Li KM, Wang SN, Zhang K, Ren L, Ali A, Zhang YJ, Zhou JJ, Guo YY (2014) Odorant binding characteristics of three recombinant odorant binding proteins in Microplitis mediator (Hymenoptera: Braconidae). J Chem Ecol 40:541–548

Liu NY, Zhu JY, Zhang T, Dong SL (2017) Characterization of two odorant binding proteins in Spodoptera exigua reveals functional conservation and difference. Comp Biochem Phys A 213:20–27

Livak KJ, Schmittgen TD (2001) Analysis of relative gene expression data using real-time quantitative PCR and the 2(-Delta Delta C(T)) method. Methods 25:402–408

Lundin O, Ward KL, Williams NM (2019) Identifying native plants for coordinated habitat management of arthropod pollinators, herbivores and natural enemies. J Appl Ecol 56:665–676

Magalhes DM, Da Silva ITFA, Borges M, Laumann RA, Blassioli-Moraes MC (2019) Anthonomus grandis aggregation pheromone induces cotton indirect defence and attracts the parasitic wasp Bracon vulgaris. J Exp Bot 70:1891–1901

Northey T, Venthur H, Biasio FD, Chauviac FX, Cole A, Junior KALR, Grossi G, Falabella P, Field LM, Keep NH, Zhou JJ (2016) Crystal structures and binding dynamics of odorant-binding protein 3 from two aphid species Megoura viciae and Nasonovia ribisnigri. Sci Rep 6:24739

Paparella A, Shaltiel-Harpaza L, Ibdah M (2021) β-ionone: its occurrence and biological function and metabolic engineering. Plants 10:754

Park KC, Zhu J, Harris J, Ochieng SA, Baker TC (2008) Electroantennogram responses of a parasitic wasp, Microplitis croceipes, to host-related volatile and anthropogenic compounds. Physiol Entomol 26:69–77

Paula DP, Togawa RC, Costa MMC, Grynberg P, Martins NF, Andow DA (2016) Identification and expression profile of odorant-binding proteins in Halyomorpha halys (Hemiptera: Pentatomidae). Insect Mol Biol 25:580–594

Pelosi P, Zhou JJ, Ban LP, Calvello M (2006) Soluble proteins in insect chemical communication. Cell Mol Sci 63:1658–1676

Ponzio C, Weldegergis BT, Dicke M, Gols R (2016) Compatible and incompatible pathogen–plant interactions differentially affect plant volatile emissions and the attraction of parasitoid wasps. Funct Ecol 30:1779–1789

Rabeschini G, Bergamo PJ, Nunes C (2021) Meaningful words in crowd noise: searching for volatiles relevant to carpenter bees among the diverse scent blends of bee flowers. J Chem Ecol 47:444–454

Rebijith KB, Asokan R, Hande HR, Kumar NKK, Krishna V, Vinutha J, Bakthacatsalam N (2015) RNA interference of odorant-binding protein 2 (OBP2) of the cotton aphid, Aphis gossypii (Glover), resulted in altered electrophysiological responses. Appl Biochem Biotech 178:251–266

Song YQ, Sun HZ, Du J (2018) Identification and tissue distribution of chemosensory protein and odorant binding protein genes in Tropidothorax elegans Distant (Hemiptera: Lygaeidae). Sci Rep 8:7803

Spinelli S, Lagarde A, Iovinella I, Legrand P, Tegoni M, Pelosi P, Cambillau C (2012) Crystal structure of Apis mellifera OBP14, a C-minus odorant-binding protein, and its complexes with odorant molecules. Insect Biochem Molec 42:41–50

Tamura K, Stecher G, Peterson D, Filipski A, Kumar S (2013) MEGA6: molecular evolutionary genetics analysis version 6.0. Mol Biol Evol 30:2725–2729

Vandesompele J, De Preter K, Pattyn F, Poppe B, van Roy N, DePaepe A, Speleman F (2002) Accurate normalization of real-time quantitative RT-PCR data by geometric averaging of multiple internal control genes. Genome Biol 3:0034.1-0034.11

Venthur H, Zhou JJ, Mutis A, Ceballos R, Mella-Herrera R, Larama G, Acila A, Iturriaga-Vasquez P, Faundez-Parraguez M, Alvear M, Quiroz A (2016) β-ionone as putative semiochemical suggested by ligand binding on an odorant-binding protein of Hylamorpha elegans and electroantennographic recordings. Entomol Sci 19:188–200

Wang SY, Gu SH, Han L, Guo YY, Zhang YJ (2013) Specific involvement of two amino acid residues in cis-nerolidol binding to odorant-binding protein 5 AlinOBP5 in the alfalfa plant bug, Adelphocoris lineolatus (goeze). Insect Mol Biol 22:172–182

Wu F, Huang JJ, Tan J, Tang MZ, Li HL (2016) Molecular cloning, prokaryotic expression and ligand-binding characterization of a novel pheromone binding protein OBP10 in Apis cerana cerana (Hymenoptera: Apidae). Acta Ent Sin 59:25–32

Young JM, Shykind BM, Lane RP, Tonnes-Priddy L, Ross JA, Walker M, Williams EM, Trask BJ (2003) Odorant receptor expressed sequence tags demonstrate olfactory expression of over 400 genes, extensive alternate splicing and unequal expression levels. Genome Biol 4:R71

Zhu XQ, Ding YX, Liu HW, Zhou YL, Zhang YJ, Guo YY (2015) Binding specificity analysis of odorant binding protein AlucOBP8 of Apolygus lucorum (Meyer-Dür). Chinese J Biol Control 31:821–829
Acknowledgements
This work was supported by the Shanghai Agriculture Applied Technology Development Program (Grant No. T20210204), National Natural Science Foundation of China (Grant No. 31601641, 32001969), Natural Science Foundation of Shanghai (Grant No. 20ZR1449000), Shanghai Agriculture Commission of China (2014-7-3-2) and SAAS Program for Excellent Research Team (2018[B-01]).
Ethics declarations
Conflict of interest
The author declares that they have no conflict of interest.
Ethical approval
This article does not contain any studies with human participants or animals (vertebrates) performed by either of the authors.
Consent to participate
All authors declared that no competing interests exist. All authors and relevant institutions have read the submitted version of the manuscript and approve its submission.
Consent for publication
The work as submitted has not been published or accepted for publication, nor is being considered for publication elsewhere, either in whole or substantial part.
Additional information
Handling Editor: Stefano Colazza.
Supplementary Information
Below is the link to the electronic supplementary material.
About this article
Cite this article
Zhang, H., Wang, JY., Chen, YJ. et al. Beta-ionone is a functional plant volatile that attracts the parasitic wasp, Microplitis pallidipes. BioControl (2021). https://doi.org/10.1007/s10526-021-10117-3
Received:

Accepted:

Published:
Keywords
Biological control

Field screenhouse experiments

Fluorescence competitive binding assay

Odorant binding protein

Parasitoid

Y-tube olfactometer