Abstract
Passion fruit woodiness disease is responsible for severe losses in passion fruit production around the world. The disease is caused by Cowpea aphid-borne mosaic virus (CABMV), an aphid-transmitted potyvirus. Traditional sanitary measures against the disease, such as vector elimination and cross protection, have not been successful, resulting in elimination and replanting of passion fruit plants each season. To find new alternatives for disease control, we tested the use of a peptidogalactomannan (pGM) extracted from the fungus Cladosporium herbarum to activate passion fruit defense mechanisms, enabling plants to tolerate passion fruit woodiness disease (PWD). Passion fruit seedlings were spray-treated with pGM in a greenhouse three days before mechanical inoculation with CABMV. Experiments were set up in a completely randomized design, and disease incidence and severity were compared between water- and 100 μg ml−1 pGM-treated plants. Woodiness symptoms and certain developmental parameters of water- and pGM-treated plants were evaluated over five weeks. pGM treatment did not affect plant normal development. Plants that were both treated with pGM and inoculated with the virus showed very mild or no foliar CABMV disease symptoms and had the same growth and developmental patterns as the healthy uninoculated control plants. pGM led to the accumulation of antioxidant enzymes such as peroxidase and superoxide dismutase in the leaf tissues as well as their respective mRNAs. In addition, a ten- and twofold transcription induction of the mRNAs of the defense-related genes such as chitinase I (PR-3) and phenylalanine ammonia-lyase (PAL), respectively, were observed in pGM-treated seedlings. These results suggested that pGM enables plants to respond more intensely to CABMV infection, mitigating woodiness symptoms and maintaining normal plant growth.
Access options
Buy single article
Instant access to the full article PDF.
US$ 39.95
Tax calculation will be finalised during checkout.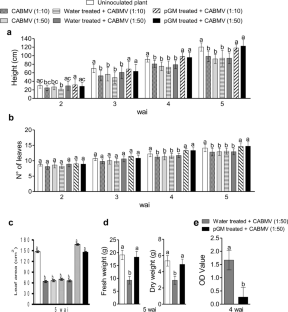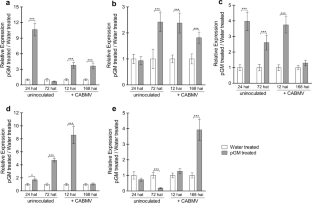 Data availability
The data that support the findings of this study are available from the corresponding author upon reasonable request.
References
Apel K, Hirt H (2004) Reactive oxygen species: metabolism, oxidative stress, and signal transduction. Ann Rev Plant Bio 55:373–399

Berens ML, Berry HM, Mine A, Argueso CT, Tsuda K (2017) Evolution of hormone signaling networks in plant defense. Ann Rev Phytopath 55:401–425

Bernardino MC, Couto MLCO, Vaslin MFS, Barreto-Bergter E (2020) Antiviral activity of glucosylceramides isolated from Fusarium oxysporum against Tobacco mosaic virus infection. PLoS ONE 15(11):e0242887

Boutrot F, Zipfel C (2017) Function, discovery, and exploitation of plant pattern recognition receptors for broad-spectrum disease resistance. Ann Rev Phytopath 55:257–286

Carvalho BM, Viana AP, dos Santos PHD, Generoso AL, Corrêa CCG, Silveira V, Eiras M, Azevedo-Santos E (2019) Proteome of resistant and susceptible Passiflora species in the interaction with Cowpea aphid-borne mosaic virus reveals distinct responses to pathogenesis. Euphytica 167:215–237

Cui H, Tsuda K, Parker JE (2015) Effector-triggered immunity: from pathogen perception to robust defense. Ann Rev Plant Bio 66:487–511

Dalio RJ, Magalhaes DM, Rodrigues CM, Arena GD, Oliveira TS, Souza-Neto RR, Picchi SC, Martins PMM, Santos PJC, Maximo HJ, Pacheco IS, De Souza AA, Machado MA (2017) PAMPs, PRRs, efectors and R-genes associated with citrus-pathogen interactions. Ann Bot 119:749–774

de Souto AGL, Cordeiro MHM, Rosado LDS, dos Santos CEM, Bruckner CH (2017) Non-destructive estimation of leaf area in passion fruit (Passiflora edulis L.). Aust J Crop Sci 11:1534–1538

Dixon RA, Achnine L, Kota P, Liu CJ, Reddy MSS, Wang L (2002) The phenylpropanoid pathway and plant defence—a genomics perspective. Mol Plant Pathol 3:371–390

Fischer I, Rezende J (2008) Diseases of passion flower (Passiflora spp.). Pest Tech 2:1–19

Fontenele RS, Abreu RA, Lamas NS, Alves-Freitas DMT, Vidal AH, Poppiel RR, Melo FL, Lacorte C, Martin DP, Campos MA, Varsani A, Ribeiro SG (2018) Passion fruit chlorotic mottle virus: molecular characterization of a new divergent geminivirus in Brazil. Viruses 10:169

Gómez-Vásquez R, Day R, Buschmann H, Randles S, Beeching JR, Cooper RM (2004) Phenylpropanoids, phenylalanine ammonia lyase and peroxidases in elicitor-challenged cassava (Manihot esculenta) suspension cells and leaves. Ann Botany 94:87–97

Gonçalves ZS, Lima LKS, Soares TL, Abreu EFM, de Barbosa CJ, Cerqueira-Silva CBM, Nunes O, Oliveira EJ (2018) Identification of Passiflora spp. genotypes resistant to Cowpea aphid-borne mosaic virus and leaf anatomical response under controlled conditions. Scientia Horticulturae 231:166–178

Haido RM, Silva MH, Ejzemberg R, Leitão EA, Heran VM, Evans EG, Barreto-Bergter E (1998) Analysis of peptideogalactomannans from the mycelial surface of Aspergillus fumigatus. Med Myc 36:313–321

Hickman R, van Verk MC, van Dijken AJH, Mendes MP, Vroegop-Vos IA, Caarls L, Steenbergen M, van der Nagel I, Wesselink GJ, Jironkin A, Talbot A, Rhodes J, De Vries M, Schuurink RC, Denby K, Pieterse CMJ, Wees SCM (2017) Architecture and dynamics of the jasmonic acid gene regulatory network. Plant Cell 29:2086–2105

Lima AM, Moura EF, Ishida AKN, da Pereira AC, C, Reis SP, de Souza CRB, (2018) Expression profiles of defense genes in cassava storage roots upon exposure to Phytopythium sp., causal agent of soft root rot disease. Physiol Mol Plant Pathol 104:23–30

Livak KJ, Schmittgen TD (2001) Analysis of relative gene expression data using real-time quantitative PCR and the 2(-delta delta C(T)) method. Methods 25(4):402–408

Mattos BB, Montebianco C, Romanel E, da Franca ST, Bernabé RB, Simas-Tosin F, Souza LM, Sassaki GL, Vaslin MFS, Barreto-Bergter E (2018) A peptidogalactomannan isolated from Cladosporium herbarum induces defense-related genes in BY-2 tobacco cells. Plant Physiol Biochem 126:206–216

Mckinney HH (1923) Influence of soil temperature and moisture on infection of wheat seedlings by Helminthosporium sativum. J Agric Res 26:195–218

Mofidnakhaei M, Abdossi V, Dehestani A, Pirdashti H, Babaeizad V (2016) Potassium phosphite affects growth, antioxidant enzymes activity and alleviates disease damage in cucumber plants inoculated with Pythium ultimum. Arch Phytopath Plant Proteins 49:207–221

Munhoz CF, Santos AA, Arenhart RA, Santini L, Monteiro-Vitorello CB, Vieira MLC (2015) Analysis of plant gene expression during passion fruit-Xanthomonas axonopodis interaction implicates lipoxygenase 2 in host defence. Ann Appl Biol 167:135–155

Nascimento AVS, Santana EN, Braz ASK, Alfenas PF, Pio-Ribeiro G, Andrade GP, de Carvalho MG, Zerbini FM (2006) Cowpea aphid-borne mosaic virus (CABMV) is widespread in passionfruit in Brazil and causes passionfruit woodiness disease. Arch Virol 151:1797–1809

Novaes QS, Rezende JAM (2005) Protection between strains of passion fruit woodiness virus in sunnhemp. Fitop Bra 30:307–311

Onaga G, Wydra K (2016) Advances in plant tolerance to abiotic stresses. Plant genomics. InTech, USA, pp 229–272

Park CJ, Seo YS (2015) Heat shock proteins: a review of the molecular chaperones for plant immunity. Plant Pathol J 31:323–333

Parkinson LE, Crew KS, Thomas JE, Dann EK (2015) Efficacy of acibenzolar-S-methyl (Bion®) treatment of Australian commercial passion fruit, Passiflora edulis f. sp. flavicarpa, on resistance to passion fruit woodiness virus (PWV) and activities of chitinase & β-1,3-glucanase. Aust Plant Pathol 44:311–318

Passaia G, Margis-Pinheiro M (2015) Glutathione peroxidases as redox sensor proteins in plant cells. Plant Sci 234:22–26

Ramyashree SR, Mounashree S, Venkatachalapathi V (2019) A Profile of passion fruit (Passiflora edulis). Int J Appl Biol 7(2):140–144

Reglinski T, Vanneste JL, Wurms K, Gould E, Spinelli F, Rikkerink E (2013) Using fundamental knowledge of induced resistance to develop control strategies for bacterial canker of kiwifruit caused by Pseudomonas syringae pv. actinidiae. Front Plant Sci 4:24

Rigsby CM, Shoemaker EE, Mallinger MM, Orians CM, Preisser EL (2019) Conifer responses to a stylet-feeding invasive herbivore and induction with methyl jasmonate: impact on the expression of induced defences and a native folivore. Agr Forest Entomol 21:227–234

Stangarlin JR, Kuhn OJ, Toledo MV, Portz RL, Schwan-Estrada KRF, Pascholati SF (2011) A defesa vegetal contra fitopatógenos. Sci Agraria Paran 10:18–46

Stella de Freitas TF, Stout MJ, Sant'Ana J (2019) Effects of exogenous methyl jasmonate and salicylic acid on rice resistance to Oebalus pugnax. Pest Manag Sci 75:744–752

Sticher L, Mauchi-Mani B, Métraux JP (1997) Systemic acquired resistance. Ann Rev Phytopath 35:235–270

Su Y, Xu L, Wang S, Wang Z, Yang Y, Chen Y, Que Y (2015) Identification, phylogeny, and transcript of chitinase family genes in sugarcane. Sci Rep 5:10708

Truong NV, Burgess LW, Liew ECY (2012) Greenhouse and field evaluations of potassium phosphonate: the control of Phytophthora foot rot of black pepper in Vietnam. Arch Phyt Plant Protect 45:724–739

Turner J, Elis C, Devoto A (2002) The jasmonate signal pathway. Plant Cell 296:1649–1650

Wallis JG, Browse J (2002) Mutants of Arabidopsis reveal many roles for membrane lipids. Prog Lipid Res 41:254–278

Wang N, Liu M, Guo L, Yang X, Qiu D (2016) A novel protein elicitor (PeBA1) from Bacillus amyloliquefaciens NC6 induces systemic resistance in tobacco. Int J Biol Sci 12:757–767

Wu L, Han Z, Wang S, Wang X, Sun A, Zu X, Chen Y (2013) Comparative proteomic analysis of the plant-virus interaction in resistant and susceptible ecotypes of maize infected with sugarcane mosaic virus. J Proteomics 89:124–140
Acknowledgements
This work was supported by the Conselho Nacional de Desenvolvimento Cientifico e Tecnológico (CNPq), Fundação Carlos Chagas Filho de Amparo à Pesquisa no Estado do Rio de Janeiro (FAPERJ) and Coordenação de Aperfeiçoamento de Pessoal de Nível Superior.
Ethics declarations
Conflict of interest
The authors declare that they have no conflict of interest.
Informed consent
All authors informed consent.
Research involving human and animal participants
The research does not involved animal or human.
Additional information
Handling Editor: Sotiris Tjamos.
Supplementary Information
Below is the link to the electronic supplementary material.
About this article
Cite this article
Santos-Jiménez, J.L., de Barros Montebianco, C., Vidal, A.H. et al. A fungal glycoprotein mitigates passion fruit woodiness disease caused by Cowpea aphid-borne mosaic virus (CABMV) in Passiflora edulis. BioControl (2021). https://doi.org/10.1007/s10526-021-10114-6
Received:

Accepted:

Published:
Keywords
Peptidogalactomannan

pGM

Passion fruit

Cladosporium herbarum

Defence-related genes

PWD protection

Systemic acquired resistance