Abstract
Successful long-term cryopreservation of lepidopteran eggs for the mass production of parasitoids of the genus Trichogramma Westwood (Hymenoptera: Trichogrammatidae) requires a more tolerant species to withstand ultra-low temperatures. We compared the viability of eggs of Anticarsia gemmatalis Hübner (Lepidoptera: Erebidae) and Mythimna sequax Franclemont (Lepidoptera: Noctuidae), cryopreserved in liquid nitrogen, and evaluated the viability of M. sequax eggs to support the large-scale production of high-quality Trichogramma species. The presence of anti-freezing metabolites in lepidopteran eggs was detected and quantified by 1H nuclear magnetic resonance (NMR) spectroscopy. Parasitism by Trichogramma pretiosum Riley of M. sequax eggs stored for 30 days was significantly higher (84.2%) in comparison to A. gemmatalis (6.7%). The 1H NMR spectrum showed that the amounts of anti-freezing metabolites maltodextrin and trehalose were greater in M. sequax eggs, a possible explanation for their suitability to cryopreservation in comparison to A. gemmatalis. Eggs of M. sequax cryopreserved for up to 12 months maintained a mean rate of parasitism between 80 and 90% by Trichogramma atopovirilia Oatman and Platner and T. pretiosum, the latter declining to 79% after 12 months. Both Trichogramma species can exploit long-term storage of M. sequax eggs at ultra-low temperatures, without any apparent fitness penalty to the first generation. This is the first record of eggs of a noctuid species being cryopreserved for up to one year and remaining susceptible to parasitism by Trichogramma species. This procedure should enable large-scale production of hosts with high nutritional quality, and the production of parasitoids that is synchronized better with their use as biological control agents in annual crops.
Access options
Buy single article
Instant access to the full article PDF.
US$ 39.95
Tax calculation will be finalised during checkout.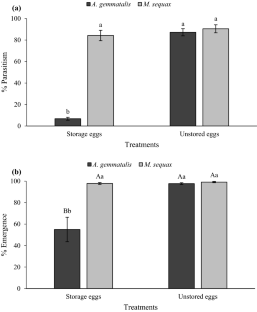 References
Anagnostakis I, Papassavas AC, Michalopoulos E, Chatzistamatiou T, Andriopoulou S, Tsakris A, Stavropoulos-Giokas C (2013) Successful short-term cryopreservation of volume-reduced cord blood units in a cryogenic mechanical freezer: effects on cell recovery, viability, and clonogenic potential. Transfus 54:211–223

Asahina E, Tanno K (1964) A large amount of trehalose in a frost-resistant insect. Nature 204:1222

Bai B, Luck RF, Forster L, Stephens B, Janssen JAM (1992) The effect of host size on quality attributes of the egg parasitoid, Trichogramma pretiosum. Entomol Exp Appl 64:37–48

Becker A, Schlöder P, Steele JE, Wegener G (1996) Regulation of trehalose metabolism in insects. Experimentia 52:433–439

Block W (1991) To freeze or not to freeze? Invertebrate survival of sub-zero temperatures. Funct Ecol 5:284–290

Carvajal PA, McDonald GA, Lanier TC (1999) Cryostabilization mechanism of fish muscle proteins by maltodextrins. Cryobiol 38:16–26

Carvalho Spinola-Filho PR, Demolin Leite GL, Soares MA, Alvarenga AC, de Paulo PD, Tuffi-Santos LD, Zanuncio JC (2014) Effects of duration of cold storage of host eggs on percent parasitism and adult emergence of each of ten Trichogrammatidae (Hymenoptera) species. Fla Ent 97:14–21

Cônsoli FL, Kitajima EW, Parra JRP (1999) Ultrastructure of the natural and factitious host eggs of Trichogramma galloi Zucchi and Trichogramma pretiosum Riley (Hym., Trichogrammatidae). Int J Insect Morphol Embryol 28:211–229

Corrêa-Ferreira BS, Oliveira MCN (1998) Viability of Nezara viridula (Linnaeus) eggs for parasitism by Trissolcus basalis (Woll.), under different storage techniques in liquid nitrogen. An Soc Entomol Bras 27:101–107

Corrigan JE, Laing JE (1994) Effects of the rearing host species and the host species attacked on performance by Trichogramma minutum Riley (Hymenoptera, Trichogrammatidae). Environ Entomol 23:755–760

Crowe JH, Carpenter JF, Crowe LM (1998) The role of vitrification in anhydrobiosis. Ann Rev Physiol 60:73–103

Crowe LM (2002) Lessons from nature: the role of sugars in anhydrobiosis. Comp Biochem Physiol Part A 131:505–513

Doetzer AK, Foerster LA (2013) Storage of pentatomid eggs in liquid nitrogen and dormancy of Trissolcus basalis (Wollaston) and Telenomus podisi Ashmead (Hymenoptera: Platygastridae) adults as a method of mass production. Neotrop Entomol 42:534–538

El-Wakeil NE (2007) Evaluation of efficiency of Trichogramma evanescens reared on different factitious hosts to control Helicoverpa armigera. J Pest Sci 80:29–34

Favetti BM, Butnariu AR, Doetzer AK (2014) Storage of Euschistus heros eggs (Fabricius) (Heteroptera: Pentatomidae) in liquid nitrogen for parasitization by Telenomus podisi Ashmead (Hymenoptera: Platygastridae). Neotrop Entomol 43:291–293

Greco CF, Stilinovic D (1998) Parasitization performance of Trichogramma spp. (Hym., Trichogrammatidae) reared on eggs of Sitotroga cerealella Oliver (Lep., Gelechidae), stored at freezing and subfreezing conditions. J Appl Entomol 122:311–314

Greene GL, Lepla NC, Dickerson WA (1976) Velvetbean caterpillar: a rearing procedure and artificial medium. J Econ Entomol 69:488–497

Greenberg SM, Nordlund DA, Wu Z (1998) Influence of rearing host on adult size and ovipositional behavior of mass produced female Trichogramma minutum Riley and Trichogramma pretiosum Riley (Hymenoptera: Trichogrammatidae). Biol Control 11:43–48

Grenier S, Grille G, Basso C, Pintureau B (2001) Effects of the host species and the number of parasitoids per host on the size of some Trichogramma species (Hymenoptera: Trichogrammatidae). Biocontrol Sci Technol 11:21–26

Hanna AD (1935) Fertility and tolerance of low temperature in Euchalcidia carybori Hanna (Hymenoptera: Chalcidinae). Bull Entomol Res 26:315–322

Hassan AS, Liscsinszky H, Zhang G (2004) The oak-silkworm egg Antheraea pernyi (Lepidoptera: Anthelidae) as a mass rearing host for parasitoids of the genus Trichogramma (Hymenoptera: Trichogrammatidae). Biocontrol Sci Technol 14:269–279

Hoffmann MP, Walker DL, Shelton AM (1995) Biology of Trichogramma ostriniae (Hym.: Trichogrammatidae) reared on Ostrinia nubilalis (Lep.: Pyralidae) and survey for additional hosts. Entomophaga 40:387–402

Hoffmann MP, Ode PR, Walker DL, Gardner J, van Nouhuys S, Shelton AM (2001) Performance of Trichogramma ostriniae (Hymenoptera: Trichogrammatidae) reared on factitious hosts, including the target host, Ostrinia nubilalis (Lepidoptera: Crambidae). Biol Control 21:1–10

Hoffmann-campo CB, Oliveira EB, Moscardi F (1985) Criação massal da lagarta da soja (Anticarsia gemmatalis). EMBRAPA CNPSo. Documentos, 10. https://ainfo.cnptia.embrapa.br/digital/bitstream/item/23224/1/Doc1.pdf. Accessed 20 July 2020

Hohmann CL, Luck RF, Oatman ER (1988) A comparison of longevity and fecundity of adult Trichogramma platneri (Hymenoptera: Trichogrammatidae) reared from eggs of the cabbage looper and the Angumouis grain moth, with and without access to honey. J Econ Entomol 81:1307–1312

Holmstrup M, Bayley M, Pedersen SA, Zachariassen KE (2010) Interactions between cold, desiccation and environmental toxins. In: Denlinger DL, Lee RE (eds) Low temperature biology of insects. Cambridge University Press, New York, pp 166–188

Honda JY, Luck RF (2001) Interactions between host attributes and wasp size: a laboratory evaluation of Trichogramma platneri as an augmentative biological control agent for two avocado pests. Entomol Exp 100:1–13

Huang YC, Wu H, Song ZW, Li DS, Zhang GR (2017) Effects of cold storage on the chemical composition of Corcyra cephalonica eggs by 1H NMR spectroscopy. Biol Control 110:25–32

Irdani T, Cosi E, Roversi PF (2007) The challenge of preserving invertebrate species by cryopreservation. Adv Hortic Sci 21:274–276

Jalali SK, Mohanraj P, Lakshmi BL (2016) Trichogrammatids. In: Omkar O (ed) Ecofriendly pest management for food security. Academic Press, San Diego, pp 139–181

Kandror O, Deleon A, Goldberg AL (2002) Trealose synthesis is induced upon exposure of Escherichia coli to cold and is essential for viability at low temperatures. Proc Natl Acad Sci USA 99:9727–9732

Krazmer DJ, Luck RF (1995) Field tests of size-fitness hypothesis in the egg parasitoid Trichogramma pretiosum. Ecology 76:412–425

Krechemer FS, Foerster LA (2016) Mass production of Trichogramma spp. using Mythimna sequax eggs stored in liquid nitrogen. BioControl 61:497–505

Lecchi L, Giovanelli S, Gagliardi B, Pezzali I, Ratti I, Marconi M (2016) An update on methods for cryopreservation and thawing of hemopoietic stem cells. Transfus Apheresis Sci 54:324–336

Leopold RA (1998) Cold storage of insects for integrated pest management. In: Hallman GJ, Denlinger DL (eds) Temperature sensitivity in insects and application in integrated pest management. Westview Press, Boulder, pp 235–268

Li TH, Tian CY, Zang LS, Hou YY, Ruan CC, Yang X, Monticelle L, Desneux N (2019) Multiparasitism with Trichogramma dendrolimi on egg of Chinese oak silkworm, Antheraea pernyi, enhances emergence of Trichogramma ostriniae. J Pest Sci 92:707–713

Lohmann T, Martinazzo T, Pietrowski V, Gibbert F, Kraemer B (2007) Viabilidade do armazenamento de ovos de Anagasta kuehniella, Zeller (Lepidoptera: Pyralidae) em nitrogênio líquido para a produção de Trichogramma pretiosum, Riley (Hymenoptera: Trichogrammatidae). Rev Bras Agroecol 2:1551–1555

Marchioro CA, Foerster LA (2012) Performance of the wheat armyworm, Mythimna sequax Franclemont, on natural and artificial diets. Neotrop Entomol 41:288–295

Martel V, Darrouzet É, Boivin G (2011) Phenotypic plasticity in the reproductive traits of a parasitoid. J Insect Physiol 57:682–687

Medina JR, Garrote RL (2002) The effect of two cryoprotectant mixtures on frozen surubí surimi. J Chem Eng 19:419–424

Mills N (2010) Egg parasitoids in biological control and integrated pest management. In: Cônsoli FL, Parra JRP, Zucchi RA (eds) Egg parasitoids in agroecosystems with emphasis on Trichogramma. Springer, Dordrecht, pp 389–412

Nagaraju J, Abraham EG (1995) Purification and characterization of a digestive amylase from the tasar silkworm Antheraea mylitta (Lepidoptera: Saturniidae). Comp Biochem Physiol B 110:201–209

Navarro MA (1998) Trichogramma spp.: producción, uso y manejo en Colombia. Impretec, Guadalajara de Buga

Ohtake S, Wang YJ (2011) Trehalose: current use and future applications. J Pharm Sci 100:1997–2515

Paixão MF, Foerster LA, do Foerster M (2018) The potential of Mythimna sequax Franclemont eggs for the production of Trichogramma spp. after cryopreservation in liquid nitrogen. Rev Cienc Agron 49:70–77

Parra JRP (2014) Biological control in Brazil: an overview. Sci Agric 715:420–429

Peverieri GS, Furlan P, Benassai D, Strong WB, Roversi PF (2015) Long-term storage of eggs of Leptoglossus occidentalis for the mass-rearing of its parasitoid Gryon pennsylvanicum. BioControl 60:293–306

R Core Team (2020) R: a language and environment for statistical computing. R Foundation for Statistical Computing, Vienna. https://www.r-project.org/

Rajamohan A, Rinehart JP, Leopold RA (2014) Cryopreservation of embryos of Lucilia sericata (Diptera: Calliphoridae). J Med Entomol 51:360–367

Rathee M, Ram P (2018) Impact of cold storage on the performance of entomophagous insects: an overview. Phytoparasitica 46:421–449

Reddy KBPK, Awasthi SP, Madhu AN, Prapulla SG (2009) Role of cryoprotectants on the viability and functional properties of probiotic lactic acid bacteria during freeze drying. Food Biotechnol 23:243–265

Rodrigues SMM, Sampaio MV (2011) Armazenamento de Trichogramma pretiosum Riley (Hymenoptera: Trichogrammatidae) em baixas temperaturas. Arq Inst Biol 78:45–51

Rozsypal J (2015) The role of water, ice nucleators, and inoculation in insect cold survival. Insect Physiol 5:21–30

Rundle BJ, Thomson LJ, Hoffmann AA (2004) Effects of cold storage on field and laboratory performance of Trichogramma carverae (Hymenoptera: Trichogrammatidae) and the response of three Trichogramma spp. (T. carverae, T. nr. brassicae, and T. funiculatum) to cold. J Econ Entomol 97:213–221

Santana-Filho AP, Jacomasso T, Riter DS, Barison A, Iacomini M, Winnischofer SM, Sassaki GL (2017) NMR metabolic fingerprints of murine melanocyte and melanoma cell lines: application to biomarker discovery. Sci Rep 7:423–424

Schread JC, Garman P (1934) Some effects of refrigeration on the biology of Trichogramma in artificial breeding. J Entomol Soc 42:268–283

St-Onge M, Cormier D, Todorova S, Lucas E (2015) Conservation of Ephestia kuehniella eggs as hosts for Trichogramma ostriniae. J Appl Entomol 140:218–222

Tezze AA, Botto EN (2004) Effect of cold storage on the quality of Trichogramma nerudai (Hymenoptera: Trichogrammatidae). Biol Control 30:11–16

Thompson SN (1990) NMR spectroscpy: its basis, biological application and use in studies of insect's metabolism. Insect Biochem 20:223–237

Wu H, Huang YC, Guo JX, Liu JB, Lai XS, Song ZW, Li DS, Zhang GR (2018) Effect of cold storage of Corcyra cephalonica eggs on the fitness for Trichogramma chilonis. Biol Control 124:40–45

Yancey PH (2005) Organic osmolytes as compatible, metabolic and counteracting cryoprotectants in high osmolarity and other stresses. J Exp Biol 208:2819–2830

Zachariassen EK (1985) Physiology of cold tolerance in insects. Physiol Rev 65:799–832

Zang LS, Wang S, Zhang F, Desneux N (2021) Biological control with Trichogramma in China: history, present status and perspectives. Ann Rev Entomol 66:463–484

Zhang JJ, Zhang X, Zang LS, Du WM, Hou YY, Ruan CC, Desneux N (2018) Advantages of diapause in Trichogramma dendrolimi mass production on eggs of the Chinese silkworm, Antheraea pernyi. Pest Manag Sci 74:959–965

Zheng Z, Xu Y, Sun Y, Mei W, Ouyang J (2015) Biocatalytic production of trehalose from maltose by using whole cells of permeabilized recombinant Escherichia coli. PLoS ONE 10(10):e0140477
Acknowledgements
This work was supported by the Coordination for the Improvement of Higher Education Personnel—Capes [for granting the scholarships to MFP and TAT]; to the National Council for Scientific and Technological Development to MFP [grant number CNPq- 433867/2018-3], GLS [grant number CNPq-303352/2017-5; 430922/2018-3] and LAF [grant number 307853/2016-0]. Thanks to Dr. Adriana Rute C. Caillot and Dr. Arquimedes Paixão of the Carbohydrate Chemistry Laboratory of the Department of Biochemistry of the Federal University of Paraná and UFPR NMR Center for their collaboration on the methodology and NMR analysis of the metabolites. We are grateful to Dr. Robert M. Perrin, retired entomologist from Syngenta at Jealott's Hill International Research Centre, UK for the thorough revision and relevant suggestions that significantly improved the quality of the text.
Ethics declarations
Conflict of interest
I, Magda Fernanda Paixão, author responsible for submitting the manuscript entitled: "The prospects for cryopreservation of noctuid eggs in the mass production of Trichogramma spp.", and all the co-authors who present themselves in this work, declare that they have no conflicts of interests.
Data availability
The data that support the findings of this study are available from the corresponding author upon reasonable request.
Additional information
Handling Editor: Josep Anton Jaques Miret
About this article
Cite this article
Paixão, M.F., Takahashi, T.A., Sassaki, G.L. et al. The prospects for cryopreservation of noctuid eggs in the mass production of Trichogramma spp.. BioControl (2021). https://doi.org/10.1007/s10526-021-10109-3
Received:

Accepted:

Published:
Keywords
Biological control

Egg-parasitoid

Trichogramma pretiosum
Trichogramma atopovirilia

Cold storage

Trehalose