Abstract
Entomopathogenic nematodes (EPNs) are used in biological control of pest insects but their potential may be limited by strain availability from different bioregions and effectiveness against specific pests. Here, we isolated and characterized EPNs and their symbiotic bacteria from Australia where their diversity is scarcely known. We collected 198 soil samples from citrus orchards, grasslands and forests across temperate, subtropical and tropical eastern Australia. EPNs were isolated by baiting with mealworm, greater wax moth and Queensland fruit fly, The Australia's most significant horticultural pest. We obtained 36 isolates which, according to DNA sequence analyses, represented five species, Heterorhabditis bacteriophora, Heterorhabditis indica, Heterorhabditis marelatus, Heterorhabditis zealandica and Steinernema feltiae, including the first report of H. marelatus from Australia, and H. indica and H. zealandica from New South Wales. Thirty-five isolates were baited with mealworm, one with fruit fly, and none with wax moth. Heterorhabditis marelatus was recovered from forests, H. bacteriophora from citrus orchards, S. feltiae from citrus orchards and grasslands, H. indica and H. zealandica from all three habitats. According to bacterial DNA analyses, Photorhabdus heterorhabditis occurred in H. zealandica and a reference strain of H. bacteriophora, Photorhabdus laumondii in H. bacteriophora and H. marelatus, Photorhabdus tasmaniensis in H. indica and H. bacteriophora, and Photorhabdus namnaonensis in H. zealandica. Unexpectedly, Pseudomonas protegens and Delftia acidovorans were found in S. feltiae while its expected symbiont Xenorhabdus remained undetected, possibly due to our approach. The newly isolated EPNs should be tested as biological control agents against pest insects.
This is a preview of subscription content,
to check access.
Access this article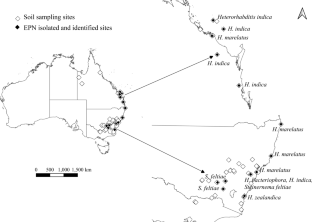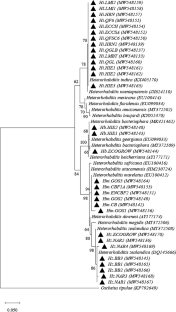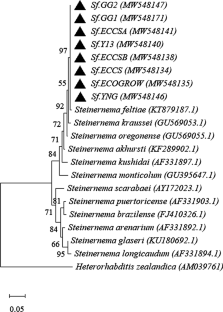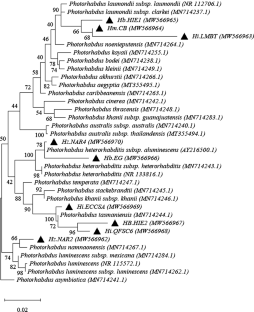 Similar content being viewed by others
Data availability
All sequence data have been deposited in GenBank (NCBI). All other data are contained within the manuscript and supplementary material.
References
Abate BA, Wingfield MJ, Slippers B, Hurley BP (2017) Commercialisation of entomopathogenic nematodes: should import regulations be revised? Biocontrol Sci Tech 27:149–168

Akhurst R, Bedding R (1986) Natural occurrence of insect pathogenic nematodes (Steinernematidae and Heterorhabditidae) in soil in Australia. Aust J Entomol 25:241–244

Bedding R, Akhurst R (1975) A simple technique for the detection of insect paristic rhabditid nematodes in soil. Nematologica 21:109–110

Bedding RA, Tyler S, Rochester N (1996) Legislation on the introduction of exotic entomopathogenic nematodes into Australia and New Zealand. Biocontrol Sci Tech 6:465–476

Boemare NE, Akhurst RJ, Mourant RG (1993) DNA relatedness between Xenorhabdus spp. (Enterobacteriaceae), symbiotic bacteria of entomopathogenic nematodes, and a proposal to transfer Xenorhabdus luminescens to a new genus, Photorhabdus gen. nov. Int J Syst Evol Microbiol 43:249–255

Boff M, Wiegers G, Smits P (2000) Influences of host size and host species on the infectivity and development of Heterorhabditis megidis (strain NLH-E87. 3). BioControl 45:469–482

Bonifassi E, Fischer-Le Saux M, Boemare N, Lanois A, Laumond C, Smart G (1999) Gnotobiological study of infective juveniles and symbionts of Steinernema scapterisci: a model to clarify the concept of the natural occurrence of monoxenic associations in entomopathogenic nematodes. J Invertebr Pathol 74:164–172

Brillard J, Duchaud E, Boemare N, Kunst F, Givaudan A (2002) The PhlA hemolysin from the entomopathogenic bacterium Photorhabdus luminescens belongs to the two-partner secretion family of hemolysins. J Bacteriol 184:3871–3878

Campos-Herrera R, Gomez-Ros JM, Escuer M, Cuadra L, Barrios L, Gutiérrez C (2008) Diversity, occurrence, and life characteristics of natural entomopathogenic nematode populations from La Rioja (Northern Spain) under different agricultural management and their relationships with soil factors. Soil Biol Biochem 40:1474–1484

Canhilal R, Waeyenberge L, Yüksel E, Koca AS, Deniz Y, İmren M (2017) Assessment of the natural presence of entomopathogenic nematodes in Kayseri soils, Turkey. Egypt J Biol Pest Control 27:237–244

Ciche TA, Darby C, Ehlers R-U, Forst S, Goodrich-Blair H (2006) Dangerous liaisons: the symbiosis of entomopathogenic nematodes and bacteria. Biol Control 38:22–46

Cimen H, Půža V, Nermuť J, Hatting J, Ramakuwela T, Faktorova L, Hazir S (2016) Steinernema beitlechemi n. sp., a new entomopathogenic nematode (Nematoda: Steinernematidae) from South Africa. Nematology 18:439–453

De Brida AL, Rosa JMO, De Oliveira CMG, e Castro BMDC, Serrão JE, Zanuncio JC, Leite LG, Wilcken SRS (2017) Entomopathogenic nematodes in agricultural areas in Brazil. Sci Rep 7:45254

Dominiak BC, Mapson R (2017) Revised distribution of Bactrocera tryoni in eastern Australia and effect on possible incursions of Mediterranean fruit fly: development of Australia's eastern trading block. J Econ Entomol 110:2459–2465

Dowds BCA, Peters A (2002) Virulence mechanisms. In: Gaugler R (ed) Entomopathogenic nematology. CABI Publishing, Wallingford, pp 79–98

Dreyer J, Malan AP, Dicks LM (2017) Three novel Xenorhabdus-Steinernema associations and evidence of strains of X. khoisanae switching between different clades. Curr Microbiol 74:938–942

Fischer-Le Saux M, Mauléon H, Constant P, Brunel B, Boemare N (1998) PCR-ribotyping of Xenorhabdus and Photorhabdus isolates from the Caribbean region in relation to the taxonomy and geographic distribution of their nematode hosts. Appl Environ Microbiol 64:4246–4254

Fletcher BS (1974) The ecology of a natural population of the Queensland fruit fly, Dacus tryoni. VI. Seasonal changes in fruit fly numbers in the areas surrounding the orchard. Aust J Zool 22:353–363

Godjo A, Afouda L, Baimey H, Decraemer W, Willems A (2018) Molecular diversity of Photorhabdus and Xenorhabdus bacteria, symbionts of Heterorhabditis and Steinernema nematodes retrieved from soil in Benin. Arch Microbiol 200:589–601

Grewal PS, Ehlers R-U, Shapiro-Ilan DI (2005) Nematodes as biocontrol agents. CABI Publishing, Wallingford

Griffin CT, Boemare NE, Lewis EE (2005) Biology and behaviour. In: Grewal PS, Ehlers R-U, Shapiro-Ilan DI (eds) Nematodes as biocontrol agents. CABI Publishing, Wallingford, pp 47–64

Hominick W (2002) Biogeography. In: Gaugler R (ed) Entomopathogenic nematology. CABI Publishing, Wallingford, pp 115–144

Hoy CW, Grewal PS, Lawrence JL, Jagdale G, Acosta N (2008) Canonical correspondence analysis demonstrates unique soil conditions for entomopathogenic nematode species compared with other free-living nematode species. Biol Control 46:371–379

Hulthen AD, Clarke AR (2006) The influence of soil type and moisture on pupal survival of Bactrocera tryoni (Froggatt) (Diptera: Tephritidae). Aust J Entomol 45:16–19

Ishibashi N, Kondo E (1986) Steinernema feltiae (DD-136) and S. glaseri: persistence in soil and bark compost and their influence on native nematodes. J Nematol 18:310–316

James M, Malan AP, Addison P (2018) Surveying and screening South African entomopathogenic nematodes for the control of the Mediterranean fruit fly, Ceratitis capitata (Wiedemann). Crop Prot 105:41–48

Kanga FN, Waeyenberge L, Hauser S, Moens M (2012) Distribution of entomopathogenic nematodes in Southern Cameroon. J Invertebr Pathol 109:41–51

Kaya HK, Stock SP (1997) Techniques in insect nematology. In: Lacey LA (ed) Manual of techniques in insect pathology. Academic Press, Cambridge, pp 281–324

Koppenhöfer AM, Fuzy EM (2003) Steinernema scarabaei for the control of white grubs. Biol Control 28:47–59

Koppenhöfer AM, Fuzy EM (2006) Effect of soil type on infectivity and persistence of the entomopathogenic nematodes Steinernema scarabaei, Steinernema glaseri, Heterorhabditis zealandica, and Heterorhabditis bacteriophora. J Invertebr Pathol 92:11–22

Kour S, Khurma U, Brodie G, Hazir S (2020) Natural occurrence and distribution of entomopathogenic nematodes (Steinernematidae, Heterorhabditidae) in Viti Levu, Fiji Islands. J Nematol 52:1–17

Kumar S, Stecher G, Li M, Knyaz C, Tamura K (2018) MEGA X: molecular evolutionary genetics analysis across computing platforms. Mol Biol Evol 35:1547–1549

Kung S-P, Gaugler R, Kaya HK (1990) Influence of soil pH and oxygen on persistence of Steinernema spp. J Nematol 22:440–445

Langford EA, Nielsen UN, Johnson SN, Riegler M (2014) Susceptibility of Queensland fruit fly, Bactrocera tryoni (Froggatt) (Diptera: Tephritidae), to entomopathogenic nematodes. Biol Control 69:34–39

Liu J, Berry RE (1996) Heterorhabditis marelatus n. sp. (Rhabditida: Heterorhabditidae) from Oregon. J Invertebr Pathol 67:48–54

Liu J, Berry RE, Poinar GO (1998) Taxonomic comments on the genus Steinernema (Nematoda: Steinernematidae): specific epithets and distribution record. Nematologica 44:321–322

Machado RAR, Wüthrich D, Kuhnert P, Arce CCM, Thönen L, Ruiz C, Zhang X, Robert CAM, Karimi J, Kamali S (2018) Whole-genome-based revisit of Photorhabdus phylogeny: proposal for the elevation of most Photorhabdus subspecies to the species level and description of one novel species Photorhabdus bodei sp. nov., and one novel subspecies Photorhabdus laumondii subsp. clarkei subsp. nov. Int J Syst Evol Microbiol 68:2664–2681

Machado RA, Muller A, Ghazal SM, Thanwisai A, Pagès S, Bode HB, Hussein MA, Khalil KM, Tisa LS (2021) Photorhabdus heterorhabditis subsp. aluminescens subsp. nov., Photorhabdus heterorhabditis subsp. heterorhabditis subsp. nov., Photorhabdus australis subsp. thailandensis subsp. nov., Photorhabdus australis subsp. australis subsp. nov., and Photorhabdus aegyptia sp. nov. isolated from Heterorhabditis entomopathogenic nematodes. Int J Syst Evol Microbiol 71:004610

Malan AP, Nguyen KB, Addison MF (2006) Entomopathogenic nematodes (Steinernematidae and Heterorhabditidae) from the southwestern parts of South Africa. Afr Plant Prot 12:65–69

Malan AP, Knoetze R, Tiedt L (2014) Heterorhabditis noenieputensis n. sp. (Rhabditida: Heterorhabditidae), a new entomopathogenic nematode from South Africa. J Helminthol 88:139–151

Maneesakorn P, An R, Daneshvar H, Taylor K, Bai X, Adams BJ, Grewal PS, Chandrapatya A (2011) Phylogenetic and cophylogenetic relationships of entomopathogenic nematodes (Heterorhabditis: Rhabditida) and their symbiotic bacteria (Photorhabdus: Enterobacteriaceae). Mol Phylogenetics Evol 59:271–280

McMullen JG, Peterson BF, Forst S, Blair HG, Stock SP (2017) Fitness costs of symbiont switching using entomopathogenic nematodes as a model. BMC Evol Biol 17:100

Ogier J-C, Pagès S, Frayssinet M, Gaudriault S (2020) Entomopathogenic nematode-associated microbiota: from monoxenic paradigm to pathobiome. Microbiome 8:25

Orozco RA, Lee M-M, Stock SP (2014) Soil sampling and isolation of entomopathogenic nematodes (Steinernematidae, Heterorhabditidae). J Vis Exp 89:e52083

Poinar GO (1975) Description and biology of a new insect parasitic rhabditoid, Heterorhabditis bacteriophora n. gen., n. sp. (Rhabditida; Heterorhabditidae n. fam.). Nematologica 21:463–470

Poinar GO (1990) Taxonomy and biology of Steinernematidae and Heterorhabditidae. In: Gaugler R, Kaya HK (eds) Entomopathogenic nematodes in biological control. CRC Press, Boca Raton, Florida, pp 23–61

Saitou N, Nei M (1987) The neighbor-joining method: a new method for reconstructing phylogenetic trees. Mol Biol Evol 4:406–425

Solomon A, Glazer I (1999) Desiccation survival of the entomopathogenic nematode Steinernema feltiae: induction of anhydrobiosis. Nematology 1:61–68

Stock SP, Pryor BM, Kaya HK (1999) Distribution of entomopathogenic nematodes (Steinernematidae and Heterorhabditidae) in natural habitats in California, USA. Biodivers Conserv 8:535–549

Strauch O, Oestergaard J, Hollmer S, Ehlers R-U (2004) Genetic improvement of the desiccation tolerance of the entomopathogenic nematode Heterorhabditis bacteriophora through selective breeding. Biol Control 31:218–226

Stuart RJ, Barbercheck ME, Grewal PS (2015) Entomopathogenic nematodes in the soil environment: distributions, interactions and the influence of biotic and abiotic factors. In: Campos-Herrera R (ed) Nematode pathogenesis of insects and other pests. Sustainability in plant and crop protection. Springer, Cham, pp 97–137

Susurluk A, Ehlers R-U (2008) Field persistence of the entomopathogenic nematode Heterorhabditis bacteriophora in different crops. BioControl 53:627–641

Tailliez P, Pages S, Ginibre N, Boemare N (2006) New insight into diversity in the genus Xenorhabdus, including the description of ten novel species. Int J Syst Evol Microbiol 56:2805–2818

Upadhyay A, Mohan S (2021) Bacillus subtilis and B. licheniformis isolated from Heterorhabditis indica infected Apple Root Borer (Dorysthenes huegelii) suppresses nematode production in Galleria mellonella. Acta Parasitol. https://doi.org/10.1007/s11686-021-00366-8
Acknowledgements
We thank Geraldine Tilden for technical support with fruit fly rearing, Alexander Robertson, Giles Ross, Alihan Katlav and Kylie Baker for help with field sampling, Michael Duncan for supply of wax moths and bees wax, and Roy Akhurst and Ian Broughton for advice.
Funding
This research was supported by the Australian Research Council Industrial Transformation Training Centre (ARC-ITTC) Fruit Fly Biosecurity Innovation (IC150100026), with a PhD scholarship to SA, and the Department of Agriculture, Water and the Environment's Strengthening Australia's Fruit Fly System Research Program; project: A national biocontrol program to manage pest fruit flies in Australia (4-EKSH327).
Ethics declarations
Conflict of interest
The authors do not have a conflict of interest, except that CW works at Ecogrow, a company that supplied three EPN isolates which were characterised as part of this study.
Additional information
Handling Editor: Ralf-Udo Ehlers
Supplementary Information
Below is the link to the electronic supplementary material.
About this article
Cite this article
Aryal, S., Nielsen, U.N., Sumaya, N.H. et al. Isolation and molecular characterization of five entomopathogenic nematode species and their bacterial symbionts from eastern Australia. BioControl 67, 63–74 (2022). https://doi.org/10.1007/s10526-021-10105-7
Received:

Accepted:

Published:

Issue Date:

DOI: https://doi.org/10.1007/s10526-021-10105-7
Keywords